I hope you enjoy this blog post.
If you want us to appraise your luxury watch, painting, classic car or jewellery for a loan, click here.
Top 10 Most Expensive Classic Cars Ever Sold at Auction as of 2023
January 3, 2021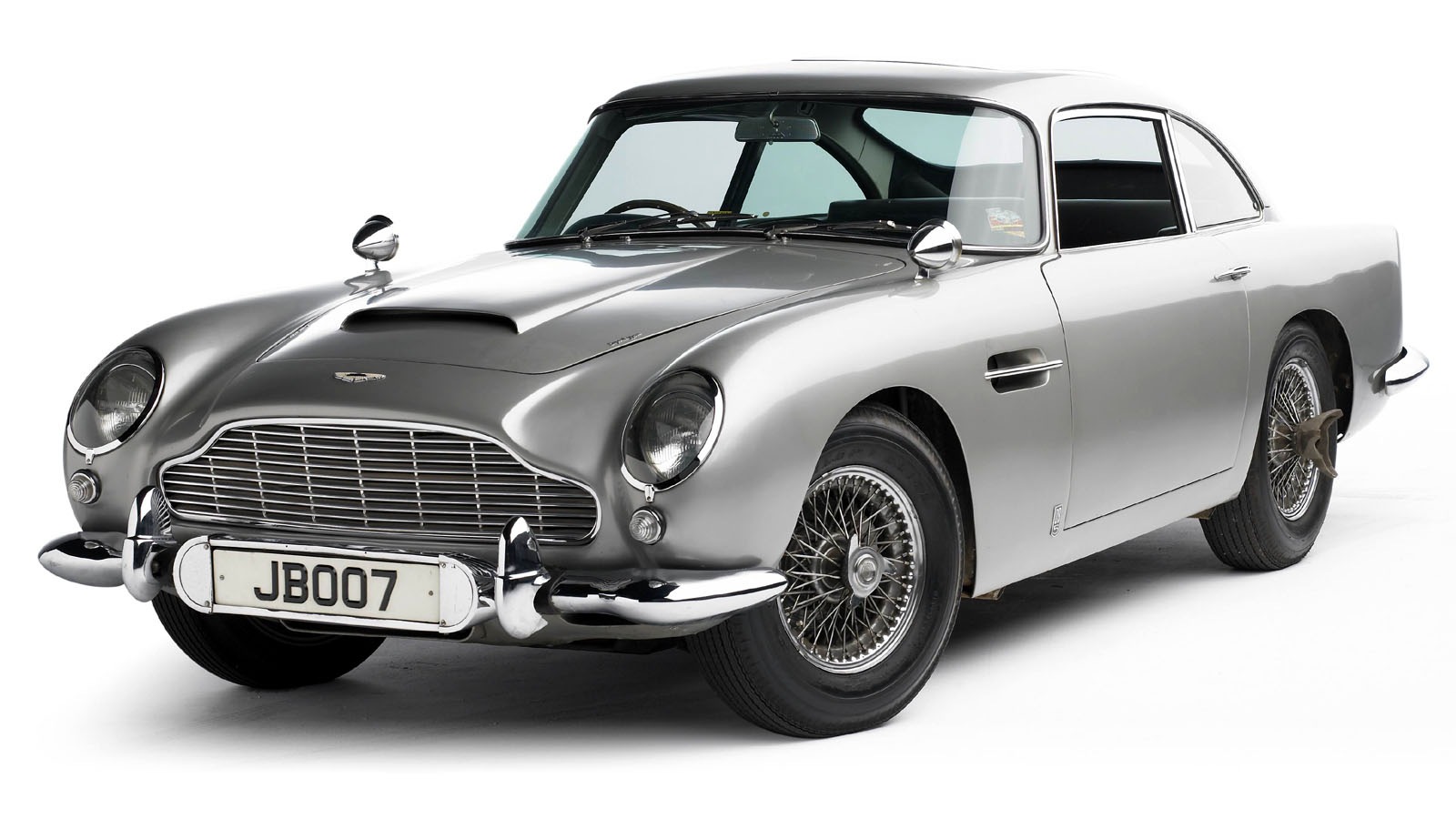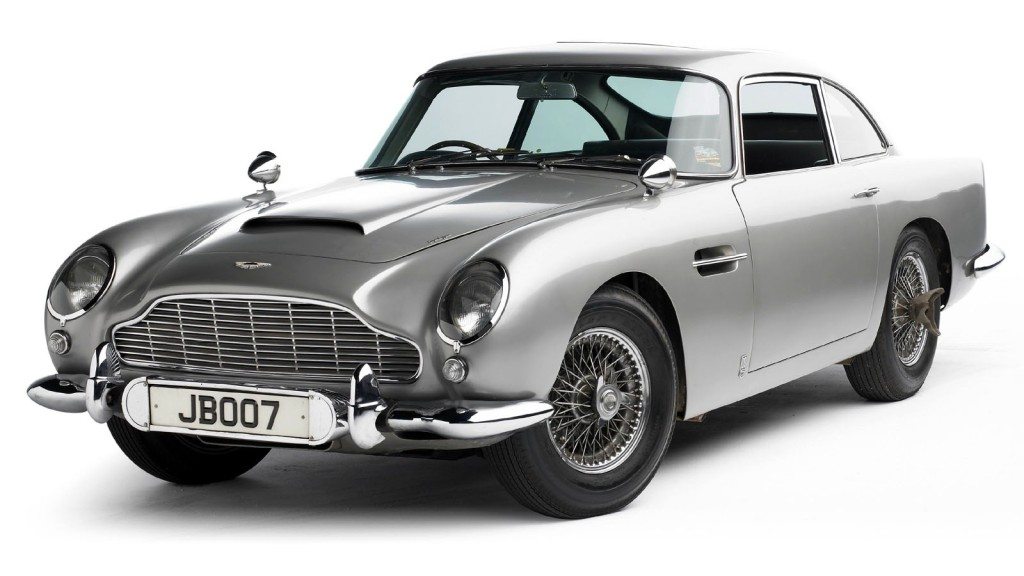 Top 10 Most Expensive Classic & Collector Cars in the World, sold at Auction in 2022
1. 1955 Mercedes-Benz 300 LR Uhlenhaut Coupé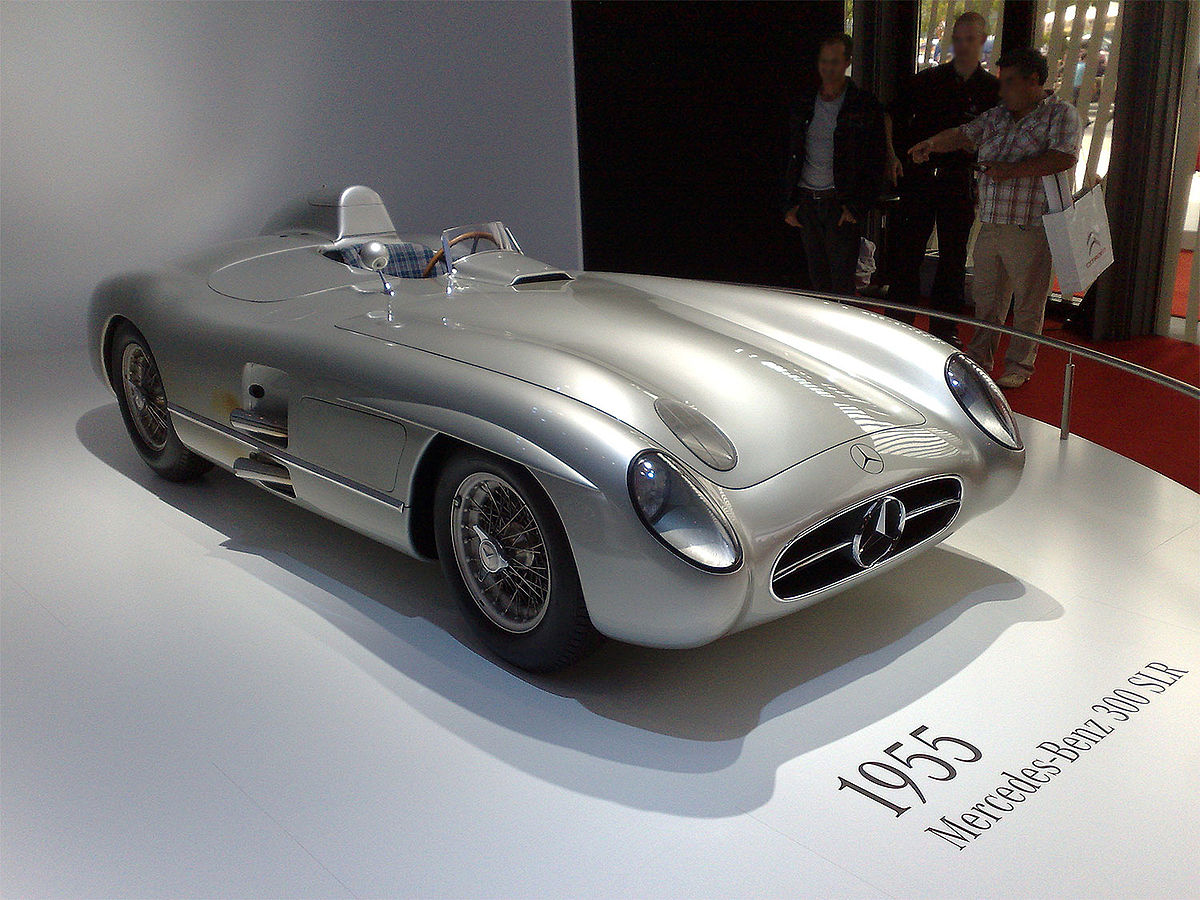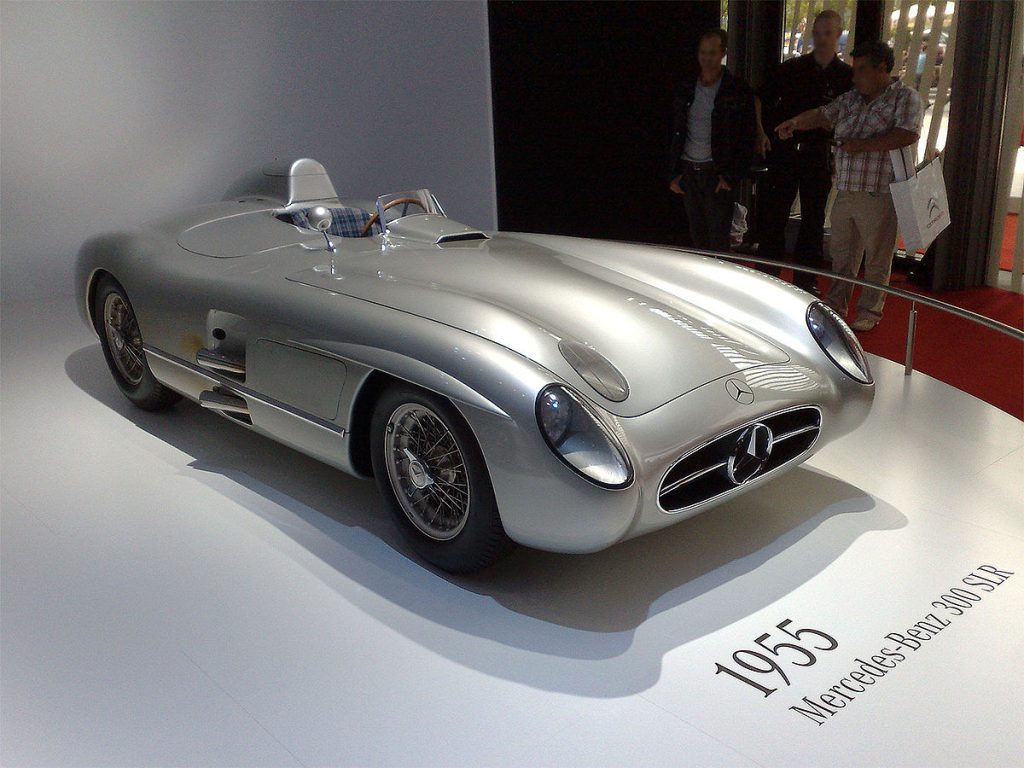 A 1955 Mercedes-Benz 300 LR Uhlenhaut Coupé was sold by auction house RM Sotheby's for an astounding £115 million in May this year, not only making it the most expensive classic car in the world in 2022, but also top of the list of 10 most expensive classic cars ever sold for either investment or collecting purpouses.
This is almost double the largest sum previously believed to have been paid for a collector car privately – even the opening bid was more than the previous highest price ever paid for a car at auction! The final bidding price was more than three times the previous auction record, which certainly shook the classic car world.
The reason the 1955 Mercedes-Benz 300 LR Uhlenhaut Coupé topped the "top 10 most expensive collector cars in the world" 2023 list is that it's so hard to come by. It's one of just two prototypes developed for the works racing program. This got canceled, making it one of the rarest cars ever.
It was used as a company car by the chief engineer of the racing department, Rudolf Uhlenhaut, for some time before both models became part of the Mercedes-Benz Museum collection.
RM Sotheby's auction was invite-only and that took place in Stuttgart, Germany on 5th May. The winning bid for this car was placed, on behalf of an anonymous collector, by dealer Simon Kidston, who has reportedly lobbied the Mercedes-Benz board for 18 months to consider selling, which goes to prove how desirable it is and how surprising its sale was.
Its sale to a private collector was unexpected but proves that classic car enthusiasts are little affected by the global economic uncertainty thanks to the ongoing effects of the pandemic and the Russia-Ukraine war.
Even with fuel prices soaring to unprecedented heights, classic car collectors are not put off and are constantly showing up to auctions and spending big money on collecting, restoring, and maintaining expensive classic cars.
These collector cars are rarely purchased with the intention of driving long distances but rather to display and restore them to their full potential. This perhaps explains why classic car auctions have not lost interest in 2023.
The 1955 Mercedes-Benz 300 LR Uhlenhaut Coupé is by far the most shocking entry on this list, but below are some more eye-watering additions to our 2023 classic cars list of the top 10 most expensive cars in the world.
2. 1937 Talbot-Lago T150-C-SS Teardrop Couple
This model became the most expensive car sold at the Amelia Island classic car auction in May 2022, making it a worthy entry on our top 10 most expensive cars in the world as of 2023. At $13,425,000, this is the most valuable French car ever sold at auction. What's more, it's the only French car, other than Bugatti, to have ever sold for over $10 million at auction.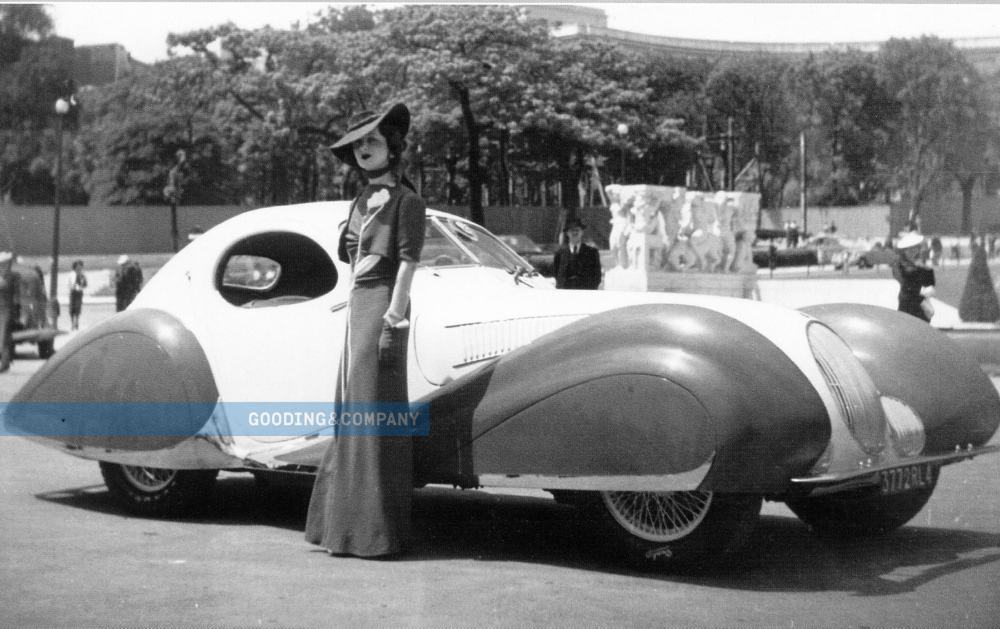 Its record-breaking price tag is due to the fact that it's one of just two examples o this collector cars with this specific bodywork – fully enveloping, skirted front fenders, called the Modéle New York. The other model no longer has its original bodywork intact, making this already rare car even more desirable.
It has passed through a few owners over the years but was not seen for 40 years until it emerged out of California in 2022.
3. 1955 Mercedes-Benz 300 SL Alloy Gullwing
To kick off 2022, the 1955 Mercedes-Benz 300 SL Alloy Gullwing was the most expensive collector car at the Scottdale 2022 auction week, with a final price of $6,825,000. This was a new record for the 300 SL Gullwing.
Although 1,400 Gullwings were produced, this car was one of only 29 made with lightweight alloy bodywork. It has retained most of its original parts, which also drove up the price, with the engine, chassis, rear axle, and front spindles all unchanged.
4. 1968 Porsche 907 Works
In March, the Artcurial Paris Rétromobile 2022 sale took place and the biggest price tag was on the 1968 Porsche 907, chassis 907-031, which fetched $4,860,000. This racer was 4th overall at the Nünburgring 1000km a month after it was produced. Its success, alongside the fact that it was the penultimate 907 ever produced, is what drove this high price.
It also raced three times at Le Mans, winning first in class and seventh overall in 1971, as well as many other first-in-class finishes.
5. 1955 Porsche 550 Spyder
The 1955 Porsche 550 Spyder was another collector car sale from the Amelia Island 2022 classic car auction. The 1955 Porsche 550 Spyder is one of the most important Porsches ever developed and raced extensively in Germany. This, alongside its limited production and age, means that it was sold at auction this time for $4,185,000.
It features a completely repaired body and full restoration, making it a well-maintained example, so it's no wonder it was one of Amelia Island's biggest sales.
6. 1934 Packard Twelve Individual Custom Convertible Victoria
Another huge collector cars sale emerging from the Amelia Island 2022 classic car auction was a 1934 Packard Twelve Individual Custom Convertible Victoria, which sold for $4,130,000. The biggest result for RM Sotheby's during the action, it became one of the most expensive Packards ever sold and is one of only three known existing models of its type.
7. 1914 Rolls-Royce Silver Ghost
We've included this old Rolls Royce on our 2023 collector cars list not because it topped the price charts but because of its impressive age. It was in the top 5 highest-selling cars of the Bonhams Amelia Island sale in 2022 at $489,000 and is over 110 years old, making it the longest-lived and one of the most famous automobiles of the era.
However, vintage Rolls Royces can sell in excess of $1 million depending on their condition and specification.
Top 10 Most Expensive Classic Cars in the World Sold During the COVID 19 Pandemic
The COVID pandemic saw many industries scrambling to make any sales they could to keep their heads above water, but the classic and collectors car industry were not one of them. Although showrooms and auction houses haven't seen the numbers that they have pre-pandemic, online and international sales have boomed. 
The increase in classic car sales has come because many collectors now have more time to pursue their hobbies since they are currently working from home. Also, in 2022 – 2023 chasing the most expensive vintage cars is a pastime that people can pursue safely from a distance. 
So, read on to see the most expensive antique cars sold at auction during the pandemic 2019 – 2022. 
1. 1994 McLaren F1′ LM-Specification"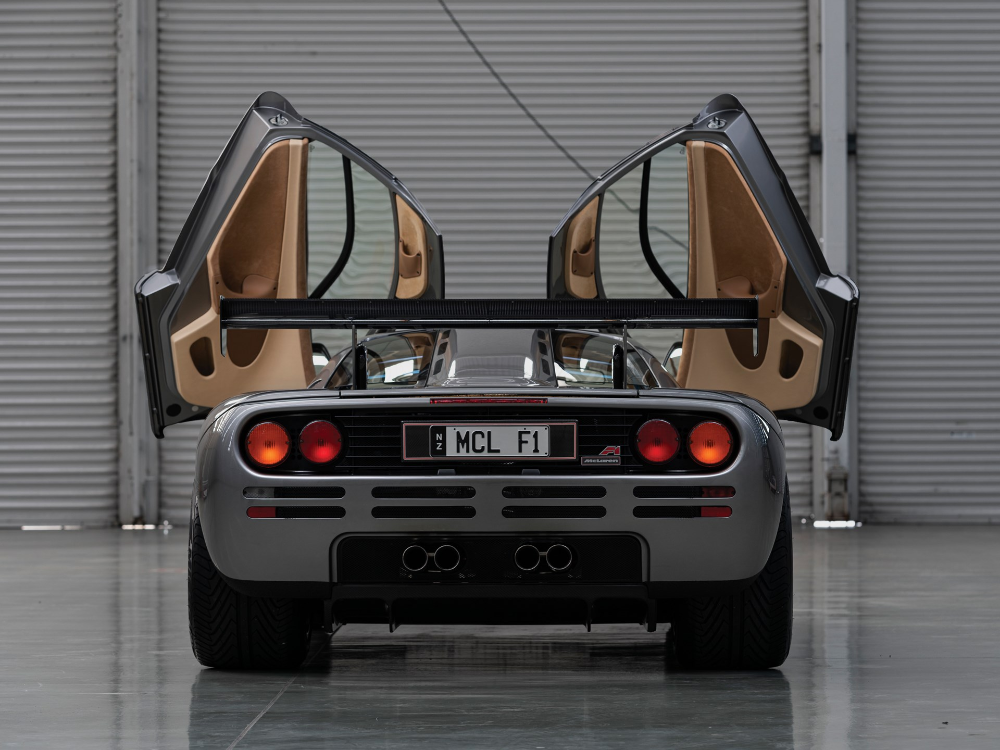 As one of history's most celebrated supercars, the 1994 McLaren F1 has become one of the top 10 most expensive vintage cars in the world in 2021 – 2023. Only 106 of these sleek collector beauties ever existed, and only 64 were road car builds. 
Yet, the reason that this shiny, silver Mclaren became one of the top 10 most expensive old cars ever sold in the world as of 2023 has to do with its 'LM Specification.' Only two of these collector cars were given the upgrade, with Mclaren doing this customization in 2000. The LM Specification gave this car the Extra-High Downforce Kit and upgraded the engine to unrestricted 680hp GTR specification. 
One of the most beautiful designs of the 1990s, this 1994 McLaren F1 sold for $19.8 million from Sotheby's in August 2019 to a buyer in Monterey, California. 
2. 1939 Alfa Romeo 8C 2900B Touring Berlinetta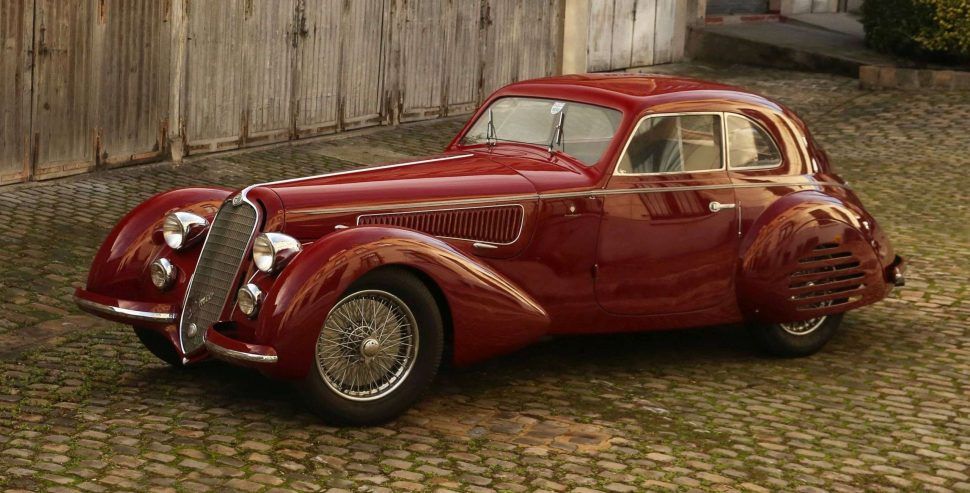 Following in the footsteps of the 1939 Alfa Romeo 8C 2900B Lungo Spider, which sold for almost $20 million in 2016, this pristine red 1939 Alfa Romeo Berlinetta has become one of the most expensive classic cars in the world in 2023. 
This Alfa Romeo collector's dream car was bought by the Dutch consignor's father four decades earlier for the equivalent of less than $11,000. Today, the classic late '30s auto is the third-highest selling pre-WWII car sold, only surpassed by the previously mentioned Spider and a 1935 Duesenberg Model SSJ roadster that sold for $22 million in 2018. 
Artcurial sold the Depression-era car for just under $19 million in February of 2019 at its Paris auction. The auction house only described the buyer of this exquisite vintage car as a private collector from the United States. 
3. 1934 Bugatti Type 59 Sports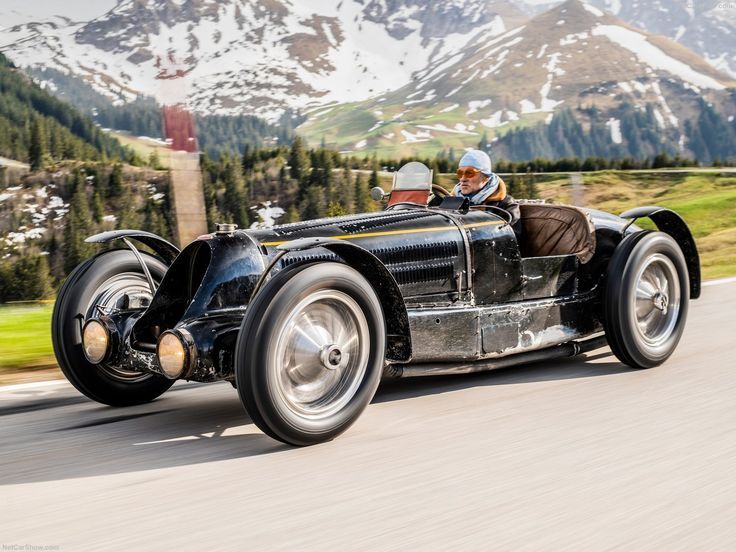 Considered the ultimate Bugatti Grand Prix car, the 1934 Bugatti Type 59 Sports became the most expensive car sold at auction in 2020, and one of the most expensive collector cars overall, at the time of this writing in 2023. 
This little black sports vehicle raced a successful season, including winning a Belgian Grand Prix. Later, the Bugatti became road-legal, and King Leopold III of Belgium bought it shortly afterward. It remains in its original unrestored condition with an 8-cylinder engine and a 4-speed dry-sump manual gearbox. 
Gooding and Company auctioned this old, expensive car in 2020, and sold it for $12.68 million. 
4. 1937 Bugatti Type 57S Atalante 
Unsurprisingly, one of the most expensive vintage cars of 2020 was another Bugatti. The 1937 Bugatti Type 57S Atalante was one of only 17 collector cars given the Atalante body type, helping this vintage beauty become one of the most expensive old cars ever sold. 
This 8-cylinder engine racer rolled out of the factory on May 5th, 1937, and soon after, the British racing driver, Earl Howe, bought the car from Sorel of London. The Bugatti changed hands several times before Ivan Dutton Ltd. performed a historically sensitive restoration to get the car ready for sale. The car retains its original chassis, bodywork, and engine despite the restoration. 
The '37 Bugatti finally found its new home when it was sold as one of the most expensive old cars in the world as of 2023, for $12.54 million. Gooding and Company auctioned this wonderful collectors car at an event in London. 
5. 1958 Ferrari 250 GT LWB California Spider
Like the most expensive car sold at auction as of 2023, a Ferrari was one of the highest-selling classic cars bought during the pandemic. The 1958 Ferrari 250 GT LWB California Spider is proof of the way that crowds will always get excited when a California Spider is up for bid. 
This California Spider, in particular, won people's hearts because of its covered headlights and exceedingly rare hardtop. This Ferrari experienced plenty of races during its younger years yet remained in good condition. 
Winner of the Cavallino Classic and Pebble Beach Concours d'Elegance awards and offered with books, tool roll, and history report by Marcel Massini, this luxury item sold for $9.91 million. Gooding and Company also performed this auction, and the Spider sold in 2019. 
Most Expensive Classic Cars in the World as of 2023 (Before the COVID 19 Pandemic)
From the traditional style of the classic Alfa Romeo touring cars to the sleek and timeless appearance of the famous Ferrari sports car, there's a reason that classic cars continue to be a coveted addition to thousands of collections worldwide.
For drivers who want to experience precisely what speed felt like fifty years ago, to those who simply fall in love with the lines and aesthetics of that one dream car, there's no doubt that there's high demand for collector and classic vehicles.
As with any collectable, there are always some classic cars that are worth more than others or have a unique addition to offer.
Read on to find out more about the top ten classic cars ever seen at auction, and exactly how much their value was at the time.
1. Ferrari 250 GTO
Instantly recognizable thanks to its vibrant scarlet hue, there's no doubt that this 1962 Ferrari is one of the most sought-after vehicles in history. With classic 60s styling – bold numbering visible on all sides – this little car has as much power as you'd expect from a car built to race. It's no wonder that automobile magazine reported one of these cars as one of the most desirable models in existence.
With less than 40 of the 250 GTO ever built, and many of those 40 damaged by active racing, it's no surprise to classic car experts that this pristine model sold for just under $48.4 million including buyer's commission, making it the most valuable car to sell at auction in history – so far (2023).
2. Alfa Romeo 8C 2900B Lungo Spider by Touring
A real classic car, this 1939 vehicle perfectly epitomizes the image and style of the late 30s and early 40s, with an appearance that wouldn't look out of place in The Great Gatsby. Considered one of the original luxury sports cars, this vehicle may be amongst the oldest collectors car on the list, but it certainly has all the elements needed to rival more modern cars, especially when it comes to appearance.
While by modern standards, the Alfa Romeo 8C 2900B Lungo Spider by Touring is on the broad side, in its heyday it was one of the best race vehicles on the market, packing a punch below the bonnet and easily outstripping the competition time and time again.
This unique class car was even featured in a Channel 4 documentary, detailing how it was sold at auction for an impressive $19.8 million, a worthy entry on our list of most expensive classic cars in 2023.
3. 1985 Porsche 959 Paris-Dakar
With just shy of a couple of decades under its belt, can the 1985 Porsche 959 Paris-Dakar truly be considered a classic car, or indeed a collectors car?
According to experts, the new generation of younger classics still falls under the umbrella. With distinct 80s styling, a host of different sponsorships included on the body of the car, and a stylish racing look in bold red, it's easy to see why auction-goers might fall in love with this 80s racer.
Placed at auction to celebrate the 70th anniversary of the famous car company, the 959 Paris-Dakar brought in a price several times over in comparison to the standard road-going version of this vehicle. Thanks to its unique position as a purpose-built design for the Paris-Dakar rally, this small yet powerful expensive car was sold for an impressive $5.9 million at auction.
4. 935 Duesenberg SSJ
An all-American supercar that calls back to the classic days of American manufacturing, the 1935 Duesenberg SSJ is another example of traditional design with a powerful bite. Designed at the time to be one of the world's supercars, this particular model is complete with a vibrant silver bodywork that stands out from the usual blacks and reds of the time.
This particular collector car model is more than meets the eye. Its first owner was actor Gary Cooper, and according to legend, Clark Gable fell in love with the vehicle on sight, leading to a second car being made in the first's image for one of America's first true superstars.
Selling at auction for a cool $22 million, this classic supercar is the most expensive American-made vehicle ever to be sold as of 2023.
5. 1955 Jaguar D-type
From its visually appealing 'sail' to the curve of this classic car's bodywork, there's something truly unique about the Jaguar D-type that sets it aside from other collector cars in its class. Finished in a dazzling blue and with a long and storied history, this particular model is coveted for more than its unique design.
The very car that won the 1956 24 Hours of Le Mans race, the D-type is the only victor of its class to have survived to the modern-day.
With only two private owners who ensured this unique vehicle was kept in top shape, the Jaguar D-type sold at auction for an astounding $21.7 million back in 2016.
Representing a particular piece of history, with a chassis that's as beautiful as it is unusual, it's no surprise that the D-type continues to be a beloved vehicle to this day, and one of the top 10 most expensive cars ever sold as of 2023.
6. 1954 Mercedes W196 F1 Silver Arrow
If there has ever been a car that's built for speed, it's the aesthetically unique, impressively functional 1954 Mercedes W196 F1 Silver Arrow. With only ten of the vehicles in existence, and with only one on the private market, it's no surprise that this winning vehicle carries such a hefty price tag.
Complete with that classic 'bullet' shape, at the time the W196 was a true technological marvel, following Mercedes' return to F1 post-World War II.
As if that weren't enough, the car in question was also the winner of the 1951 F1, driven by famous racer Juan Manuel. At a time when cars were becoming more and more streamlined, this silver model was more simplistic than most, earning it that win and marking the vehicle down in history for its impressive record and visual appeal.
This incredible classic car parted ways with its previous owner for an astounding $31.6 million at auction, an expensive yet ten-of-a-kind entry on our 2023 list of the top 10 most expensive cars in the world.
7. 1931 Bugatti Royale Kellner Coupe
Another genuinely classic vehicle, the influential and recognizable Bugatti Royale Kellner Coupe certainly has a lot going for it when it comes to style. Designed specifically to be sold into royalty, the vehicle eventually fell into the hands of other buyers, with a modest total of six collector cars ever made, which contributes to its entry on our expensive classic cars list in 2023.
Designed in competition with Rolls-Royce, the effortless 30s aesthetics of the Kellner Coupe are truly a luxury you don't get with modern vehicles.
Featuring an impressive lengthy chassis, standing as a total of 21 feet, one of the most unique parts of the Kellner Coupe is actually under the hood. With an engine initially designed for aircraft, Bugatti's engine was more substantial than anything else on the market, producing up to 300 horsepower thanks to its vast size and power.
Selling for around $20 million in 87, rumor has it that the car has changed hands again for an even higher price.
8. Aston Martin DBR1
The very first of five DBR1 models produced, this attractive 1950s racer has all the classic elements that car collectors love. From its beautifully preserved teal-blue paintwork to its incredible history, there's more to the Aston Marten DBR1 than meets the eye. The winner of the 1959 Nürburgring 1000KM, this car features a reproduction engine, and original lamps, for the ultimate combination of old and new.
Lovingly maintained by Aston Martin specialists, and coveted as the sister car to the winner of the 1959 Le Mans, there's something special about this highly sought-after car.
Fetching an impressive $22.5 million at auction in 2017, the car's former racers include the famous Roy Salvadori and Stirling Moss, adding a little extra something to the vehicle that makes it an even more appealing purchase for serious collectors on the lookout for impressive, yet expensive classic cars.
9. 1966 Ford GT40
Another more modern classic, there's no mistaking the right angles and dazzling gold paintwork of the 1966 Ford GT40, a complete departure from the gentle curves and compact design of earlier racing vehicles.
Known for its high-octane power, winning run at Le Mans in 1966, and distinctive design, the car has been in private ownership since 1973.
Its unique silhouette and late 60s/early 70s appeal make this classic car a must for collectors who prefer power and modern style over the more old-fashioned model of car. Indeed, it proved its popularity at auction, with a sale price of $9.7 million, and a record for one of the top 10 most expensive American cars on collector's lists as of 2023.
10. 1958 Ferrari 250 GT TdF
Sleek in black with an understated profile, the 1950 Ferrari 250 GT TdF wouldn't look out of place in a classic Bond movie. Named after the famous Tour de France road race, this small yet powerful car continues to be coveted worldwide to this day, in part thanks to its attractive design and how easy it is to drive in comparison to other classic models.
Living up to its name, the Ferrari 250 GT TdF won four consecutive times at its namesake; further adding to the worth of this classic collector car, and making it even more desired by Ferrari cans and classic car collectors alike.
Selling for $6.6 million at auction, this car might not top the charts when it comes to the top 10 most expensive cars in the world as of 2023, but it more than makes up for it with charm.
To quickly sum up the 5 most expensive classic cars in the world as of 2023, you can also watch our short video below:
Fine assets are always in big demand as prices at auctions around the world continue to grow every year. You may also want to read our comprehensive articles on most expensive items ever sold on auction for assets like fine wine collections, expensive jewellery, (including an article on most expensive Cartier jewelry) luxury handbags, diamonds .
If you like watches, then we wrote articles on the Top 10 most expensive Rolexes ever sold , Top 10 Most Expensive Watches ever sold, and Top 10 Brands of Fine Watches you Should Invest in
You will also like…
Whether you prefer the sleek shape and style of 1950s collector classic cars or the robust size and shape of earlier models, there's a perfect car out there for every style. If you happen to have the money, it's more than worth taking a look at any of the above models next time you're near the auction house. You never know – you might come away with a winner.
New Bond Street Pawnbrokers  offer loans on the following classic cars:  Aston Martin, Bugatti, Ferrari, Jaguar, Mercedes, and Porsche
This post is also available in:

Français (French)

Deutsch (German)

Italiano (Italian)

Português (Portuguese (Portugal))

Español (Spanish)

Български (Bulgarian)

简体中文 (Chinese (Simplified))

繁體中文 (Chinese (Traditional))

hrvatski (Croatian)

Čeština (Czech)

Dansk (Danish)

Nederlands (Dutch)

हिन्दी (Hindi)

Magyar (Hungarian)

Latviešu (Latvian)

polski (Polish)

Português (Portuguese (Brazil))

Română (Romanian)

Русский (Russian)

Slovenčina (Slovak)

Slovenščina (Slovenian)

Svenska (Swedish)

Türkçe (Turkish)

Українська (Ukrainian)

Albanian

Հայերեն (Armenian)

Eesti (Estonian)

Suomi (Finnish)

Ελληνικά (Greek)

Íslenska (Icelandic)

Indonesia (Indonesian)

日本語 (Japanese)

한국어 (Korean)

Lietuvių (Lithuanian)

Norsk bokmål (Norwegian Bokmål)

српски (Serbian)

Tamil
---
---

---
Authorised and Regulated by the Financial Conduct Authority