Top 10 fine wine collections ever sold at auction as of 2021
January 3, 2021
This post is also available in:

Français (French)

Deutsch (German)

Italiano (Italian)

Português (Portuguese (Portugal))

Español (Spanish)

Български (Bulgarian)

简体中文 (Chinese (Simplified))

繁體中文 (Chinese (Traditional))

hrvatski (Croatian)

Čeština (Czech)

Dansk (Danish)

Nederlands (Dutch)

हिन्दी (Hindi)

Magyar (Hungarian)

Latviešu (Latvian)

polski (Polish)

Português (Portuguese (Brazil))

Română (Romanian)

Русский (Russian)

Slovenčina (Slovak)

Slovenščina (Slovenian)

Svenska (Swedish)

Türkçe (Turkish)

Українська (Ukrainian)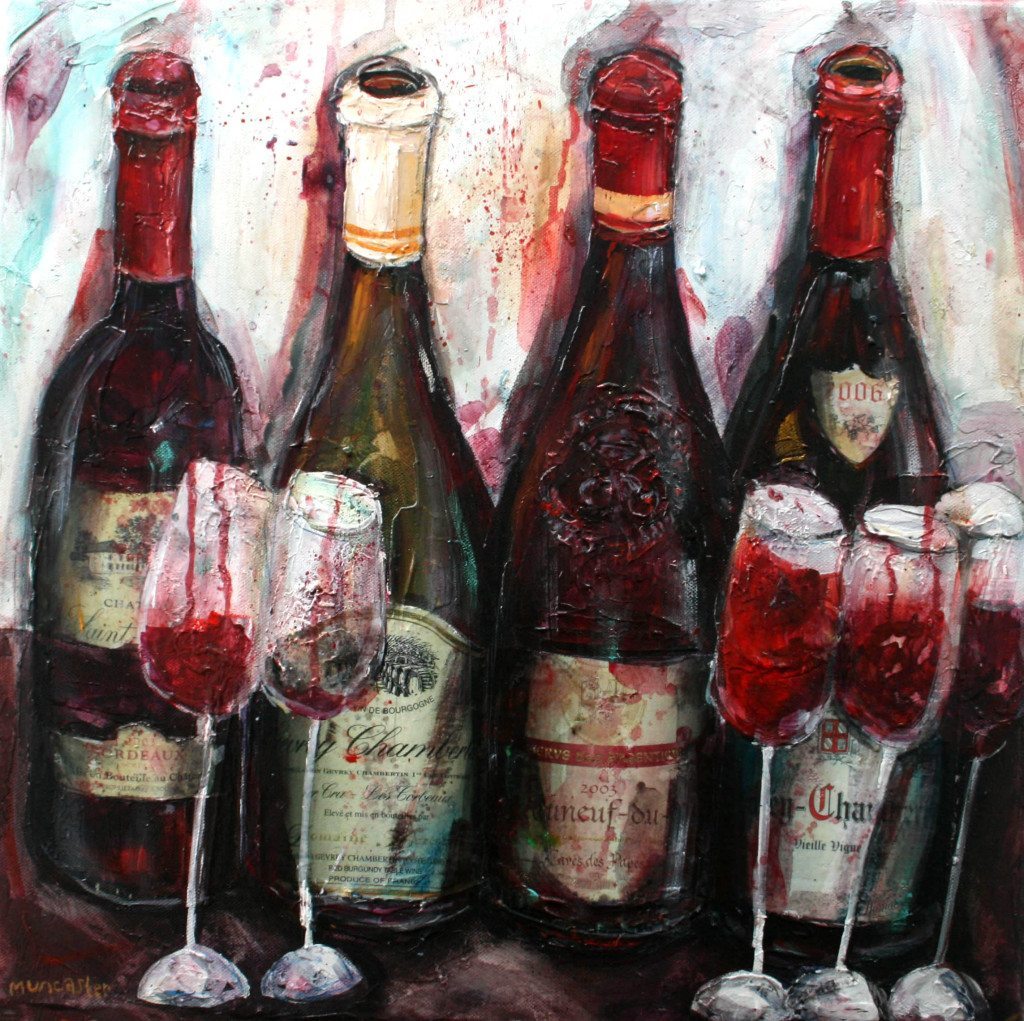 Before we start our discussion about the most expensive wine ever sold, you should know that the demand for wine collections of exceptional quality is at an all-time high. There are many wine collectors across the world competing to acquire the rarest wines and most valuable bottles, whose availability is often scarce due to the various challenges of growing quality harvests.
Although wine auctions were initially a focus for auction houses based in London, over the past 30 years the world has experienced a global shift in the sale of wine at auction. The trend initially spread to New York, with Hong Kong wine auctions quickly gaining momentum following the 2008 recession. Today, it is possible to attend in person, or bid over the phone and internet at wine auctions in London, Paris, Chicago, California, Beverly Hills, Hong King and New York, to name a few.
Fine assets are always in big demand as prices at auctions around the world continue to grow every year. You may also want to read our comprehensive articles on most expensive items ever sold on auction for assets like fine jewellery,  expensive Cartier jewelry, luxury handbags, classic cars , diamonds and art. If you like watches, then we wrote articles on the Top 10 most expensive Rolexes ever sold , and Top 10 Most Expensive Watches ever sold.
1) A 17,000 bottles collection sold at the Tran-scend-ent Wines Auction
This auction took place in March 2019 in Hong Kong and set a new world record for a private wine collection, with a sale price of $29.8 million. The sale crushed previous estimates and sold for nearly $4 million above its estimated pre-sale price, making it the most expensive wine ever sold at the time.
The collection was valued for its rarity, with bottles including first-class wines from Burgundy and Bordeaux. The collection was sold by an anonymous owner, who was simply referred to as a fifth-generation developer of properties.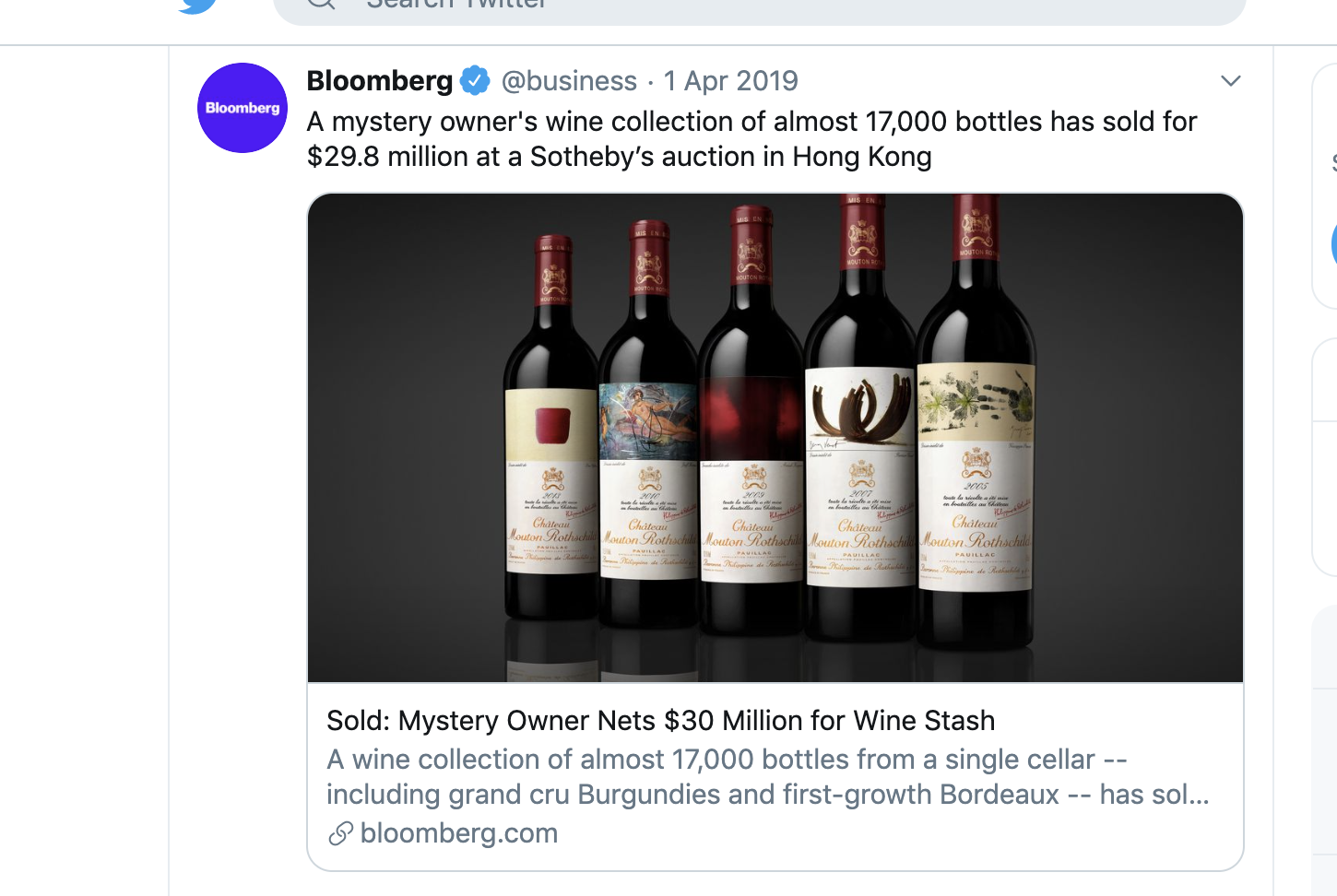 2) A private wine collection of Bill Koch's
Before the 2019 auction, the record for the most expensive wine collection to be sold at auction was held by a Sotheby's auction which took place in New York in 2016. The collection was owned by the billionaire wine collector Bill Koch, who was well known for exposing counterfeits of fine wine. The total sales for the auction outstripped the estimate of $15 million and reached £21.9 million.
3) A collection from the cellar of Robert Drouhin
In 2018 Sotherby's of New York sold two bottles of Domaine de la Romanée-Conti's, setting a new record at the time for the most expensive bottles of wine to ever be sold at an auction. The bottles which were of a 1945 vintage sold for $558,000 and $496,000, which was five times more than the pre-sale estimate.
The collection included a variety of rare and vintage bottles of Burgundy's most popular wine, with 100% of the bottles sold and achieving a total of $7.3 million. The collector was a part of a family which runs an acclaimed Burgundy winery, Maison Joseph Drouhin, so it is no surprise that the collection was valued so highly.
4) A collection owned by Andrew Lloyd Webber
Although Webber made his fortune from his musicals such as Phantom of the Opera and Cats, he is no stranger to investing in other areas. In 2011, his collection of 8,837 bottles of French wines was sold in Hong Kong for £3.5 million. The collection was split into smaller lots, with cases of 6 or 8 bottles and a total estimate of £2.6 million.
However, the eagerly anticipated sale surpassed all estimates with buyers competing for bids in person, over the phone, and online. The most expensive wine bottle sold was a Domaine de la Romanée Conti of the 1990 vintage, which achieved a price of £17,460. Although, the most expensive wine lot within the collection sold for £48,500. The collection included 12 bottles of Chateau Petrus produced in 1982, which is one of the most desirable Bordeaux wines.
5) A collection of shipwrecked wines rescued from the bottom of the Baltic
In 2016 Bonhams was asked to auction a bottle of The Heidsieck & Co Monopole 1907 Goût Américan Champagne, which was part of a collection rescued from a sunken yacht. This specific bottle was sold for $273,000 (£213,000), with several of the same bottles sold at various auctions for the same price.
The yacht was sunk during World War 1 when it was detained and then sunk by a German U-boat, which left bottles of these fine wines at the bottom of the sea for 80 years. The collection was being transported to Finland in 1916 and included fine wines, Cognac and Champagne. In 1998 operations began to salvage the remains of the collection, with divers discovering more than 2000 bottles, all in excellent condition.
6) An imperial sized bottle of Cheval Blanc 1947 from a secret cellar collection
In 2010 a wine auction held in Geneva caused a stir when it sold a bottle of the mythical Cheval Blanc 1947 for $304,375. The bottle was part of a secret Swiss collection, which had been held in a cellar for a number of years. It is the only known bottle in an Imperial format for this vintage. According to the auction house Christie's, it took two years to convince the collector that it was the right time to consign the collection, based on the strength of the market conditions.
The vintage is hailed as one of the greatest Bordeaux wines of all time, based on its rarity and longevity. In the same sale, another collector auctioned off a collection amounting to more than 460 bottles, which helped to really put this auction on the map.
7) A collection of 2000 bottles from Lafite's wine cellars
In 2010, the sale of 2000 bottles from this renowned collector caused a stir and firmly positioned Asia as a serious wine market. The first lot sold in 2009 and reached three times the rate expected in America at the time. So, it was no surprise when a bottle of the famous 1869 Château Lafite sold for $233,973, a far cry from the original estimate of $8,000.
In Asia Lafite is considered a luxurious purchase, with many wealthy collectors seeking the best vintages to add to their collection or offer as valuable gifts. The star of the auction was the 1869 vintage, with so many people looking to witness the sale that tickets had to be issued. Following the auction, the price of Lafite of all vintages rocketed by 10-15%, with some merchants recording extraordinary levels of sales in the days after.
8) A collection directly sold by Chateau Mouton Rothschild
In 2015, the famous winery found itself discussed by wine collectors across the world when its lots sold for 93% more than their estimate, reaching a total of $4.1 million. The most sought-after lot of the auction was a 66-bottle collection which spanned 68 vintages, running from 1945 to 2012, although the years 1958 and 1963 were excluded. This particular lot set a world record for Mouton vertical sold at auction, with a price reached of $376,000. This was particularly important for the winery as it served as a commemoration of the late Baroness Philippine de Rothschild, with proceeds given to a non-profit charity in her name.
A number of other lots in this auction set new records, including a single bottle of Chateau Mouton Rothschild from 1870, three bottles from the 1959 vintage, a magnum from 1945 and a 15-litre Nebuchadnezzar from 2000. The lot included many sought-after wines and achieved an impressive sale price of $117,788.
9) A record for the most valuable white wine ever sold
Although not quite sold at auction, the impressive price achieved for this 1811 Château d'Yquem ensures that it deserves a mention in our list. It is one of just 10 bottles which exists worldwide and has been awarded 100 points by Robert Parker, who described it as one of the greatest wines in the history of Bordeaux.
The bottle of white wine was sold by The Antique Wine Company to Christian Vanneque, a private wine collector. As the former head of La Tour d'Argent, a famous Parisian restaurant, he certainly knows his wines. The wine was sold for $117,000, which explains why it now sits proudly protected by bullet proof glass in his current Balinese restaurant in Indonesia.
10) A collection from Massandra
Massandra is the oldest wine cellar operating in the Ukraine, with its 1775 sherry the rarest bottle of its kind. Although this is the most historic auction in our list, the rare Massandra Sherry de la Frontera reached an impressive $43,500 when it sold in 2001. It is the oldest known bottle in existence from the winery, so it is no surprise that it achieved such a high price in the auction held by Sotherby's of London.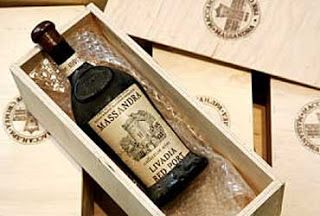 Image credit: pinterest.com
The Massandra winery collection includes more than 1 million vintage wines, but this sherry is prized for its unique golden colour. The winery has caused a stir in more recent years when in 2015 another bottle from 1775 was opened for Russian president Putin and the Italian media personality Silvio Berlusconi. Before 2014 the area was owned by the Ukranian government, which makes these wines historically significant. It is thought that Ukrainian prosecutors are planning to charge the winery's manager with embezzlement for the over-generous gesture.
That concludes our list of the top 10 most expensive wine ever sold at auction. If you have a valuable wine collection and are looking to raise funds against it, our knowledgeable team are available to value and discuss your collection. Whether you are looking to pawn a single bottle or a whole collection, we can offer loans against a variety of spirits and wines, including port, Champagne, Cognac and Madeira.
What are the most expensive wines in the world to buy right now in 2021?
We have more than 25 years' experience in providing loans on fine wines, so we can ensure that you will be provided with the best price for your valuable collection. To find out more, please book an appointment with our wine specialists at our award-winning shop in Mayfair, London, where we can offer you an immediate appraisal and a quick loan based on its value.
If you're looking to pawn fine wines, get in touch with us today.  Some of the wine we loan against includes Chateau Petrus, Chateau Margaux, Chateau Lafite and Chateau Mouton to name just a few.
---
---

---
Authorised and Regulated by the Financial Conduct Authority