I hope you enjoy this blog post.
If you want us to appraise your luxury watch, painting, classic car or jewellery for a loan, click here.
Top 20 Most Expensive Paintings & Modern Art as of 2023 (last 6 years)
January 5, 2021
What are the most expensive paintings and art in the world, ever sold as of 2023?
From the most valuable art and paintings to the impact of two of the most recent humanity crises (COVID 19 and the Ukraine War), the team at New Bond Street Pawnbrokers will cover everything you need to know about the last 6 years or so.
Let's dive straight in!
One of the biggest names in 2022 has been Andy Warhol's Sage Blue Marilyn which became the world's most expensive 20th-century artwork /painting in the world ever sold at auction.
However, very soon after, Andy Warhols' masterpiece was dethroned by the Macklowe collection cumulatively which has recently become the most expensive art and painting collection in the world ever sold at auction, as of 2023, costing $922 million.
In addition, although there was uncertainty that inflation due to the Ukraine war and the pandemic would see the art world struggle, Christie's has reported a staggering $4.1 billion in sales in 2023 so far. Experts say the return to somewhat normalcy following the pandemic has helped, with hybrid live-streamed auctions seeing large figures.
The impact of the war in Ukraine
The art world has had no time to recover from the effects of the pandemic (which are still being felt) and now suffers from the effects of the war in Ukraine. There have been many impacts on the art world due to the conflict, not least many ties with Russian art galleries and artists being cut by worldwide collectors and Ukrainian art being kept under protection.
But how has all this affected prices?
Many Russian art auctions have been called off, including the annual auction of Russian art held by both Sotheby's and Christie's in June, which will see them losing profits of £17.7 million, based on last year's performance when some very niche, yet expensive paintings and art has been sold.
There is a complete ban on art exports to Russia by the UK and many other countries, and Sotheby's has also announced that they will ban some Russian buyers and people whose income derives from Russia from participating in their sales. German auction house Ketterer Kunst also no longer communicates with Russian clients.
Russian oligarchs are well known for supporting the fine art industry with large donations, so these moves all indicate significant losses. There have been many fundraising attempts from artists around the world to support Ukraine, which has seen large profits, however, nothing necessarily notable on our list of the most expensive art and paintings in the world ever sold as of 2023.
The effect of the COVID pandemic
This comes as prices of artwork of all kinds have been significantly affected since the beginning of 2020, which saw the pandemic rattle the way the world worked. Not even one of the most famous and expensive paintings in the world ever sold, could avoid the impacts, as Van Gogh's Sunflowers was kept in quarantine in February of 2020 when it was supposed to be traveling from London's National Gallery to Tokyo's National Museum of Western Art. It was at this time that most art museums were shut down to avoid the spread of COVID.
Although the shutting of galleries led to a fear that there would be a decrease in interest in art – and auction houses were forced to shut, which could have seen prices plummet – the art industry managed to adapt well and stay relevant, boasting profits despite the unprecedented changes. Auctions could not happen in person, but many dealers and artists turned to online platforms to accelerate sales and this, overall, was very successful.
Sotheby's even managed to achieve the highest annual total in their 277-year history in 2021, with online bidders accounting for 92% of all bids. That was more than 68% higher than in 2020, perhaps due to people becoming more accustomed to, and comfortable with, bidding online by 2021. Confidence has continued to grow since, with more than half of online art buyers saying that they have increased confidence in buying expensive art and paintings online in 2022, and throughout 2023.
In 2020, online infrastructure to accommodate online art sales was under new development. Despite this, there were still massive growth rates in online art sales from 2019 to 2020 alone, going from 4.8% to 64%.
By 2022, and continuing into 2023 and beyond, auction houses, sellers and artists have well and truly adapted to an online system, with platforms easier to navigate and able to withstand higher traffic – selling is even taking place on social media platforms like Instagram!
The transition to online platforms has also seen art prices increase. This is perhaps because, at the height of the pandemic, people had no option to go out and see art in a gallery, so instead, they had to buy it for themselves to enjoy it, increasing demand and competition. Since then, online auctions have become more normalized and easier to access, so more and more people are attracted to bidding, which further drives prices.
All of this has opened up paintings and modern art to a much wider audience than ever before.
In 2021, three in ten young collectors bought their first-ever artwork using an online platform. 47% of new art buyers (defined as people who started buying art less than three years ago) made their first purchase online. Sotheby's, in particular, has noted how almost 40% of its buyers were new customers in 2020, and 30% were under 40 years old. This is because there are no physical limitations to online bidding – you don't have to travel hundreds of miles or even leave your living room.
This opens the door to those who don't feel comfortable bidding in an auction and is far more appealing to younger audiences, as these statistics clearly show.
Also, rather than hindering the visual experience of buying art in person, developing technology allows collectors to view art in more detail. Photography means that they can zoom in and take a good look before bidding, which makes people more confident in buying because they know what they are getting. Although there is no replica to seeing art in person, this clearly has its own unique set of benefits.
When the pandemic meant that art could not be displayed in person, living artists turned to social media to show off their hard work. This increases their reach and ultimately sales, as someone can enquire within seconds on Instagram and a sale secured moments later without the need for an agent.
This type of sale is typically low value and the commonality will continue to lower prices, but the ability to reach a wider audience and sell more units is a benefit to many artists who may have otherwise suffered because of the pandemic. Social media also makes tracking art trends far easier, driving demand for certain types of art.
The top 20 modern paintings and art sold in the last
6 years up to 2023 are…
2017 in particular was a bumper year for some of the most expensive art sales in the world, with no fewer than three of the most expensive art pieces in the world going under the hammer for more than $100m.
This was at the time an improvement for the market on the previous year's relatively slow sales but doesn't quite hit the heights of the five $100m+ pieces sold in 2015.
However, the number one sale in 2017 was very special indeed. More on that later. First, let's count down the top 10 most expensive pieces of modern paintings and art ever sold as of 2017 by price.
A B, ST JAMES – Gerhard Richter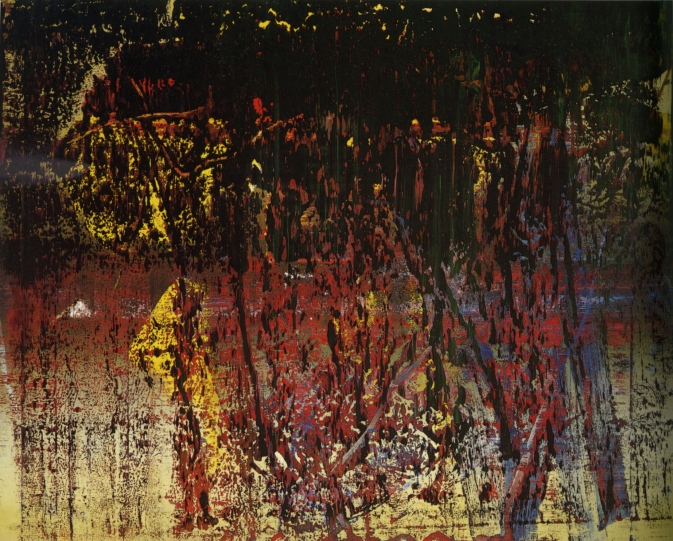 The first of two appearances in this list of the most expensive painting in the world ever sold as of 2022 belong to German artist Gerhard Richter.
His abstract painting A B, ST JAMES sold for $22.7m at Sotheby's in New York. While Richter may be more notable for paintings that use his eerily accurate photorealism technique, his portfolio of work in abstract is also well-loved and sought after.
The interesting effect of the painting was created by using a squeegee – a long, flat metal surface with a handle – to lay down base colours, before placing detail on top.
Rigide et courbé – Wassily Kandinsky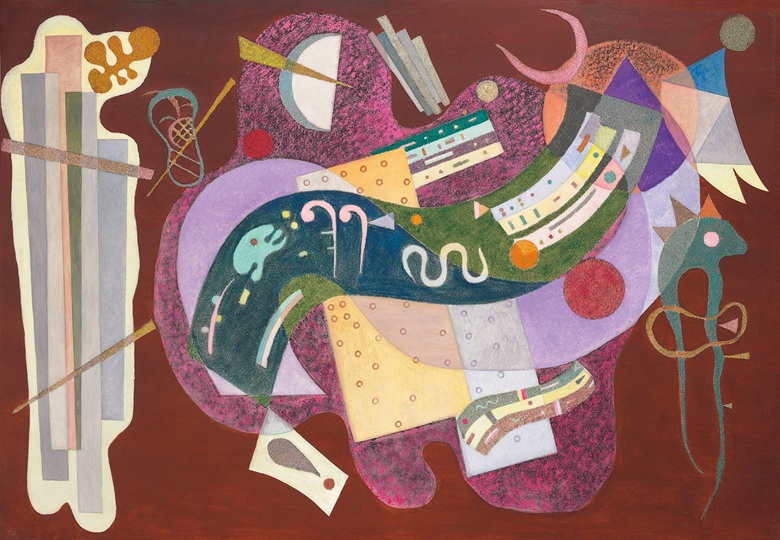 Selling for $23.3m at Christie's in New York, Rigide et courbé (Rigid and Curved) by Wassilly Kandinsky was painted in 1935. Kandinsky created the piece while he was living in Paris, and – seeing as he was born in Russia – it's fair to assume that the French title was chosen in homage to his adopted homeland.
Stylistically, it's similar to a lot of Kandinsky's other work at the time; abstracts that are characterized by non-geometric lines, and rustic colour palettes. A worthy entry on our 2023 list of the most expensive paintings and art in the world ever sold on auction.
Les Grandes Artères – Jean Dubuffet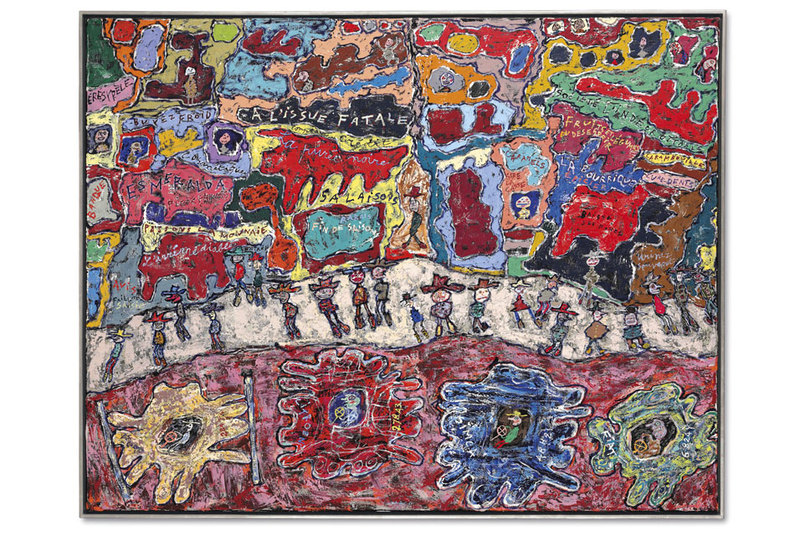 Les Grandes Artères, selling for $23.76m at Christie's in New York, was part of the French artist's Paris Circus collection, considered by many to be among his finest and most accomplished works.
Indeed, the lion's share of this collection is on show in some of the world's most famous art galleries in Paris, New York, and Washington D.C. Therefore, it's little surprise that this piece fetched such a high price when it went up for auction.
The vibrant, colourful canvas is an abstract depiction of Paris, the city where Dubuffet spent much of his adult life.
SELF PORTRAIT (FRIGHT WIG) – Andy Warhol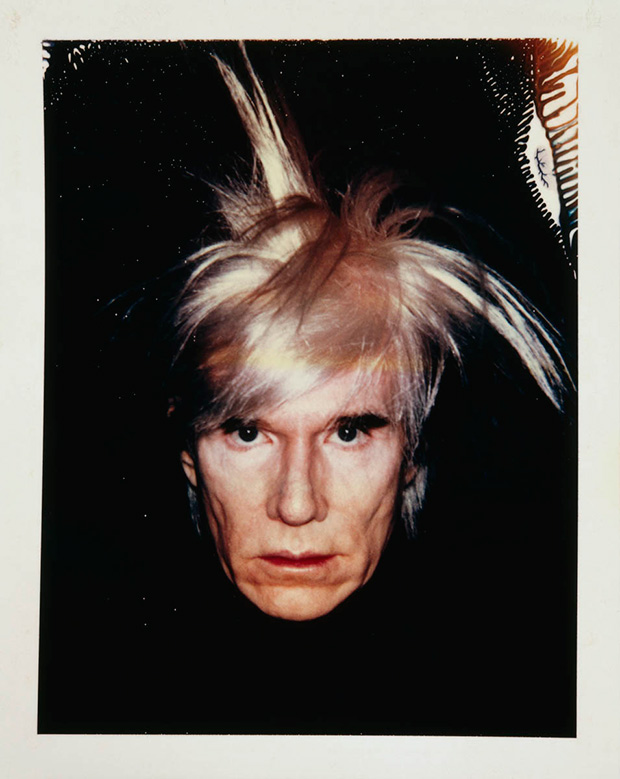 Warhol is one of those names that's near enough guaranteed to be a massive asset to any piece that it's attached to, and regularly delivers some of the most expensive paintings and pieces of art ever sold in the world as of 2023.
This self-portrait may not have commanded a figure as high as some – such as Eight Elvises which sold for a reported $100m in 2009 – but it still sold for $24.4m at Sotheby's in New York.
The piece is a polaroid picture, taken in 1986, and this sale surely puts it in contention  for the most expensive polaroid of all time
Dϋsenjäger – Gerhard Richter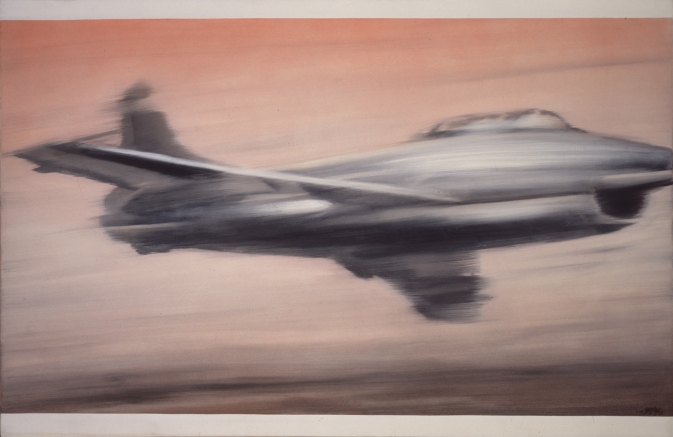 The second piece by Gerhard Richter in this list of the most expensive paintings in the world ever, Dϋsenjäger sold for $25.56m at Phillips in New York.
Perhaps the most famous of Richter's well-loved warplane series, Dϋsenjäger depicts a jet fighter, using a blur technique that Richter became famous for.
While Richter is known for his photorealistic depictions of people and objects, he uses blur in many pieces to give it a unique artistic quality. For Dϋsenjäger, painted in 1963, Richter used a liberal application of his oft-used blur effect to give the impression that the plane is in flight.
Radha in the Moonlight –  Raja Ravi Varma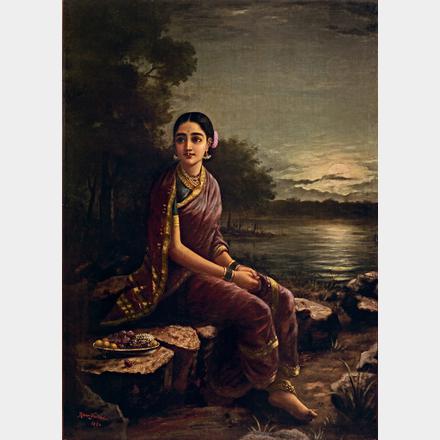 Selling for the equivalent of $29.4m in Pundole's, Mumbai, Varma's Radha in the Moonlight was the only painting on this list of the most expensive paintings in the world, to sell outside New York.
Though his name may fall on deaf ears in the west, Raja Ravi Varma is a widely celebrated artist in India, often considered among the greatest the country has ever produced. He was a learned man, studying the art techniques of European greats while infusing what he had learned with a truly Indian zeal.
The painting techniques used in Radha in the Moonlight are noticeably western, yet its subject is unmistakably Indian.
A B, STILL – Gerhard Richter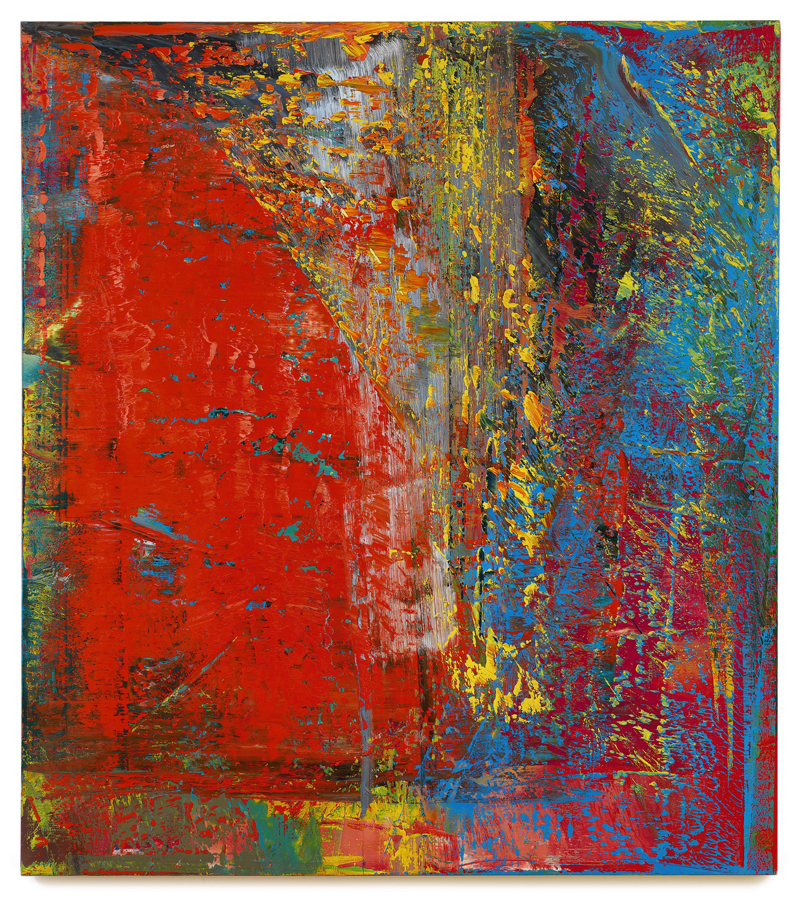 The third piece by Gerhard Richter to appear in this 2022 list of the most expensive paintings and fine art in the world ever, A B, STILL sold for $33m at Sotheby's New York.
It was sold as part of the same sale as the other Richter abstract in this list, AB, ST JAMES. It is done in a similarly abstract style as AB, ST JAMES, although the colour palette used to create it is much more vibrant and striking.
As with many of Richter's abstracts, a squeegee was used to apply the base coat paint, resulting in broad colour blocks which were then painted over with detail.
PIKENE PÅ BROEN – Edvard Munch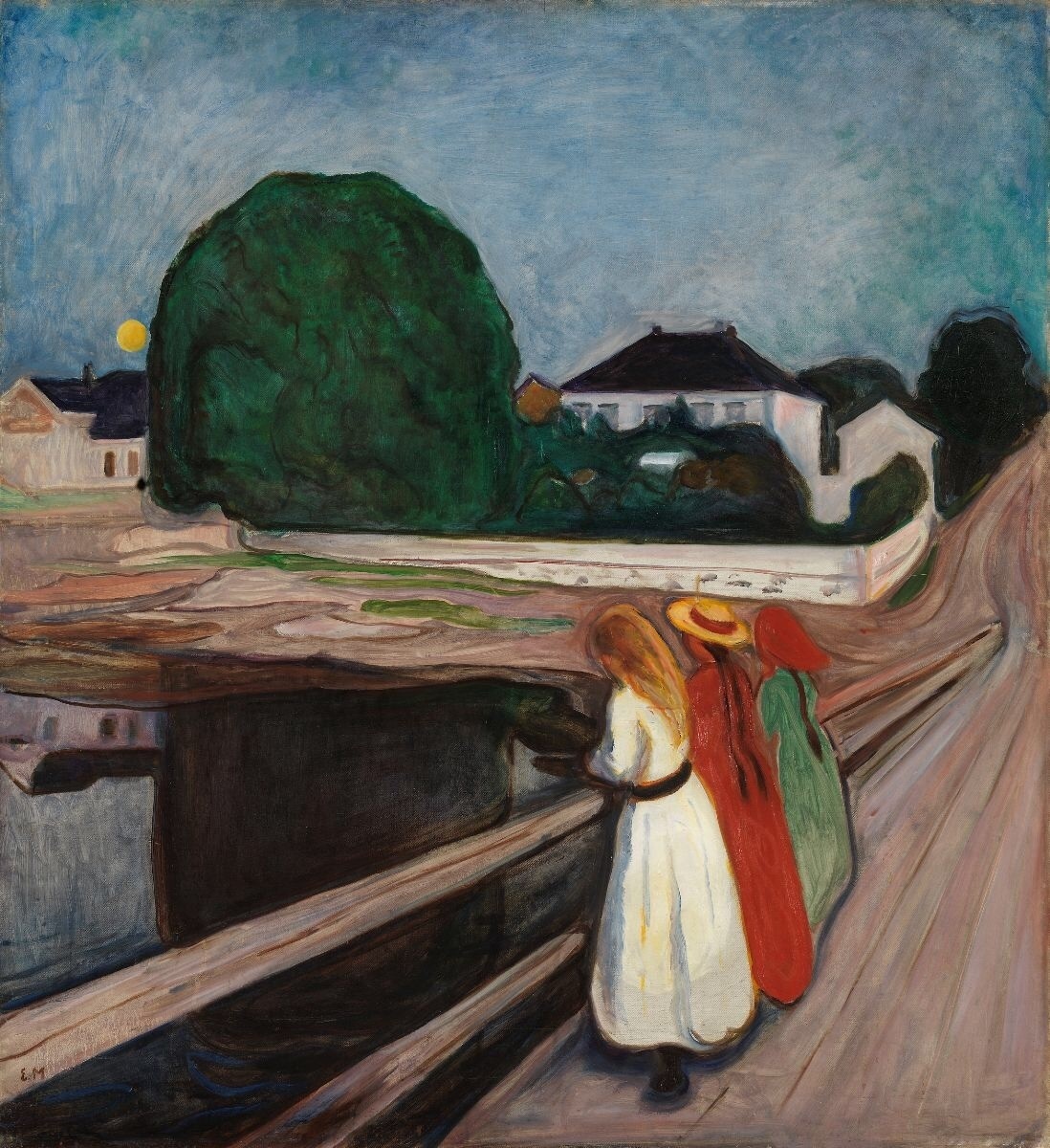 PIKENE PÅ BROEN (or The Girls on the Bridge) by Edvard Munch sold for $54.4m at Sotheby's in New York.
The piece by the Norwegian painter, whose famous painting 'Scream' made him a household name, was painted in 1900 and – as the name suggests – depicts a group of women standing on a bridge.
Munch was something of a nomad, living in various cities around Europe throughout a long career. The piece was created while was living in Berlin; it's likely that the city provided his inspiration.
Painted in 1902 in bright colours, and depicting an outdoors scene – unlike much of his earlier work – many regard this piece to be one of Munch's greatest, hence its hefty price tag recommending it as one of the most expensive paintings in the world ever sold as of 2023.
Untitled XXV – Willem de Kooning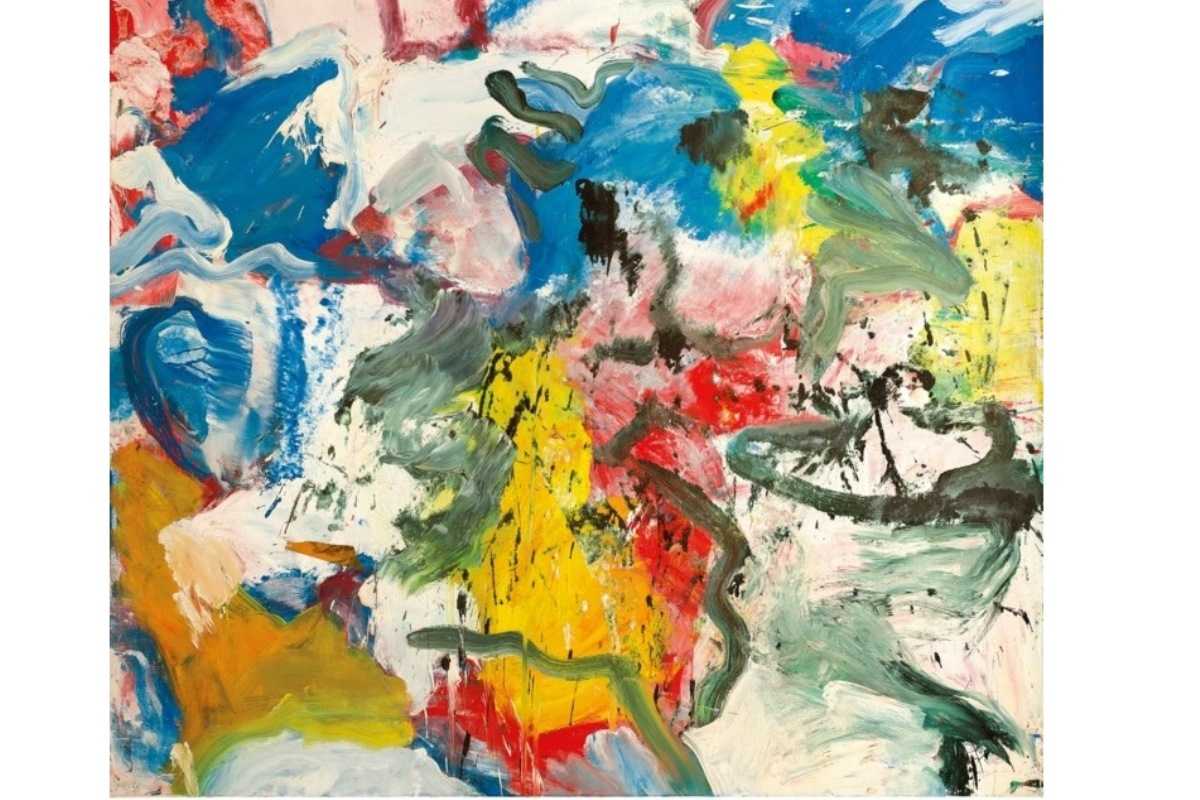 Willem de Kooning's Untitled XXV – an abstract created in the midst of a flurry of creativity in the 1970s – sold for a cool $66m at Christie's in New York.
The piece had broken a record for the most expensive post-war piece of art when it was sold for $40m in 2005, and has improved upon that sale price by $26m.
The Dutch-American artist claimed that, from 1975-1978, pictures flowed out of him "like water." One small part of that stream of art was Untitled XXV, painted in 1977.
Meule – Claude Monet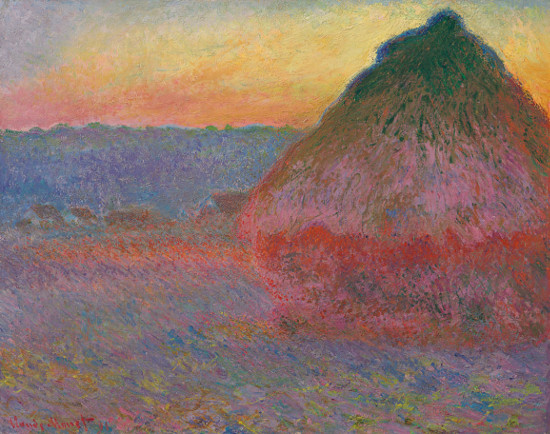 As far as artists go, few are elevated to true household name status. Warhol, previously mentioned in this piece, is one. Claude Monet is surely another.
The value of that name is often proven when the hammer drops at auctions too; this piece in particular sold for a monumental $81.4m at Christie's in New York.  Famed for his paintings of water lilies, the French artist pioneered a style that would help provide the basis for the impressionism movement.
Meule is painted in this style, depicting a haystack in a field in the artist's native France.
Untitled (2005) – Cy Twombly – $46.4m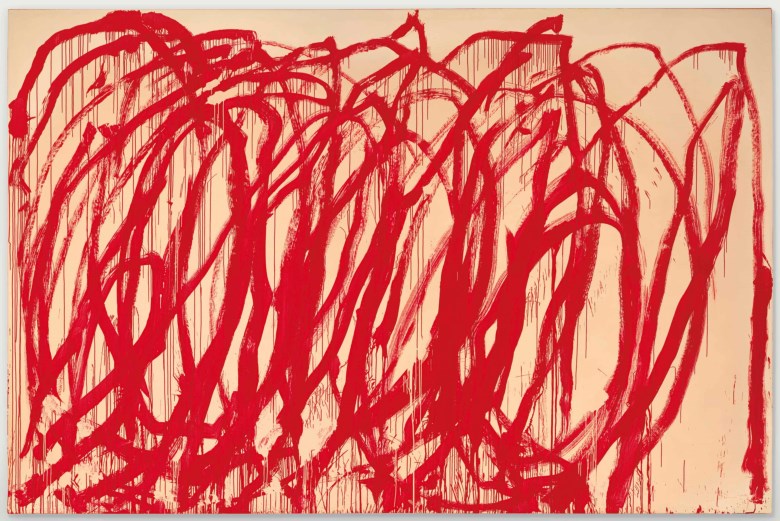 This piece by American abstractionist Cy Twombly sold for $46.4m at Christie's in New York, part of the same sale as Leonardo Da Vinci's Salvator Mundi (c. 1500). The piece, painted in 2005, is said to be one of the artist's last truly great works, ahead of his death in 2011. Another worthy entry on our list of the most expensive paintings and artwork in the world, ever sold as of 2023.
Leda and the Swan (1962) – Cy Twombly – $52.9m
 
The second entry for Twombly in this year's list, Leda and the Swan (1962) was from much earlier in the artist's career. The piece was part of a private collection for much of the late 20th Century, which will no doubt have been a factor in its high sale price.
La Muse Endormie (1910) – Constantin Brancusi – $57.4m 

This sculpture by Romanian artist Constantin Brancusi sold for $57.4m when the hammer fell at Christie's New York. The piece, created in 1910 while the artist was living in Paris, was heavily inspired by the Egyptian, Assyrian, Iberian, and Asian art and artifacts at some of the French capital's most revered museums.
Blumengarten (1907) – Gustav Klimt – $59m 

Klimt's Blumengarten became the third most expensive piece of art to sell in Europe when it sold at Sotheby's in Mayfair. Only Alberto Giacometti's Walking Man, and Peter Paul Rubens' The Massacre of the Innocents have fetched a higher price on European soil, selling for $87m and $66.5m in 2010 and 2002 respectively.
Sixty Last Suppers (1986) – Andy Warhol – $60.9m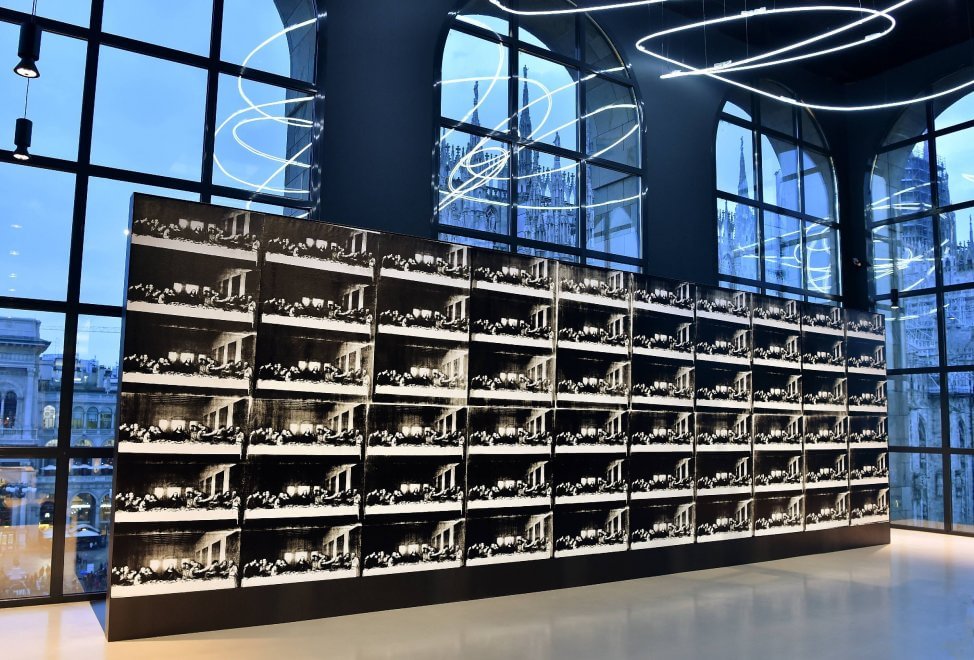 Warhol is a name that commands high prices in the art market, and it's never a shock to see one of his pieces in the top 10 art sales of the year worldwide.
The 32ft painting was among the artist's final works before his death in 1987, and features 60 black and white silkscreen prints of Da Vinci's The Last Supper.
Sold alongside Leonardo Da Vinci's Salvator Mundi at Christie's in Manhattan (more on that later), Sixty Last Suppers proves that the market for Warhol remains as strong as ever.
Contraste de Formes (1913) – Fernand Léger – $70.1m

Setting a new record price for a piece by Léger, Contraste de Formes – or 'shape contrast' in English – sold at Christie's in Manhattan last month for $70.1m. The piece's rarity was surely a factor in the eventual sale price; it had never previously been put up for sale at auction.
Laboureur dans un Champ (1889) – Vincent Van Gogh – $81.3m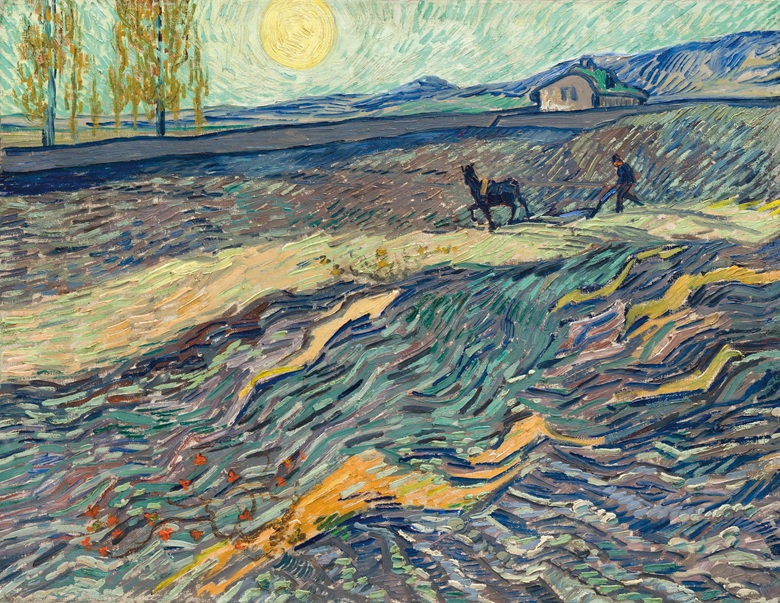 Like Warhol, Van Gogh is always a guaranteed winner in the art market, and is often producing some of the most expensive paintings in the world ever sold, even at the time of this writing in 2023.
The Dutch painter is a household name well beyond the narrow confines of the art world, and any collector would be proud to have one of his pieces sit in their collection. Laboureur dans un Champ was painted in 1889, less than a year before the artist's death. It was sold as part of the same sale as Contraste de Formes by Fernand Léger, but outstripped the sale price of that piece by more than $10m when the hammer fell.
Untitled (1982) – Jean-Michel Basquiat – $110.5m 

Grafitti artist turned fine artist Jean-Michel Basquiat probably would have balked at the prospect of one of his paintings selling for such a fee, had he been alive to witness it.
The Brooklyn native was a key part of the thriving New York art scene in the 1980s, when street art and hip hop were at the forefront of the city's cultural landscape. Untitled was bought by a private collector at a sale in Sotheby's New York in May.
Masterpiece (1962) – Roy Lichtenstein – $165m 

It's little surprise that Masterpiece fetched such a commanding sum and is by far one of the top most expensive painting and work of art in the world, ever sold as of 2023; as one of the most notable early examples of pop art, it would be the dream of any modern art collector to own this piece.
Making use of the classic Ben-Day dots art style, along with a speech bubble, is a classic example of the style that made Lichtenstein famous.
The painting hung on the wall of a private collector's Manhattan apartment for decades, before finally being put on sale earlier this year. That rarity factor will no doubt have contributed to the high sale price.
Salvator Mundi (c. 1500) – Leonardo da Vinci – $450.3m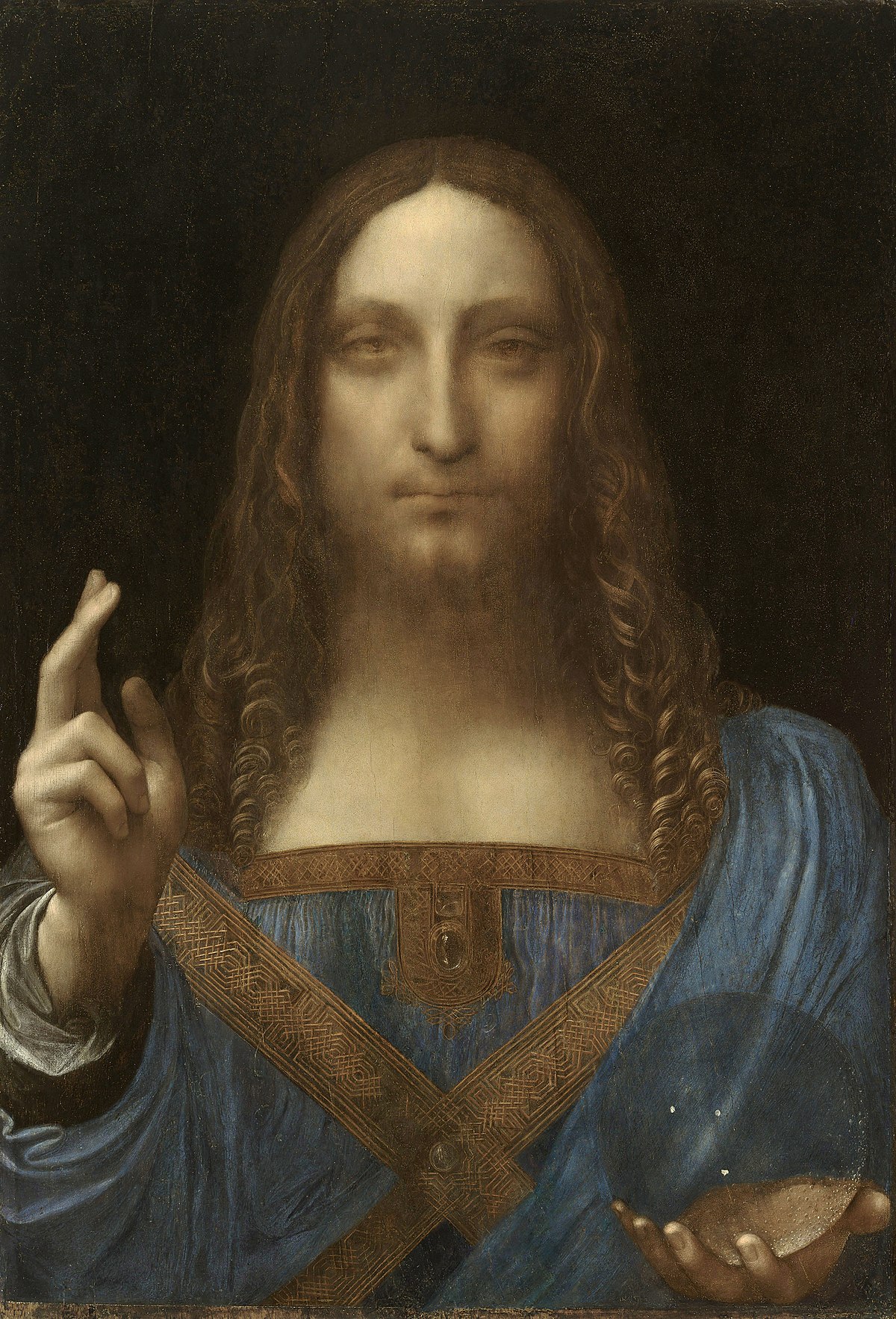 Where to start?
Simply one of the most stunning sales of a luxury item of all time. The Salvator Mundi – not universally agreed upon by scholars to have actually been painted by Leonardo Da Vinci – was expected to command a fee of around $100m.
After the buyer's premium was added, that fee was more than quadrupled by a Saudi prince following an intense bidding stage between a number of interested parties.
This sale is significant for a number of reasons. Chiefly, it is the highest amount ever paid for a single painting, smashing the previous record for the most expensive painting in the world ever sold – the $300m paid for William de Kooning's Interchange (1955) – by $150m. This sale will live long in memory, and it will probably hold the world record for some time.
To quickly sum up the 5 most expensive paintings & modern art ever sold in the last 6 years, you can also watch our short video below:
6 Years Retrospective on Expensive Fine art & Paintings
After revealing the most expensive pieces of modern art and paintings in the world ever sold between 2016-2023, let us now take a step back into history and talk a bit about some interesting facts, and fine art sales at their peak (tip: you may also want to read our article on the Most Expensive Paintings Ever Sold on Auction as of 2023).
2015 was a milestone year in the valuation and trading of the most expensive modern and abstract paintings and art in the world. Art collectors had every reason to feel good at that moment, as auction data has revealed modern art was defying the general slowdown in 2015's global auction market. Sales of fine Impressionist, Modern, and Contemporary works all achieved outstanding prices that year and contributed to the US being one of the few international auction markets to show an increase in sales compared to 2014 figures.
Picasso was 2015's highest earner overall, with 2800 works achieving total sales of $652.9 million. The artist's 'L'femme d'Alger (Version 0)' was also the year's most expensive single Modern painting ever sold, selling at auction in May for $170.4 million.
In January 2015 it emerged that Pablo Picasso's granddaughter – Marina Picasso – was selling seven of her grandfather's paintings for an estimated combined value of £200 million, as well as the Cannes villa where he spent his later years. Rather than go down the auction route of selling what are considered some of the most expensive paintings in the world, Ms. Picasso said she was accepting private bids for what was to become one of the most valuable pieces of modern art of that year.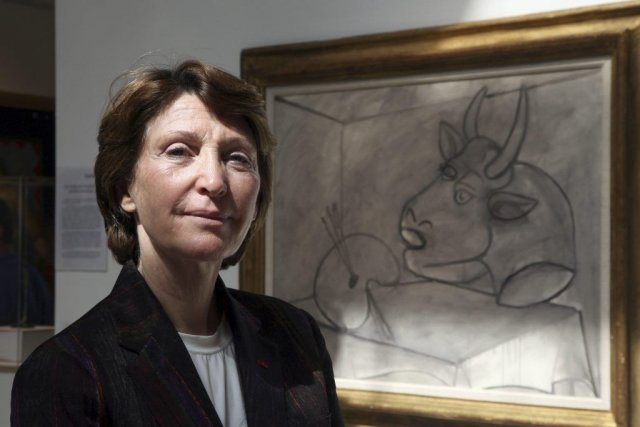 So what was available?
Details of the works on sale were unclear, but some sources said that a portrait of Marina's mother Olga Khokhlova was included, painted in 1923, and valued at £40m. Another early piece that is not in Picasso's iconic Cubist style was the 1921 piece Maternité, valued at £35m.
The full list of pieces up for sale has not been released, however, and Ms. Picasso herself has made no statement – the announcement of the sale came from a friend of the legendary painter's granddaughter. 
More to come?
This is not the first time Marina Picasso has sold off her grandfather's work – in 2014 she sold two relatively expensive paintings, at the time indicating that there would be more on the way. The proceeds from those sales went mainly towards the Marina Picasso Foundation, which supports poor children in Vietnam. Her decision to sell the batch of paintings privately is said to stem from the fact that she was unimpressed with the £5 million they received at Sotheby's' Paris.
It is thought that Ms. Picasso is in possession of somewhere in the region of 400 paintings and 7,000 sketches by the Spanish artist. Considering that her announcement of sales was the second in a short space of time, there was speculation at the time that she could be looking to sell off substantial portions of her collection, potentially creating an influx of some of the most expensive pieces to be sold in the art world.
Understandably this has sparked some considerable excitement in the art world at the possibility of new pieces flooding the market, but a question arose as well.
Why was Ms. Picasso selling?
The answer seems complicated. Born to Picasso's son Paulo, his first child in a short-lived marriage, Marina was largely ignored by the painter throughout his life and spent considerable time living in poverty. Following Picasso's death, she inherited a portion of his estate, including the expensive paintings that she was now selling. 
The most obvious explanation for her reasons to sell is simple; money.
But many commentators feel that it could be more complex. The majority of the money from her previous sale went to aiding children in Vietnam, so some have seen this as an effort to make the artist do something for children after his death, something he didn't do for her. This has led to some people calling this an act of revenge.
6 years retrospective…beyond Picasso
2015's second-most expensive paintings and art across all categories were those of Andy Warhol, with 1400 works realizing $525.6 million at auction.
Claude Monet was in third place overall, with sales of $338.6 million for just 33 works, eight of which were the year's highest-selling Impressionist paintings.
The relatively small number of Monet's works auctioned in 2015 puts both Picasso and Warhol's pre-eminence into a better perspective. In fact, figures show it was a year when the question of value versus volume in art was raised on a number of occasions. A mere 13 works by Van Gogh achieved sales of $143.5 million, 33 works by Modigliani realized an astonishing $141.3 million, and just nine works by Mark Rothko were sold at auction for $219 million.
But, the most encouraging signs of continuing health in the fine art market came in the Contemporary category, thanks to the incredible Lichtenstein sale by Christie's New York in November. Lichtenstein's 'Nurse', painted in 1964 and last auctioned for $1.4 million in 1995, sold in late 2015 for $95 million making it one of the most expensive art in the world ever sold at the time. The final bid price exceeded the catalog estimate by $15 million and broke the artist's previous auction record of $56.1 million, also achieved by Christie's New York in 2013.   
You may also like…
If art is your forte and you have pieces in your collection that you believe to be of value and that you are willing to part with, then valuation and consideration for auction may well be your best option. Here at New Bond Street Pawnbrokers, our knowledgeable experts can provide art collectors like yourself with a quality service and discrete valuations that allow you to stay in control.
As a luxury pawnbroker, we understand the value of your items and work alongside specialists who are amongst the most knowledgeable in their respective fields, giving you the assurance that all information we provide to you will be both accurate and representative of the true value of your items.
New Bond Street Pawnbrokers are a discreet, luxury pawnbroking service including loans against fine art and a variety of artists like Andy Warhol, Bernard Buffet, Damien Hirst, David Hockney, Marc Chagall, Raoul Duffy, Sean Scully, Tom Wesselmann, Tracey Emin, Banksy, and Roy Lichtenstein to name just a few.
This post is also available in:

Français (French)

Deutsch (German)

Italiano (Italian)

Português (Portuguese (Portugal))

Español (Spanish)

Български (Bulgarian)

简体中文 (Chinese (Simplified))

繁體中文 (Chinese (Traditional))

hrvatski (Croatian)

Čeština (Czech)

Dansk (Danish)

Nederlands (Dutch)

हिन्दी (Hindi)

Magyar (Hungarian)

Latviešu (Latvian)

polski (Polish)

Português (Portuguese (Brazil))

Română (Romanian)

Русский (Russian)

Slovenčina (Slovak)

Slovenščina (Slovenian)

Svenska (Swedish)

Türkçe (Turkish)

Українська (Ukrainian)

Albanian

Հայերեն (Armenian)

Eesti (Estonian)

Suomi (Finnish)

Ελληνικά (Greek)

Íslenska (Icelandic)

Indonesia (Indonesian)

日本語 (Japanese)

한국어 (Korean)

Lietuvių (Lithuanian)

Norsk bokmål (Norwegian Bokmål)

српски (Serbian)

Tamil
---
---

---
Authorised and Regulated by the Financial Conduct Authority