I hope you enjoy this blog post.
If you want us to appraise your luxury watch, painting, classic car or jewellery for a loan, click here.
Top 10 Most Expensive Horror Movie Posters Ever Sold on Auction (Vintage & Classic)
October 24, 2022

Ever wonder what makes vintage, classic, and retro horror movie posters some of the most expensive assets ever sold to date? Well, while today reproductions of movie posters are easy to acquire, back in the 1930s, posters were not released to the public for sale. As such, many posters have been lost, with only a few rare pieces being saved over the years.
Their scarcity is what makes them valuable, and vintage horror movie posters have consistently sold for the largest amounts at auction. The retro artwork used to create a hair-raising horror movie poster is iconic, which is why so many seek to add them to their collection.
Here is our list of the most expensive classic horror movie posters that sold at auction as of 2023.
1. 1931 Dracula Poster, $525,800
In 1931, audiences were captivated by actor Bela Lugosi's Dracula. The performance set a precedent for how the vampire would be played for decades to come.
A rare Style A format one sheet poster sold for $525,800 at Heritage Auctions in 2017. With this sale, it became the most expensive vintage horror movie poster in history as of 2023.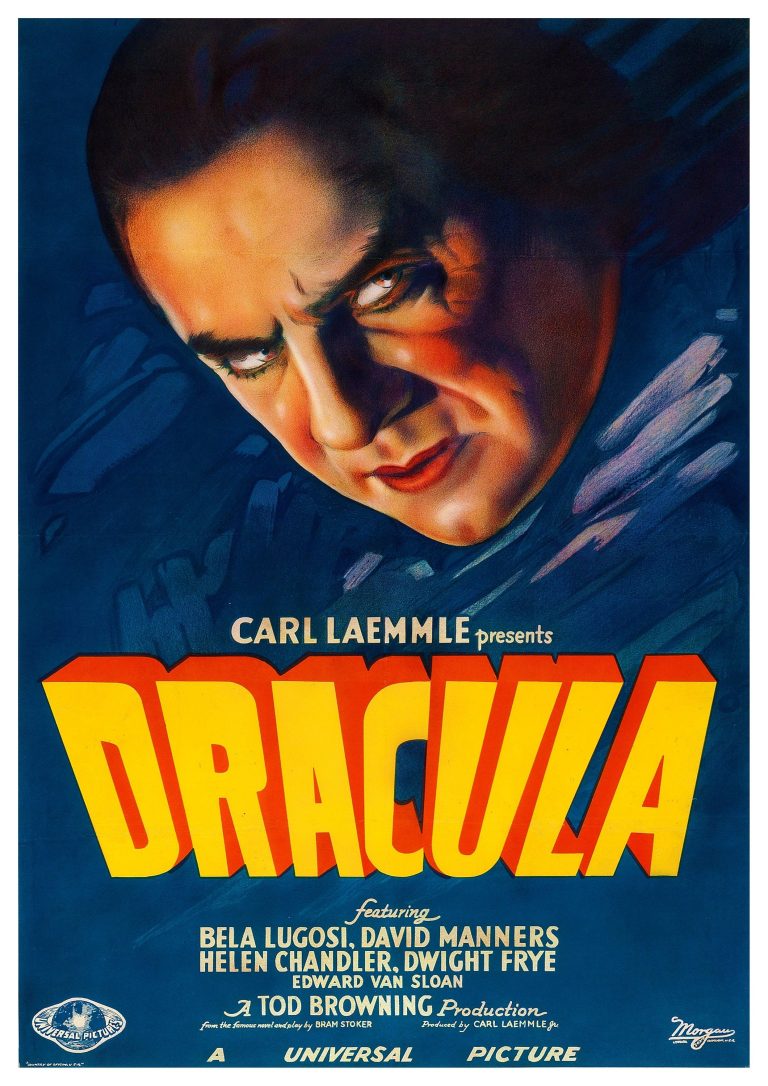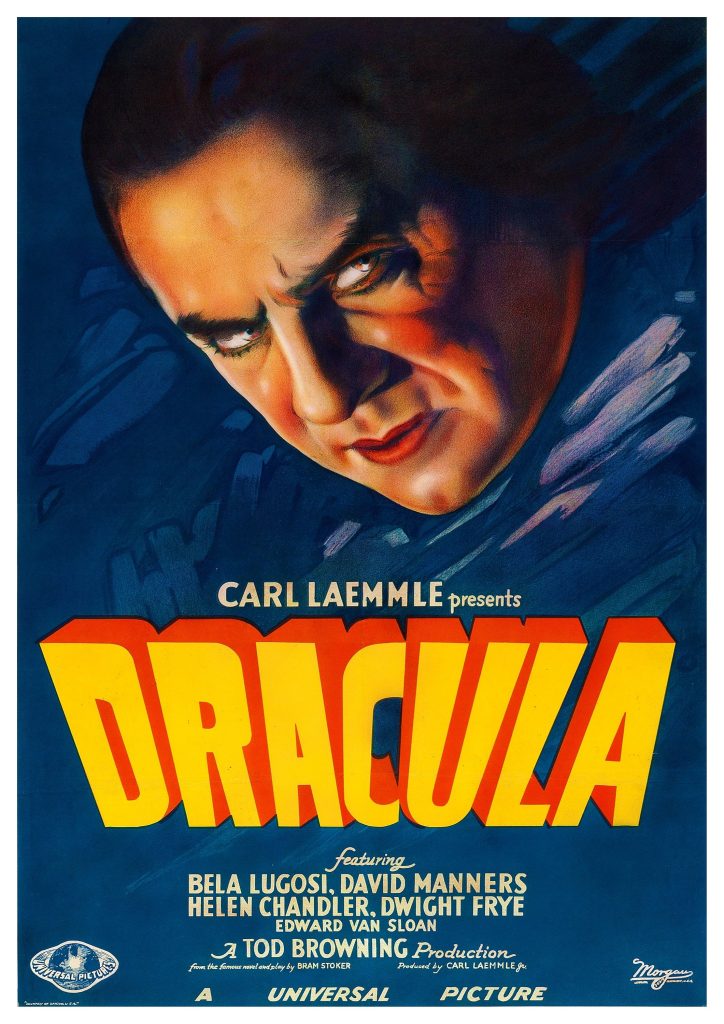 It is one of only two known posters in this style to exist, with a menacing portrait of Lugosi staring at the viewer against a deep blue painted background. The word Dracula almost leaps off the poster in a bold yellow font.
The Universal Studio picture is regarded as a founder of classic horror movies, and the poster started with a minimum bid of $150,000. Parts of the film were even censored after scaring audiences senseless.
2. 1927 London After Midnight Poster, $478,000
Second place in the 2023 list of the most expensive vintage horror movie posters is 1927's London After Midnight.
It is the earliest film on the list, and the poster that sold at auction is the only known colour copy in existence. It set the record in 2014 for the most expensive auction sale. The auction took place at Heritage Auctions in Dallas, Texas.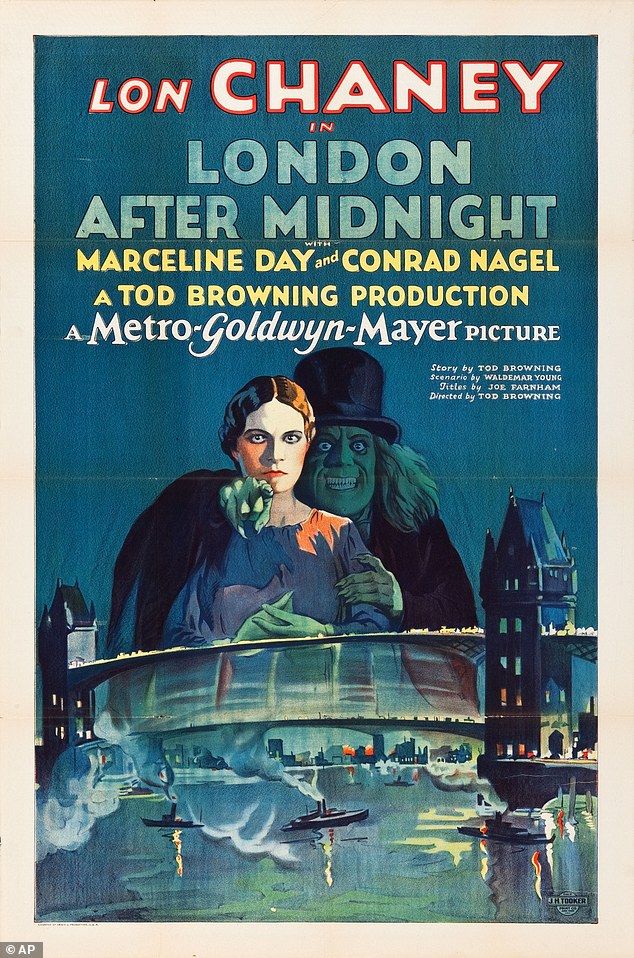 London After Midnight was a silent mystery film produced by MGM Studios. Unfortunately, it is one of the lost movies, as the only existing tape was destroyed in a fire in the 1960s. Many were unsure if a poster had survived, which is why it sold for such a high value.
The vintage artwork on the poster has a classic horror style, with Cheney's menacing figure at the shoulder of our heroine. She is in his clutches as the gloomy nighttime image of London Bridget looms beneath them.
3. 1932 The Mummy Poster, $453,500
This lithographic poster designed by Karol Grosz held the title of most expensive classic horror movie poster from 1997 until 2014, when London After Midnight beat it.
In 1997 it sold for $453,500 at Sotheby's auction house.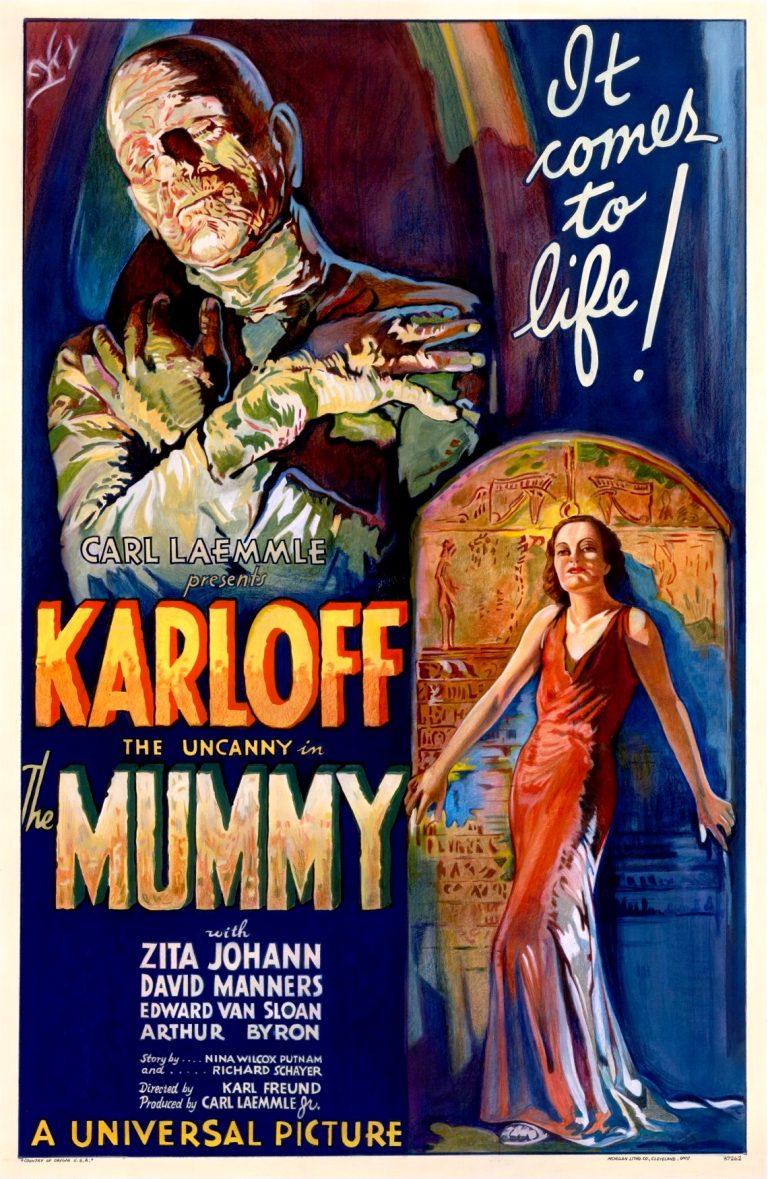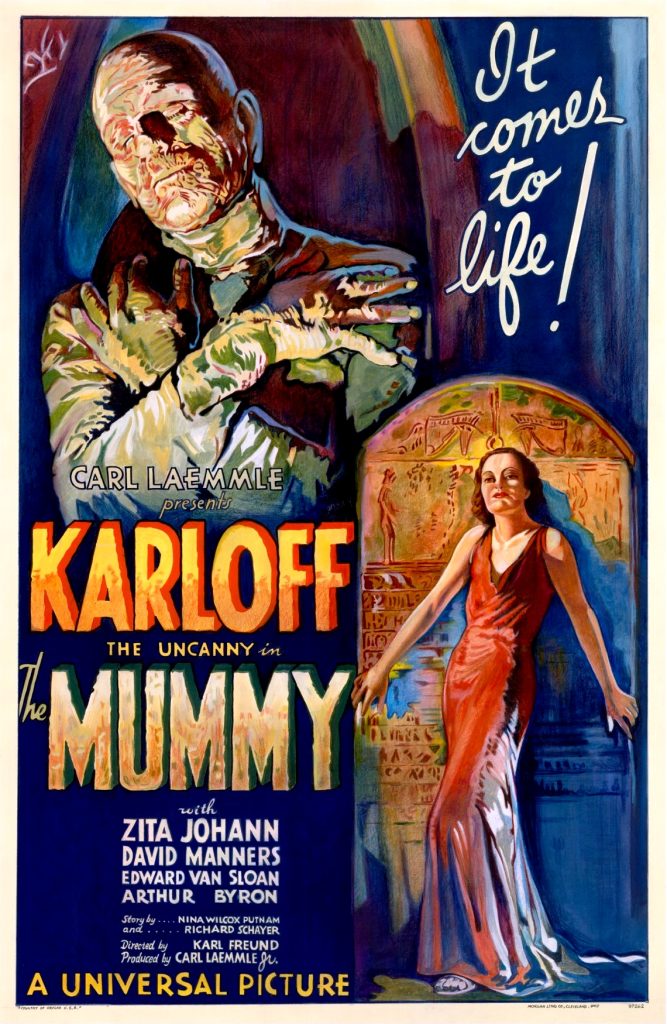 As only one of three surviving posters, it was expected to reclaim the record for most expensive retro horror movie posters in 2018. Its minimum bid was set at $950,000 and Sotheby's estimated it selling for $1.5 million. Unfortunately, no one bid for it, keeping it at number three on our 2023 list of the most expensive horror movie posters.
The Mummy is a Universal Picture and one of Boris Karloff's classic horror performances. Its popularity on release was in part due to the real-world discovery of Tutankhamun's tomb and the unfortunate 'curse' thought to be put on the team that found it.
4. 1931 Frankenstein Poster, $358,500
1931's Frankenstein is the role that made actor Boris Karloff a household name. At 44 years old, he was late to Hollywood, but he did not let it stop him from stamping his mark on the classic horror genre.
The film's poster sold at Heritage Auctions for $385,500 in 2015.
In many ways, Frankenstein built the winning formula for monster movies. It was the first film to use the now-cliched Castle Thunder sound effect. The makeup for actors consisted of thick grease paint concoctions that took hours to apply and would have to be melted off at the end of the day. It was based on Mary Shelley's novel of the same name, which she wrote at 19 years old.
The Frankenstein poster graces the most expensive vintage horror movie posters 2023 list at number four, and the artwork is the epitome of retro poster design.
5. 1935 The Bride of Frankenstein Poster, $334,600
It's no surprise that Frankenstein's sequel also sold for a high price at Heritage Auctions.
The 7-foot-long poster for The Bride of Frankenstein sold for $334,600 in 2007, almost as much as the original. The Bride of Frankenstein was also produced by Universal Pictures, with Boris Karloff returning.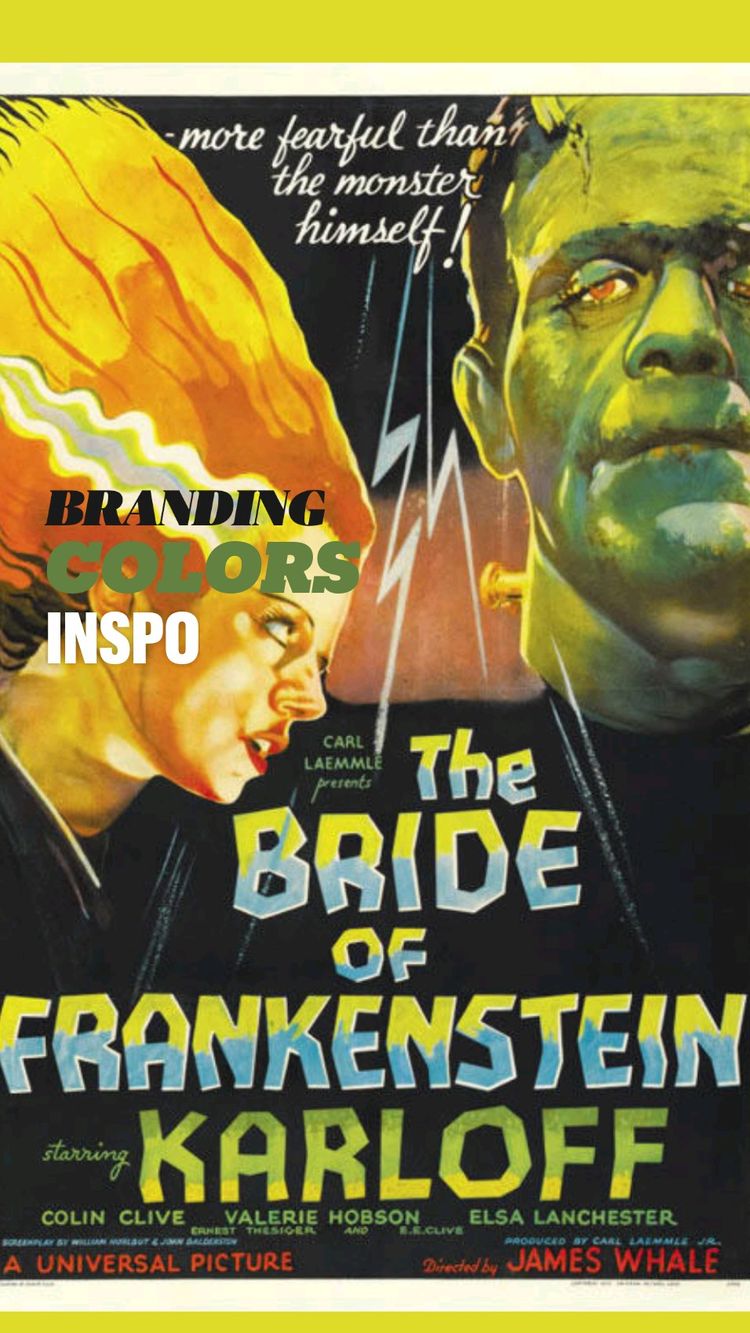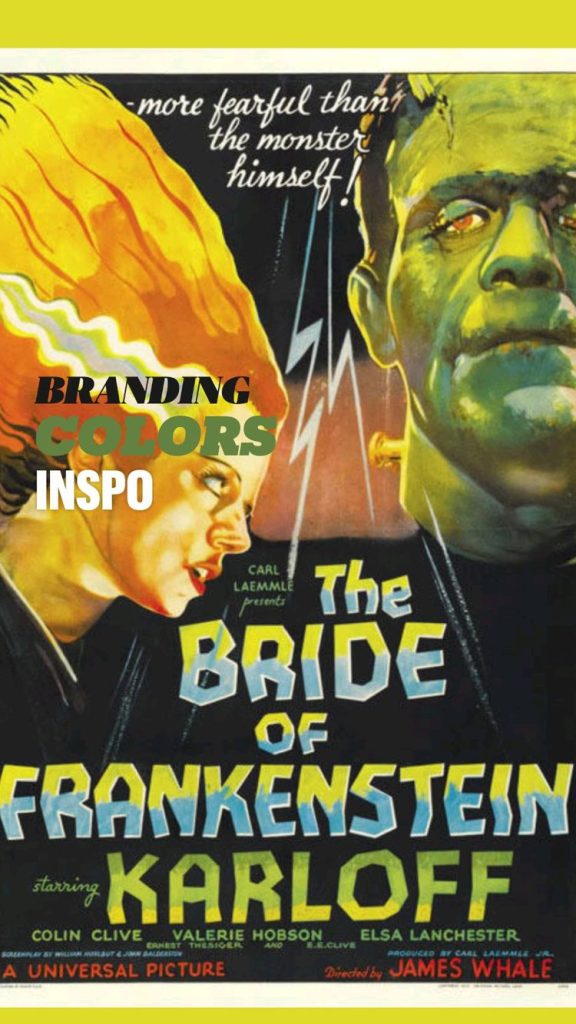 Despite the success of the original film, The Bride of Frankenstein could easily have never been made. The director did not originally want to create a sequel, and when he did, he faced fights with his actors over how the characters would progress. Lead actor Boris Karloff did not agree that Frankenstein should speak and fought for him to remain silent, like he did in the first movie.
Ultimately, the movie was made and Karloff did begin to speak as Frankenstein. The movie was censored in a lot of international showings and banned from some countries entirely.
6. 1934 The Black Cat Poster, $334,600
Another large sale for Heritage Auctions, the only known Style B one-sheet movie poster for The Black Cat made $334,600 at auction.
The black, white and red stone lithograph is almost as iconic as the movie itself, instantly grabbing the viewer's attention. The poster was given to Heritage Auctions by collector Todd Feiertag, who also donated The Mummy poster on this list.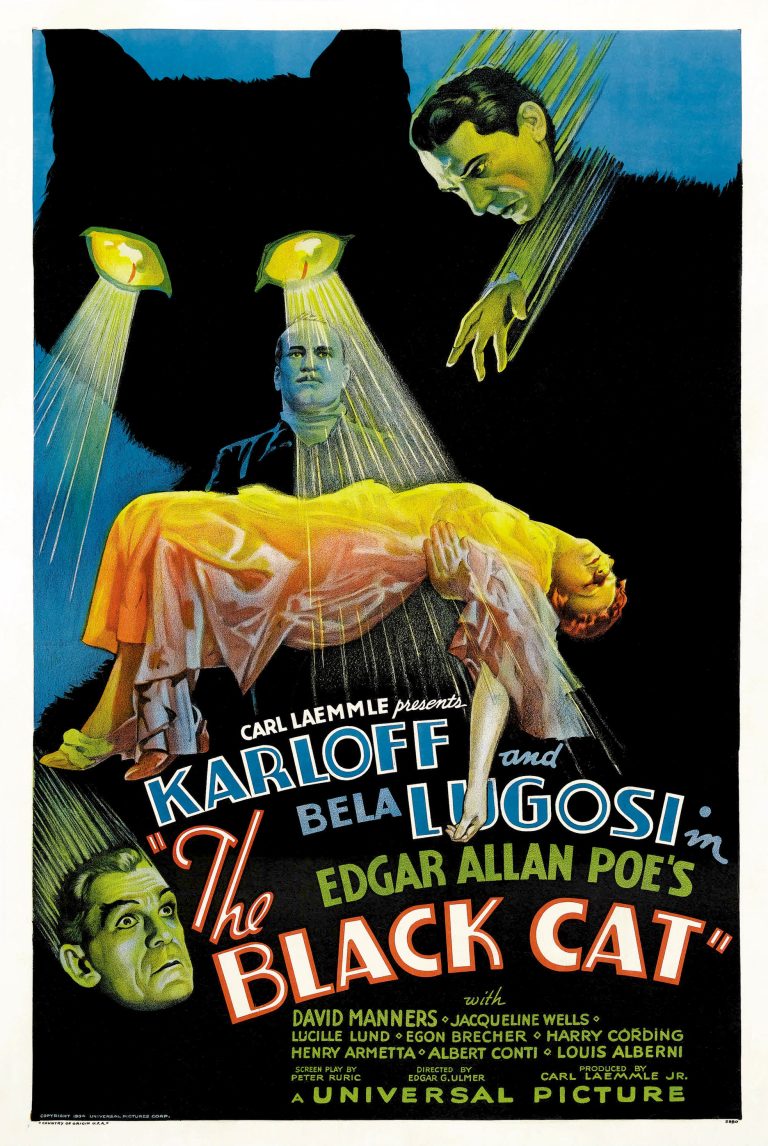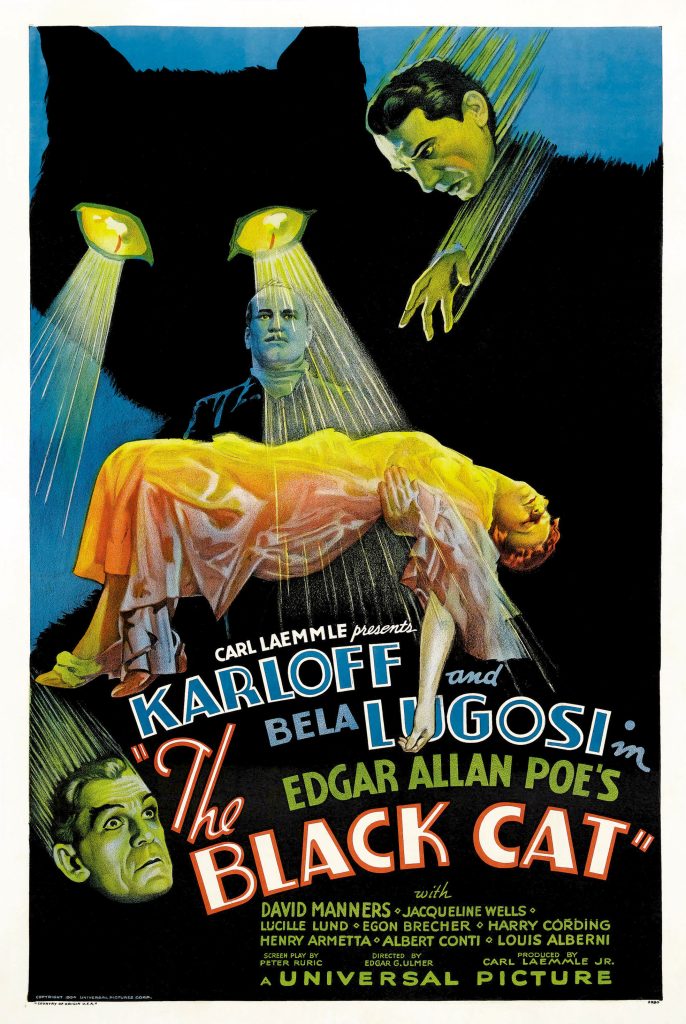 The Black Cat was Universal Picture's biggest hit of the year at the box office. This was in part due to the two lead actors, Boris Karloff and Bela Lugosi. It was the first picture they collaborated on, and horror fans were eager to see how they would work on screen.
At $334,600, The Black Cat poster's value ties it with The Bride of Frankenstein in the 2023 list of expensive classic horror movie posters.
7. 1931 Dracula Poster, $312,000
Another poster for Bela Lugosi's Dracula is also among the top most expensive retro horror movie posters as of 2023.
The film was re-released in 1938, calling for another poster to entice audiences into the cinema. It bears similar artwork to the original, this time with a menacing green hue over the entire poster.
Dracula's re-release edition poster sold at Heritage Auctions for $312,000. The sale took place in 2020, reflecting a more current value than other posters on the list. Posters sold in the 1990s and early 2000s could be worth even more today in front of a motivated buyer.
The poster features an updated font from the original. Instead of shadow block letters, a more simple light green lettering grabs the viewer's attention thanks to the thin white letters at their centre.
Bela Lugosi is just as menacing, looming from the deep green background with a direct stare out to the audience.
8. 1934 The Black Cat Poster, $286,800
Another entry for the classic 1934 horror movie, The Black Cat. This time in a Style D US one-sheet format that sold for $286,600 at Heritage Auctions.
The sale took place in 2007, with bidders fighting over the alternative classic horror movie poster.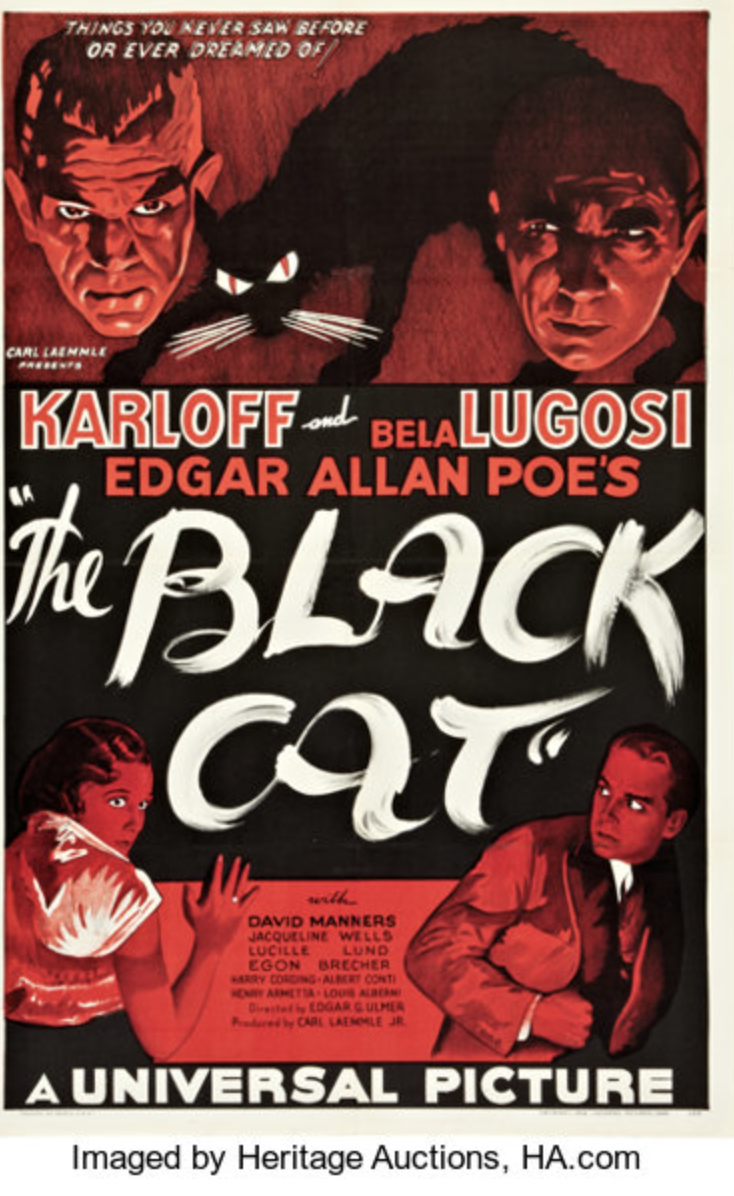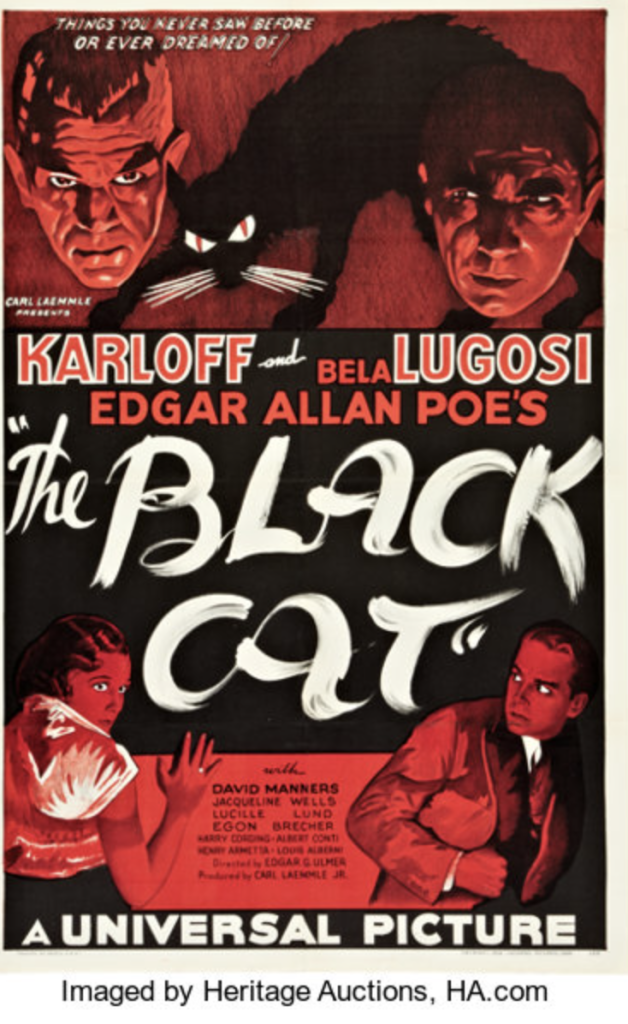 The Black Cat is a cult classic, which is why it inspires buyers to bid so highly. It was revolutionary for its time as it featured an almost continuous score in the background. Usually, films in the early 1930s only used music over titles and credits.
The film is loosely based on Edgar Allan Poe's poem of the same title. As the first film featuring both Boris Karloff and Bela Lugosi, it set a precedent for their next seven collaborations. Audiences could not get enough of these two Hollywood stars.
9. 1933 King Kong Poster, $244,500
King Kong is one of the most iconic monster horror movies of all time, so it is no surprise that its US three-sheet poster sold for a high price at Sotheby's auction house. It was purchased for $244,500 by Cecilia Presley.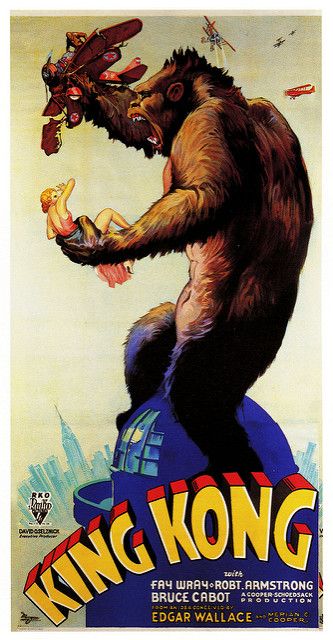 The film made movie history and is known for the advanced stop-motion animation by Willis O'Brien. It was also one of the first films that had an original musical score, which was produced by Max Steiner. King Kong is actually the first movie that was ever re-released.
The poster shows the titular Kong straddling a New York skyscraper, with the rest of the city far below him. In one hand he is holding actress Fay Wray, and in the other, he crushes an aeroplane trying to attack him. His mouth is open in a roar, providing an artistic rendition of one of the most well-known scenes in movie history.
10. 1933 The Invisible Man Poster, $228,000
Possibly the most haunting imagery on the entire list, The Invisible Man one-sheet sold for $228,000 at Heritage Auctions.
The Style A Teaser artwork is not the official poster for the movie, but it leaves a lasting impression on anyone that sees it. From the dark black background looms a fading face captured in orange and red. A pair of yellow eyes reach out to the viewer and the iconic catchphrase, 'Catch me if you can', is featured at the bottom of the poster.
The official vintage horror movie poster sold for $182,400 in 2020, which was also the year it was remade using modern effects. In the 1933 original, Claude Rains was captured as invisible on screen by wearing a full black velvet costume, filmed against a black velvet backdrop.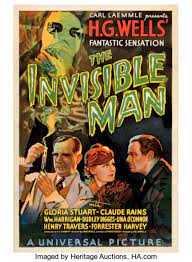 It is no surprise that every retro horror movie poster in the top 10 was released prior to or during the 1930s. We place value on rarity, and these posters were few and far between, only being released to promote the movie at cinemas and theatres. The ones that have survived are worth a small fortune as they represent an iconic piece of cinematic history.
While other genres sell for large amounts, horror movies have always connected with audiences on a more profound level. A horror movie allows us to face our fears from the safety of a cinema. They release something primal, the adrenaline of survival, and this is why they are valuable collector's items.
Beyond Horror – Vintage & Classic Movie Posters We Really Like 
The Classic 'Dr. No' movie poster (1962)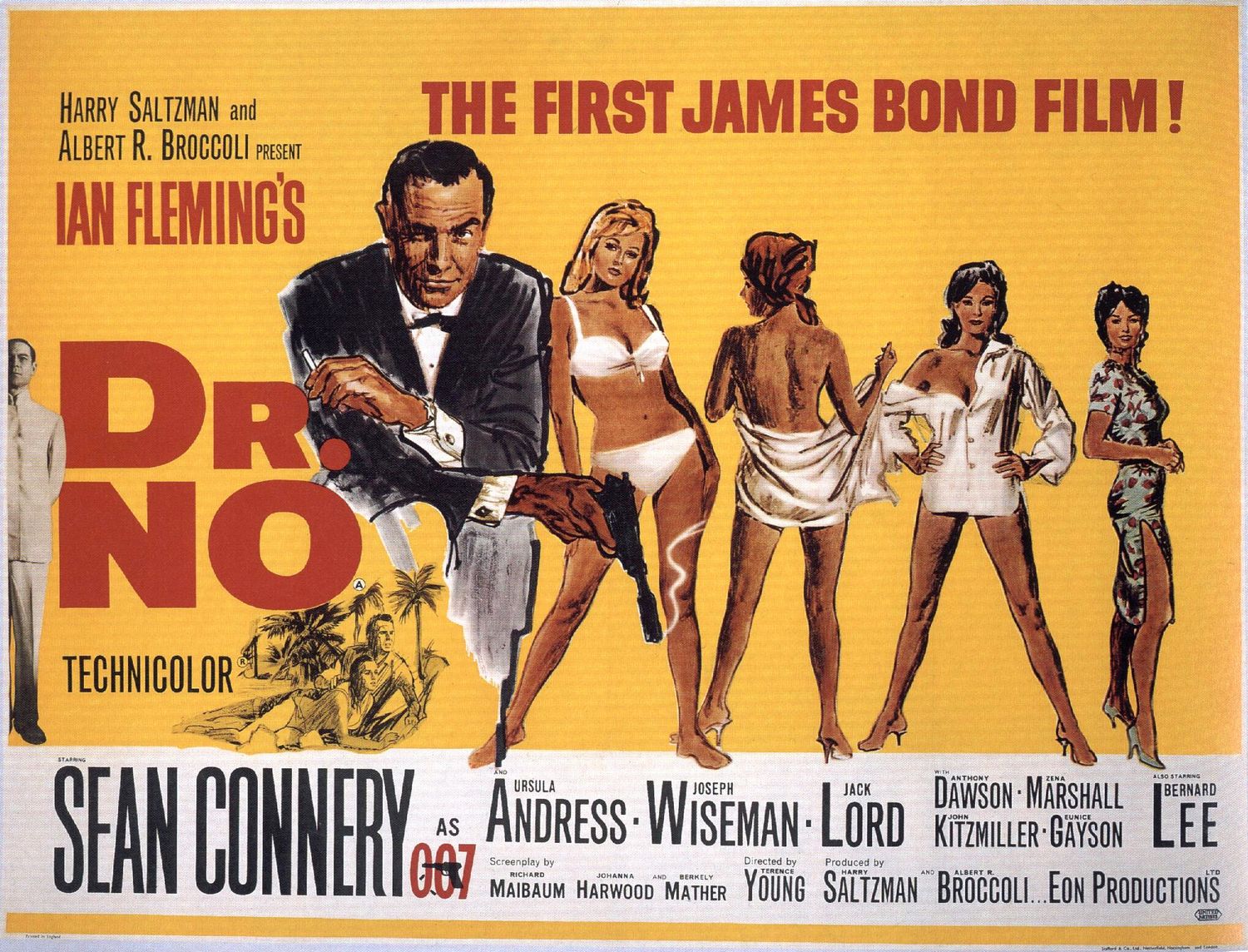 Released in 1962, Dr. No was the first ever Bond film to be created from Ian Fleming's series. Being the first Bond poster ever created means this has been given a higher value than many other classic posters of its kind, horror or not.
Featuring Sean Connery and Ursula Andress, this film was a huge success and was the catalyst for the world-famous Bond series that remains popular to this day.
'The Wizard of Oz' vintage poster (1939)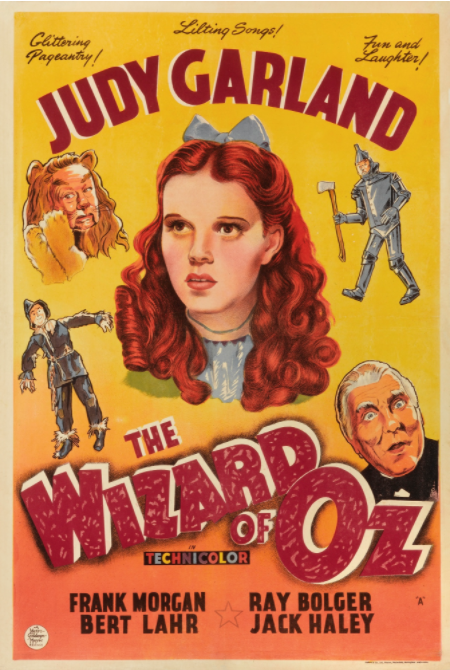 Quite opposite to your most expensive classic, vintage, and retro horror movie posters, this cool poster was released in 1939, when technicolor was a fairly recent development in the industry. Which is why The Wizard of Oz (a technicolor marvel) was such a success.
This classic movie poster represents the new kind of magic being created in film at the time, with their new-found expanse of colour and possibility. To date, there has not yet been another example of this retro poster, so it is safe to say it is a very unique and valuable investment.
'Ocean's 11' set of 5 door panels movie retro posters (1960)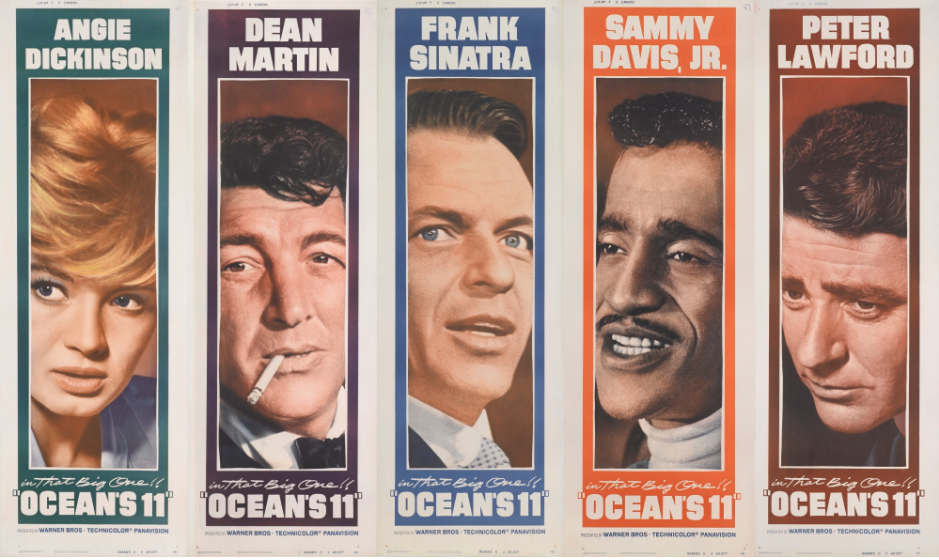 Made famous more recently by the likes of Brad Pitt, George Clooney, and Matt Damon, this 1960s classic movie poster of the original was part of a very successful campaign of its time. This set of 5 door panels is an incredibly unique opportunity to purchase a rare piece of material from the cinema of days gone by.
In the 60s, these sorts of panels were only produced for major releases, and are amongst some of the rarest American movie posters around today.
The famous 'Hollywood' movie poster (1923)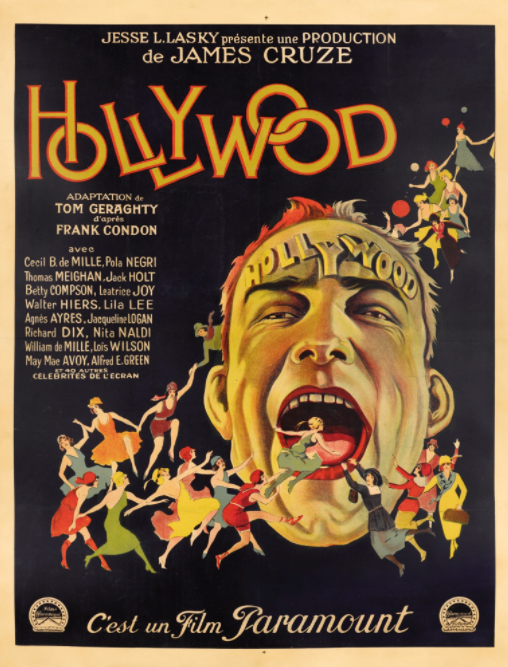 A Paramount Picture featuring the likes of Charlie Chaplin and Douglas Fairbanks, this colorful poster is one of the most beautiful ones left over from the silent era. A charming story, involving an actress attempting to make her way in Hollywood, this vintage piece is a very precious item from the early twentieth century that satirizes Hollywood for its greed.
As only one of two remaining examples, this would certainly form the centerpiece of any classic and movie poster collection, horror or not.
To summarize, some of the most famous and expensive vintage, classic, and retro horror movie posters in 2023 include:
Valuing your classic, retro, and vintage horror movie posters
We at New Bond Street Pawnbrokers are always on the lookout for unique film finds and we do sometimes loan against valuable classic and vintage and retro horror film posters, so do get in touch if you have any further questions or would like to find out more about our services.
New Bond Street Pawnbrokers are a discreet, luxury pawnbroking service facilitating borrowing against fine art and a variety of artists like Andy Warhol, Bernard Buffet, Damien Hirst, David Hockney, Marc Chagall, Raoul Duffy, Sean Scully, Tom Wesselmann, Tracey Emin, Banksy, and Roy Lichtenstein to name just a few.
Contact us to discuss arranging a free valuation.
This post is also available in:

Français (French)

Deutsch (German)

Italiano (Italian)

Português (Portuguese (Portugal))

Español (Spanish)

Български (Bulgarian)

简体中文 (Chinese (Simplified))

繁體中文 (Chinese (Traditional))

hrvatski (Croatian)

Čeština (Czech)

Dansk (Danish)

Nederlands (Dutch)

हिन्दी (Hindi)

Magyar (Hungarian)

Latviešu (Latvian)

polski (Polish)

Português (Portuguese (Brazil))

Română (Romanian)

Русский (Russian)

Slovenčina (Slovak)

Slovenščina (Slovenian)

Svenska (Swedish)

Türkçe (Turkish)

Українська (Ukrainian)

Albanian

Հայերեն (Armenian)

Eesti (Estonian)

Suomi (Finnish)

Ελληνικά (Greek)

Íslenska (Icelandic)

Indonesia (Indonesian)

日本語 (Japanese)

한국어 (Korean)

Lietuvių (Lithuanian)

Norsk bokmål (Norwegian Bokmål)

српски (Serbian)

Tamil
---
---

---
Authorised and Regulated by the Financial Conduct Authority