I hope you enjoy this blog post.
If you want us to appraise your luxury watch, painting, classic car or jewellery for a loan, click here.
Top 20 Most Expensive Auction Items Ever Sold as of 2023
December 2, 2022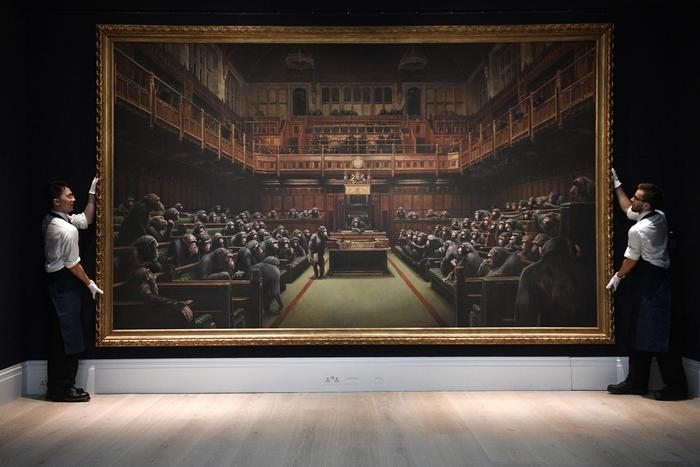 Ever wondered "What are the Most Expensive Auction Items ", " What is the most expensive item ever sold at auction", or "What are the most expensive things sold at auction"? Or, more specific questions like "What is the most expensive art sold", "What are the most expensive historical items", and "What are the most expensive antiques"?
Auctions tend to attract a wide variety of bidders and buyers, both in-person and over the phone, due to the variety of rare and scintillating items on sale.
The most prestigious of auctions offer one-of-a-kind pieces of jewelry and artwork, timeless memorabilia, and other rare treasures found nowhere else but under the hammer.
It's for this reason that auctions have been known to fetch large sums for single items. From art to artifacts, yachts to precious gems and metals, reputable auctions are renowned for hosting the most coveted items in the world, with prices entering the hundreds of millions; indeed the largest auction houses will facilitate the sale of the most expensive auction items and things in the world.
20) Marilyn Monroe's "Subway Dress"
Possibly one of the most famous items of clothing of the 20th century, and a worthy entrant on our list of the most expensive auction items and things ever sold, the ivory pleated dress was designed by William Travilla in 1955 for Marilyn to wear in the movie "The Seven Year Itch," directed by Billy Wilder.
Almost as iconic as the wearer herself, the dress concocts the image of Marilyn Monroe stood atop a subway grate, trying to use its skirt to cover herself. The famed footage has since found its way onto thousands of 'retro' themed items, from clothing to home wares. To own the original, however, is something altogether different.
Previously owned by Singin' in the Rain actress Debbie Reynolds, the dress' style echoes that of 1950s and 1960s Hollywood, with a halter-like bodice and a plunging neckline. Monroe's husband at the time, Joe DiMaggio, was said to have "hated" the dress.
Debbie Reynolds sold the dress, which had become ecru in colour due to its age, in 2011 – estimating that it would sell for $1-2 million.
In actual fact, the gown fetched $5,500,000 at the auction in Beverly Hills, becoming the most expensive item of clothing ever sold at auction, and one of the most expensive auction items as of 2023.
19) The British Guiana One Cent Magenta stamp
Were our list of most expensive auction items & things measured on price per square inch, this item would surely top it.
At .04 grams in weight, the British Guiana One Cent Magenta stamp was once sold for a penny when it was first printed, in 1856. The rarest stamp in the world, it is a one of a kind collector's item which has belonged to such names as Count Philippe la Renotiere von Ferrary, Arthur Hind and John E. du Pont.
After du Pont's death, the stamp was sold several times at various auctions, ultimately claiming a spot as one of the most expensive items ever sold at Sotheby's.
Its standing as one of the most expensive auction items comes from its rarity, and the prestigious pastime of stamp collecting.
The stamp was bought by shoe designer Stuart Weitzman for the sum of $9,000,000. When collecting the item, Weitzman reportedly tucked the stamp into his back pocket, so as not to draw attention to it.
18) The Flowing Hair Silver Dollar
First minted in 1794, the Flowing Hair silver dollar was the first dollar coin ever issued by the United States.
The coin was struck in silver, following the establishment of a national Mint by Alexander Hamilton. Today, the coin is an incredible rarity, with very few surviving from the era, which explains why this is one of the most expensive antique auction items as of 2023.
In 2013, the over 200-year-old coin more than doubled the previous world record of $4.1 million for a coin sold at auction, according to Stack's Bowers Galleries.
It's said to have been the finest known surviving coin from the original minting, hence its value. It was part of the Cardinal Collection, amassed by collector Martin Logies, before it went under the hammer.
Stack's Bowers Galleries sold the coin for $10,000,000 in New York to Legend Numismatics, a rare coin firm based in New Jersey.
17) Cycladic Marble Figure
Christie's Antiquities Department topped the world record price at auction in 2015 when it facilitated the sale of one of the most expensive auction items worldwide that year, a Cycladic marble figure. A reclining female figure carved in marble, the sensational sculpture is over 3000 years old, dating back to circa 2400 BC.
Standing at just 11.5 inches tall, the piece is the only complete figure of the twelve works attributed to the Schuster Master known to have survived . It was acquired by Madame Marion Schuster of Lausanne in 1965 and was subsequently moved to a private collection in the United States.
The carved marble figure sold for $16,882,500 at Christie's.
16) Patek Philippe Henry Graves Supercomplication Watch
Commissioned by billionaire Henry Graves Jr, this painstakingly crafted 18 carat gold watch took eight years to create.
Previously sold at auction in 1999 for $11,000,000, the watch was purchased by Sheikh Saud Bin Mohammed Bin Ali Al-Thani of the Qatari royal family, who sold it back to the auction house 15 years later.
The final bid at Sotheby's in 2014 was 23,237,00 Swiss Francs – at the time, over $24,000,000 – making the Patek Philippe Supercomplication the most expensive auction watch in the world.
Explore some of the watch's competitors for the title of 'most expensive' in our list of The Most Expensive Watches Sold At Auction Ever.
15) Fauteuil Aux Dragons by Eileen Gray
This leather armchair was once owned by Yves Saint Laurent, and was designed by Irish artist Eileen Gray. Originally crafted in white, the chair is now upholstered in brown leather.
Standing at just 24 inches high, the unique French piece is known as the 'dragon's' armchair, due to its ornate sculptured armrests. Gray, who studied at the Slade School of Fine Art, spent two years crafting this item, from 1917 to 1919.
The chair's original owner was Suzanne Talbot, Gray's first ever patron.
Philippe Garner, Christie's international head of 20th Century Decorative Art and Design, said of the piece: "It is a fabulous piece. The sale was a homage to the great personalities, designers, collectors and patrons who so marked their era in Paris in the 1920s and 1930s and to the pioneering vision of Yves Saint Laurent and Pierre Berge as collectors."
The piece sold for an astonishing $28,300,000 – significantly higher than the $3,000,000 at which Christie's had it valued, making this antique another interesting entry on our list of the most expensive things ever sold at auction as of 2023.
14) Roman Era Statue of Artemis and the Stag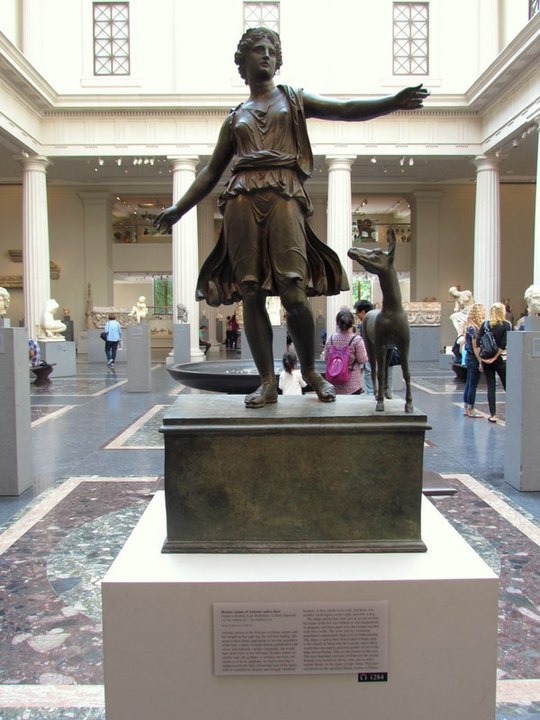 The 2000 year old bronze statue was unearthed in 1920, and depicts the goddess Artemis. It has been said that the piece is a superb example of ancient Roman bronze sculpture, and one of the most beautiful works surviving from the era.
London art dealer Giuseppe Eskenazi bought the statue for an anonymous collector, after an unusually long round of bidding at Sotheby's. When the hammer fell, the price sat at $28,600,000 – setting a new record as the most expensive sculpture ever to sell at auction, and a well-deserved entry in our Top 20 Most Expensive Items Ever Sold at Auction as of 2023.
13) Leonardo Da Vinci's Codex Leicester
In 1994, Microsoft founder Bill Gates purchased a 72 page notebook at auction. The collection of pages contains ideas, drawings and diagrams from the mind of renowned polymath Leonardo Da Vinci.
Historians regard Da Vinci as a genius with a "feverishly inventive imagination". He was a painter, inventor, sculptor, and engineer – to name just a few of his areas of expertise. But this item focuses predominantly on his passion for science and houses his notes and thoughts on the relationship between the Earth, sun, and moon.
Bill Gates puts the notebook on display at a rotation of selected museums, allowing visitors to see first-hand the innermost workings of Da Vinci's mind.
The manuscript is one of the most expensive auction items we came across, having been purchased by Gates for $30,800,000.
12) The Clark Sickle Leaf Carpet
This Islamic carpet sold at Sotheby's in June 2012, setting the auction record not just for an Islamic carpet, but for the most expensive Islamic auction work of art and item.
The piece is thought to have been woven in Kirman in the 17th Century. Its distinctive elegance has retained an exquisite quality despite its age. Decorated with swirling vines and vibrant flowers, the carpet was stored for decades by the Corcoran Gallery of Art.
Mary Jo Otsea stated that the carpet was the "highlight of [her] 30 year career", saying that "no-one ever expected to see it on the market. Its beauty and rarity – the closest comparisons are in museums."
After a ten minute multi-bidder contest, this remarkable carpet was sold to an anonymous bidder for $33,700,000.
11) Marie Antoinette's Pendant
This drop-shaped natural pearl pendant sold in 2018 at Sotheby's in Geneva, and was billed as a once in a lifetime purchase.
This was the crowning piece in a set of 10 pieces formerly owned by the Queen Marie Antoinette, some of which had not been seen in public for 200 years until the auction date, which is why we absolutely had to included it on our list of the most expensive things sold at auction as of 2023.
The last Queen of France before the French Revolution, Marie Antoinette was the wife of King Louis XVI. Both were executed during the uprising in the 18th Century that brought down the aloof opulence of French royals.
She smuggled some of her most treasured possessions to her relatives during the revolution.
The pendant sold for $36,000,000 at Sotheby's.
10) Badminton Cabinet
This magnificent cabinet is made from ebony and decorated with fine ormolu and pietra dura. Made in 1726 by Florentine workshops, the piece was commissioned by a then 19-year-old Henry Somerset, the third Duke of Beaufort.
The piece is a triumph of craftsmanship, incorporating a wide range of materials, including agate, lapis lazuli, Sicilian red and green jasper, chalcedony, amethyst quartz and other superb hardstones.
It takes its name from Somerset's home, Badminton House, where the 12ft 7in cabinet stood for over 25 years. Following the death of the tenth Duke in 1984, the cabinet made its way into the public domain when it was sold at auction.
When it returned to auction in 2004, it broke its own record price and sold for $36,662,106 to Dr Johan Kraeftner, Director of the Lichtenstein Museum in Vienna…definitely one of the most expensive item in the world at the time, and as of 2023 too.
9) Jimson Weed/White Flower No. 1 by Georgia O'Keeffe
In 2014, Jimson Weed/White Flower No.1 broke records as the most expensive work ever sold at auction by a female artist. The world-renowned Georgia O'Keeffe's previous auction record was $6.2 million, a figure which was eclipsed by the sale of this painting.
Best known for her signature style and subject of magnified flowers, this particular canvas is unusually large for O'Keeffe. Born in 1887, O'Keeffe is recognized today as the mother of American modernism for her work.
Sotheby's described the painting as "a strikingly bold and elegant representation of the artist's mature intent and aesthetic."
The purchase was primarily funded by Walmart heiress Alice Walton, who helped to obtain the piece for the Crystal Bridges Museum in Bentonville, Arkansas.
The piece sold for $44,400,000 in New York.
8) 1962 Ferrari 250 GTO Berlinetta
Another record-breaking sale, the 1962 Ferrari 250 GTO Berlinetta is the most expensive car ever sold at auction, as of 2021.
Hailed as the "Holy Grail in collectable cars," the Berlinetta was built to compete in the 3-litre class FIA World Championship in 1962. It won the 1962 GT championship and has over 15 wins to its name. It was also driven by Phil Hill, the first American Formula 1 World Champion. What's more, it is also fit for street use.
Ferrari's GTO 'family' consists of just 39 cars, and this Berlinetta lived safely under the ownership of Italian enthusiast Fabrizio Violati for 49 long years, until it was re-sold in 2014.
The car sold again in 2018 at Sotheby's for $48,000,000.
7) Oppenheimer Blue Diamond
There could have been a number of rare diamonds on our list of the most expensive auction items and things, but the Oppenheimer Blue diamond made history in 2016 as the most expensive jewel ever sold at auction as of 2023.
The diamond is also the largest vivid blue diamond ever offered at auction, with its rectangular cut weighing 14.62 carats and previously belonging to Philip Oppenheimer.
The previous record was held by the Blue Moon Diamond, which sold for $48,600,000.
Bidding opened at 30 million Swiss francs at Christie's in Geneva and was ultimately sold for $57,600,000 to a phone bidder after an extensive 20 minute battle.
6) Portrait of an Artist (Pool with Two Figures) by David Hockney
This enigmatic painting of two men and a swimming pool by David Hockney sold at Christie's in November 2018.
David Hockney is a talented painter, craftsman, and set designer. He has been on the art scene since the 1960s and is currently enjoying somewhat of a renaissance.
The painting, by an openly gay artist, depicts the emotional life of gay men – a rare theme in artwork at such a price point. It was one of the most admired paintings at Mr Hockney's retrospective at the Metropolitan Museum of Art.
Surpassing its predecessor, Balloon Dog by Jeff Koons, the painting broke records as the most expensive work by a living artist sold at auction, selling for $90,300,00.
5) Rabbit by Jeff Koons
Jeff Koons wasn't without the record for long, however. The controversial artist's sculpture took the place as the most expensive work by a living artist just six months after David Hockney's painting broke the auction record.
The shiny stainless steel sculpture, created in 1986, was inspired by a child's inflatable toy and has been revered by art critics as elegant and alluding to earlier pieces by Duchamp and Warhol.
Koons' career has been uneven, and so the sale comes as validation after he was forced to downsize his studio in 2017.
The sculpture sold at Christie's to Robert E. Mnuchin, an art dealer and father of Treasury Secretary Steven Mnuchin. The price stood at $91,100,000 when the hammer fell. Without a thought, one of the most original and most expensive item sold at auction to 2023.
4) Giacometti's Pointing Man
"L'homme au doigt" or "Pointing Man" is a life-sized sculpture of a thin man in the typical style of artist Alberto Giacometti. Giacometti is widely celebrated as a giant of the modern art world.
The sculpture took just nine hours to make – Giacometti created it in one night in 1947, hurrying to have it ready for his first exhibition in New York. Initially, it was meant as part of a larger composition, but Giacometti changed his mind, deciding that the sculpture was a complete work on its own.
As a result of this sale at Christie's in 2015, The National Portrait Gallery announced its first-ever Giacometti exhibition to commemorate the 50th anniversary of his death, which ran in 2016.
When it was sold in New York for $141,000,000, it became the most valuable sculpture ever sold at auction, and one of the most expensive auction items ever sold on auction as of the time of this writing in 2023 – beating another of Giacometti's sculptures, the famous "The Walking Man", which sold in 2010 for $104,000,000.
3) The Gigayacht
The most expensive item sold in an online auction as of 2023 was the sale of the Gigayacht. The Gigayacht is a 405 foot long pleasure yacht kitted out with innumerable luxuries, from a movie theatre and helipad to its 18 guest rooms and suites. However, the yacht was not yet built on the date of the sale.
The yacht's design has a unique draw of just 5 feet, allowing her to motor into most ports.
Craig Timm, president of 4Yacht Inc, asked for a half-price bid, with the understanding that the actual price would be twice that, due to eBay's inability to process bids above $99,999,999.
The winning bid was $168,000,000 on eBay.

2) Les Femmes d'Alger (Version O) by Pablo Picasso
Painted in 1955 by Pablo Picasso, Les Femmes d'Alger (Version O) was created as part of Picasso's rivalry with Henri Matisse that turned into a sort of adoration. After Matisse's death in 1954, Picasso mourned by creating 15 works in homage to Eugene Delacroix's 1834 painting Les Femmes d'Alger, which was held in high regard by the late Matisse. The original depicted Algerian concubines in their harem and was known in the 19th century for its sexual content. In the 1950s, it hung in the Louvre where Picasso would visit it.
When asked how he felt about Delacroix, Picasso replied "That bastard. He's really good."
The vivid cubist masterpiece sold at Christie's in 2015, to an uproar of cheers, applause and gasps, for a breathtaking $179,400,000, an undeniable entry on our list of the most expensive auction items ever sold as of 2023.
1) Leonardo Da Vinci's Salvator Mundi
A long-forgotten painting, it was authenticated in 2008 as a lost masterpiece of Leonardo Da Vinci by some of the world's greatest Da Vinci experts in London. One such expert remarked that the painting had "presence."
Despite rumblings in the art community that the painting was illegitimate, and possibly the work of Da Vinci's imitator, Bernadino Luini, the portrait of Christ was unveiled for the first time in the National Gallery in 2011. Six years later, it sold at Christie's and became the most expensive painting ever auctioned. It was purchased for the Louvre Abu Dhabi and was scheduled to be unveiled in September 2018. However, for the time being, it has been postponed without explanation.
Whilst some critics have taken the postponement to mean that the painting has been discovered to be a fake, the most likely theories suggest that there has been significantly more restoration required on the painting than previously anticipated. Some images have been released of the restoration, which has cleaned back some of the original treatment by respected restorer Dianne Dwyer Modestini.
With only 20 or so Da Vinci paintings surviving today, the Salvator Mundi – if indeed authentic – is truly priceless – which explains why it tops our list at an enormous sale price of $450,300,000.
Loans against fine assets
Contact the multi-award team at New Bond Street Pawnbrokers if you consider a loan against any of the following types of assets: diamonds, fine jewellery, classic cars, fine wines, fine art, fine watches , antique silver, rare books, and Hermes handbags.
This post is also available in:

Français (French)

Deutsch (German)

Italiano (Italian)

Português (Portuguese (Portugal))

Español (Spanish)

Български (Bulgarian)

简体中文 (Chinese (Simplified))

繁體中文 (Chinese (Traditional))

hrvatski (Croatian)

Čeština (Czech)

Dansk (Danish)

Nederlands (Dutch)

हिन्दी (Hindi)

Magyar (Hungarian)

Latviešu (Latvian)

polski (Polish)

Português (Portuguese (Brazil))

Română (Romanian)

Русский (Russian)

Slovenčina (Slovak)

Slovenščina (Slovenian)

Svenska (Swedish)

Türkçe (Turkish)

Українська (Ukrainian)

Albanian

Հայերեն (Armenian)

Eesti (Estonian)

Suomi (Finnish)

Ελληνικά (Greek)

Íslenska (Icelandic)

Indonesia (Indonesian)

日本語 (Japanese)

한국어 (Korean)

Lietuvių (Lithuanian)

Norsk bokmål (Norwegian Bokmål)

српски (Serbian)

Tamil
---
---

---
Authorised and Regulated by the Financial Conduct Authority