I hope you enjoy this blog post.
If you want us to appraise your luxury watch, painting, classic car or jewellery for a loan, click here.
Top 20 Most Expensive Whiskey Ever Sold on Auction as of 2024
October 30, 2023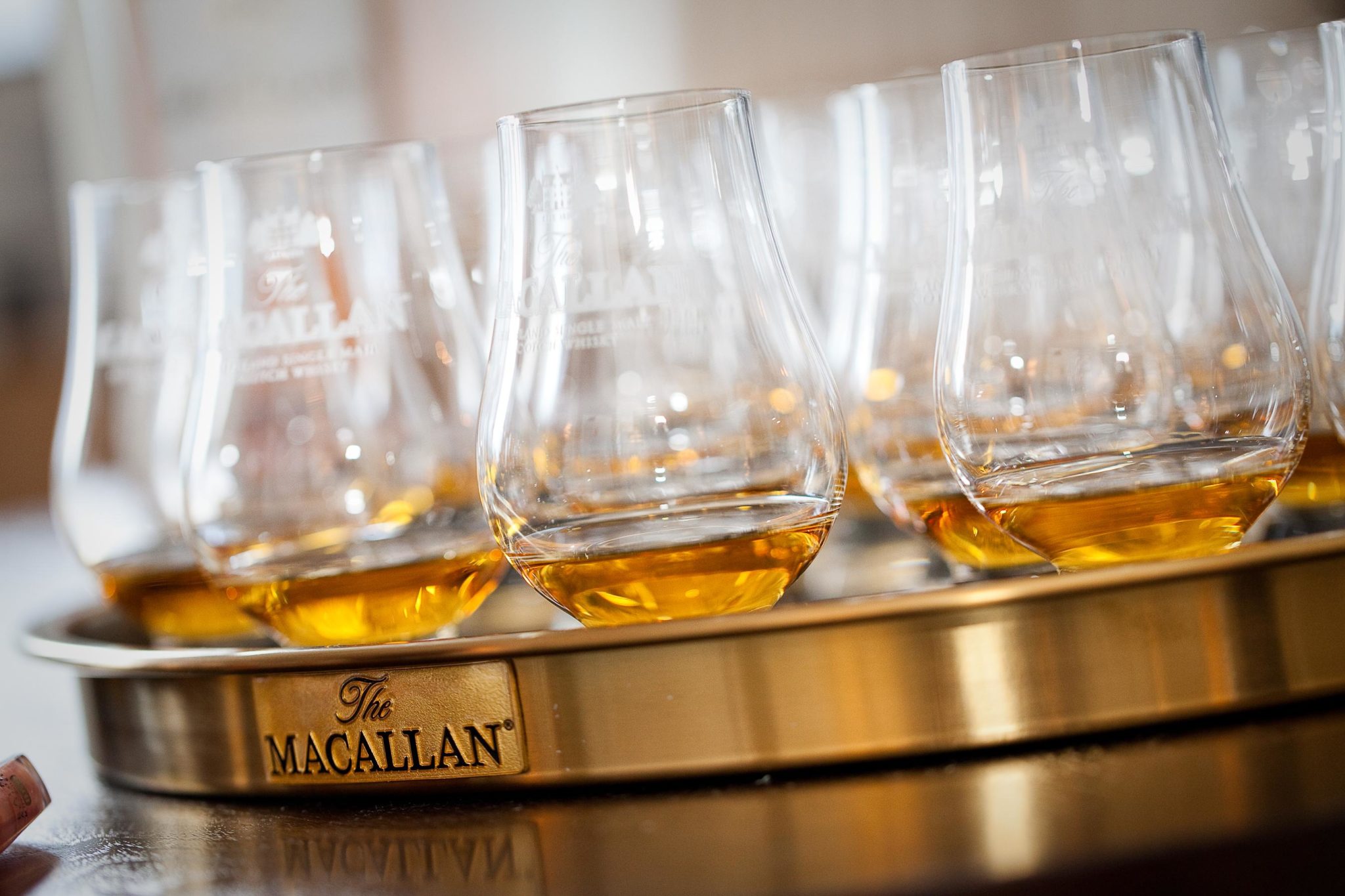 Not sure about what is the best whisky to invest in, or what is the most collectible whisky in 2024? …you are in good company, as whisky investment is a hot topic following the economic meltdown caused by the various worldwide events in teh last few years.
The best whisky bottles to invest in  2024 are undoubtedly the ones that double, triple, or even vastly increase their value – a whisky investment well worth having. With whisky barrel investment rapidly growing in popularity, it's no surprise that the auctions surrounding investing in whisky casks are taking off.
Here are ten of the top whiskey investment bottles and casks to ever make their way to the auction floor:
1. Arbeg sets new record with most expensive whisky ever sold
The most expensive whisky ever sold at auction is a cask of Arbeg single malt scotch, which went for a staggering £16 million in July this year.
The whisky was distilled in 1975 and has survived two distillery closures, with the cask remaining intact. It was bought by a private collector based in Asia. The bottle preserves Arbeg's past with its signature taste and aromas. Arbeg's could be the best whiskey to invest in in 2024.
2. The world's largest bottle of whisky sells for $1.4 million
The world's largest bottle of whisky sold for $1.4 million, according to a press release from Lyon and Turnbull auction house. The 5-foot 11-inch bottle, measuring 311 litres, was also given a Guinness World Record in September 2021.
The 1989 Macallan single malt had spent 32 years maturing in special oak casks before being bottled in 2021. It was sold to an international whisky collector.
3. Macallan Fine and Rare 1926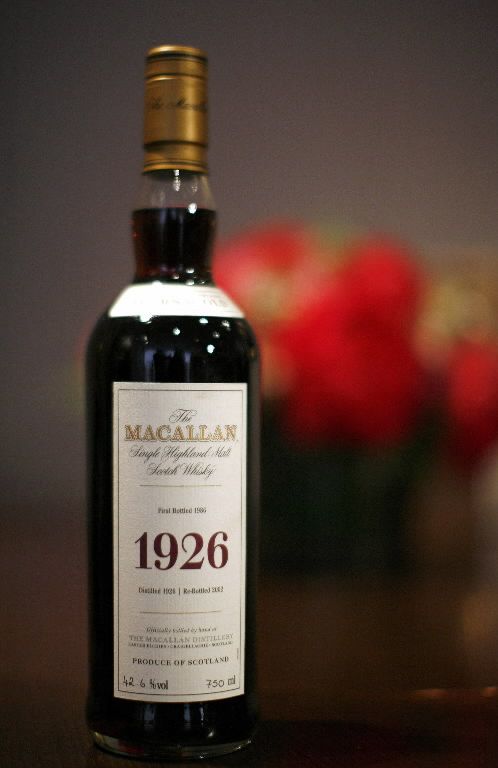 Macallan Fine and Rare lived up to its name in a Sotheby's 2019 auction. The bottle sold for £1,452,000 although estimated for presale at only £350,000 to £450,000. This bottle was from the same batch which sold the previous record holder of £1.2 million back in 2018.
Distilled 85-years ago and aged for more than 60-years in European oak casks, in 2023, this whisky is considered a prize among collectors and investors alike.
4. The Macallan Red Collection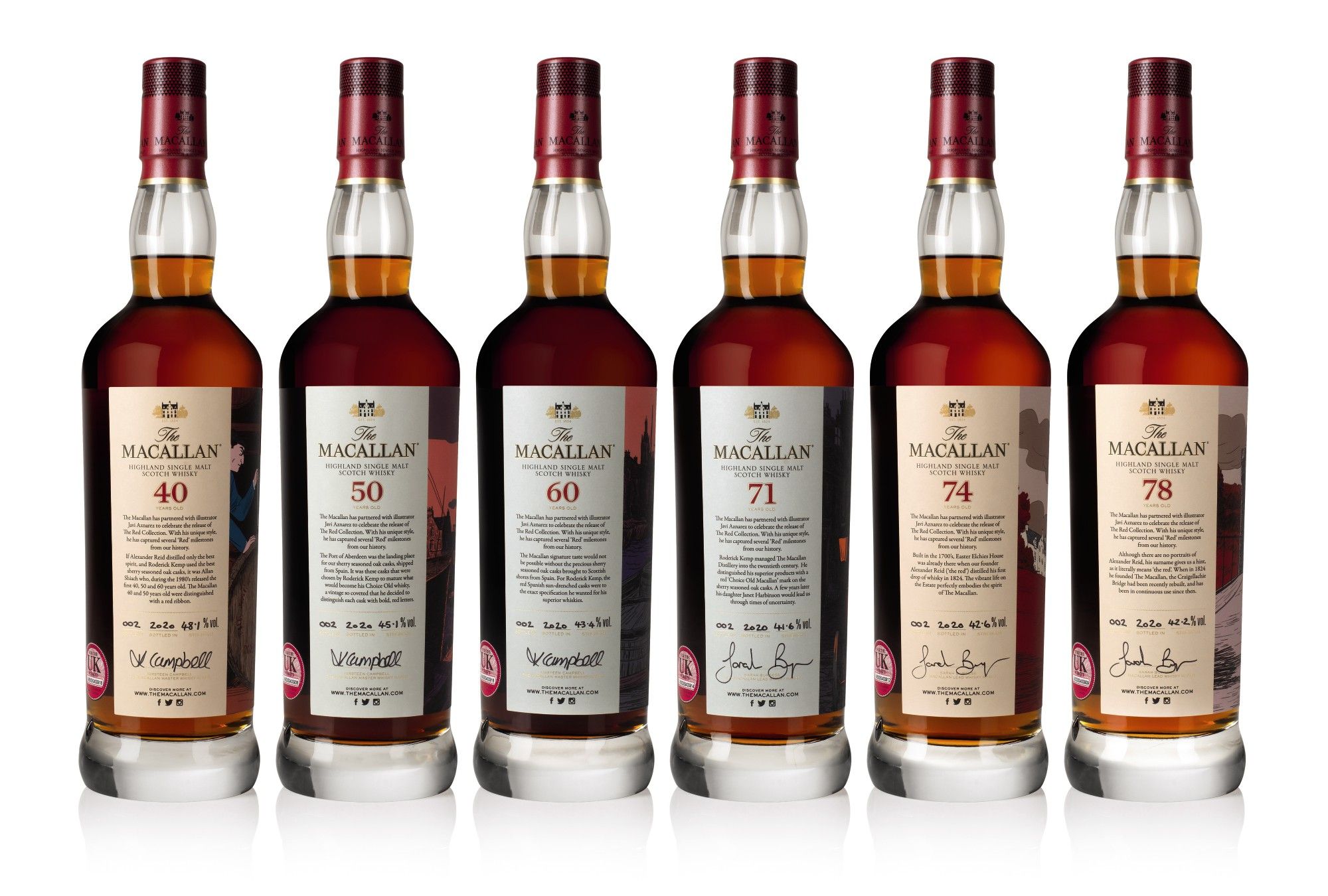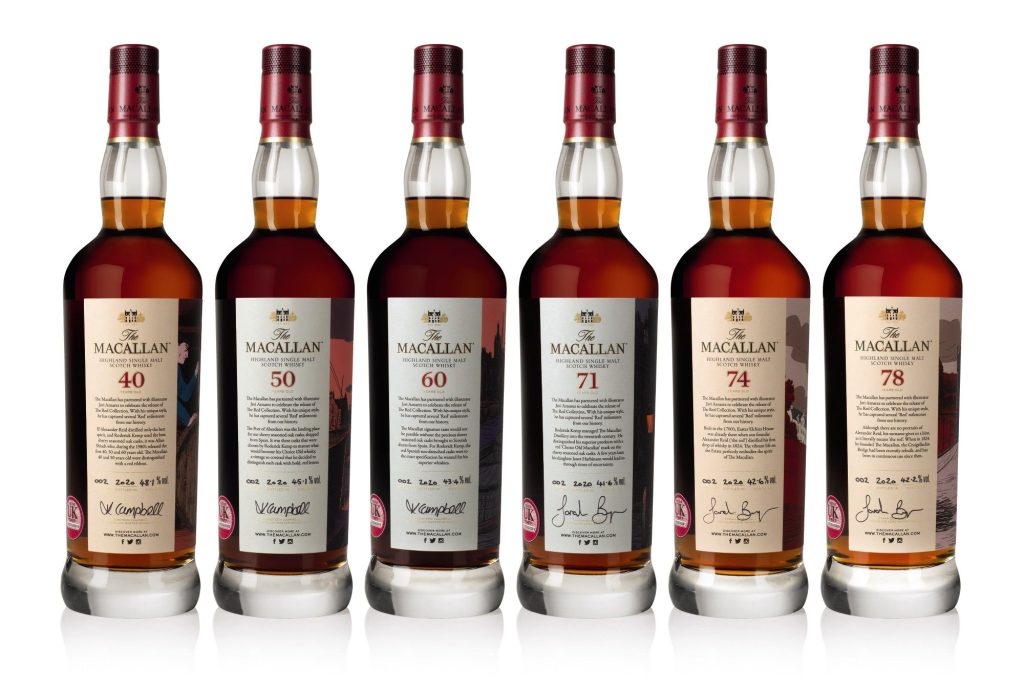 The Macallan Red Collection whiskey was among the most exclusive and expensive sold during the pandemic, releasing a considerable return on investment.
The six-bottle collection was sold in 2020 at the fall Sotheby's auction in London. One bottle aged 74 years and another 78 years were among those auctioned and the oldest circulating by Macallan.
This collection is one of only two in the world with the signature of label artist, Javi Anarez. The bottles sold for £756,400, after beginning at an estimated presale of only £200,000.
5. Yamazaki Suntory 55 Years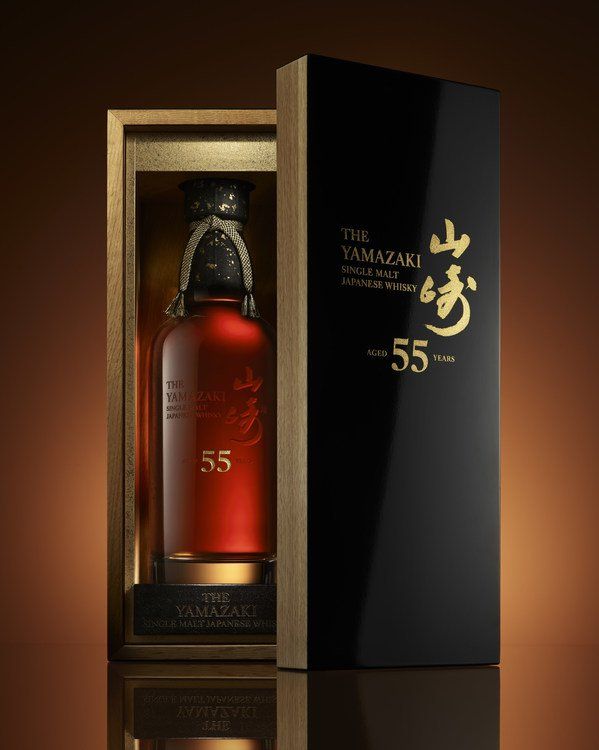 In the summer of 2020, a Hong Kong auction at Bonhams saw the record-breaking sale.
The 55-year-old bottle of Yamazaki by Suntory was one of 100 in existence, and the oldest Japanese whisky for investment as of 2024.
Usually only available in Japan, the Hong Kong sale saw the whisky go for £605,244. The unique flavor notes of this drink are matured in a Mizunara oak cask. In the Japanese whisky market, the Suntory exclusive whisky is one of the best whisky to invest in 2024.
6. Macallan 64 Year in Decanter
Luxury and elegance is the first thing you think with this unique, crystal decanter whisky. Macallan is already a big name when it comes to rare whisky investment and investing in whisky casks – but this particular tipple is the oldest in the books.
Created from casks dating back to 1942, 45 and 46, a single decanter fetched an incredible €387,400 at auction for charitable causes.
7. Bowmore 54-Year-Old with Glasses
2019 also saw a Sotheby's London sale of a 54-year-old Bowmore.
The finely aged investment whisky was 1 of only 12 bottles released from the batch. The sale included a 5ml sample, three crystal whisky glasses from 1957, and a signed certificate of authenticity.
Complete with an information booklet, platinum neck collar, and vintage stopper, the bottle sold for £363,000. This far outshined the original sale estimate of only £85,000 to £110,000.
8. Macallan'M' Whisky
There's little more exclusive in the world of whisky invest direct opportunities than the Macallan'M' whisky. So limited that only two bottles exist, a single bottle of this extensively crafted and worked whisky went for €323,000 at auction.
It's no whisky barrel investment, but this bottle fetches a higher price than the contents of a standard distillery in one single bottle.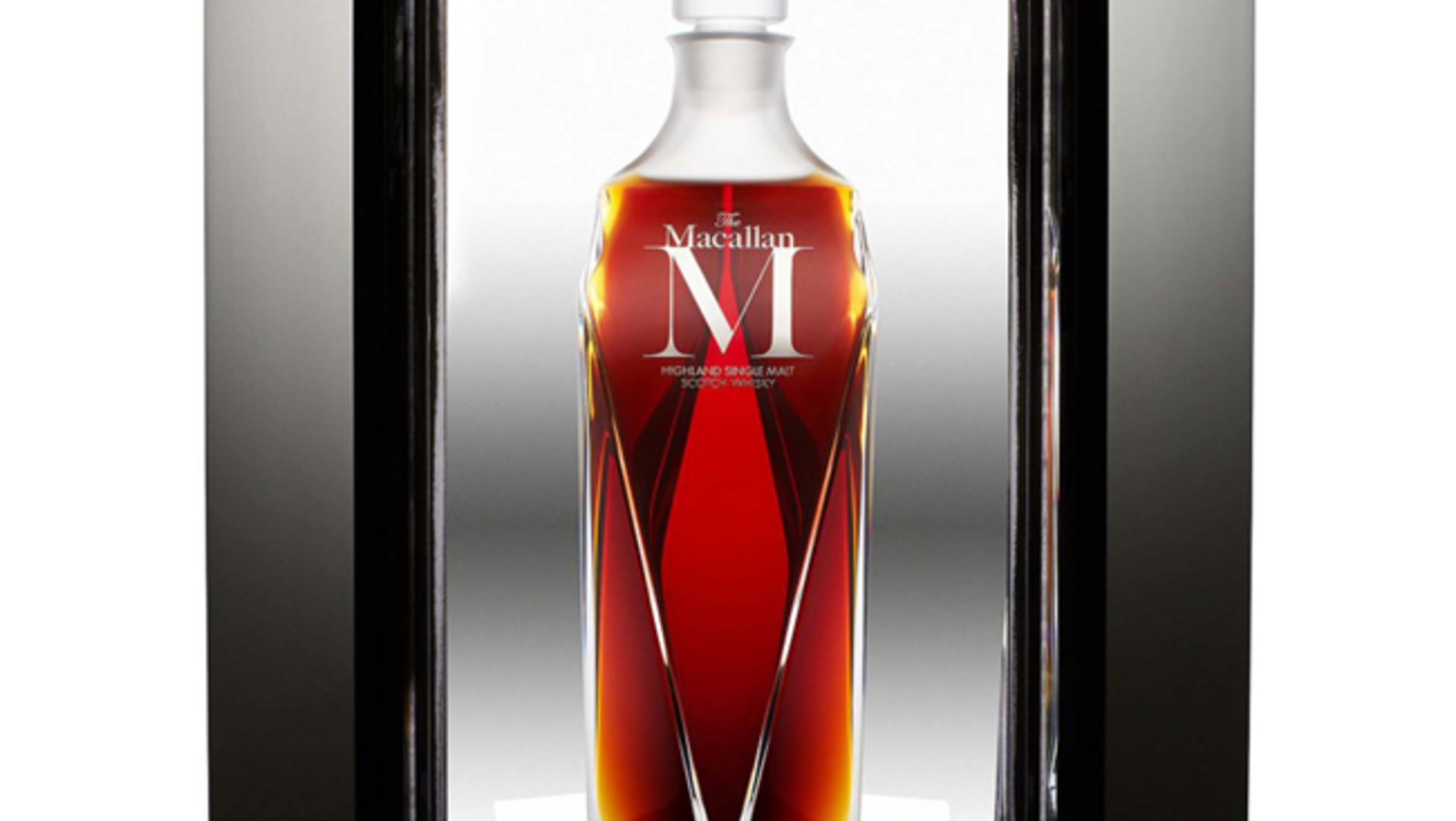 image source: https://www.catawiki.com/stories/4443-10-of-the-most-unique-whiskies-sold-at-auction
9. 81-year-old Macallan whisky sells for £300,000
A single malt whisky by Macallan sold for £300,000 at auction in October 2022. The 81-year-old whisky, which was put up by a private collector, was only unveiled in February this year and is crafted from a single, sherry-seasoned oak cask in a hot glass decanter. Only 288 bottles have been produced worldwide.
The decanter also sits on a bronze sculpture of hands, which represents Macallan's rich history. This was the oldest whisky ever sold at auction, so it's no surprise that it was full of competitive bids. Whisky auctions are becoming more and more common as unique casks are being discovered with more investment in whisky taking place.
10. Springbank 1919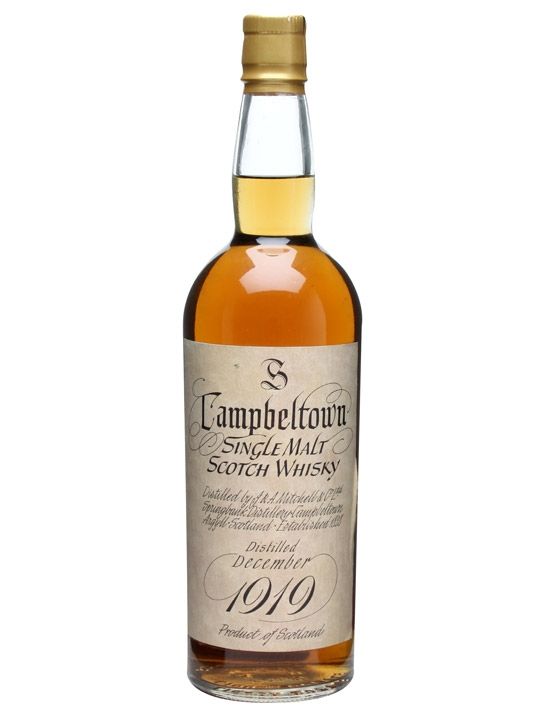 Complete with a 2001 letter of authenticity, the Springbank 1919 sold at Sotheby's for £266,200 in October 2019. This whisky was bottled in 1970 and sold in a wooden display box.
With an estimated price of £100,000 to £140,000, the Springbank was one of the most successful sales at the auction.
11. Glenlivet Gordon & MacPhail Generations 80 Year Old
The Glenlivet whisky aged 80 years was decanted in a bottle, especially designed by master architect, Sir David Adjaye. The case and bottle alone were valued at up to £140,000. The lot was sold in October 2021 for 1,500,000 HKD. While not the highest investment price fetched at a Sotheby's whisky auction, the piece turned heads for its priceless vintage.
12. Bowmore 1957 54 Year 2015
Islay whisky is exceptionally popular, and Bowmore is king when it comes to exquisite, luxury whiskies from the area. The Bowman 1957 54 Year bottle is in a league of its own, with a limited run of just 12 bottles in total ever being created. With that level of exclusivity, it's one of the best whisky bottles to invest in 2024 – with an incredible auction sale price of €136,000.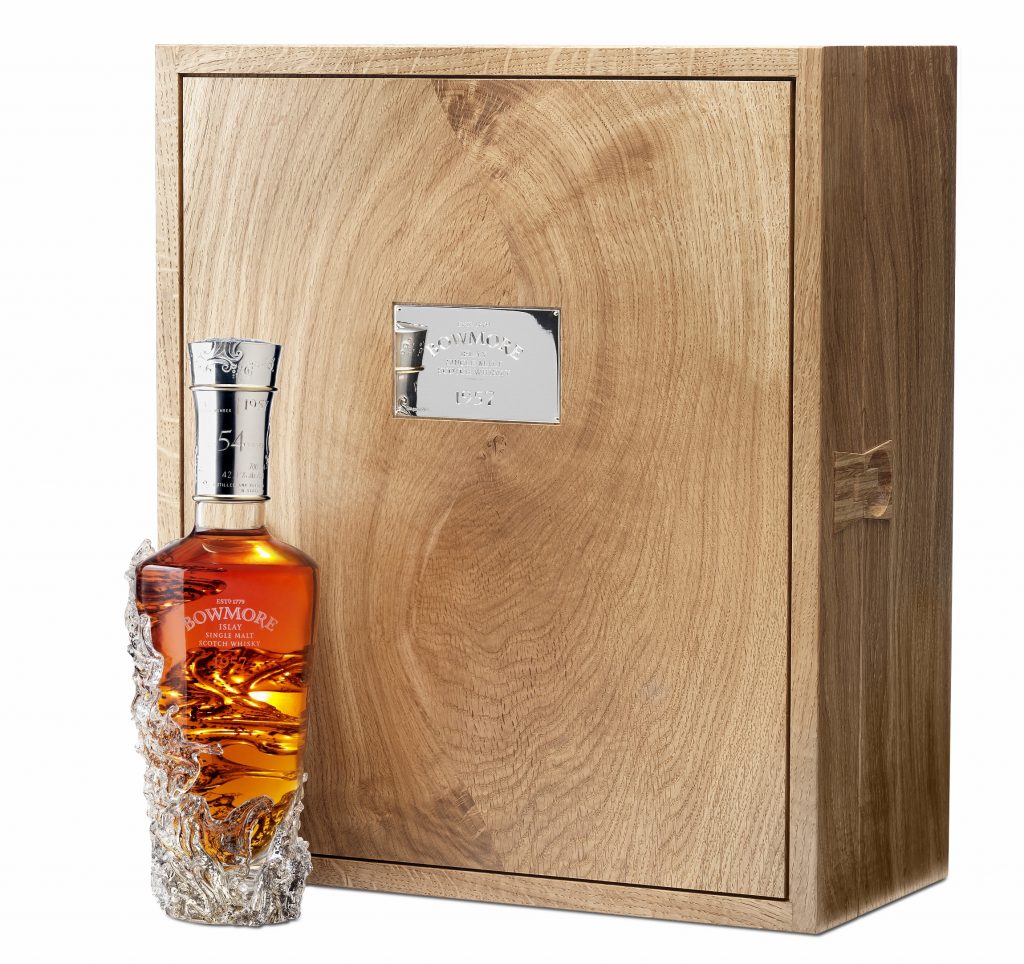 Image source: https://www.thedrinksbusiness.com/2017/10/most-expensive-whiskies-sold-at-auction/5/
13. 52 Year Karuizama 1960
When it comes to premium whisky, you don't get much more premium than Karuizawa. Known for being the single most expensive bottle of Japanese whisky to be sold at auction, only 41 one of the bottles were produced in total.
As a rare whisky investment, it's top of the charts – and with a worth of €111,000, it's a worthy investment indeed.
14. Yamakazi 50 Year Single Malt
Sweet, mature and incredibly rare, this 2005 first edition by high-end distillery Suntory is amongst the holy grail of best whisky investment in 2024, and beyond.
Simple, stylish, and with gold accents, this unassuming bottle sold for an impressive €110,000 at auction, making it amongst the best whisky to invest in 2024 and for years to come as it becomes even scarcer.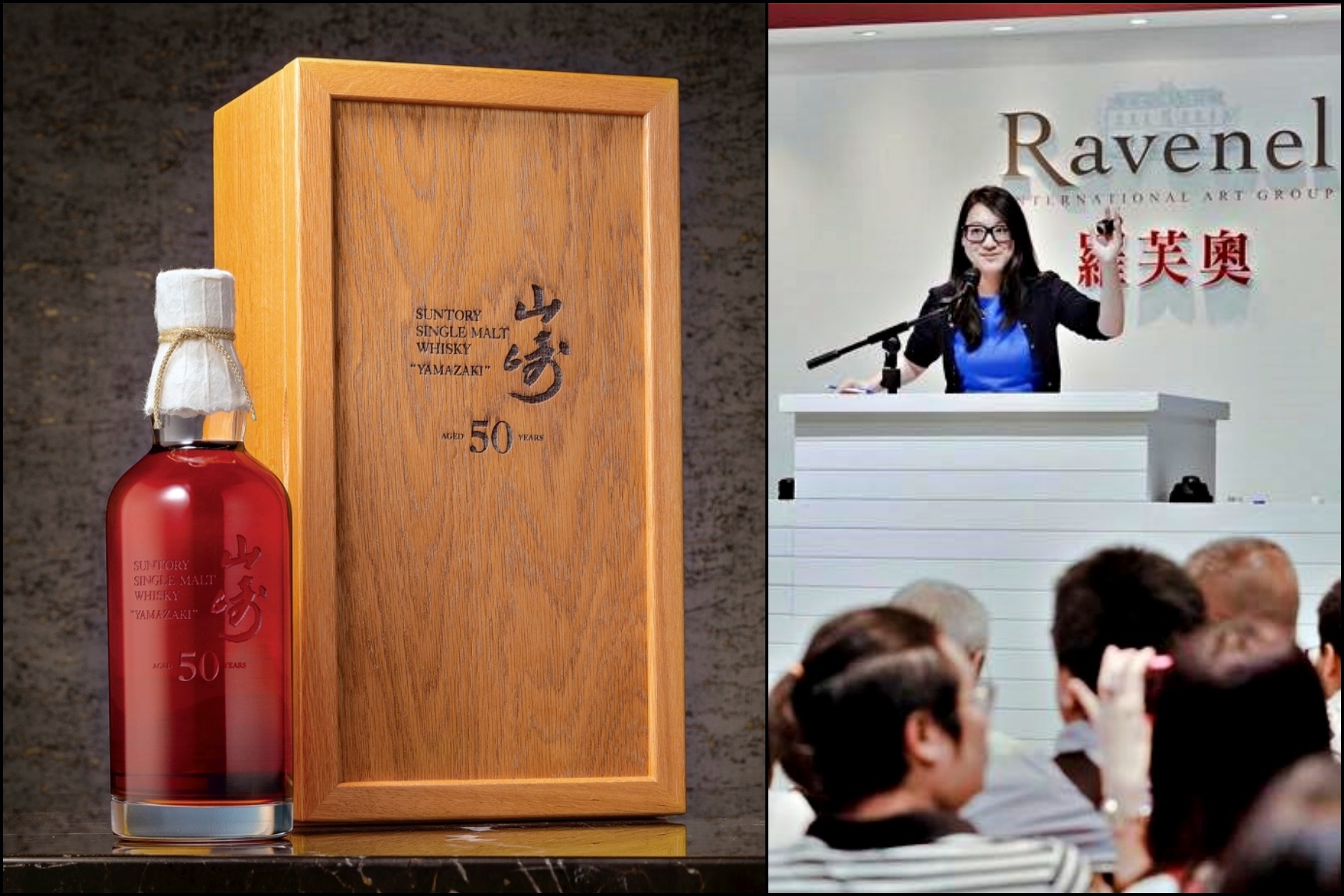 Image source: https://en.thevalue.com/articles/japanese-whisky-record-yamazaki-50-year-old
15. Karuizawa 51-Year-Old Cask
Bottled in 1964 in Japan, this Karuizawa whisky sold at Sotheby's in London for £96,800 in March 2020. As part of the "Finest and Rarest Spirits" auction, the piece had an estimated value of £50,000 to £90,000. It included its original wooden presentation case.
16. The Old Ingledew Whiskey
According to the Skinner Auction House in Georgia, U.S., the oldest bourbon whisky in existence was also sold in 2021.
The 250-year-old batch was thought to have been bottled in the 1860's. After carbon dating, it was found to have been distilled sometime between 1762 and 1802.
It sold for auction in June, 2021 for $137,000 USD. Another rare find, this whisky is the most expensive whisky from America sold in 2019 by Sotheby's. These 2021 finds suggest investing in rare whisky in the coming year could pose more surprises for collectors. 
17. Macallan 60-Year-Old in Lalique
A 2021 Sotheby's sale saw a 60-year old bottle of Macallan high-end investment whisky go for £68,750.
The Lalique bottle was a 4th edition of the 6 Pillars Whisky Collection. It was sold in the original packaging with a crystal topper and gift box.
With so many Macallan collectible whisky taking top spots in auction values, the brand is one of the best whisky to invest in 2024.
18. Glenfiddich 1937
Incredibly rich, packed the flavor, and limited to only 61 bottles, this whisky was aged from 1937 up to 2006. It's no surprise that this limited whisky investment direct option is part of the 'rare collection' from the brand.
With a single bottle selling at auction for €17,000, if you're looking for the best whisky to invest in in 2024 these bottles should be on your list.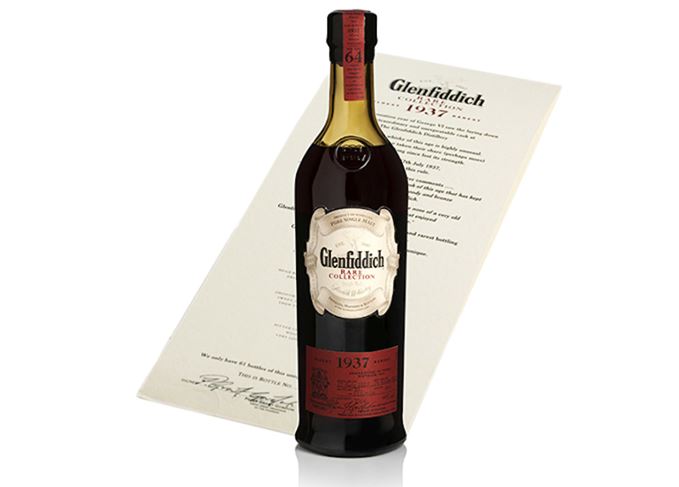 Source: https://scotchwhisky.com/magazine/latest-news/11336/glenfiddich-1937-breaks-auction-records/
19. Hibiki 35 Year Artiayaki Ceramic 2016
Cask whisky investment may be an exciting prospect, but the beautiful ceramic Arita bottle of the limited-run Hibiki 35 Year whiskey is a close second.
If you're wondering which whisky to invest in? this 150-run elegant bottle has fetched an amazing €9,370 at auction and is only gathering speed as a collector's piece. For a whisky with a top spot for the best whisky to invest in 2024, this one's worth searching for.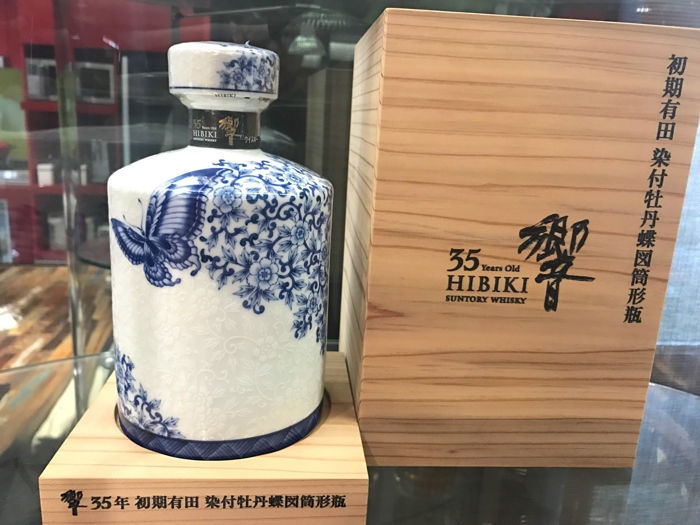 image source: https://www.catawiki.com/l/9122769-hibiki-35-year-old-aritayaki-ceramic-2016-limited-edition
20. Dalmore 1926 50 Year Old
Immediately distinctive packaging and retro styling sets this Dalmore whisky apart as one to watch. Distilled in 1926 and matured for 50 years, this scotch whisky was then bottled at cask strength and packaged beautifully to further add to its appeal.
Any whisky investment guide will tell you this bottle is worth its weight, with a single bottle fetching €8,500 at a 2016 auction.
21. Springbank 1965 Lombard
If you're interested in investing in whisky casks, you may want to give Springbank a second look. As one of Scotland's oldest family-run distilleries, Springbank already topped the charts for investment in 2024, and it is likely that the trend will continue in 2023.
The hand-blown 1965 Campbeltown Lombard Bottle sold at auction for €5,250, further providing its value to investors as one of the best whisky bottles to invest in 2024.
From whisky barrel investment to cask whisky investment, there are plenty of options on the market to increase investments and get excellent returns. If you want to know how to invest in a whisky cask, or you simply want to know how to invest in a whisky cask through a broker, we're the ideal choice for you.
We're experts in the field of cask whisky investment and bottled whisky investment. With our expertise and your investment, investing in whisky casks and coming out on top will be easier than ever. Read on to find out more.
A quick overview of some of the most expensive whisky in the world….
Here at New Bond Street Pawnbrokers, we manage multiple portfolios of valuable collections, and recently we achieved a sale on behalf of a client at Bonham's that was particularly memorable.
If you're looking to pawn fine wines, get in touch with us today. Our Blenheim Street shop is based in the heart of Mayfair. Appointments can be made, but are not 100% necessary; we're always happy to take walk-ins. We look forward to seeing you – and your fine wines – very soon. Some of the wine we loan against includes Chateau Petrus, Chateau Margaux, Chateau Lafite, and Chateau Mouton to name just a few.
---
---

---
Authorised and Regulated by the Financial Conduct Authority