I hope you enjoy this blog post.
If you want us to appraise your luxury watch, painting, classic car or jewellery for a loan, click here.
Top 10 Most Expensive Boucheron Jewellery Ever Sold at Auction as of 2024
May 15, 2023
The History of Boucheron
A staple of Parisian prestige, the Boucheron name is synonymous with innovation and has had a storied history since this brand's foundation in 1858. Boucheron is a timeless luxury jewellery designer responsible for several important advances, including rondelle diamonds and clasp-less necklaces, both of which the firm pioneered in the 19th century. Royal patrons across the world have used Boucheron's services – such as Queen Elizabeth the Queen Mother, Maharajah Sir Bhupinder Singh, and Grand Duke Alexei Romanov. Even Queen Consort Camilla recently wore a Boucheron tiara at a state dinner, showing a clear link between this brand and high status.
Frédéric Boucheron came from a clothier family – and soon turned his experience towards making some of the finest jewellery in France. He opened his first Boucheron store underneath the Palais Royal arcades, which was the heart of luxury in Paris in the 19th century, but moved to Place Vendôme in 1893. As the sunniest corner of the area, Boucheron believed this was the perfect spot to make sure the diamonds sparkled beautifully. As the store still stands there today, it seems history has proven him correct; especially as other jewellers have joined Boucheron at this square in the years since.
1893 was also a significant year for the Boucheron brand, as it opened its first international store in Moscow; a London store would soon follow in 1903. New York would get its own Boucheron in 1911, with stores in Beirut, Tokyo, San Francisco, Toronto, Hong Kong, and other key locations across the globe in the decades since. With the company now a recognised name for those with an interest in premium jewellery, it's easy to see why this brand has endured. Boucheron jewellery designs still have plenty to offer customers – and fetch high prices at pawn shops and auctions today.
Frédéric died in 1902 and left Boucheron to his family, where it would remain a family business until 1994. His son Louis Boucheron directly inherited the company and would continue to administer it for decades – he was even commissioned to appraise the Iranian National Jewels by the country's Shah in 1930. This shows that the Boucheron name commanded respect on the global stage; their professional opinion was vital for determining the value of a country's most significant treasures. Gérard Boucheron would follow his father Louis and swiftly spearheaded a return to beautiful and delicate Boucheron jewellery after the Second World War.
In 1963, Gérard's son Alain would take the lead and transitioned the brand into a much bolder direction, which integrated entirely new materials. This would include coral, turquoise, rock crystal, and even lapis – all of these innovative pieces were a sharp departure from Boucheron's previous use of gemstones, but Alain was still true to Frédéric's vision. During the 1970s and 1980s, it was even common to see gemstones mixed with diamonds. Gucci bought Boucheron in 2000, and it is now part of Kering, though the changing leadership never slowed the company's success as it still excels against competitors such as Cartier, Tiffany, and Chopard.
Top 10 Most Expensive Boucheron Diamond Jewellery
& Rings Ever Sold at Auction as of 2024
Perhaps the most valuable Boucheron piece to reach auction in recent memory (at the time of this writing in 2024), the 'Julia Necklace' boasts 423 diamonds and 1,739 sapphires. The brand fashioned the one-of-a-kind necklace in 2009 as a collaboration with designer Marc Newson, who spent 1,500 hours placing every gemstone. The design implements many complex mathematical fractals, and the necklace's name is a tribute to Gaston Julia; a French mathematician famous for his fractal work.
In November 2021, the Julia Necklace became the most expensive jewellery sold in Poland, at a private auction hosted by Desa Unicum. Details are scarce on the necklace's actual hammer price, but professional estimations gave it a value of 20-25 million zlotys. This means the necklace might have sold for as high as £4.7 million but is likely the most expensive Boucheron auction sale as of 2024, even without direct clarification on the price.
Boucheron has designed a number of prestigious sapphire and diamond rings over the years and this particular ring was auctioned with the private collection of romantic thriller novelist Barbara Bradford. With a mixed-cut oval sapphire that weighs 31.26 carats, and 2.30-carat diamonds, the ring was sold at a London auction and achieved a price of £422,500. This makes it potentially the highest Boucheron ring price on record as of 2024.
Diamond and sapphire is a popular mix in Boucheron designs, and across the jewellery world in general, due to the beautiful combination of colours. By making use of the lustrous diamond's refractive properties, the design can highlight the sapphire's deepest blues, providing world-class elegance in the process. The Boucheron ring's sapphire is of either Burmese (according to Gübelin) or Sri Lankan origin (according to SSEF) – even the experts are unsure about this detail.
Ruby and diamond is yet another iconic combination that provides an irresistible contrast, offering the perfect balance of brilliance and richness. The necklace of this set includes seventeen rubies in an oval-cut design that pair beautifully with the marquise and pear diamonds. As a result, this timeless necklace comprises many eye-catching shapes that complement one another. The suite sold in Hong Kong for HK$3,540,000 (or £356,800) in November 2016.
The rubies of both items show no evidence of heat treatment, and valuators agree upon their Burmese origin – Myanmar is still a top producer of rubies today. This particular colour is known as 'pigeon's blood' and offers a distinctive deep red hue with hints of purple. The diamonds on each piece also have brilliant cuts, ensuring an even greater level of opulence, which sparkles brightly across all 46 carats.
Boucheron created the dragonfly tiara in 1909 to reflect emerging fashion trends. This time was a flashpoint of shifting gender roles and women would soon change their wardrobe in response; experts believe this tiara was a perfect match for radical women of that era. The dragonfly tiara exudes elegance while also casting aside the rigid style of 19th-century accessories – above all else, this tiara represents the enduring nature of Boucheron's brand.
This particular tiara was from the private collection of Anna-Lisa Björling, who acquired it in 1956 and famously wore it to her husband's debut performance as Don Carlo the following year. The platinum construction allows this tiara's frame to mesh beautifully with the old and rose-cut diamonds which adorn the accessory. This tiara sold for 2.7 million Swedish króna (or £210,246) in December 2022 as part of the Bukowskis winter sale.
Produced in 1955, this stylised Boucheron bracelet includes 70 carats of diamonds in four distinct cuts. Though the brand is no stranger to mixing cuts, they usually limit this to two. Designers typically do this to help the unique properties of every diamond shine through. Each type sparkles and shimmers in its own way, and the high carat count grants it even more prestige while also contributing to the Boucheron bracelet's final price.
The exact cuts are old brilliant, baguette, square, and calibré with each providing a diverse, multifaceted shape as part of a small buckle design. This bracelet sold for £93,750 at a fine jewellery auction hosted at Bonhams in London in April 2018 – it achieved this high price in spite of the item missing a diamond. The strength of this Boucheron bracelet design remains, regardless of any deficiencies it has sustained.
This brooch sold for $113,775 (£90,109) at a New York auction in May 2022 and offers a classic combination of emerald and diamond. Jewellers worldwide have paired these stones for centuries because diamonds are able to accentuate the rich greens of any emerald. The brooch takes full advantage of this effect – and the emerald stands as the piece's main attraction, with the diamonds serving to highlight its beauty from every angle.
The item's Colombian emerald has no enhancements, and sports a classic rectangular emerald-cut, which gives it a larger surface area. This helps the emerald to stand out even further among the many cascading baguette-cut diamonds, which already draw the eye with their precise and professional cuts. Though the brooch is quite a small accessory, this dainty and appealing design is exactly why it was able to sell for over $100,000.
This 1950 diamond necklace sold for $92,500 (or £73,243) at a New York auction in December 2010 and was a product of Gérard Boucheron's tenure at the company. The necklace stands as an example of his post-war goal to revitalise Boucheron and make it an illustrious producer of beautiful diamond jewellery once more. Many of Gérard's creations were inspired by flora, up to and including the petal-like structure of this particular piece.
The Boucheron diamond necklace employs round and baguette-cut diamonds – the latter helps highlight the round stones and help them shine even brighter. This item's centrepiece comprises five larger circular diamonds, all of which are surrounded by much smaller baguette stones. With the platinum and 18K white gold mounting blending these elements together into an elegant (and complementary) design, it's easy to see how this Boucheron diamond necklace met its estimated value.
Another example of a classic pairing, these emerald and diamond pendant earrings are a symbol of health and good fortune. They sold for $87,500 (or £69,247) in June 2014 at a New York auction, which made them one of the most valuable lots at that specific event. Boucheron earrings are known for mixing gemstones, which gives them more value whilst helping the colours equally stand out and complement one another.
The emerald drops are of Zambian origin – and have been through clarity treatments over the years to further improve their brilliance. Combined, these Boucheron earrings weigh 50.66 carats, with the emeralds taking up most of this weight. The emeralds' diamond caps are pavé-set to limit the amount of metal which is on display and bring out the colours even more; these earrings are yet another example of Boucheron high jewellery.
This Boucheron diamond necklace is from 1905 and exemplifies the Belle Époque. This was an optimistic era of French history which started in the 1870s and would last until the First World War's outbreak in 1914. Art of all kinds flourished during the 'Beautiful Epoch', and Boucheron jewellery was no exception. This allowed Frédéric Boucheron to continue making a name for himself by delivering pieces that reflected his boundless creativity.
Over a century after its creation, this Boucheron diamond necklace sold for £64,800 in September 2008 as part of a Bonhams London auction. The necklace is replete with brilliant-cut gemstones, with a pear-shaped drop at the piece's centre that weighs 4.06 carats. This shape was common during the Belle Époque, where Boucheron high jewellery often adopted a more floral presentation – the millegrain-set diamond border complements this elegant structure perfectly.
Art Deco began in France during the 1910s and would soon become popular across Europe in the decades that followed. This waterfall pendant is just one of Boucheron's many contributions towards solidifying the style as a hallmark of quality. The Art Deco movement aimed to combine both traditional craftsmanship and evocative modern styles to show the persistence of glamour during a time of great social and technological change.
Though the pendant was designed in roughly 1925, the accompanying chain was actually made around 1890 – meaning these pieces come from two separate eras. This shows the brand's strong commitment to beautiful Boucheron jewellery, no matter the year or movement. The chain includes diamond foliate motifs which go well with its accompanying bouton pearls, and the pendant itself also combines these two luxurious stones to great effect.
An overview of Boucheron's collections
There are fourteen collections across Boucheron's high and general jewellery pieces, including:
1. Ailleurs
With this collection, Boucheron creative director Claire Choisne hopes to bridge the gap between the materials most designers wouldn't combine. Ailleurs (French for 'elsewhere') represents a way of circumventing borders, showing the beauty of nature across five sets that embody sand, earth, pebbles, leaves, and volcanoes.
Each of these has much to offer – for example, the Femme Sable (Sand Woman) set blends diamond with rattan across its pieces, including a distinctive necklace and brooch. The Femme Galet (Pebble Woman) set contains Boucheron diamond rings and earrings that use authentic marble pebbles – this collection is an opportunity for wearers to embrace the complex world around them.
2. Holographique
Another staple of Boucheron high jewellery, the Holographique (Holographic) collection delivers a prismatic display of colour and light. This combines crystal strips with diamonds to realise nine dazzling and vibrant sets – the eponymous Holographique set is at the heart of this collection and even integrates tourmalines in different colours.
Prismé (Prism) pieces apply several rows of crystal to compound this effect across stretched pear-cut rings and earrings which result in an amazing, vivid effect. Every set provides a unique hue and theme for its wearers, with Chromatique (Chromatic) including numerous floral items, while Opalescence uses transparent enamel to build a stylised betta fish brooch.
3. Contemplation
The Contemplation collection aims to bring the ephemeral to life across five sets, with Claire Choisne using this collection as a personal canvas to create a surrealist exploration of beauty. The Ciel (Sky) set, for example, uses a mix of tanzanite-blue cabochons, pearls, diamonds, and titanium for its stunning necklace.
On top of this, the Nuage (Cloud) set includes the Apesanteur (Weightless) necklace, which employs 10,000 threads of titanium as well as over 4,000 diamonds to simulate the understated complexity of a passing cloud. This collection stresses the splendour we often take for granted, and which is ever-present in the simplest moments of life.
4. Like A Queen
Directly inspired by a Boucheron brooch given to Elizabeth II on her 18th birthday, Like A Queen signifies a long-standing connection between Boucheron jewellery and royalty worldwide. The collection has seven sets, each of which features Art Deco designs in different colours, including Hypnotic Blue, Mega Pink, Rolling Red, Green Garden, Moon White, Frosty White, and Lemon Slice.
Wearers may decide to pair a yellow Boucheron bracelet with a blue brooch and green ear pendants – or they might decide to stick to a singular colour. Every piece can offer a level of luxury that was once reserved exclusively for reigning monarchs.
5. New Maharajahs
Continuing the royal theme, the Maharajah of Patiala commissioned Boucheron to design his jewellery in 1928 while in Paris. Taking inspiration from Louis Boucheron's 149 original concepts, New Maharajahs is a tribute to this moment and seeks to modernise these designs.
This collection comprises many pieces – including a classic Boucheron diamond necklace that integrates emeralds and platinum in a collar structure. There are also white-gold chokers, diamond-encrusted ear jewels, iconic Boucheron diamond rings, and more. This collection shows it's possible to respect the designs of the past while still carrying them forward; such as by giving more options for women to enjoy them.
6. Art Deco
Boucheron's Art Deco collection recalls the eponymous movement that this company helped spearhead across Paris and Europe overall. The collection is in many ways a revival of this style, intending to blend sophistication with modern social changes. For example, the Cravate Émeraude is a tie-like piece which echoes the masculine details of flapper wardrobes and can serve as a necklace or brooch.
There is also a range of Boucheron men's rings which could double as a Boucheron wedding ring. These items push against gender boundaries – this is at the heart of Art Deco styles, as well as its influence over jewellery and fashion.
7. Quatre
The Boucheron Quatre ring collection has been a part of the company since 2004 and serves to emphasise the inner strength of wearers. These rings are available in small or large sizes, both of which stick to the same four-layer design – yellow gold, white, pink, and chocolate gold.
There are Boucheron Quatre rings which substitute the chocolate layer for other colours such as black, blue, and red. This collection could be the perfect choice of Boucheron wedding band – and also comes with bracelet, necklace, and ear pendant designs. These pieces still incorporate the Boucheron Quatre ring to reflect just how versatile this design is.
8. Serpent Bohéme
Serpent Bohéme has been a classic Boucheron collection since its inception in 1968 and focuses upon an iconic teardrop shape across many styles and stones. For example, there are rings available as diamonds, mother-of-pearl, pink quartz, malachite, rhodolite, and even aquaprase; a stone so rare it was only discovered in 2012.
As a prestigious and timeless design, this could be a great choice for your Boucheron engagement ring. The design is alternatively available as a necklace, pendant, bracelet, or a set of earrings, and has its beginnings in a snake-like necklace which Frédéric Boucheron gifted his wife in 1888 for their crystal anniversary.
9. Jack de Boucheron
Introduced in 2019, the Jack de Boucheron collection emphasises femininity in all its forms and employs a jack-cable design to make the pieces even more flexible. This allows them to take the shape of a bracelet, necklace, bangle, belt, earring set, or brooch whilst easily snapping together as needed.
Many of the pieces are available in yellow or white gold – helping wearers embrace their womanhood in the way that works best for them. This adaptable cable structure also includes various diamond-encrusted options, combining a sleek futuristic design with traditional flourishes; Jack de Boucheron places this contrast at the heart of its pieces.
10. Animaux de Collection
With links to one of Boucheron's first collections from 1866, Animaux de Collection (Collectible Animals) hopes to connect jewellery connoisseurs with a creature that matches their unique style. These are available as rings, earrings, necklaces, bracelets, and pendants, with a great range of animals to choose from.
The Wladimir set is particularly interesting as it's based on Gérard Boucheron's black cat of the same name – and even depicts him in his famous Collier Fleurs diamond necklace. There are also pieces in this collection based on cicadas, pandas, lions, leopards, chickadees, and many more, showing the sheer variety present in our favourite animals.
11. Nature Triomphante
Many of Boucheron's pieces have their origins in the natural world – and the Nature Triomphante (Triumphant Nature) collection embraces this to showcase the beauty that exists all around us. This includes items such as a Boucheron engagement ring inspired by peacock feathers, a bracelet resembling an arrow, and even necklaces based on the ivy which flows throughout Paris.
These diverse designs bridge the gap between past and present to help wearers connect to the natural world. Hundreds of small round diamonds punctuate all of these pieces and allow them to glisten brighter in any setting; but especially when their wearer is among nature.
12. Couture
The Couture collection is yet another which explores the brand's history. Frédéric Boucheron was the heir to a drapery business before setting up his self-titled company, and Couture incorporates textiles into each piece to reflect this. Boucheron earrings are a prominent part of this collection, replicating a fabric texture with the aid of rose gold chains and airy diamond caps.
Some of these options also incorporate Art Deco styling, which adds greater precision and elegance. This collection includes the Delilah Necklace – a diamond-set yellow gold scarf that mimics a hand-woven approach to offer more flexibility while paying homage to the brand and its origins.
13. Architecture
Jewellery and architectural movements usually go hand-in-hand – the Architecture collection is a testament to this, taking inspiration from Art Deco alongside the beauty of Parisian buildings. The pieces which make up the collection are named Vendôme after Place Vendôme, where Boucheron's main store has been since 1893; this is why almost every piece incorporates an octagonal design.
The Vendôme Lisere is a particularly versatile item – with the Solitaire version also forming an excellent Boucheron engagement ring or wedding band. Pendants and rings with this style also come in several distinct variants which make use of aquamarine, green tourmaline, and morganite to produce more majestic colour options.
14. Timeless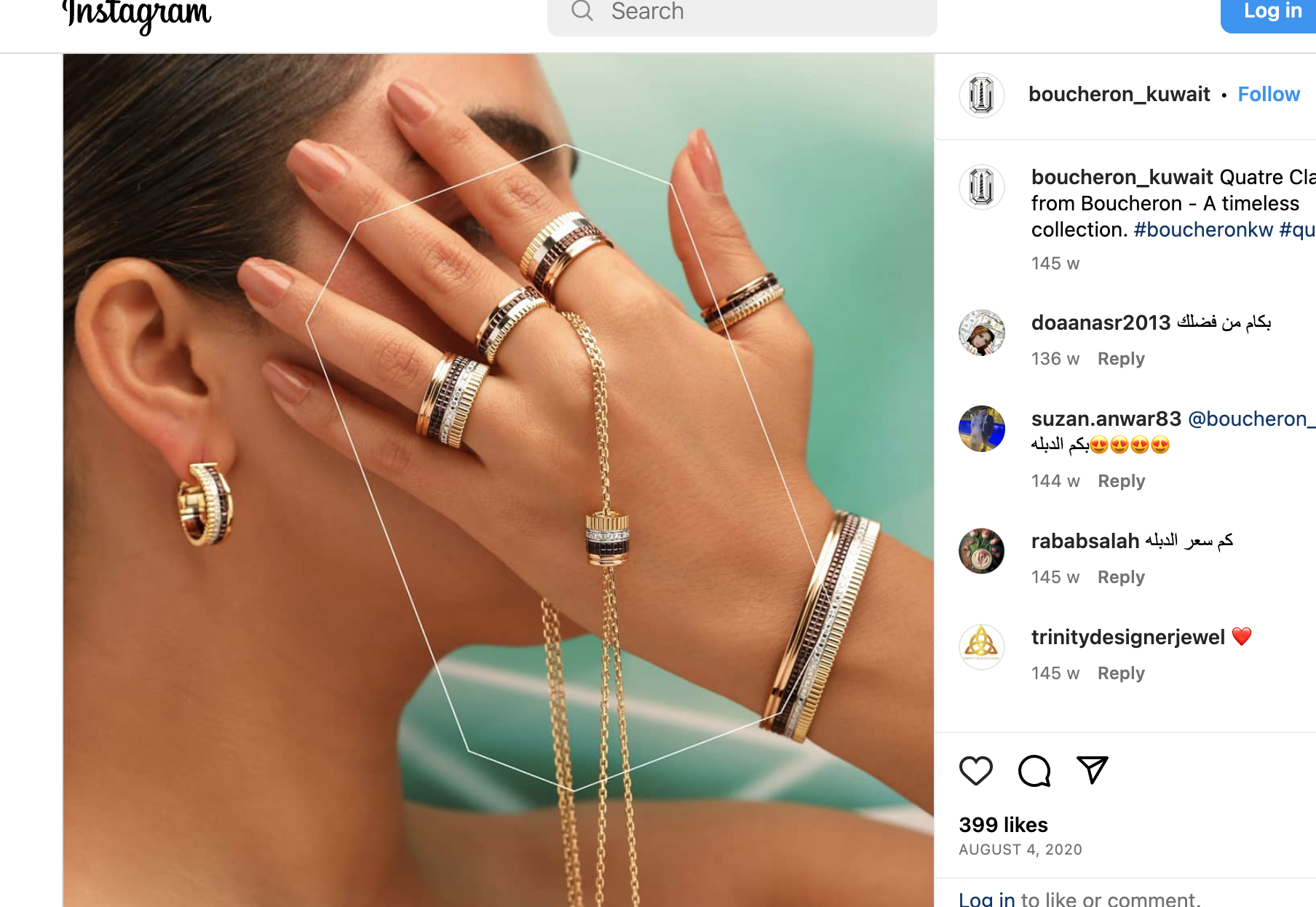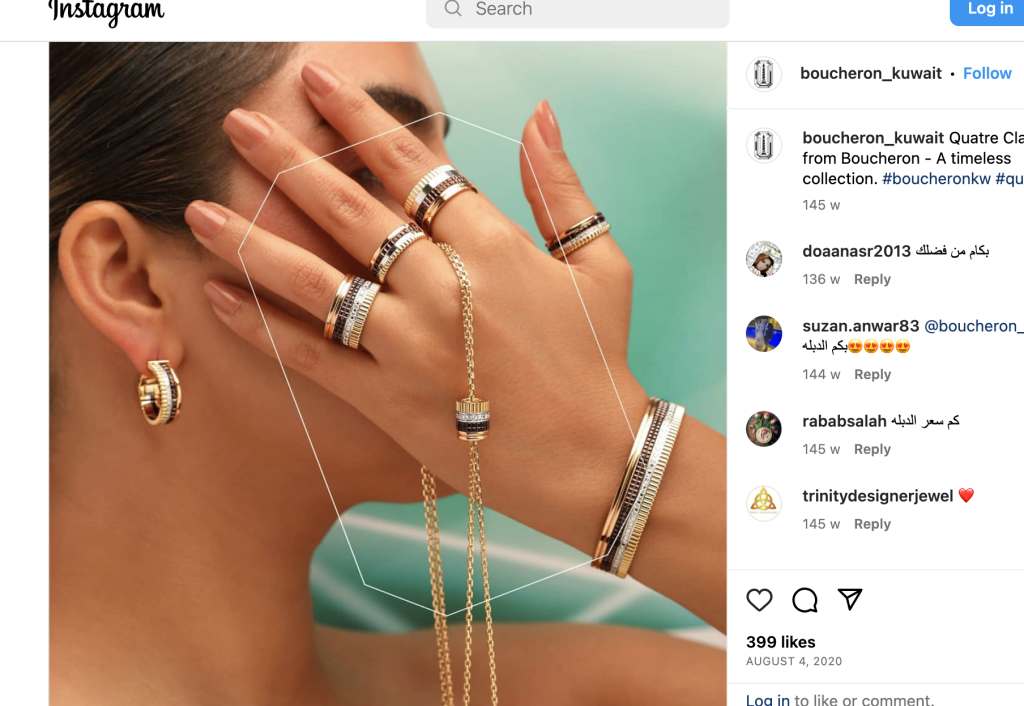 Though Boucheron's designs have varied tremendously over 165 years, each era has a timeless quality that can still amaze people today. The Timeless collection contains five classic items, including bracelets, necklaces, and a Boucheron ring – all of which use iconic designs. For example, the Goutte ring takes inspiration from Russia's majestic domed buildings, whilst the Riviére Vendôme bracelet and necklace reflect the firm's headquarters.
As a testament to Parisian prestige over the ages, the collection also makes liberal use of diamonds. Every piece is a prominent showcase of the Boucheron dynasty, including why auctioneers and pawn shops alike offer high prices for their items.
3 things you may not have known about Boucheron
1. The Boucheron International Rating of Diamonds
Boucheron's mark on the jewellery world involves more than just their own production of high-quality pieces – they also compiled a comprehensive scale for checking diamond values across any currency. There are two key factors that contribute towards this; specifically the clarity and colour of a stone. These qualities may intersect, impacting the overall score as a result. For example, a diamond with even slightly murky clarity could affect the stone's colouring in a way that significantly depreciates its value.
The final rating is out of 100, with a perfect score representing the greatest quality of diamond possible. When assembling these jewels to make their esteemed creations (or even just while handling the stones), Boucheron expects a rating of at least 90. If a stone falls below that threshold or has a notably poor performance in terms of its clarity or colour, the company instead discards the diamond, demonstrating a commitment to quality and accountability at every stage.
2. Wladimir the Cat
Gérard Boucheron's cat is immortalised as part of the Animaux de Collection series; but Wladimir's full story is still an important one. He was adopted in the 1970s and swiftly became a core part of Boucheron's advertising campaigns, where he would be draped in gemstones or surrounded by the brand's newest timepiece. Wladimir mainly resided in the townhouse above the Place Vendôme store, though he was also a regular presence in the shop, with people praising his domesticity.
Wladimir's prominence in advertising helped to build an association between high-quality Boucheron jewellery and felines, which have remained a fixture of the brand's collections. Even beyond the Wladimir-themed items in Animaux de Collection, there are also 'Shibli' lion and 'Fuzzy' leopard pieces, which represent the connection that Wladimir established.
This iconic cat even acted as a digital tour guide at a 2018 retrospective to celebrate the company's 160th anniversary; Wladimir is an essential component of Boucheron's history whose legacy will hopefully endure.
3. The Mackay Collection
Boucheron has had many interesting orders and commissions over its 165 years of operation – as well as many repeat customers. One frequent client throughout Frédéric Boucheron's time at the business was Marie Louise Mackay, the wife of American industrialist John William Mackay.
Between 1876 and 1902, Marie would appear in Boucheron's Special Orders ledger 102 times. Over time, she would amass a collection of high-quality jewels, which soon became one of the most esteemed (and expensive) European non-royal treasuries.
Her husband financed a number of these items; and special mention must go to the Kashmir Sapphire. Mackay personally asked Frédéric Boucheron to locate the biggest possible sapphire, one that would match the blue of his wife's eyes.
This took some time, but Frédéric eventually found a 159-carat sapphire from Kashmir, an area known for cornflower blue sapphires – rare and vivid in equal measure. The remains of the Mackay jewels now form a part of the Mackay Mansion Museum in Virginia City, Nevada.
If you are looking to learn more on the top most expensive luxury jewelry and its history, you can also visit our articles on Chopard, Tiffany & Co, Van Cleef & Arpels, Harry Winston, Graff, and Cartier .
This post is also available in:

Français (French)

Deutsch (German)

Italiano (Italian)

Português (Portuguese (Portugal))

Español (Spanish)

Български (Bulgarian)

简体中文 (Chinese (Simplified))

繁體中文 (Chinese (Traditional))

hrvatski (Croatian)

Čeština (Czech)

Dansk (Danish)

Nederlands (Dutch)

हिन्दी (Hindi)

Magyar (Hungarian)

Latviešu (Latvian)

polski (Polish)

Português (Portuguese (Brazil))

Română (Romanian)

Русский (Russian)

Slovenčina (Slovak)

Slovenščina (Slovenian)

Svenska (Swedish)

Türkçe (Turkish)

Українська (Ukrainian)

Albanian

Հայերեն (Armenian)

Eesti (Estonian)

Suomi (Finnish)

Ελληνικά (Greek)

Íslenska (Icelandic)

Indonesia (Indonesian)

日本語 (Japanese)

한국어 (Korean)

Lietuvių (Lithuanian)

Norsk bokmål (Norwegian Bokmål)

српски (Serbian)

Tamil
---
---

---
Authorised and Regulated by the Financial Conduct Authority