A Guide to the Cartier Rings Collections
January 4, 2021
This post is also available in:

Français (French)

Deutsch (German)

Italiano (Italian)

Português (Portuguese (Portugal))

Español (Spanish)

Български (Bulgarian)

简体中文 (Chinese (Simplified))

繁體中文 (Chinese (Traditional))

hrvatski (Croatian)

Čeština (Czech)

Dansk (Danish)

Nederlands (Dutch)

हिन्दी (Hindi)

Magyar (Hungarian)

Latviešu (Latvian)

polski (Polish)

Português (Portuguese (Brazil))

Română (Romanian)

Русский (Russian)

Slovenčina (Slovak)

Slovenščina (Slovenian)

Svenska (Swedish)

Türkçe (Turkish)

Українська (Ukrainian)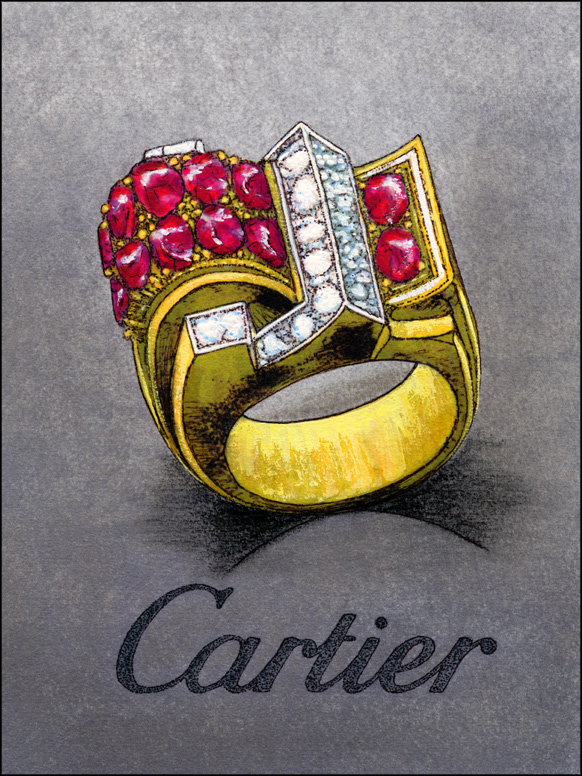 Around the world, Cartier has long-been regarded one of the most notable luxury jewellery brands on offer. With classic lines, bold designs and everything else in between, the Cartier ring has been a top choice for many collectors and jewellery-lovers in the UK and beyond. As experts in the valuation and identification of precious jewellery at New Bond Street Pawnbrokers, we understand the significant emotional and physical value Cartier rings can hold.
Cartier rings, in particular, are particularly valuable pieces – and alongside bracelets and brooches, have been a mainstay of Cartier over the decades. Read on for our full guide to Cartier's incredible ring collection, including the many designs on offer, the origin of the rings collections and more:
A Brief History of Cartier
Founded in Paris, France in 1847 by Louis-François Cartier, the Cartier brand has been synonymous with prestigious jewellery design and royalty since its creation King Edward VII referred to Cartier as the 'king of jewellers', ordering 27 tiaras from the jeweller in 1904. This royal warrant spread like wildfire, making Cartier to jewellery du jour for royal families around the world.
While Cartier was sold on from the family in 1964, the business has continued to grow from strength to strength, with instantly iconic designs, incredible quality work and exceptional standards maintained over more than 100 years of service. While Cartier was first noticed for the creation of high-quality wristwatches, they quickly diversified into brooches, bracelets and rings – including the Cartier engagement ring of Grace Kelly in 1956, with a stunning 12-carat emerald cut diamond.
The History of Cartier Rings
Cartier is often associated with their incredible statement necklaces of elegant wristwatches. But their formidable selection of beautiful, elegant and luxurious Cartier gold rings and silver Cartier rings shouldn't be overlooked. As a jeweller, it's no surprise that Louis-François Cartier was also an expert craftsman when it comes to Cartier diamond rings, with the Cartier Trinity Ring tracing its origins back to 1924 – one of Cartier's oldest known collections.
Since that first collection, many of Cartier's signature ranges hav=e included incredible, often statement rings – from the Cartier Panther ring in the 1930's to the Cartier Love ring, bracelets and earrings in the last 60s. With the Cartier Nail Ring and new Clash Cartier Ring collection thoroughly modernising the collection with just as much attention to detail and luxury, Cartier continues to be a success story amongst jewellers. For luxury wedding rings, engagement rings or unique gifts, the Cartier band is the place to start.
Cartier's Most Iconic Ring Collections
Cartier's most distinctive rings and jewellery, including Cartier wedding rings and statement rings, can be divided into specific collections, some of which span back decades. From the iconic Cartier love ring diamond-encrusted jewellery to pure and straightforward Cartier band rings, there have been numerous incredible, immediately recognisable designs created and curated over the years by the jewellers behind the Cartier brand.
Here are some of the most memorable:
Cartier Trinity Ring
Arguably Cartier's oldest collections, the Cartier Trinity ring – and jewellery collection – dates to 1924. While the longevity of the series is impressive alone, it's the meaning behind this almost 100-year-old design that makes it particularly unique. The three interlocking rings of the design each represent something specific – silver for friendship, yellow for fidelity, and rose for love.
With the inclusion of a Cartier rose gold ring, a Cartier gold ring, and a silver Cartier ring in one single design, often with a dusting of diamonds, this ring is as luxurious as it is meaningful. With all three shades of gold included in one piece, these rings are also excellent additions to more extensive collections. They match just about any other Cartier piece, and some in a range of styles using diamonds and the iconic Cartier logo.
Panthere de Cartier Ring
Animals have been a massive part of the Cartier world, and no animal is more symbolic of Cartier's brand than the panther. Back in 1914, Louis-François Cartier commissioned a unique art piece featuring a beautiful woman and panther – using that inspiration to produce an elegant wristwatch matching the beautiful spots of a panther's pelt. But Cartier's obsession with all things big cat didn't stop there.
In 1918, Jeanne Toussaint joined the Cartier brand, and quickly earned the nickname of 'La Panthère'. Upon becoming a creative director, one of her first acts with creating elegant and bold pieces based on her namesake. With that, the Panthere de Cartier collection was born. 1935 saw the launch of the first ring, utilising striking bright gold and dark enamel for a high-contrast finish.
While the masterminds behind the Panthere collection and the unique Cartier Panther ring no longer have a stake in Cartier's design process, the panther continues to be a distinctive and iconic part of the brand. Cartier Panther rings are still sold to this day, building on the impressive origins and unique design styles of the past.
Cartier Love Ring
If you've heard of Cartier, you've heard of the Love bracelet. The smaller cousin to this iconic design is the beautiful Cartier Love wedding band, providing that same instantly iconic design on a small scale. Available in a range of different golds and plenty of variable design features, the Cartier Love band ring is a classic choice for a fashion ring. However, it has also been used as a Cartier love ring men's wedding band.
As for the meaning behind the Cartier Love collection, each piece is adorned with stylised screw embellishments. While the bracelet was designed only to be removed by a corresponding screwdriver, the Cartier Love band is a little less restrictive. Nonetheless, it still holds the same meaning – enduring love and faithfulness, displayed in its almost chastity-style design. An iconic piece, and one that's still beloved and evolved upon more than 40 years later.
Cartier Juste Un Clou Ring
With a name that literally means 'just a nail', the Cartier Juste un Clou ring is precisely what you might expect. Though not released until the early 2010s, the idea for the nail themed ring, often referred to as the 'Cartier Screw Ring', dates back to the 70s. Originating with the nail bracelet designed for Cartier by Aldo Cipullo shortly following the success of the Love bracelet, this unique collection includes earrings, cufflinks and necklaces – as well as the iconic Cartier band itself.
The Cartier Nail ring is available in many different variations, from gem-studded editions to pure and simple white, yellow and pink gold designs. With a modern look and slightly pop-art novelty feel, these luxury pieces are sought-out for their unique appearance, and often appeal to collectors thanks to the numerous designs on offer – as well as the 1970s vintage origins of the range itself.
Clash de Cartier Ring
The latest collection to come from Cartier is Clash de Cartier, a luxurious punk-inspired series of rings, bracelets, necklaces and more. Introduced in 2019, Clash de Cartier is by no means vintage, but that's precisely where its inspirations lie. With duality as a critical focus, the use of studs and beads in the collection dates back to the jeweller's work in the 1930s, as well as the boldness that Cartier is well known for.
As a new range, Clash de Cartier hasn't yet earned its stripes as an iconic Cartier ring series, but that doesn't mean the pieces aren't a valuable piece of the brand's history. With a focus on providing both masculine and feminine elements – much like the Cartier Love ring and the Cartier Juste un Clou collection, there's every indication this new diamonds rings range could be just as sought-after in years to come.
While these collections don't cover every ring ever created by Cartier, they do provide the foundations for some of the brand's best-known, instantly recognisable pieces. Which are far more likely to include limited runs, one-offs and variations than less-successful ranges from the jewellery. Cartier is also known for custom pieces – mainly necklaces and brooches – with pieces often reaching incredible prices at auction for one-off items or sets, especially within their earlier catalogue, thanks to their many royal and high-power connections.
Cartier Wedding and Engagement Rings
Thanks to the luxury nature of their jewellery, Cartier is an ever-popular choice for both engagement and wedding rings. For brides and grooms-to-be, Cartier rings are an excellent choice, because they often increase in value over time, and are an individual piece of jewellery all of their own. Both their engagement and wedding range includes some of their top collections, in addition to unique pieces with their own value and charm.
Cartier Rings for Engagements
The bulk of Cartier's engagement ring offerings feature prominent diamonds, often on thin bands – as is the case with the Etincelle de Cartier range of rings, which are packed with luxurious gems across the band as well as a statement square-cut or pear-shaped diamond. Their solitaire style diamonds are also a popular option for happy couples, but it wouldn't be Cartier without a few statement pieces thrown into the mix.
The Love Solitaire range takes the classic Cartier Love ring design. It introduces either a small or larger diamond into the centre of the design, making it ideal for engagement purposes. A Trinity Solitaire is also a part of the range, with the triple golds and single diamond providing a unique approach to the engagement ring. As for a Cartier engagement ring price, you're looking in the thousands for many of their iconic pieces – which are more than worth the investment.
Cartier Rings for Weddings
As would be expected from any high-end jewellery, Cartier also stocks a wide range of suitable wedding rings within their collection. Depending on how conventional the wedding, though, any of the brand's many beautiful statement rings could make the ideal Cartier wedding band. The Trinity ring, in particular, also sometimes called the Cartier Russian wedding ring, is the quintessential wedding piece from Cartier. With each ring representing commitment and love, it's easy to see why it's one of Cartier's top options for wedding jewellery – and why so many variations on the design exist.
The Cartier Love band ring is another classic example of a wedding band from the luxury jewellers, thanks to all that the collection stands for. Cartier also has a current Cartier A'Amour range, with simple and minimalist bands that would match perfectly with a gem-encrusted engagement ring or Cartier eternity ring. With plenty of variation for just about any couple, many of the designs that remain in today's collection are vintage as they come – with unchanged designs stretching back up to 100 years.
The World's Most Expensive Cartier Rings
Cartier tops many lists for the auction prices of their vintage necklaces and watches – but their collection of rings can also fetch a high price. Here are some of the most valuable rings ever created by Cartier, many of which are one-off or limited-edition models:
Cartier Sunrise Ruby Ring
Fetching an impressive £19.6 million at auction in 2019, this blood-red gem is truly unique and one-of-a-kind. With a beautiful framing of diamonds to accompany the huge and eye-catching gem. In this case, it's the rarity of the piece, and the beautiful gem that leads to such a significant price – these kinds of rubies are so sought-after that their price is only likely to increase over time, too.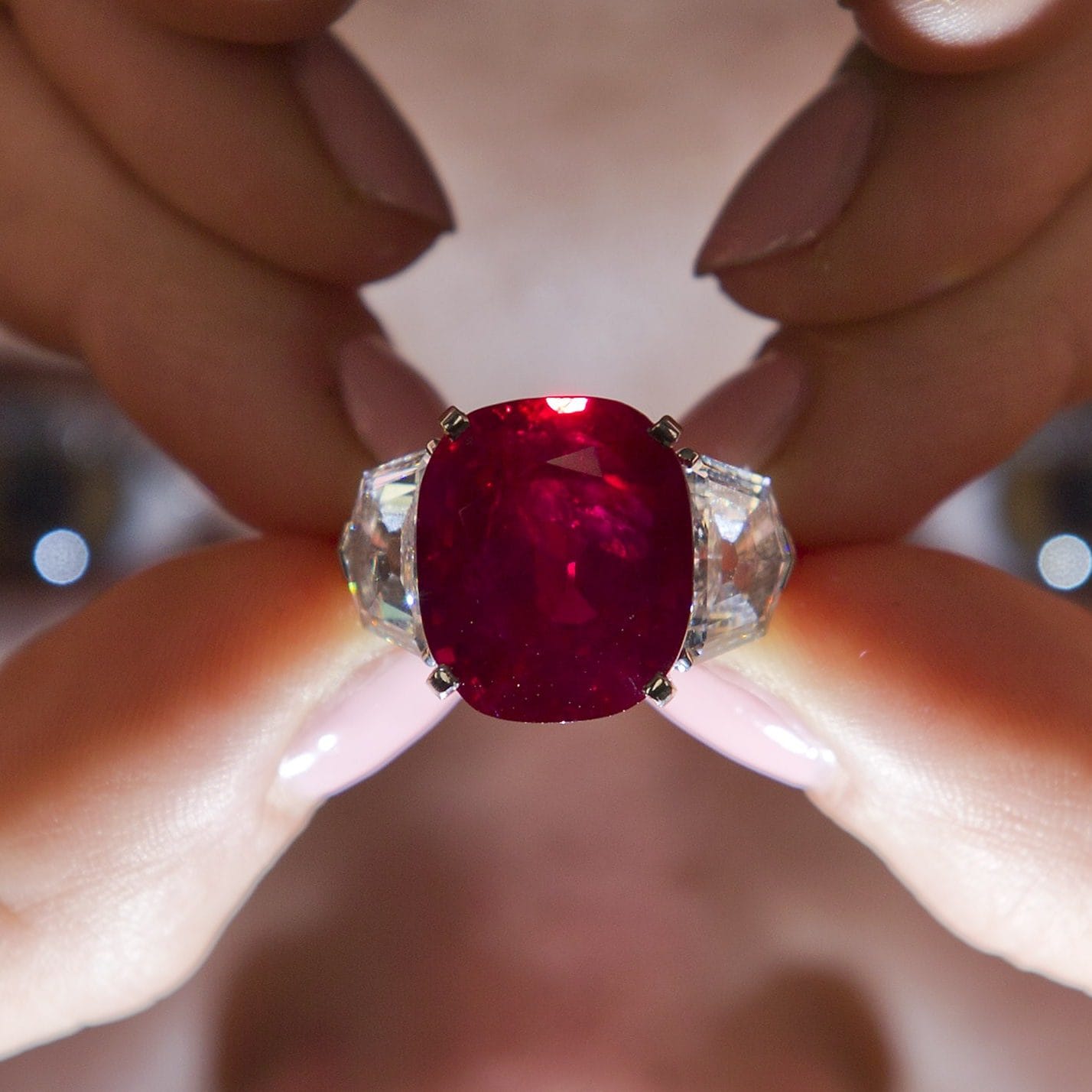 image source: https://www.telegraph.co.uk/luxury/jewellery/worlds-expensive-gemstones/expensive-gemstones-sunrise-ruby/
Grace Kelly's Engagement Ring
You can't mention Cartier rings without mentioning Grace Kelly. Her elegant emerald-cut diamond band was hand-crafted by master jewellers at Cartier back in the 1950s, with a border of two beautiful baguette diamonds. Another custom piece, this time valued at approximately £4.06 million on today's market. But, of course, with that heritage, it would be worth far more to the right collector.
White Gold and Diamond Panthère de Cartier Ring
Cartier's incredibly valuable rings don't stop at vintage or one-off pieces. The beautiful and striking White Gold and Diamond Panthère de Cartier Ring, based on the 1914 original design, includes an incredible 545 diamonds with 18-karat white gold. While the ring is advertised as 'price on application', it appears to hold a value of around £70,000 brand new.
Cartier Classic Trinity Ring
This elegant ring may be a classic, but it's also one of the most valuable pieces in the current Cartier catalogue. Selling at £29,100, with 18-karat rose, white and yellow gold and 432 diamonds, this elegant piece is as luxurious as they come. While still offering clean lines, that distinctive Trinity design and the exceptional quality that Cartier is well-known for.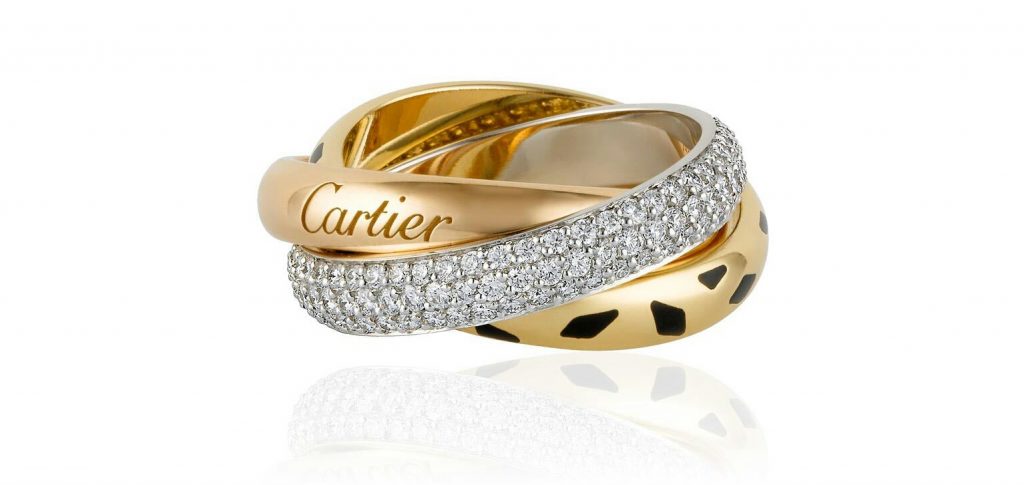 Image source: https://poloandlifestylemagazine.com/cartier-jean-cocteau/
How to Tell if a Cartier Ring is Genuine
It's a forgone conclusion that one of the world's most popular luxury jewellery brands has many imitators, and as such, ensuring your Cartier pieces are real is a must. The Love Ring collection, in particular, has spawned many scams and fakes, which can be a costly mistake for uninformed buyers. These are some of the ways you can ensure your Cartier ring is genuine:
Packaging
If your Cartier ring still has its original packaging, it can be easy to tell a real from a fake. Typically, the Cartier logo will be included within the ring box, and the quality of the fabrics and suede used for packaging will be very high. You should have a certificate of authenticity within your packaging, which increases the likelihood of your Cartier ring being genuine.
Logos and Hallmarks
Depending on the age and type of Cartier ring you have, hallmarks will be included on the inside of the ring itself. This will consist of the Cartier logo, and also the serial number of the ring itself for modern pieces. The Cartier ring size may also be included on the inside. All fonts used for hallmarks are consistent and of the same depth, whereas on fakes they may be less consistent.
Material quality
Cartier rings are made to a high standard, often with 18-karat gold or higher in some cases. All Cartier Love ring gold versions are made of 18k yellow, white or rose gold, for example. This is the same case whether it's a Cartier love ring men or women's version, and the same applies to the wider collections available from Cartier.
If you loved our article on Cartier rings, you will also love some of our other pieces on the most expensive items in the world, like fine wine collections, expensive jewellery, luxury handbags, classic cars, prestigious watches, investing in whiskey, or fine art.
Seeking professional advice
Whether it's an heirloom ring or a gift, there are many reasons why you may want to know whether a Cartier ring you own is genuine. Especially if it's from one of the iconic collections included within this guide. Seeking professional help to appraise and value your Cartier men's wedding ring, or any other kind of ring can ensure you know the worth of the ring you own.
At New Bond Street Pawn Brokers, we offer dedicated valuation services for Cartier rings , Cartier watches and other fine jewellery. Cartier 750 rings – which many of Cartiers rings fall under – are rings that are more than 75% metal, such as 18k gold—to the naked eye, seeing if your ring meets that criteria can be a challenge. But with our insight and expertise, valuing a Cartier ring is a quick, easy and effortless experience. Whether it's part of Cartier's famous Love, Panthere or Trinity collections, or a one-off piece, we're ready to help you.
---
---

---
Authorised and Regulated by the Financial Conduct Authority