I hope you enjoy this blog post.
If you want us to appraise your luxury watch, painting, classic car or jewellery for a loan, click here.
Royal Academy of Arts, Ai Wei Wei and the World Goes Pop
September 15, 2015
The art scene in London is alive with activity at the moment. As various headlines make the broadsheets, documenting what's to come there is a marked feeling of great cultural activity. With London Fashion week just round the corner there is a real sense that a huge amount is going on in the capital despite the unceremonious grey weather.
Newspapers and magazines alike all have a particular artists face positioned next to a shiny new Chinese passport as a main image on their sites. This is not any old artist, he has sent seismic waves through the institutions of politics and has made international headlines. He's inspired us with his thought provoking masterpieces but also made us question the Chinese government's handling of his global influence.
Ai Wei Wei
His name is Ai Wei Wei, and, to many in positions of power, his art is labeled dissident. He first became famous with his sunflowers exhibition at the RA. Most tabloids begin with this adjective due to the travel ban the Chinese authorities imposed on him for four years. Seemingly though, and to the eminently positive and questioning artist, this has been time for him to think and produce more astounding works that question the world around us. Indeed, he is famous for defining liberty…
'Liberty is about your right to question everything' Ai Wei Wei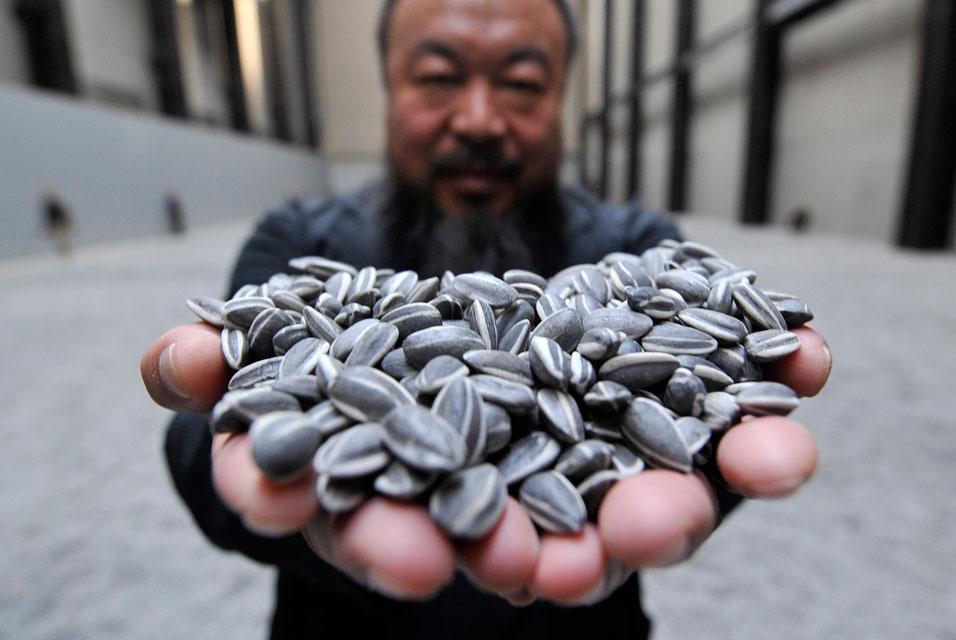 So after four years of being confined to his home country of China the artist has returned to London to hold a retrospective exhibition at the Royal Academy Of Arts. It will feature some of his most 'brave, provocative and visionary works', The Royal Academy of Arts Exhibition simply called 'Ai Wei Wei' will be held in Burlington House from 19th September – 13th December.
Ai Online
Since Ai got his passport back, the artist seems overjoyed, and I'm sure his work will reflect that. Indeed his Instagram account is never short of humorous. It seems to add to his ambiguity as an artist, he never uses hashtags or even descriptions, instead letting the reader decide what the photo means themselves. That is, when the photo isn't a jovial pose next to increasingly more famous and bemused celebrity or public figure, as indeed, how can you be bemused by this incredibly likeable, famous and influential Chinese artist who seems to have a never-ending depth to his personality?
The fact that Ai has his relative freedom back, it doesn't necessarily mean the human rights situation in China is improving, suggested Tom Phillips of The Guardian. It is a fact that many prominent human rights lawyers have been arrested and harassed by the Chinese authorities, experiencing what can only be described as intimidation and mental torture. Nevertheless Ai seems to have started a new life in Europe, after he immigrated in Germany and the following move has been exciting for a huge fan base of people that cover swathes of the globe, and his arrival in London at the Royal Academy will see his works showcased to an eager sect of art lovers in one of the most culturally rich and influential cities in the world.
London – A mecca for cutting edge art and culture
London lives up to that title time and time again. For celebrating influential artists in our institutions we are second to none. The Tate Modern is another one of these institutions. They will be hosting the influential 'The World Goes Pop' which will explore influential pop artists from all around the world. The Tate on The World Goes Pop say it will explore pop art as it explores;
"Politics, the body, domestic revolution, consumption, public protest, and folk – all will be explored and laid bare in eye-popping Technicolor and across many media, from canvas to car bonnets and pinball machines. The exhibition will reveal how pop was never just a celebration of western consumer culture, but was often a subversive international language of protest – a language that is more relevant today than ever." Tate Modern – The World Goes Pop
The exhibition gives exposure to a worldwide selection of artists that may not have been associated with the movement. From Latin America to Asia, and from Europe to the Middle East this eclectic exhibition showcases influential and thought-provoking pop art from around the world.
Along with a wide selection of other events in London, it seems that these exhibitions solidify and contribute to London's inspiring reputation as a worldwide leader in the proliferation of cutting edge art and culture.
We offer instant credit with minimal paperwork, plus specialist financing on art advice throughout.
This post is also available in:

Français (French)

Deutsch (German)

Italiano (Italian)

Português (Portuguese (Portugal))

Español (Spanish)
---
---

---
Authorised and Regulated by the Financial Conduct Authority