I hope you enjoy this blog post.
If you want us to appraise your luxury watch, painting, classic car or jewellery for a loan, click here.
Top 10 Most Expensive Super Yachts in The World Ever Sold as of 2023
October 25, 2022
If you ever wondered what are the most expensive yachts in the world in 2023, who own and purchased these superyachts, and what makes them so valuable in the first place, then we are hoping that our article below will answer all the questions.
Without further ado, the top 10 most expensive private yachts as of 2023 are: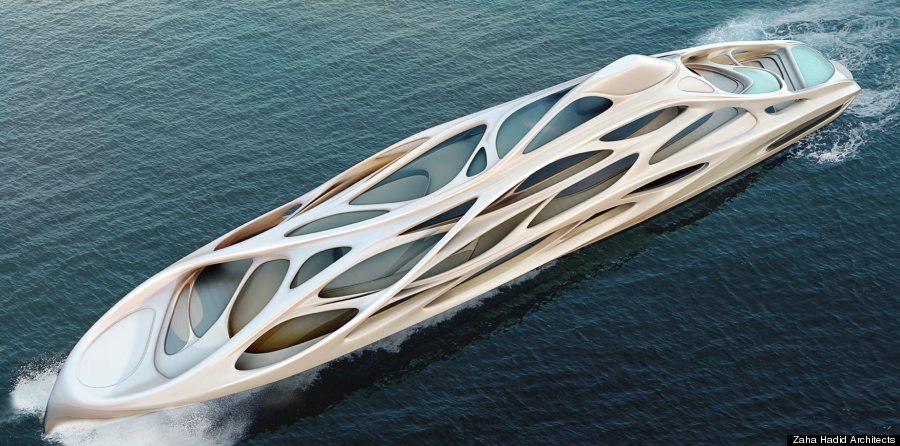 1. History Supreme ($4.8 billion)
The History Supreme Yacht is known as the most expensive superyacht in the world and priced at $4.8 billion dollars, it's clear to see why. The most expensive yacht in the world in 2023, it's a 30m vessel that took three years to complete and is crafted from 100,000 kg of solid gold and platinum. Adorning the base of the boat, the dining area, anchor, deck, rail and staircases are steeped in luxury.
Stuart Hughes, the creator of the History Supreme, spoke about the interior materials used in the boat, stating an interesting fact about the sleeping quarters, all of which have a feature wall. [This is] "made from meteoric stone with genuine dinosaur bone shaved in from the raptor T-Rex." As well as the impressive materials used, the yacht also features an incredible design with both interior and exterior places to relax and be wined and dined in utter opulence.
2. Eclipse ($1.5 billion)
Eclipse is the world's second most expensive superyacht and was built by Blohm + Voss of Hamburg, Germany. The third longest yacht that is currently afloat, she boasts a plethora of impressive design features that make the high price point so justifiable. Owned by Roman Abramovich and launched in 2010, it was, at the time, the longest and most expensive private yacht, a title it held for three years. There is an impressive level of security on board, with a missile detection system, self-defence systems and missile launchers should it ever come under attack.
Some of the main features to note on the Eclipse includes 24 guest cabins, two swimming pools, a number of hot tubs, three launch boats and a mini-submarine. There is also a disco hall for when those on board who want to dance and let their hair down. Materials used to design the yacht and give it its opulent finish include shells, bronze metal panels, mosaics and fossilised wood.
3. Azzam ($650 million)
Another of the most expensive private yachts in the world as of 2023, Superyacht Azzam was launched in April 2013, taking over from Eclipse as the world's largest superyacht. It measures 180m and was designed by Mario Pedol, the founder of Nauta Design. The yacht is equipped to sleep 36 guests and 80 crew with a large open-plan main saloon. The main details of the interior have been mostly kept under wraps, but it has been said that there's a wealth of intricate wood furniture on board with mother-of-pearl detailing.
Some of the facilities available for use include a golf training room, onboard gym and swimming pool. Azzam is one of the world's fastest superyachts and is as fast as a Navy frigate, using similar technology to help it glide through the water. Its speed and manoeuvrability are also helped by its different engines and modes – one built for "sprint" and the other for "long range."
4.  Topaz, renamed to A+ ($527 million)
Next on our list of the most expensive private yachts in the world in 2023 is Topaz. The Topaz yacht first came to be in May 2012, being renamed to A+ in 2019. A luxury motor yacht and the fourth most expensive private superyacht in the world, it was designed by Terence Disdale Design, with Tim Heywood designing the exterior. It measures an impressive 147 metres long and was built in the same German shipyard as the Azzam.
The yacht boasts a host of impressive features and amenities, including zero-speed stabilisers, an on-deck jacuzzi, double helicopter landing pads, a tender garage, a swimming pool and swimming platform, a cinema, a fitness hall and a conference room. According to media reports, the A+ yacht is under the ownership of Sheikh Mansour Bin Zayed Al Nahyan, who also owns the investment company ADUG – the owner of Manchester City Football Club. The world's most expensive superyacht as of 2023, it has 26 cabins on board and can accommodate 62 guests and 79 crew members.
5. Dubai ($350 million)
Dubai is the world's second-largest superyacht and is owned by Sheikh Mohammed bin Rashid al Maktoum, ruler of Dubai and Vice President/Prime Minister of the United Arab Emirates. The fifth most expensive private yacht in the world in 2023, this yacht measures an impressive 162 metres and was first launched back in 2006. With the exterior designed by Andrew Winch and the interior designed by Platinum Yachts, it is truly a luxurious vessel designed to impress.
The construction of Dubai commenced over ten years prior to its launch and was originally named Platinum, Panhandle and Golden Star. Fourth on the list of the most expensive private yachts, there are a host of impressive features on board designed to give guests the most opulent and relaxing experience.
This includes a helipad, two 10m long motor boats, a dining room that can seat up to 90 guests and a swimming pool measuring 10m. There is also a squash court, lobster tank, submarine, cinema, disco room and more.
6. Serene ($330 million)
Serene is one of the largest superyachts in the world and measures an impressive 133.9 metres, with a beam of 18.5 metres.
It was built by the Italian shipyard Fincantieri and the interiors were designed by Reymond Langton Design. The ship was originally built for Russian vodka tycoon Turi Shefler in 2011 and was sold to Prince Mohammed bin Salman of Saudi Arabia in 2014 for an estimated 500 million Euros.
The Serene yacht is built to accommodate up to 24 guests with 12 suites on board – one master, seven double, three twin and one VIP cabin. She can also carry up to 62 crew as well as one captain.
Some of the facilities on board that are designed to entertain guests include a beauty salon, beach club, gym, deck jacuzzi, spa and dancefloor. Impressive both inside and out, it's clear to see why this is one of the most expensive private yachts in the world in 2023.
7. Superyacht A ($323 million)
Superyacht A is currently owned by Russian entrepreneur and industrialist Andrey Melnichenko and was designed by Philippe Starck in November 2004.
The building took four years and the yacht was launched in January 2008. One of the most expensive private yachts in the world in 2023, Starck has previously spoken of the project to Boat International.
He said, "That was the beauty of the project and the beauty and intelligence of the owner, he just left me completely free."
When it was first commissioned, there was little known about the superyacht, however, many of the features have since been revealed. It is decorated to the highest of standards with mirrored surfaces and Baccarat crystal furniture pieces.
There is a helipad, three swimming pools and a disco room as well as seven guest cabins that feature moving walls to be converted into four larger staterooms.
8. Radiant ($320 million)
Next on our list of the most expensive yachts in the world in 2023 is Radiant – a motor private yacht that was built in 2009. It measures an impressive 110 metres with a beam of 16 metres.
The interior was designed by Glen Pushelburg while the exterior was designed by Tim Heywood and is built of steel and aluminium.
The owner of the Radiant yacht is Emirati billionaire Abdulla Al Futtaim.
There are a host of facilities on board the yacht, including zero-speed stabilisers, a helipad, a massage room, a swimming platform, a jacuzzi, a movie theatre, a swimming pool, a beach club and more.
Radiant is one of the most expensive private yacht charters and sleeps 20 people, with 10 individually designed cabins on board. It can also hold up to 44 members of crew.
9. Al Said ($300 million)
Al Said is one of the most expensive private yachts in the world and features an impressive exterior design by Espen Øino International and an interior designed by RWD.
It has a length of 155m and a spacious interior, with room for up to 70 guests and 174 crew members, as well as the captain.
As with a lot of the most expensive private superyachts out there, the finer details of what the yacht features are kept largely under wraps.
It is said to have a concert room that can accommodate a 50-piece orchestra – ideal for entertaining guests. When the Al Said was being built, she was given the code name "Project Sunflower" and was finished in 2008 before being presented to the yacht's owner, The Sultan of Oman.
The yacht is said to reside in the Sultan Qaboos Port the majority of the time, although it was revealed relatively recently that it has been sold. The specific details of this have not yet been released.
10. Pelorus ($300 million)
The Pelorus yacht was ordered in 1999, and entered service in 2003.
It was sold to Roman Abramovich during its maiden voyage, who added further enhancements to the design, such as a second helipad, modifications to the underwater exhaust and upgraded zero-speed stabilisers to give it a more steady ride through the water.
The yacht has passed hands a couple of times throughout the years and is currently owned by Chinese billionaire Samuel Tak Lee, who took over ownership in 2016.
This last entrance on our 2023 list of the most expensive superyacht in the world has accommodation for 24 guests and 46 members of the crew, including the captain.
The actual features of the yacht itself are mostly kept under wraps, but it went through a major refit in 2018 that was carried out by Kusch Yachts.
The Super Yacht Industry
The yacht industry is a marketplace like no other. And the illustrious top 100 created by some of the leading industry experts is a point of reference for oligarchs, emirate and members of the glitterati. This is indeed where the world's super-rich look to purchase their most expensive superyachts in the world – great icons of wealth, industry and privileged luxury.
To contextualise Wright's comments further it is important to consider the milestones in the yachting world, particular yacht models, pioneering manufacturers and indeed individuals that have driven instrumental developments in the engineering of the most expensive super-yachts in the world.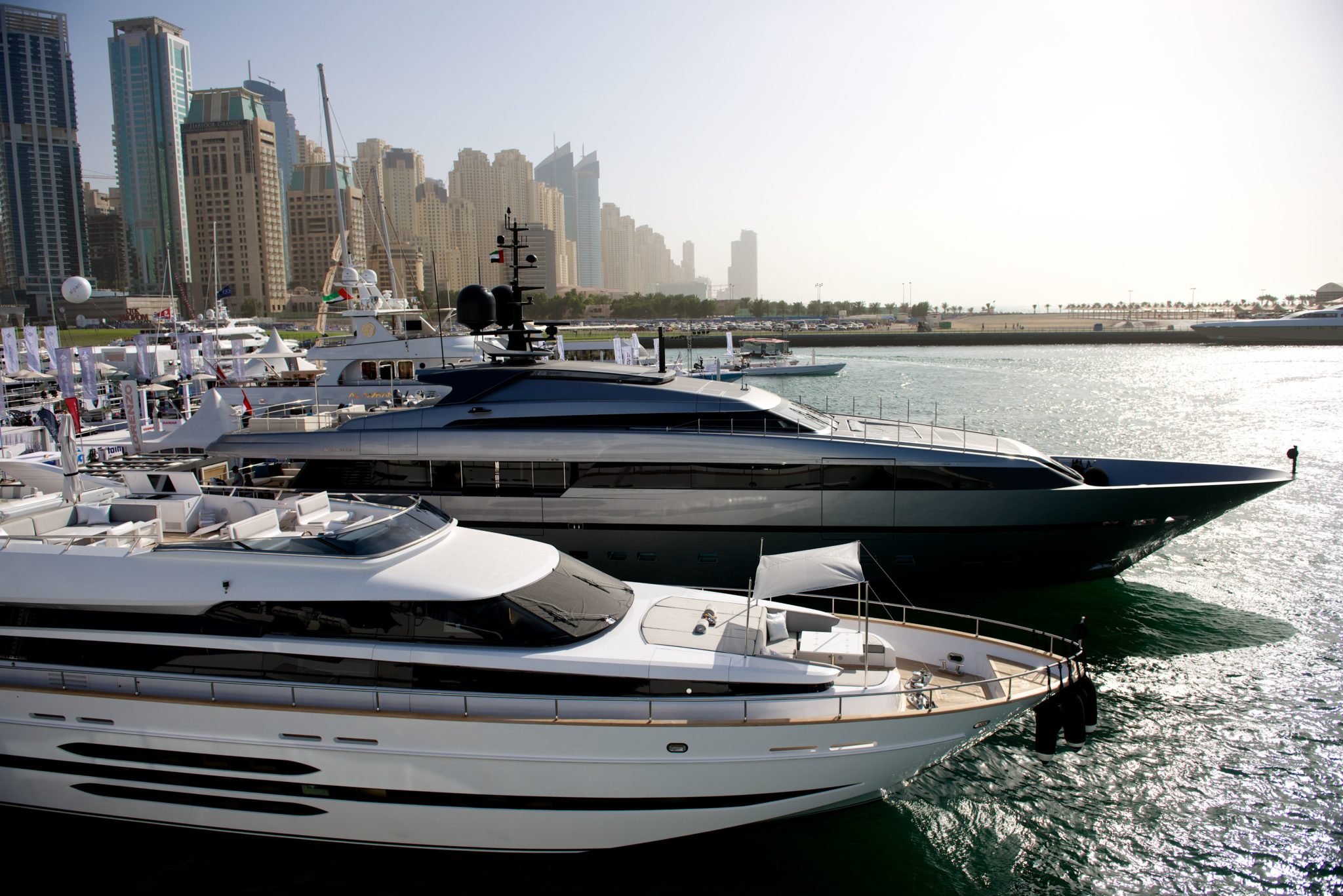 The Dubai International Boat Show 2015.
Development
There was a time when a manufacturer releasing a contemporary yacht of 50 metres in length would have graced some of the highest echelons of the top 100 list, and therefore be exhibited as one of its most distinguished.
The global market and demand for expensive superyachts – along with the fundamental size drawn up at the blueprint stage – has rapidly increased since the list's conception.
The top 100
Someone will always have the desire to own the biggest yacht in the world, the globes wealthy set of businessmen, philanthropists and enthusiasts have pushed the boundaries and nature of what companies are manufacturing. The rate of change is marked here in a quote from a contributor at www.Superyachts.com:
'With the 180m superyacht Azzam – the largest yacht in the world built by Lürssen Yachts – reaching the water in 2013, the Top 100 Largest Yachts in the World rankings have changed significantly over the last three years alone'. Ben Roberts – SY & Y. CO Launch Top 100 2015 Forecast.
What is clear is the industry has massively evolved since even 2013 and the predictions for 2023 are emphatically pushing the boundaries of luxury, technology and yachting capabilities with a momentum no less ground-breaking.
'We as a company will be delivering two or three milestone yachts this year' Gary Wright co-founder and chairman of Y. CO
The year 2015 – a 'revolutionary and monumental' year within the expensive private hyper-luxurious world of super yachts – indeed may have already fulfilled this title.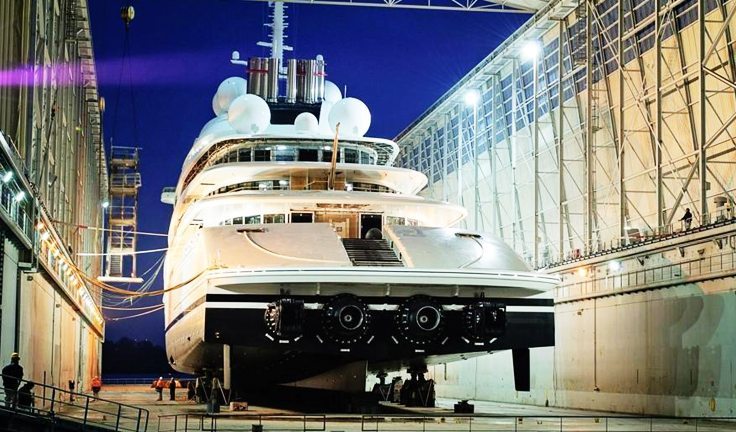 The 'Azzam' in its Lürssen shipyard.
To summarize, some of the most famous
and expensive super yachts include: 
New Bond Street Pawnbrokers have loaned on yachts moored in some of the most exclusive harbours in Europe. Releasing capital invested in/ raising a loan against a yacht can be a fairly straightforward and simple process.
We have an exclusive relationship working with one of Europe's major yachting brokers, allowing our clients to benefit from years of experience and current market appraisals.
Moreover, fine assets are always in big demand as prices at auctions around the world continue to grow every year. We also offer loans against the following assets: diamonds, fine jewellery, classic cars, fine wines, fine art, and fine watches such as Patek Philippe ,Audemars Piguet or Rolex, antique silver, and Hermes handbags.
This post is also available in:

Français (French)

Deutsch (German)

Italiano (Italian)

Português (Portuguese (Portugal))

Español (Spanish)

Български (Bulgarian)

简体中文 (Chinese (Simplified))

繁體中文 (Chinese (Traditional))

hrvatski (Croatian)

Čeština (Czech)

Dansk (Danish)

Nederlands (Dutch)

हिन्दी (Hindi)

Magyar (Hungarian)

Latviešu (Latvian)

polski (Polish)

Português (Portuguese (Brazil))

Română (Romanian)

Русский (Russian)

Slovenčina (Slovak)

Slovenščina (Slovenian)

Svenska (Swedish)

Türkçe (Turkish)

Українська (Ukrainian)

Albanian

Հայերեն (Armenian)

Eesti (Estonian)

Suomi (Finnish)

Ελληνικά (Greek)

Íslenska (Icelandic)

Indonesia (Indonesian)

日本語 (Japanese)

한국어 (Korean)

Lietuvių (Lithuanian)

Norsk bokmål (Norwegian Bokmål)

српски (Serbian)

Tamil
---
---

---
Authorised and Regulated by the Financial Conduct Authority