I hope you enjoy this blog post.
If you want us to appraise your luxury watch, painting, classic car or jewellery for a loan, click here.
Top 10 Most Famous Paintings of Women as of 2023
October 25, 2022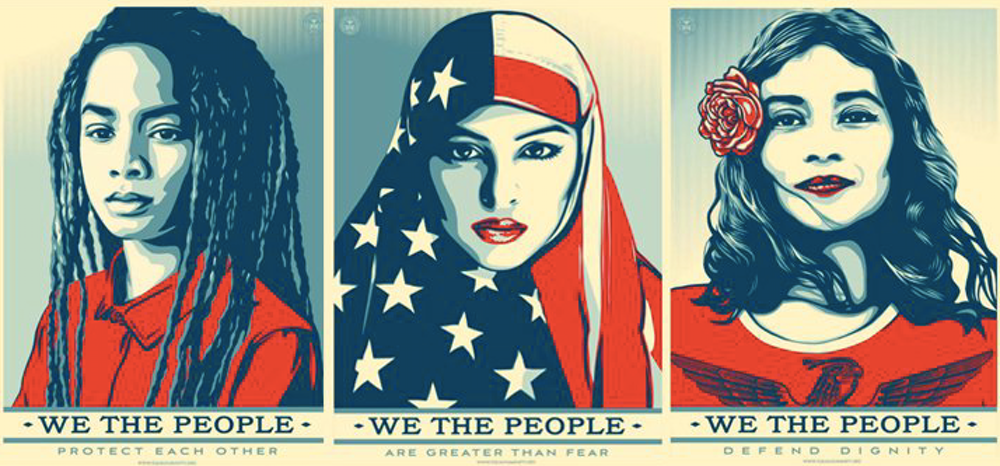 So, why talk about Top 10 Most Famous Paintings of Women as of 2023?
Well, in every era, genre and medium, artists have tried to capture the female form. Some of the world's brightest talents have chosen a muse they think is the essence of femininity to grace their canvas. This has created the most famous portraits of women in art history, which are still immensely valuable and influential to this day.
Here, we have picked our top 10 most famous paintings of women as of 2023. This guide will look at the context around each of these famous female paintings that helped shoot them to fame, as well as the masterful techniques used to transform each woman into a compelling and dynamic portrait.
1. Birth of Venus, Sandro Botticelli, c.1485
Birth of Venus is the earliest painting on our list of the most famous female paintings. Thought to be completed in 1485, Botticelli was the first artist in Tuscany to paint tempera on canvas, which was considered inferior at the time.
Botticelli deviated from convention in his depiction of the Roman goddess of love. Her nudity was controversial at a time when religious morality ruled.
It is surprising that Birth of Venus became one of the most famous paintings of women, as it promoted sin, much like other artworks burned in the 1497 Bonfire of the Vanities.
Venus was commissioned by the Medici family to hang over a marital bed. The orange trees in the painting were considered emblems of the Medici family, and Venus is a celebrated symbol of love and beauty. When Botticelli died, he asked to be buried at the feet of its muse, Simonetta Cattaneo del Vespucci.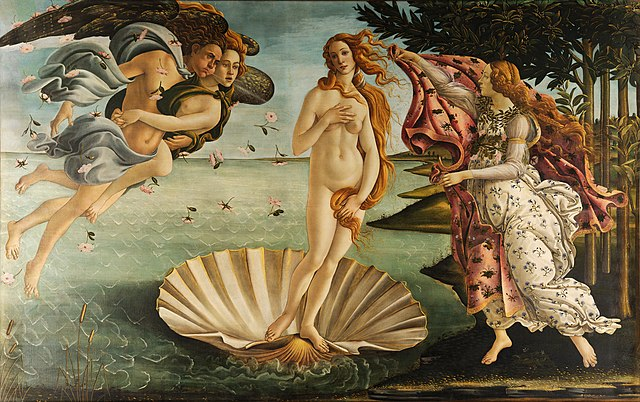 The painting only received public acclaim four centuries after the death of its creator Botticelli, now seen as a leading influence of the Early Renaissance period. It is now displayed at Uffizi Gallery in Florence, side by side with its sister piece, La Primavera.
It is estimated to be worth $500 million.
2. Mona Lisa, Leonardo Da Vinci, 1503-1519
Mona Lisa is possibly the most famous of all female paintings and portraits of women as of 2023, known to even those least interested in the arts.
She is painted in oil on poplar wood and is surprisingly small for a painting with such renown, measuring 77 x 53cm. Da Vinci started the painting in 1503 and it was found in his studio when he died in 1519.
With this masterpiece, Da Vinci set the precedent for a contemporary portrait painting by having the sitter turn towards the viewer. At the time, painting women in profile was standard in Italian art.
Speculation over the identity of the model has been in abundance, with theories suggesting it was Da Vinci's mother or a self-portrait of the man himself, simply swapping gender identity. A note was found in 2005 that suggests it was actually a woman called Lisa del Giocondo.
Owned by the government of France, Mona Lisa has been on display at the Louvre in Paris since 1804. One of the most famous female paintings – even now in 2023 – sits behind bulletproof glass, after being stolen in 1911 and attacked by various activist groups over the years.
3. Girl with a Pearl Earring, Johannes Vermeer, c.1665
Dutch painter Johannes Vermeer remained relatively unknown in his lifetime, perhaps as he produced only 36 known works.
Girl with a Pearl Earring is an oil painting thought to have been completed in 1665. It became popular after being restored for a 1995 exhibition at the National Gallery of Art in Washington DC.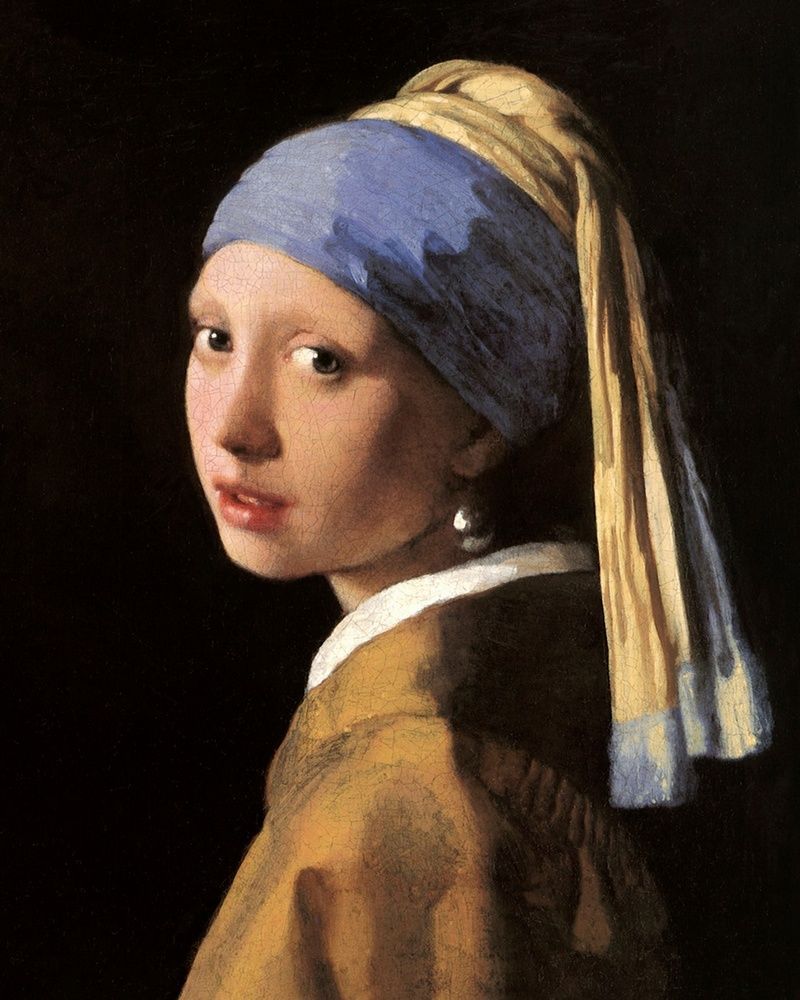 In 1999 it was the inspiration for the novel of the same name, which had an Oscar-nominated film adaptation shortly after. Despite now being one of the most famous paintings of women, most do not realise that Vermeer was creating a tronie instead of a portrait. Tronie is a Dutch term meaning a character or type of person.
Girl with a Pearl Earring is more a study of light, color, and expression than a portrait.
The artwork is nicknamed 'The Mona Lisa of The North', drawing comparisons because of the intimacy of the work. Girl with a Pearl Earring has been in the collection at The Hague since 1902.
4. The Nude Maja, Goya, 1797-1800
Another image inspired by Venus, this time lounging on a velvet green divan in a more promiscuous position, boldly meeting the gaze of the viewer.
Goya painted The Nude Maja in oil on canvas between 1797 and 1800. The Spanish painter challenged the custom of nude painting at the time by depicting pubic hair in the artwork.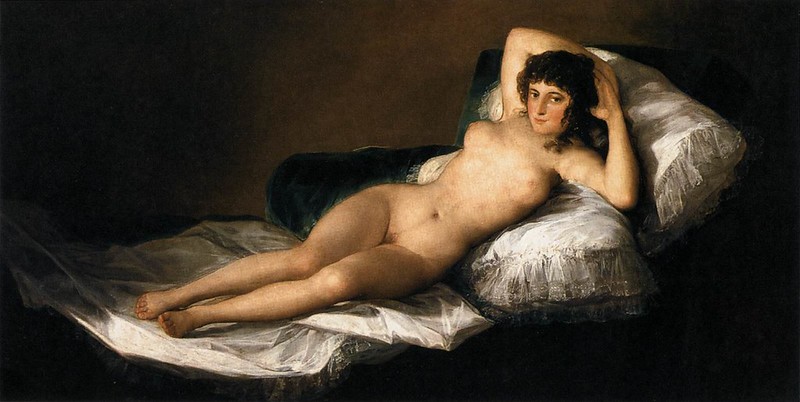 Goya was deemed immoral by the Spanish Inquisition in 1815, in part because of this painting, which is now regarded as one of the world's most famous portraits of women at the time of this writing in 2023.
It was largely rumored that the sitter was the Duchess of Alba. However, it is more likely Pepita Tudo, was his mistress during 1797 when he began painting.
Its companion piece, The Clothed Maja, hangs next to it in Museo del Prado in Madrid.
5. Arrangement in Grey and Black No 1, James McNeill Whistler, 1871
Using oil on canvas, Whistler created one of the most famous paintings of women by capturing his beloved mother. This is why the piece is more familiarly known as Whistler's Mother.
Despite being created by an American painter, this work gained the most recognition outside of the USA.
Whistler has been regarded as the first showman of modern art. When first exhibited, the painting was not received well by Victorian Londoners. It was seen as too severe at a time when romanticized paintings were highly popular.
Now, however, it graces the 2023 list of famous female paintings and is regarded as an important work for the Realism movement. Dubbed the Victorian Mona Lisa, Whistler's Mother was purchased by the French State in 1891.
It is displayed in the collection at Musee d'Orsay in Paris.
6. Woman with a Parasol, Claude Monet, 1875
French artist Claude Monet is widely regarded as a leader of the Impressionist movement. In this famous portrait, we see a woman and her son (Monet's first wife, Camille, and their son, Jean) in a field. Monet combines figure and landscape painting to create a piece that appears as a fleeting, intimate moment.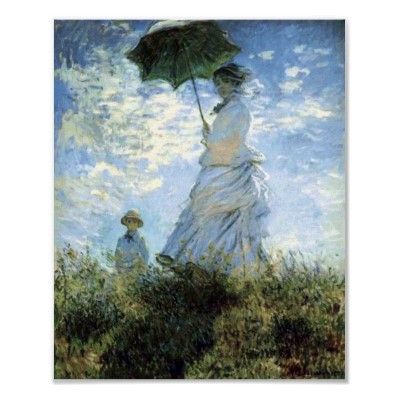 Monet is believed to have painted this outdoors in the field, taking only a few hours to work magic with animated brush strokes of oil on canvas. Woman with a Parasol was shown in the second Impressionist exhibition in 1876.
One attendee was another artist in our 2023 top 10 famous portraits of women list, John Singer Sargent. In fact, it inspired his own version of the piece, titled Two Girl with Parasols at Fladbury, in 1889.
Monet's piece now hangs at the National Gallery of Art in Washington DC.
7. Portrait of Madame X, John Singer Sargent, 1884
American artist John Singer Sargent first unveiled one of the most famous oil paintings of women in France in 1884.
At the time of its exhibition, it caused a tremendous scandal due to the dress in the picture. Its plunging neckline and Madame X's bare shoulders, with one strap dangling off her shoulder, was too provocative for audiences.
After its negative reception, Sargent altered the piece slightly by repainting the draped strap back in place. It was received later in America and Britain to much acclaim.
Madame X is actually Madame Virginie Gautreau, a woman celebrated in France for her pale and mysterious beauty. She refused many requests to pose for other artists, agreeing to Sargent's as he was a fellow American expat.
Sargent created 30 drawings of her in pencil, watercolors, and oils, one of which is on display in Tate Britain. The finished portrait is part of the collection at the Metropolitan Museum of Art in New York.
8. Portrait of Adele Bloch-Bauer 1, Gustav Klimt, 1907
Using mixed media, Austrian Symbolist painter Gustav Klimt created a golden and captivating piece that is now one of the most famous paintings of women as of 2023.
Adele Bloch-Bauer is depicted in oil paints and gold and silver leaf, measuring 140 x 140cm.
Adele Bloch-Bauer is the only person that Klimt painted twice in his career. The piece was commissioned by her husband, but Adele was also Klimt's mistress for a time.
Klimt was heavily inspired by Mosaic, Japanese and Egyptian art, which can be seen in the opulence and symbolism used in the portrait.
The painting was stolen by Nazi Germany in 1941 and is one of the few lucky pieces to have been recovered. In 2006, it was purchased for $135 million. It can now be found on display at Neue Galerie in New York.
9. Portrait of Dora Maar, Pablo Picasso, 1937
A pioneer of the Surrealist style, Pablo Picasso created many daringly experimental famous portraits of women.
Portrait of Dora Maar was created in 1937 and combined a frontal and profile view of its subject. He captured a moment of confident assertiveness as the smiling woman rests her head on her hand, looking directly at and beyond the viewer. The bright colours and angular shapes are a familiar feature in many of Picasso's later paintings.
Dora Maar is the subject of numerous Picasso portraits and was an artist and photographer in her own right. It is thought that this is the most famous of his female paintings as the two inspired and challenged each other while they were lovers from 1935 to 1936.
The oil painting is on permanent display at Musee Picasso in Paris.
10. Self Portrait with Thorn Necklace and Hummingbird, Frida Kahlo, 1940
Frida Kahlo is one of the most famous female portrait artists as of 2023, creating 55 self-portraits in her lifetime.
Self Portrait with Thorn Necklace and Hummingbird is a tragically haunting and powerful image prompted by her divorce from Diego Rivera and the end of her affair with Nickolas Moray.
Kahlo creates a claustrophobic atmosphere with luscious fauna in the background. She makes use of religious symbolism with a piercing thorn necklace and Mexican symbolism of a hummingbird, typically a symbol of luck, in black.
Despite the haunting appearance, each of these symbols is also a reference to resurrection, suggesting hope at the fringes of the work.
The painting was originally bought by her ex-lover, Nickolas Moray. It is now on display at Harry Random Center in Austin, Texas.
Each of these famous portraits of women is completely unique, a portrayal of beauty and seduction that each artist has added their own style and creative vision to. Most were controversial at the time of their first exhibition, adding notoriety that ultimately added to their longevity.
It seems that no matter what era or style, women will always be at the heart of portraiture. Our fascination with feminine beauty is why these portraits still influence artists to this day and are displayed in museums of prominence. Each holds extreme value, proving that owning art is still a wise investment.
TO SUMMARIZE,  SOME OF THE TOP 5 MOST FAMOUS PAINTINGS & PORTRAITS of WOMEN in 2023, AND BEYOND ARE:
New Bond Street Pawnbrokers offer credit against luxury art with minimal paperwork, plus specialist advice throughout. Some of the many artists we loan against include Andy Warhol, Bernard Buffet, Damien Hirst, David Hockney, Marc Chagall, Raoul Duffy, Sean Scully, Tom Wesselmann, Tracey Emin, Banksy, and Roy Lichtenstein to name just a few.
This post is also available in:

Français (French)

Deutsch (German)

Italiano (Italian)

Português (Portuguese (Portugal))

Español (Spanish)

Български (Bulgarian)

简体中文 (Chinese (Simplified))

繁體中文 (Chinese (Traditional))

hrvatski (Croatian)

Čeština (Czech)

Dansk (Danish)

Nederlands (Dutch)

हिन्दी (Hindi)

Magyar (Hungarian)

Latviešu (Latvian)

polski (Polish)

Português (Portuguese (Brazil))

Română (Romanian)

Русский (Russian)

Slovenčina (Slovak)

Slovenščina (Slovenian)

Svenska (Swedish)

Türkçe (Turkish)

Українська (Ukrainian)

Albanian

Հայերեն (Armenian)

Eesti (Estonian)

Suomi (Finnish)

Ελληνικά (Greek)

Íslenska (Icelandic)

Indonesia (Indonesian)

日本語 (Japanese)

한국어 (Korean)

Lietuvių (Lithuanian)

Norsk bokmål (Norwegian Bokmål)

српски (Serbian)

Tamil
---
---

---
Authorised and Regulated by the Financial Conduct Authority