I hope you enjoy this blog post.
If you want us to appraise your luxury watch, painting, classic car or jewellery for a loan, click here.
Top 10 Most Famous Banksy Art Pieces (Includes Artist Background & Interesting Facts)
October 25, 2022
Banksy is the most well-known graffiti artist in the world, selling millions of pounds' worth of works and creating a household name when it comes to some of the most famous and expensive art works in the world (at the time of this writing in 2023).
All while remaining hidden in a shadowy corner of the art world which began with political discontent and being "crap with a spray can." We explore how this elusive (probably) Englishman came to ride high in the art world.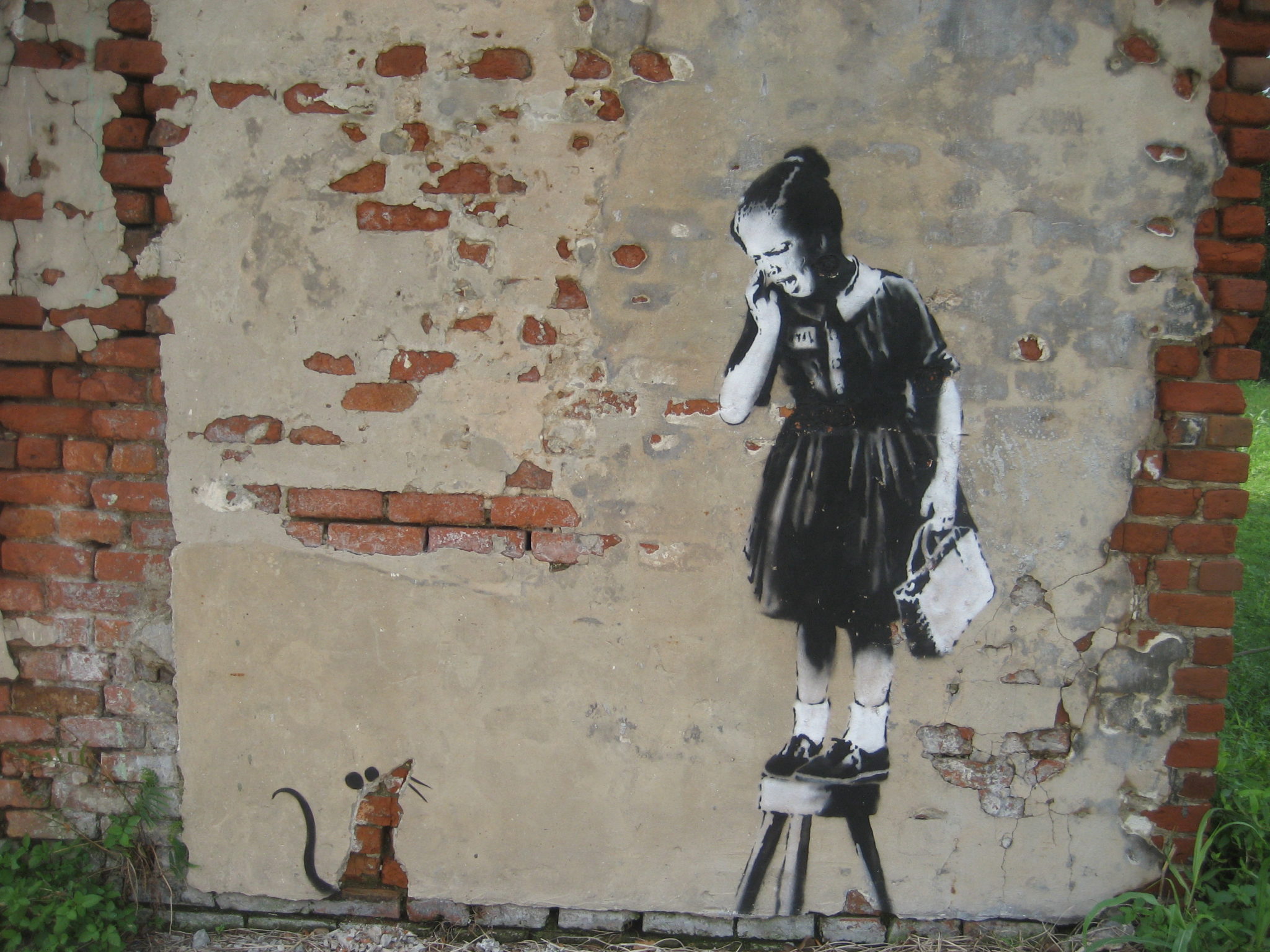 Banksy's start into the world of graffiti came in his home city of Bristol which has been well known for its vibrant arts – and particularly its street art scene – for many years. He began as part of the DryBreadZ Crew.
This early influence on Banksy and his work saw him adopt his Banksy pseudonym to avoid arrest for criminal damage, but his own identity was also forming. He was also starting to shape his politically-laden style, influenced by French graffiti artist Blek le Rat.
Finding a style
There was something new and fresh about Banksy's art work, both in design and delivery. He used stencils rather than paint freehand with a spray can. He says that's because he was "quite crap" at getting it right without a stencil. The use of the pre-formed idea further reflected the influences and ideas the young Banksy was developing about the power of the establishment and disrupting it.
Blek was still influencing Banksy and, armed with a new visual style, the young artist started to put more political messaging into his line of fire, a theme that has ultimately delivered some of his most famous and expensive art pieces.
His career really started to take off once he moved to London. His stencils caught more people's attention on the busier streets and the press started to pay him attention. During this time, the artist developed close relationships with other artists with similar interests. As the attention on him grew he paired up with Steve Lazarides, a photographer who agreed to become his agent and publicist.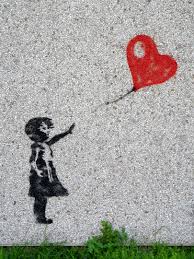 The London era
London also pushed Banksy to zone in on what his now famous artwork meant, taking pot shots at globalization and corporate greed with work that was as striking as it was beautiful. These pieces, created on the fly and essentially illegally, were coming to represent the disaffected voice of the nation.
Banksy's famous art pieces appeared in the most unexpected public locations and satirically addressed the role of corporatism, big brands, or poor ideas in our society.
Banksy has never been a fan of taking his famous art off the streets and into art galleries. Though it's certain that fine art dealers and buyers have done that for him anyway.
Instead, he has chosen walls all over the UK, and the world, to share his message. Art galleries, he says, are for the trinkets of millionaires. His intentions have always been art for the people.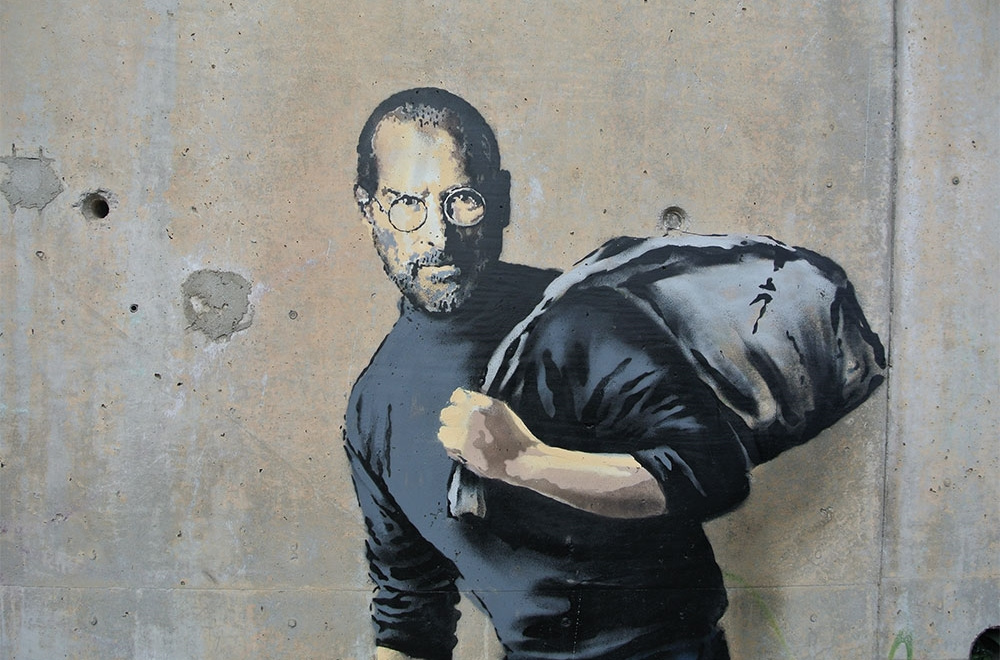 International attention
One of the biggest and most famous targets of his art has been the controversial West Bank wall in the Middle East. His satirical stencils criticized Israeli involvement in Palestine, sparking a debate about the role and legitimacy of the wall. Could it even be vandalized when its existence was already so heavily lamented, discussed, and pilloried? Banksy's illegal act, on an illegal wall, provoked fierce debate around the world. As Banksy himself had almost certainly hoped.
In more recent years Banksy's work has become as much a commodity as a message and he's known to have big-name collectors. Some of the most famous pieces of Banksy's artwork can sell for millions of dollars and the rich he has so virulently attacked don't seem to notice the irony of paying millions for the privilege. This freedom has allowed him to explore more ways to call out the inadequacies of our society.
For example, his temporary art project, Dismaland, turned a disused lido into a sinister twist on Disneyland for a summer in 2015. It was all done in secret and funded by his own money. It was a post-modernist take on the fragility of society. People flocked in their thousands to see the event with tickets selling out every day.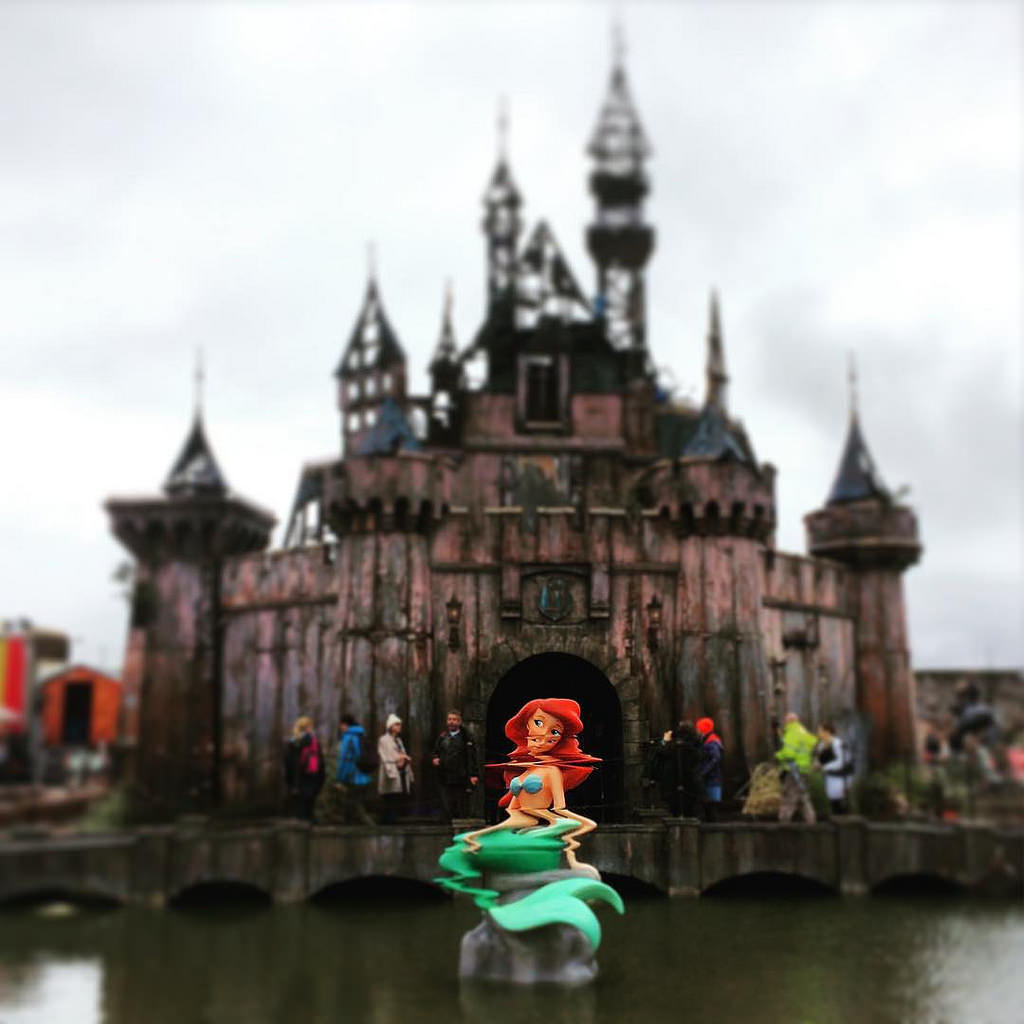 His artworks are famously recognizable. The flower thrower is perhaps Bansky's most popular art piece to date, or certainly one of his top 10. The subject seems to be in the middle of a riot, face covered with a handkerchief and backward cap as he throws a bouquet of flowers rather than a Molotov cocktail. The image of the rioter is depicted in black and white, while the flowers stand out in colour amongst the dystopian picture.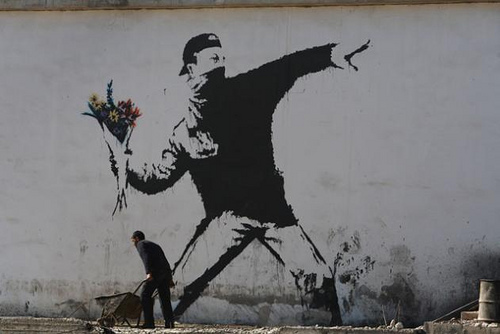 So what comes next for the Robin Hood of the graffiti art world?
Banksy has kept his identity secret despite significant interest in who he is and this level of mystery has almost built a cult around his name. Bansky's most famous art, and his message continue to bounce around the world.
Top 10 Most Famous & Expensive Art by Banksy Ever Sold on Auction

1. Love is in the Bin
As one of the most iconic and recognised Banksy pieces out there, Love is in the Bin hit headlines thanks to its value and the unusual transformative nature of the piece. Bansky's most expensive art started life as a painting known as Girl with Balloon, selling for $1.4 million USD in October 2018.
However, as soon as the gavel fell, a shredder was activated in the frame of the painting, partially shredding it, shocking the art world and making global news.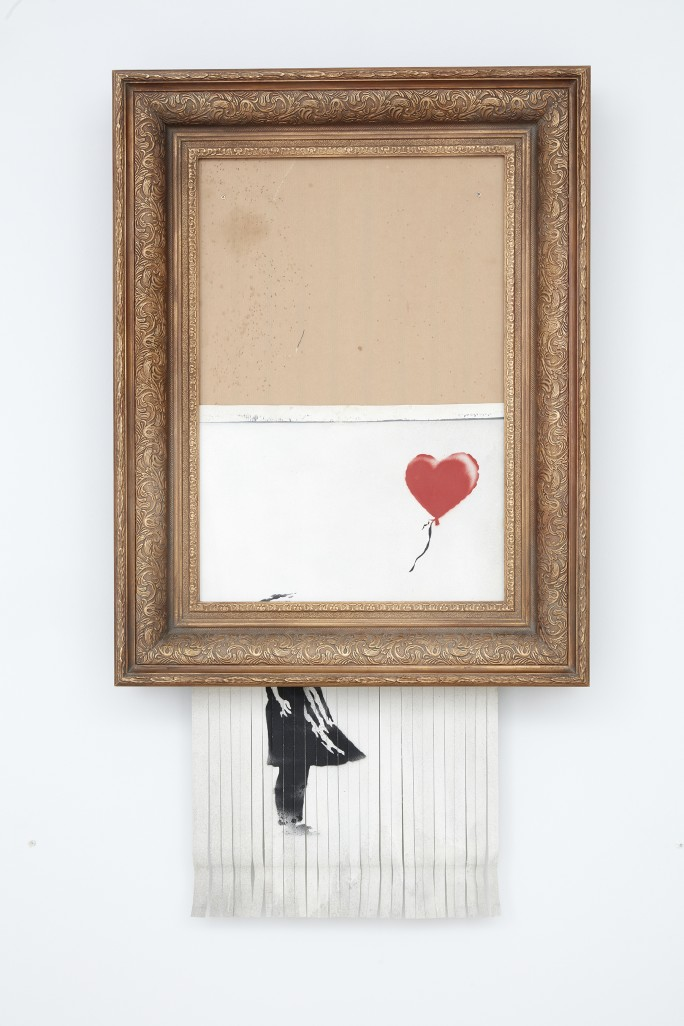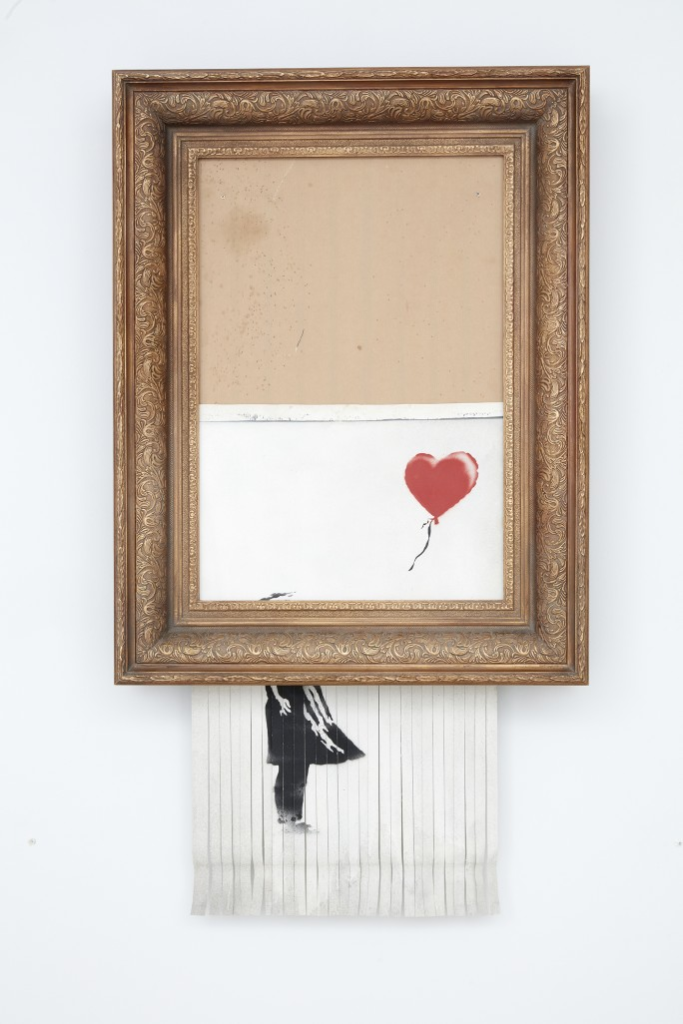 The renamed Love is in the Bin was resold by the owner in October 2021 for £16 million GBP at Sotheby's Contemporary Art Sale, making this piece one of the most famous Banksy art pieces ever – as well as one of the most thought-provoking and shocking.
Before its sale to a new owner, Banksy's most famous artwork had pride of place in the German Staatsgalerie Stuttgart museum.
2. Game Changer
Game Changer is another of the most famous Banksy art pieces for its value and the impact it made upon healthcare workers and patients. Donated to Southampton General Hospital in Hampshire in May 2020, the black-and-white sketch is a direct tribute to healthcare workers, featuring a boy playing with a doll in a red cross nursing uniform and superhero-related imagery suggesting that healthcare workers are the true modern heroes.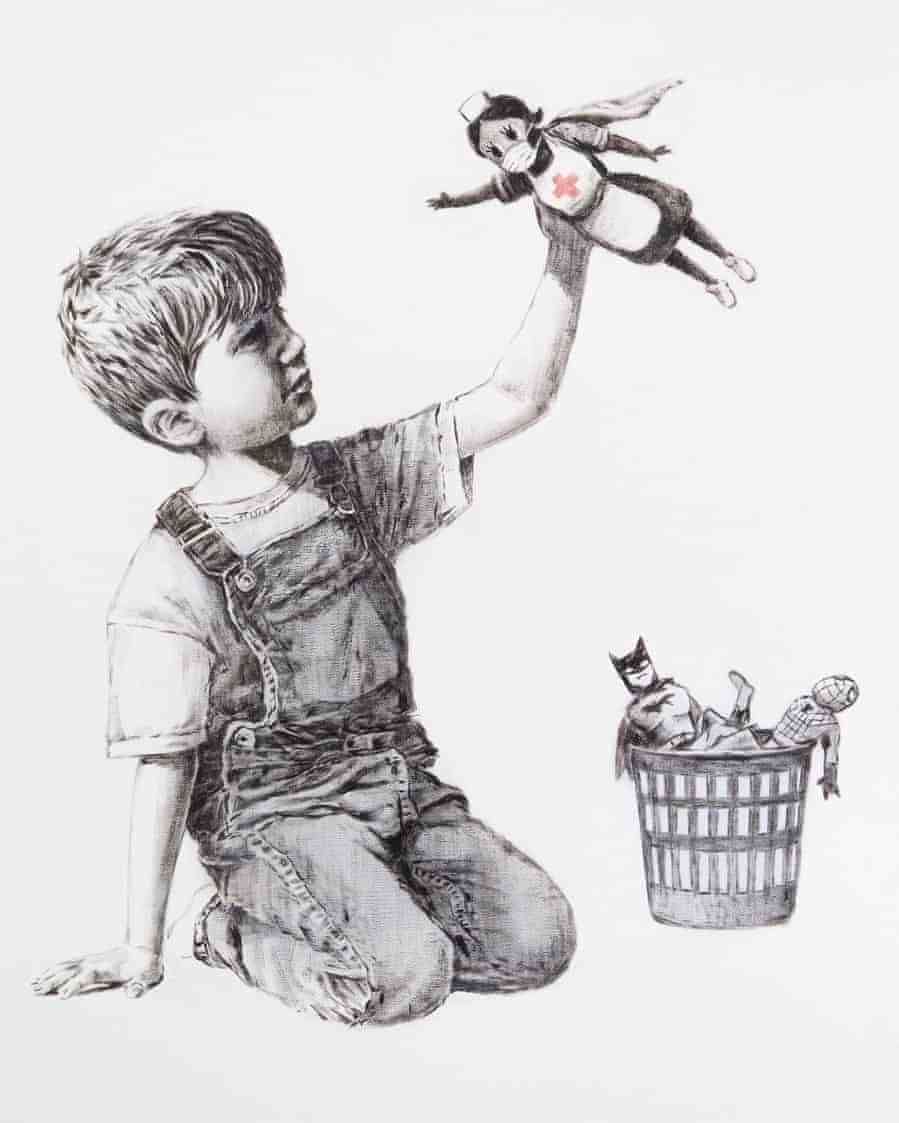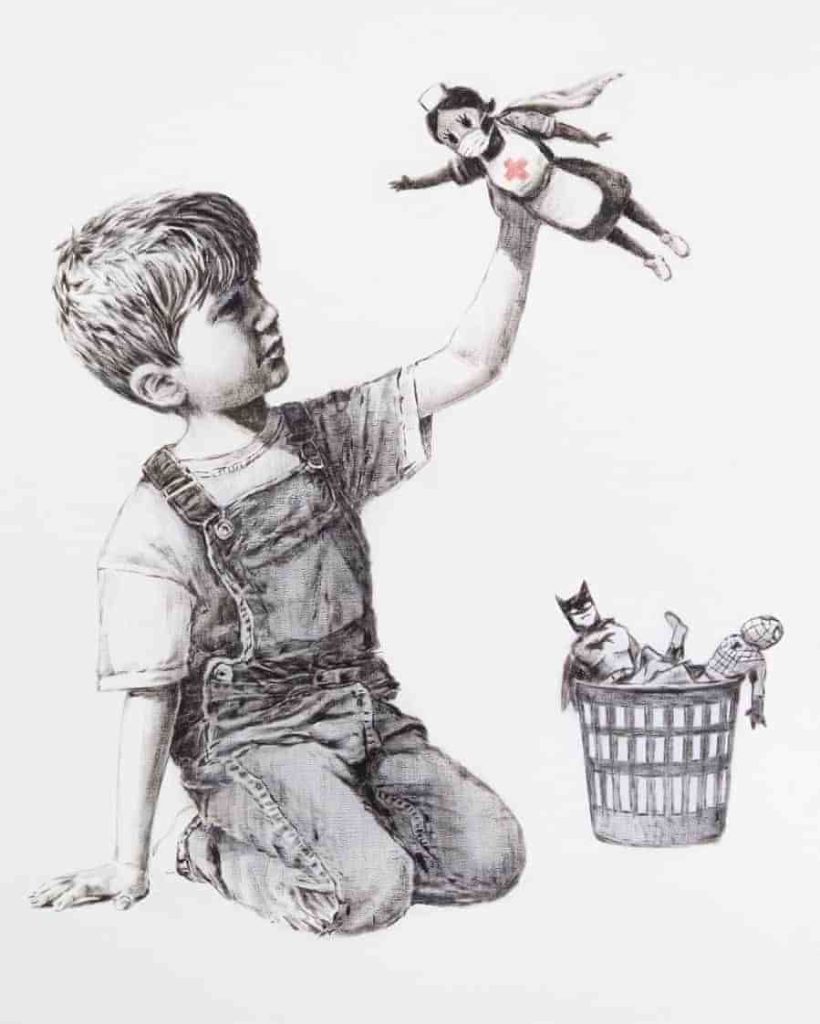 After its donation, the artwork was sold off at Christie's in March 2021 to benefit the well-being of University Hospital Southampton. This NHS trust runs Southampton General Hospital alongside five other healthcare centres.
As the second of Banksy's most expensive art pieces, Game Changer fetched an incredible £14.4 million GBP at auction, providing significant resources to support the hospital and the surrounding services involved in delivering dedicated healthcare to patients in need.
3. Devolved Parliament
For several years before Game Changer's incredible auction success, Banksy's most famous satirical artwork with the highest value was Devolved Parliament. In this full-colour oil on canvas painting, the UK House of Commons is depicted, with all the politicians replaced with chimpanzees.
As one of Banksy's largest paintings, this four-metre-wide canvas made an impact in multiple ways thanks to its satirical nature, incredible detail and overall size.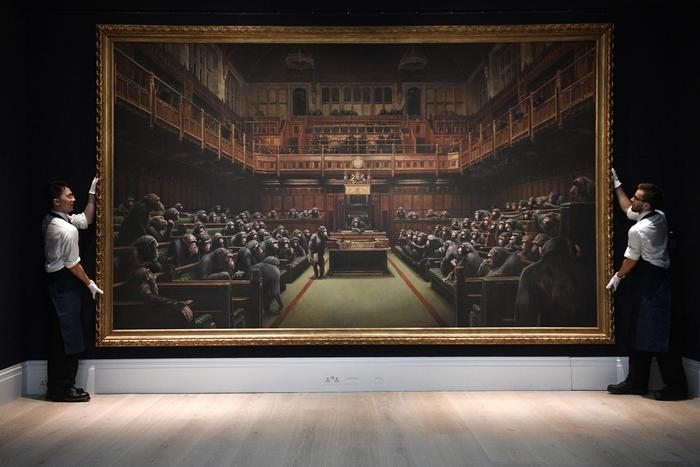 In 2009, the classical-style painting was expected to be sold for around £2 million GBP. Still, the end sum was far higher when Banksy's artwork finally arrived at auction with the Sotheby's Post War and Contemporary Art Evening Sale.
With a final sale of £9.9 million GBP, Devolved Parliament became the third most expensive Banksy artwork, which was highly criticised by the artist himself with a quote from art critic Robert Hughes on his Instagram feed:
"But the price of a work of art is now part of its function, its new job is to sit on the wall and get more expensive. Instead of being the common property of humankind the way a book is, art becomes the particular property of someone who can afford it."
4. Love is in the Air
Love is in the Air is as classic a Banksy piece as you can imagine for the most famous of Banksy's artworks, depicting a black and white figure of a protestor preparing to throw a full-colour floral bouquet instead of the expected Molotov cocktail.
While the piece was highly valuable and sought-after, this artwork also made news thanks to Sotheby's in New York announcing their acceptance of cryptocurrencies Ether and Bitcoin for payment.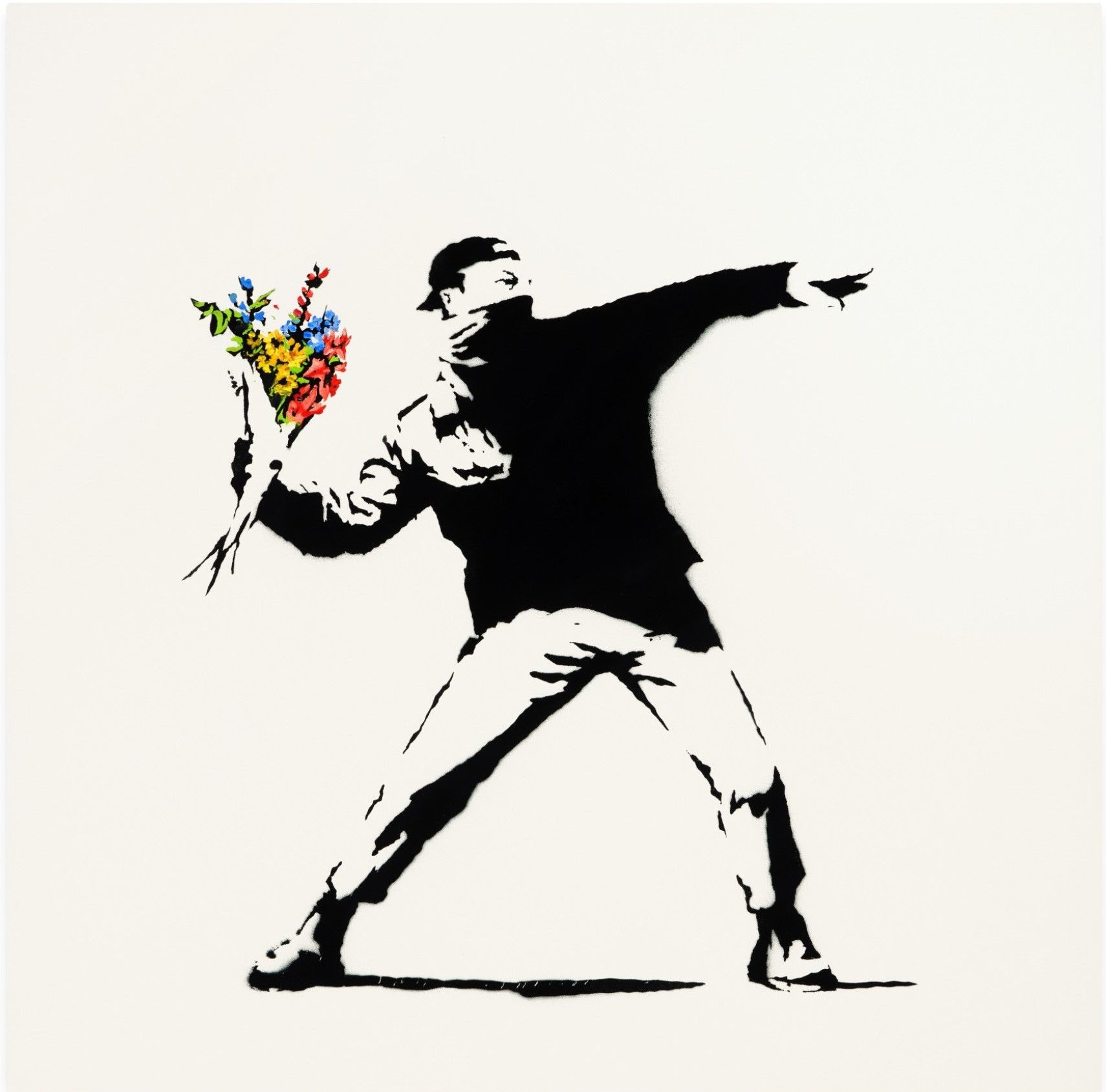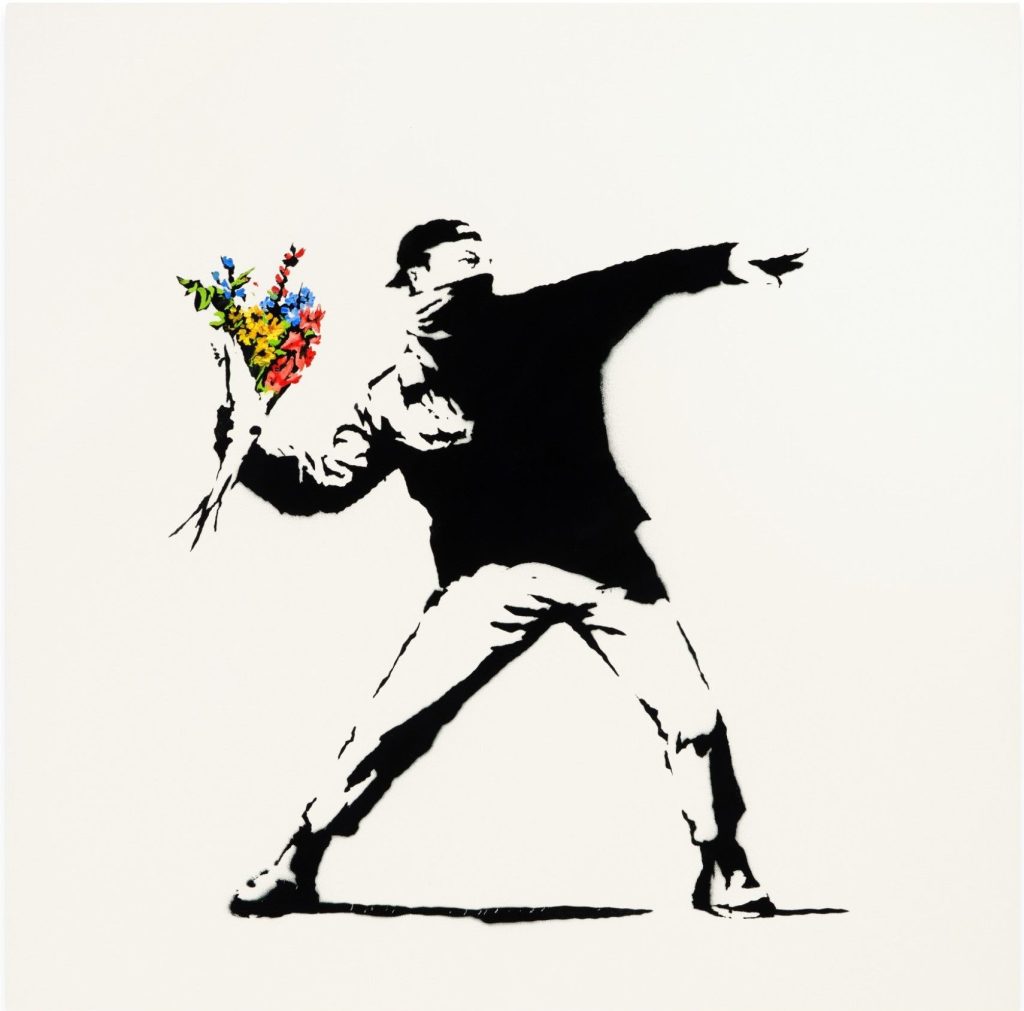 In May 2021, Love is in the Air was sold at auction for $12.9 million USD. The payment for the artwork was confirmed to be made in cryptocurrency, with many art fans contemplating whether this additional payment option contributed to a rising sale point.
With the artwork initially valued at $5 million USD, the price more than doubled from the expected value – perhaps partly due to greater publicity and new accessibility.
5. Show me the Monet
Though perhaps not one of the most instantly recognisable of Banksy's most famous artworks, Show me the Monet continues his trend of making political statements without the need for any words.
Widely considered a thought-provoking and nuanced piece by art lovers, Banksy uses Monet's signature style to highlight the environmental harm big business cause and how it affects natural beauty.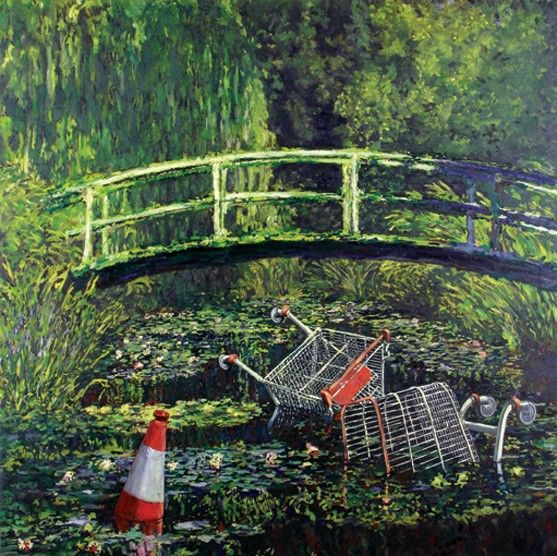 Initially displayed in Crude Oils: A Gallery of Re-mixed Masterpieces, Vandalism and Vermin, an exhibition by Banksy, the piece gained plenty of interest ahead of its sale.
Show me the Monet hit auction at Sotheby's Contemporary Art Evening Auction in October 2020, with the London-based auction selling the painting for £7.5 million GBP, making it the second most expensive art from Banksy at the time of its sale.
6. Forgive Us Our Trespassing
One of the most famous of Banksy's art pieces is without a doubt Forgive Us Our Trespassing, spanning seven metres of eye-catching colour. This unique piece features a giant stained glass window coated in graffiti and a young street artist kneeling in front of the supposedly vandalised building.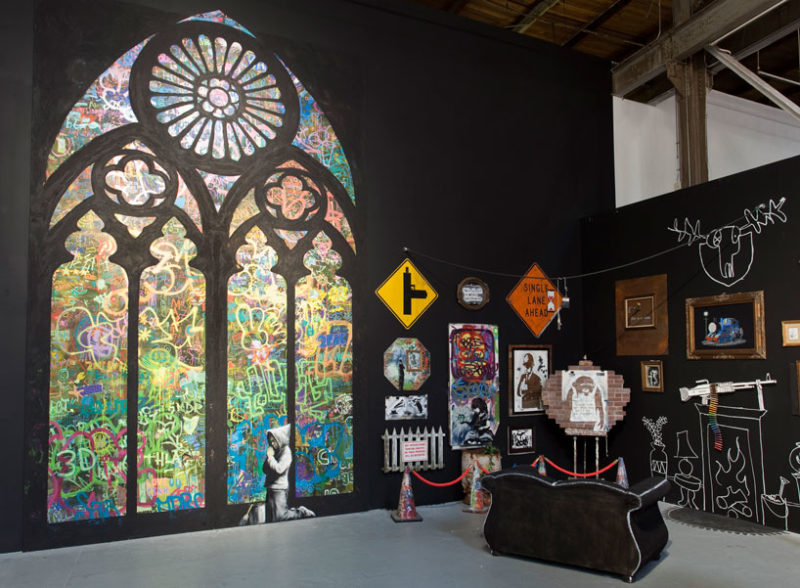 Based on a 2010 work of the same name that Banksy created in Salt Lake City, Utah, this dramatic depiction focuses on the concept of street artists making their surroundings more beautiful, instead of defiling or destroying personal properties.
Forgive Us Our Trespassing is an example of Banksy's focus on collaborative artwork, with more than 100 City of Angels School students contributing their artwork to the piece.
In October 2020, Sotheby's in Hong Kong sold the colourful piece for $64 million HKD, equating to around £6.3 million GBP – more than double its initial estimate.
7. Subject to Availability
Another painting that defies the concept that many people have of Banksy's most expensive art pieces, Subject to Availability is a stark statement about climate change, global warming and pollution built upon a serene landscape.
A copy of the famous 1890 painting in oils by Albert Bierstadt of Mount Ranier National Park, the piece includes an asterisk disclaimer in plain text reading "subject to availability for a limited period only, suggesting the impermanence of the beautiful surroundings the landscape depicts.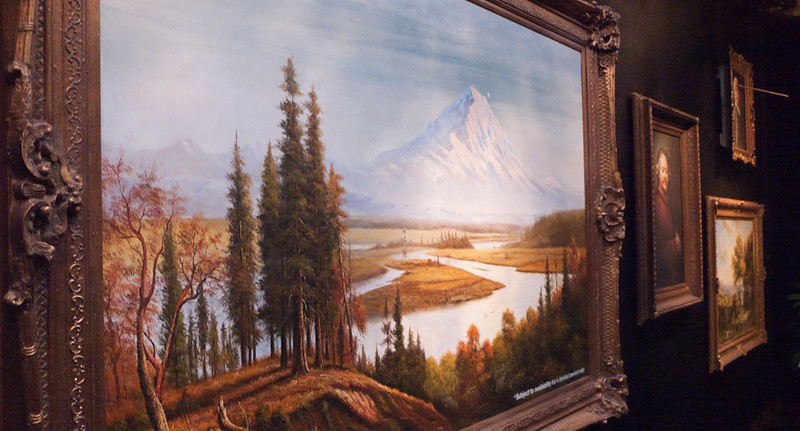 First appearing in an art gallery exhibition in Bristol in 2009, the painting eventually made its way to auction in June 2021 at Christie's in London. The final sale price was £4.5 million GBP, giving this painting a firm spot in the top ten of the most famous Banksy art pieces to sell at an auction.
The painting's understated nature and clear message attracted plenty of attention thanks to its unique approach and thought-provoking content.
8. Sale Ends Today
Much like Love is in the Air, Sale Ends Today is classic Banksy, instantly recognisable as artwork from one of the world's most famous street artists. This piece is a direct comment on consumerist culture, featuring individuals praying and grasping for a sale sign, reflecting on society's willingness to go further and further to own items.
Created with oil on canvas, Sale Ends Today was initially featured in Banksy's Barely Legal Los Angeles exhibition in 2006.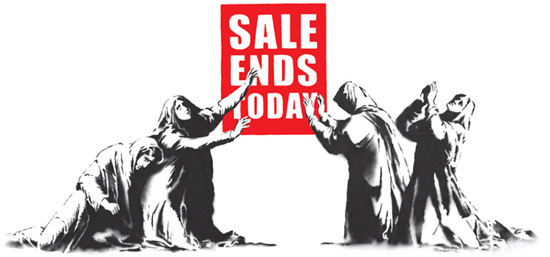 As one of Banksy's most famous art styles, it's no surprise that the piece sold well at Christie's in Hong Kong in May 2021. Ironically, considering Banksy's clear statement against consumerism, the piece quickly shot up the most valuable list with a sale price of $47 million HKD, the equivalent of £4.3 million GBP.
This satirical piece remains a favourite for many art lovers, amongst the most famous Banksy art in his signature style.
9. Original Concept for Barely Legal Poster
One of Banksy's most highly valued pieces is a parody of an arguably even more famous photograph by Annie Leibovitz, featuring a heavily pregnant Demi Moore and featured on Vanity Fair.
As an advertisement for Banksy's upcoming 2006 Los Angeles exhibition, Barely Legal, he created a unique satire of the famous artwork, featuring a monkey face, black hair and cigarette.
The two-metre-long painting is in a different direction than many of Banksy's most famous artworks – presumably, in part, thanks to its purpose of featuring as a poster for the show.
Regardless of its origins, the original piece was sold in March 2021 at Sotheby's in London. The parody piece fetched an astonishing £2.6 million GBP, firmly cementing it in the top ten list of most expensive Banksy art.
10. Laugh Now
A more subdued piece created earlier on in Banksy's career as a street artist, Laugh Now is a commissioned work created for the Ocean Rooms, a nightclub in Brighton. Multiple signed and unsigned prints were released on its creation, all featuring the same sad-looking monkey with a sandwich board sign reading, "Laugh now, but one day we'll be in charge."
When one such print arrived at auction with Sotheby's in London, with a spray-painted design on metal, it was sold in June 2021 for a total cost of £2.4 million GBP. Before the sale, Sotheby's announced the introduction of Ether and Bitcoin as crypto payment options, potentially boosting the piece's profile and providing art fans with more options for purchase for the most famous Banksy art.
With Banksy pieces selling for greater and greater sums, this artwork may be knocked off the top ten in the future – but for the moment, it remains the tenth most expensive Banksy artwork in existence.
Top 10 Interesting Facts You May Not Know About Banksy
1. Banksy remains anonymous despite his incredible success
Despite being one of the world's best-known street artists and modern satirists, Banksy's actual identity remains shrouded in mystery. While he's occasionally been described in vague detail, such as his scruffy casual clothes and silver tooth, his real name is one of the best-kept secrets in the art world.
While there has been plenty of speculation over the years from many different sources, particularly alongside the sales of Banksy's most expensive art, he remains as anonymous as ever – despite having millions of followers on social media, and being featured in magazines, news articles and on websites all over the planet.
2. Banksy supports the healthcare sector
One of Banksy's most famous artwork pieces is the Game Changer picture, listed above as the second most valuable art ever sold with his name attached. But while the sale is well-publicised, many people don't know that Banksy has always intended to support charitable causes. Southampton General Hospital is only one example of this generosity.
Mediterranean Sea View is another example of a set of three Banksy paintings sold at auction to purchase children's rehabilitation equipment and fund an acute stroke unit for BASR Hospital, Bethlehem.
3. Banksy received an Oscar nomination
Alongside his most famous Banksy art pieces, the anonymous artist has also dabbled in directorial roles, starting with his debut film Exit Through the Gift Shop, which premiered at the Sundance Festival in 2010. The film tells the story of Thierry Guetta, a French man living in LA who is obsessed with street art.
After his debut, the documentary was nominated for an Academy Award – with Banksy himself promoting the screening of the movie through new artwork on walls across the US and Canada, including Park City, Los Angeles and San Francisco.
4. Banksy has only been caught once
Despite a long and successful career as a street artist, Banksy has only reportedly been caught once for creating street art. In the 1990s, he was arrested in New York for spraying a billboard above an apartment building, leading to 40 hours of imprisonment, community service and a hefty fine.
Though we cannot truly know if he was caught at any other time, in the modern day, a Banksy piece would likely be met with a far more positive response thanks to his renown and the incredible value of Banksy's most expensive art at auction.
5. Some people don't consider Banksy a pure graffiti artist
Banksy's most famous art has a distinctive appearance created using a stencil to paint on walls, canvases or other materials. While he's one of the world's best-known street artists today, some people disagree with his work and consider him a 'sellout' for not creating pure graffiti art.
An art war between Banksy and another popular artist called Robbo led to years of each painting over the other's work on London streets. While Robbo passed away in 2011, his followers continue to take the opportunity to paint over Banksy's work when and where they can.
6. Banksy uses animals in his artwork
You may be familiar with the use of chimps, rats and other animals in the most famous Banksy art, but the artist goes beyond that by painting on both real and fake animals to make a statement. In his 2006 exhibition in Los Angeles, a painted elephant and hundreds of rats featured in the event to create a message about poverty and water scarcity, while an earlier show in 2006, Turf War, included the non-toxic painting of cows and sheep.
Banksy considers himself an animal activist but has faced controversy over these actions from other activist groups.
7. Banksy created a counterfeit currency
Individuals that want to own a portion of Banksy's incredible art without the high cost of Banksy's most expensive pieces of art might consider one of his Di-faced Tenners, replacing the queen with Princess Diana on a ten-pound note. These Banksy of England bills were produced in 2004, each with a Certificate of Authenticity.
Today, individual notes sell for over £1,000 GBP at online auction sites, while The British Museum holds one of the notes within their collection of medals, coins and other currencies. Notes were released during a festival, with individuals picking up notes and finding they couldn't then spend them in local shops due to their counterfeit nature.
8. Banksy opened a parody theme park
Dismaland was one of Banksy's biggest and most ambitious projects to date, transforming an unused outdoor swimming pool in Weston-Super-Mare into a parody of family theme parks. The fake theme park art show was known as a 'bemusement park' and featured 58 artists plus ten new works from Banksy himself.
More than 150,000 people visited during the five-week opening period, with Banksy funding the park's construction. All fixtures and timber were then sent to a refugee camp in Calais.
Dismaland made news worldwide as one of Banksy's most famous art installations.
9. Banksy financed a hotel in Bethlehem
In 2017, 100 years after British control of Palestine, Banksy funded the creation of a Bethlehem art gallery and hotel known as the Walled Off Hotel. This public space includes designed rooms created by Dominique Petrin, Sami Musa and Banksy himself, including an art gallery, making this whole business one of Banksy's most famous artwork projects outside of his canvas, street art and sketches.
Unlike Dismaland, the Walled Off Hotel has no requirements for tickets and is open to the public as a functional hotel in the area. The hotel's rooms all have the 'worst view' of a wall directly opposite the building.
10. Banksy sells better at auction than any other artist
Despite Banksy's anti-capitalist stance, he's seen the most success at auction for all his artwork, including Banksy's most famous artwork stunts, such as the shredded painting. As time goes on, Banksy's artwork continues to increase in value at auctions worldwide.
As of January 2021, according to a recent analysis, 127 individual artworks by Banksy have sold for over $100,000 USD at auction. In that same period, 76 Picasso pieces and 84 Warhol pieces were sold, putting Banksy at the top of the list for the volume of paintings and the rapid increase in value of his many pieces.
Why is Banksy Art Valuable?
When many people think of modern art, Banksy is one of the first artists they connect with. From his relatively simple roots in Bristol, Banksy has become a worldwide phenomenon – and a household name for most people around the world.
Much like many other modern artists, the value of Banksy's work isn't simply because of technique or process. Instead, it's the collective attention surrounding Banksy's most famous artwork and the messages he stands for in the work he creates.
1. Banksy's message through art
Banksy has never been afraid of making a statement. In many of his famous art pieces, he uses clear messaging and visual satire to clearly state his opinion in ways that are far outside of the norm. He often includes anti-war and revolutionary themes in his work, criticising corporations, governments, and society.
From climate change to corporate greed, the stark nature of his art makes many people sit up and take notice. That interest, in turn, attracts more attention, leading to Banksy's most expensive artwork selling in the millions at auction.
2. Banksy's versatility
While Banksy may be best known for his stencil-style street art, his versatility goes far beyond the bounds of walls worldwide. This versatility helps to improve the value of his art by delivering his message in unique ways, something that art collectors value as many of his pieces are entirely one of a kind.
For example, a shredded artwork now known as Love is in the Bin is altogether unique and gained extensive popularity for the stunt involved at auction. This uniqueness and versatility increase the price of his art as an experience and investment.
3. Banksy's global appeal
Despite strong messaging, Banksy has global appeal as a world-renowned artist. Where he has created unique stencils on walls or across different properties, towns experience increases in tourism, benefiting the local community.
His philanthropic work supporting hospitals through the donations of drawings and paintings has further built his profile as an artist that pushes the boundaries while sticking to the subject matter he believes in.
By going beyond conventional art, Banksy's uniqueness helps increase his art's value.
4. The society of the spectacle
A coin termed in 1967 by philosopher Guy Debord, known as 'the society of the spectacle', states that value is achieved through attention gained.
So, as Banksy gains more attention for his actions, his value increases. As an artist drawn towards spectacle, from the dramatic statements of his earlier shows with painted animals to Dismaland creating a literal theme park based on his message and artwork, it makes sense that Banksy has grown in value over the years.
The more attention gained through new shows, exciting newsworthy events, and new artwork continues to build on that attention.
5. The anonymous factor
While it's unlikely that Banksy would disappear off the face of the earth tomorrow, if he did, his anonymity means that he would continue to be a mystery of the art world for decades to come. While Banksy remains anonymous, people will be curious about him and his artwork, and the value of his art is only likely to rise in line with this. W
hile most artists gain in popularity after their deaths due to a limit on the art available, with Banksy, it doesn't need to be such a dramatic event for there to be no more artwork.
6. Connecting artistry to the internet
While Banksy's work is mainly physical paintings, prints, street art and stunts, there's no doubt that he's reached a vast audience worldwide by sharing his art online. Photography of Banksy's art is highly prevalent across the internet, and the artist's use of social media has gained him millions of followers and allowed him to share his art accessibly with a broader audience.
The more people want to know Banksy and enjoy his art, the greater the interest and the higher the value.
To summarize, some of Bansky's most famous
and expensive artwork includes: 
Beyond Banksy – How Graffiti Artists Sold the Street Back to the Bourgeoisie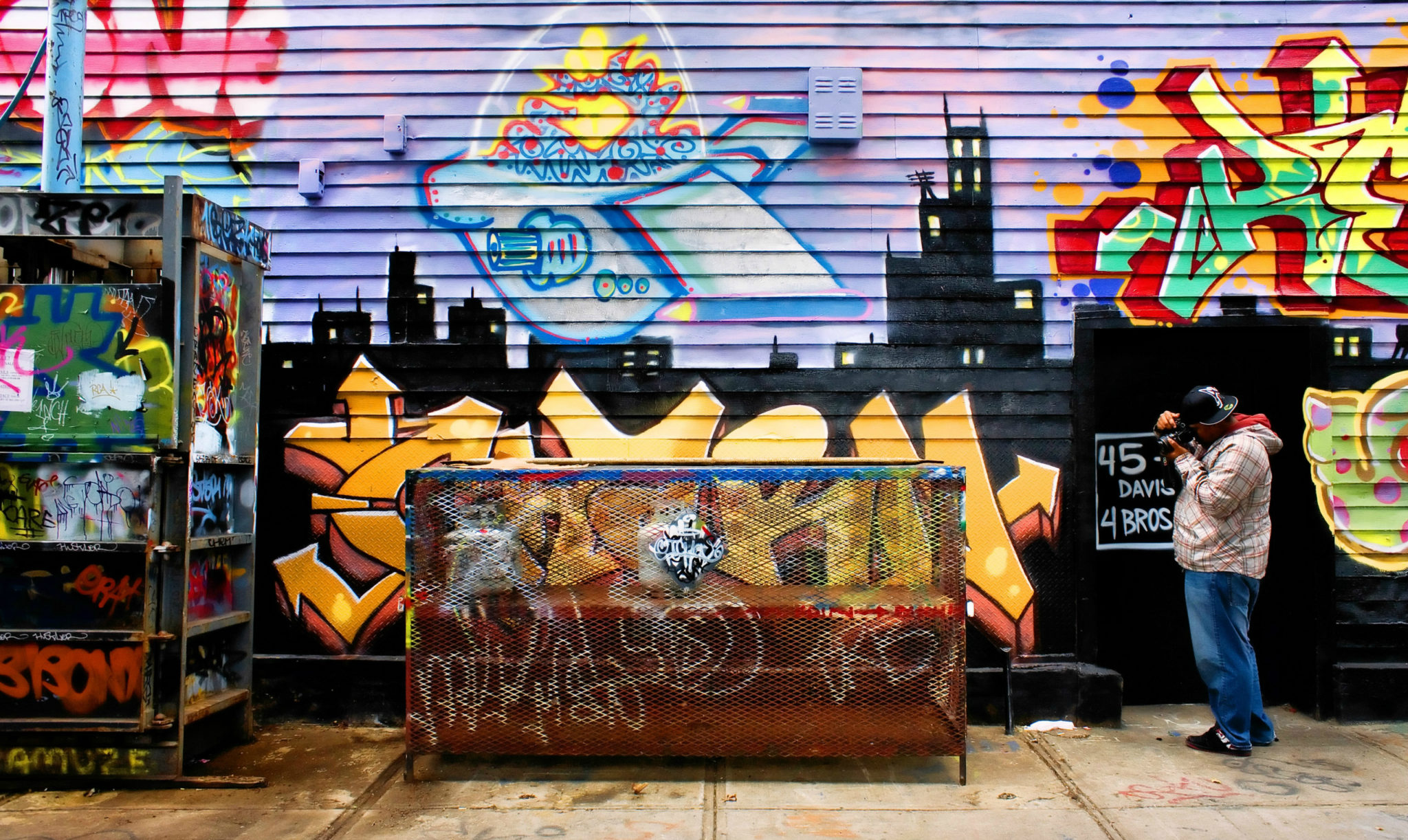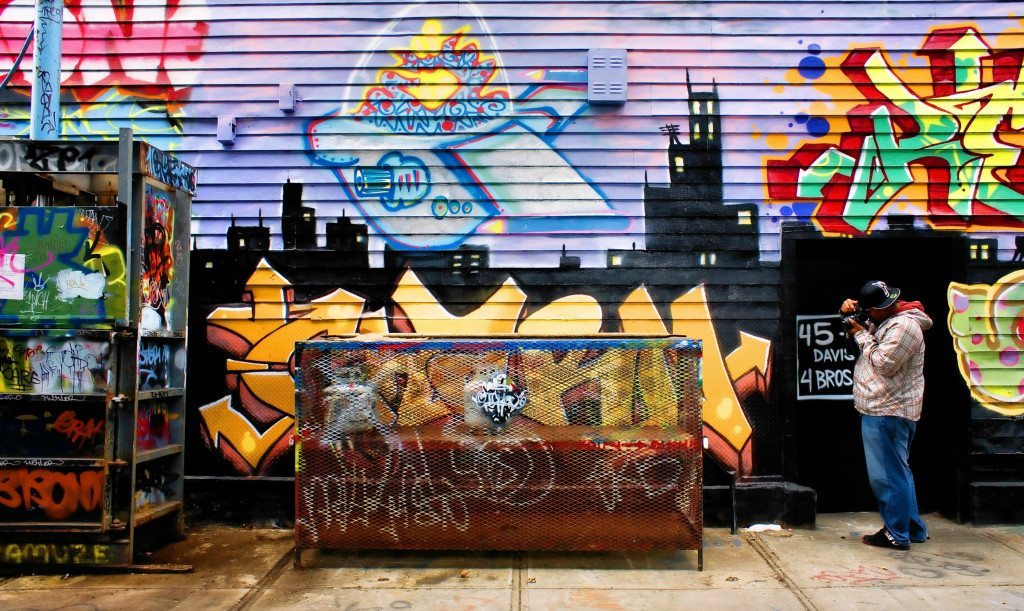 Graffiti writers have not always been treated with such reverence by the mainstream media. Since the birth of hip-hop culture in the South Bronx in the late 1970s, graffiti was considered by many in positions of power and privilege as the scourge of the city, an untidy and unstoppable tide of criminal damage that threatened all the values of the time that were held dear.
All corners of the establishment condemned the now-legendary crews that ran the railway lines after dark all over the city, their work considered a work of vandalism rather than expression, of chaos rather than creativity.
PRAISED BY THE ART WORLD
Starting with the seminal year of 2015, the world, and indeed the world's perception of this kind of art form has changed drastically. Graffiti writers have become graffiti artists, praised instead of purged by the powers at be. Banksy's most famous art, of course, was very much at the forefront of this cultural revolution along with Shepard Fairey, the founder of Obey, and Space Invader, among others around the world.
Nowadays, their work is protected on street corners and building sides from Tottenham to Tokyo, standing as a testament to their talent, perseverance and political impact that their work has had for so many years.
Life for the modern street artist is markedly different from those that started five, ten, or twenty years ago. The effect of this so-called revolution has changed the way the art world perceives their work; while much of what they do, unless commissioned, is still illegal, it's also revered in a way that the crews of New York City could not have believed all those years ago.
THE TWO WORLDS ARE NOW BLURRED
Street art is now as big an attraction as fine art ever was, especially in the modern era. Pre-Raphaelite collectors now sit next to street art collectors in auction houses and galleries across the world – the line between 'fine' and 'street' has never been more blurred.
Enter Bambi. Touted with the predictable and possibly prohibiting nickname of 'the Female Banksy', her work has exploded on the scene thanks to a number of high-profile endorsements and commissions from some of the world's most influential people. From Brad Pitt and Angelina Jolie to Kanye West and Kim Kardashian, there has been a real upward trend of collecting both her originals and her limited runs of prints that accompany each body of work – something that has helped consolidate street art as a genuinely lucrative force within the art world.
Viewing her work, the comparison with Banksy's famous art is not an unfair one. Iconic figures from pop culture are altered, twisted, and skewed to translate messages that are relevant to contemporary society and because of that, it is easy to see why such a fuss has been generated around her work.
Like the more famous Banksy, she too remains anonymous – there are rumors that she also has a successful career in the music industry – and the mystique surrounding her artwork appears to continue to grow by the day.
RIGHT PLACE, RIGHT TIME
Bambi has entered the fray at what appears to be exactly the right time, with Bansky's most famous artwork opening the way for graffiti's perception as fine art. While she cannot expect to match Banksy in terms of immediate impact, she can capitalise on the collectability of her work. As original pieces are being sold for tens of thousands of pounds and prints still generating four-figure sums, she exemplifies the value and standing that street art now holds within the art world. If Banksy's famous art changed people's attitudes toward the validity of the art form, Bambi is changing the way collectors behave with their purchases.
Will her work stand the test of time? It's too early to tell. But if the walls of millionaires the world over continue to be populated by her original prints, Bambi's legacy will mean much more than meets the eye.
New Bond Street Pawnbrokers are a discreet, luxury pawnbroking service including borrowing against fine art and a variety of artists like Andy Warhol, Bernard Buffet, Damien Hirst, David Hockney, Marc Chagall, Raoul Duffy, Sean Scully, Tom Wesselmann, Tracey Emin, Banksy, and Roy Lichtenstein to name just a few.
This post is also available in:

Français (French)

Deutsch (German)

Italiano (Italian)

Português (Portuguese (Portugal))

Español (Spanish)

Български (Bulgarian)

简体中文 (Chinese (Simplified))

繁體中文 (Chinese (Traditional))

hrvatski (Croatian)

Čeština (Czech)

Dansk (Danish)

Nederlands (Dutch)

हिन्दी (Hindi)

Magyar (Hungarian)

Latviešu (Latvian)

polski (Polish)

Português (Portuguese (Brazil))

Română (Romanian)

Русский (Russian)

Slovenčina (Slovak)

Slovenščina (Slovenian)

Svenska (Swedish)

Türkçe (Turkish)

Українська (Ukrainian)

Albanian

Հայերեն (Armenian)

Eesti (Estonian)

Suomi (Finnish)

Ελληνικά (Greek)

Íslenska (Icelandic)

Indonesia (Indonesian)

日本語 (Japanese)

한국어 (Korean)

Lietuvių (Lithuanian)

Norsk bokmål (Norwegian Bokmål)

српски (Serbian)

Tamil
---
---

---
Authorised and Regulated by the Financial Conduct Authority