Top 10 Pieces of Fine Art Ever Sold on Auction as of 2019
August 15, 2019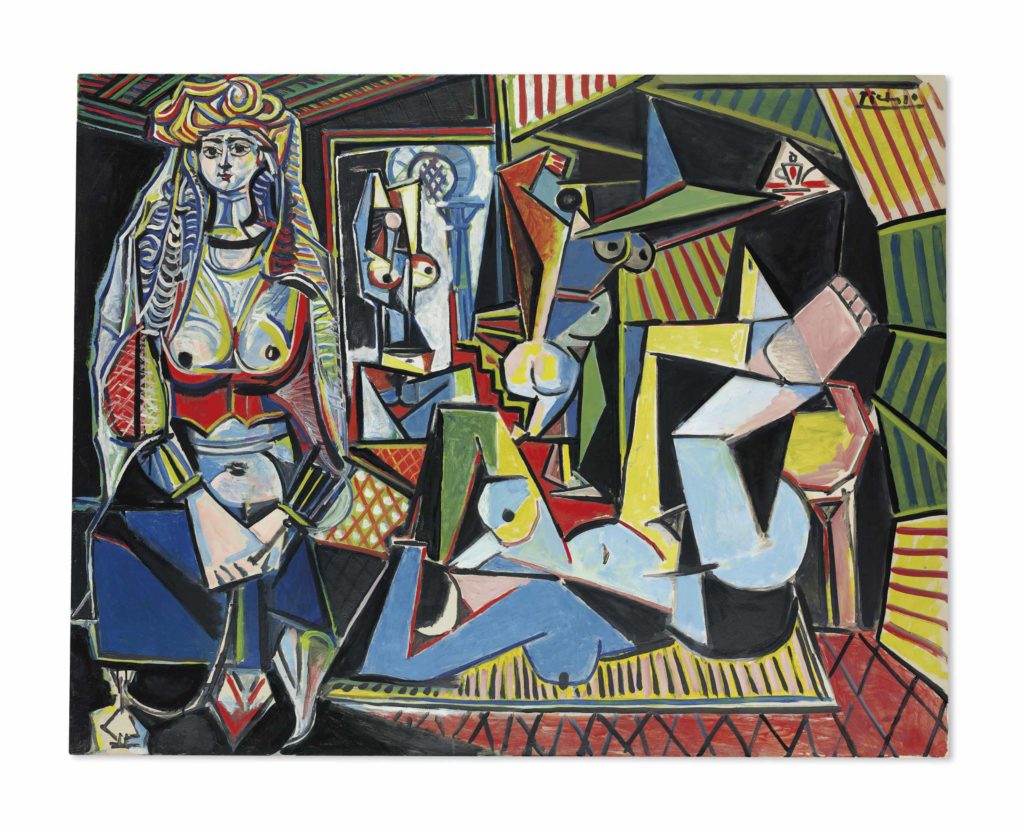 As far as quality investments are concerned, quality art has always been an investment worth making, particularly if you have knowledge of the field and have a certain eye for picking out talent. Selling art at auction has always been a particularly popular thing to do both for artists and collectors alike: for starters, serious art collectors are given the opportunity to buy sought-after pieces at competitive prices. Auction sales also give established, consistent artists the opportunity to establish themselves beyond the realms of gallery sales and appeal to a whole new genre of buyers. With certain galleries renowned for being the places to sell art, understanding the market and how to benefit from it has likely never been easier.
It goes without saying that the best art sells for prices beyond your wildest imagination – and quite rightly so. Art is considered a luxury worth investing in and auction house sales are heavily researched by specialists who know everything there is to know about the paintings that they are valuing. As interest in purchasing renowned pieces of art increases, the price paid for them correlates accordingly – meaning that the most expensive known pieces of art sold at auction have ranged between a lower limit of 118 million dollars and 450 million dollars.
10. No. 5, 1948 | Jackson Pollock | (1948) | sold for $140m (€118.8m)
Whilst the vast majority of art that has sold for hundreds of million dollars are antique pieces, there are a large quantity of modern and contemporary pieces being sold at auction that are reaching the same realms. Jackson Pollock is an example of an abstract expressionist artist who exceeded expectations at auction recently. His painting 'No. 5' sold in May 2006 for $140 million – at the time, this was a record sale for a painting, not surpassed until 2011. Whilst response to the painting initially was underwhelming, it has since achieved critical acclaim and stands at the tenth most expensive painting to have been sold at auction. The demand for Pollock's art is high and auction houses are crying out for sellers of Pollock's work.
9. Nu Couché | Amedeo Modigliani | (1917/18) | sold for $170.4m (€144.6m)
Arguably much more traditional than Jackson Pollock's artwork, Nu Couché, an 1917 oil on canvas by Amedeo Modigliani, sold for auction in New York for $170 millon in 2018. Nu Couché is one of Modigliani's most widely reproduced and exhibited paintings and is one of a series of controversial nudes painted by Modigliani whilst under the guidance of Polish dealer Léopold Zborowski. It sold for almost six times the amount it had previously made at auction – highlighting just how much influence auction sales can have on the value of a painting.
8. Les Femmes d'Alger ("Version O") | Pablo Picasso | (1955) | sold for $179.4m (€152.3m)
A name that doesn't particularly need introducing, Picasso and his artwork has been in the public eye for generations now and quite rightly so. Les Femmes d'Alger took on Picasso's distinct style and was a cubist reimagining of Eugène Delacroix's 1834 painting The Women of Algiers in their Apartment. Part of a series of paintings and drawings, 'Version O' sold in 2013 for a record $179.4m at auction to the former Qatari prime minister, Hamad bin Jassim bin Jaber Al Thani.
7. Portraits of Maerten Soolmans/Oopjen Coppit | Rembrandt | (1634) | sold for $180m (€152.8m)
A pair of portraits by Rembrandt in 1634 were jointly bought by the Louvre Museum and Rijksmuseum in 2015 – for an artist record purchase price of $180m. The paintings were produced for the occasion of the pair's wedding in 1634. Produced and painted on seperate occasions, the portraits have been kept and displayed together since they were created and have always hung side by side in gallery showings and collections. The portraits are particularly impressive because they are full sized and show a full body image – very atypical of Rembrandt's usual painting style and as a result a particularly valuable pair of portraits to be in possession of.
6. No. 6 (Violet, Green and Red) | Mark Rothko | (1951) | sold for $186m (€157.9m)
One of the works implicated in the 2016 Bouvier Affair, No. 6 (Violet, Green and Red) by Mark Rothko sold at auction for $186 in 2014. Currently contained within a private collection, the oil on canvas appears unimpressive, a simple distribution of large colour expanses, delineated by unevan shades of smudged colour. With abstract impressionism on the rise, the painting was sought after and invited a lot of interest but question remains about the legitimacy of its value because of its links to the Bouvier Affair, a scandal in which pieces of artwork were given 'fake' values by critics as a way of ensuring that they sold for high prices.
5. Number 17A | Jackson Pollock | (1948) | sold for c$200m (€169.8m)
Pollock's paintings seemingly have become incredibly sought after, with a second painting from his collection considered to be one of the most expensive sold at auction. Differing from No. 5 in way of its colour, No. 17a exhibits a radical example of drip painting. Drip painting pieces are interesting in the sense that they appear randomly distributed but it is clear that as far as Pollock is concerned at the very least, this is definitely not the case. Distribution lines throughout the painting clearly show his precise movements, giving definite justification for the $200m price tag the painting went for when sold in 2016.
4. Nafea Faa Ipoipo | Paul Gauguin | (1892) | sold for $210m (€178.3m)
Post-impressionism is a popular style for collectors and Paul Gauguin's 1892 painting 'Nafea Faa Ipoipo' (When Will You Marry?) was absolutely no exception to this rule when it sold at auction for $210m in 2015. An oil on canvas painting, Nafea Faa Ipoipo was painted with the intention of showing Tahiti as an edenic paradise, contrasting with the primitivist representations previously exhibited by French artists. Gauguin was clearly successful in his aims, depicting a contrast between western and 'orientale' style on a background of spectacular landscape. Gauguin was fascinated by the Tahitian language, choosing to name his paintings using their tongue rather than his native French.
3. The Card Players | Paul Cézanne | (1892/93) | sold for c.$250m (€212m)
Painted during Cézanne's final period in the early 1890s, The Card Players is a series of oil paintings produced – varying in size, settings and the number of players included within the painting, the series is composed of five paintings and a number of drawings and studies carried out in preperation for the full scale series. One version of The Card Players sold on auction for around $250m to the Royal Family of Qatar, making it the 3rd most expensive painting ever sold at auction. As a post-impressionist, Cezanne and his paintings were particularly sought after so the selling price really goes as no surprise- the purchase was carried out as part of Qatar's effort to establish itself as part as the international intellectual hub, something that the purchase of quality pieces of art would allow it to do.
2. Interchange | Willem de Kooning | (1955) | sold for c.$300m (€254m)
One of de Kooning's first abstract works, Interchange (also known as Interchanged) was sold by the David Geffen foundation at auction to philanthropist Kenneth C. Griffin in 2015 for around $300m, along with Jackson Pollock's 17a. The painting was particularly profound because of de Kooning's clear change in style after being inspired and influenced by fellow artist Franz Kline, adding to its value. Part of the abstract impressionist movement, the painting is a study of the female figure as an internally primitive concept and incorportates yellows, oranges and blue colours. The value of this painting comes partially from the fact that nothing like this painting will ever be produced again and its value aligns with this idea. The painting is said to be the best representative of de Kooning's style, his representation of expressionism at its finest.
1. Salvator Mundi | Leonardo da Vinci | (1490-1519) | sold for $450.3m (€382m)
Unsurprisingly, the most expensive painting ever sold at auction was created by Leonardo da Vinci. In 2017, for an enormous $450.3m, Salvator Mundi was sold. The picture depicts Jesus in Renaissance dress, making the sign of the cross with one hand and holding a clear, crystal ball with the other. Arguably an attempt at the collaboration of science and faith, the painting is known to represent the celestial spheres of the universe and the heavens. One of fewer than 20 known paintings attributed to da Vinci, its value is exponential and the sale price is clearly representative of that. Strangely enough, the painting's current location is unknown and its history is intriguing. Found at auction in 2005, the painting was heavily overpainted and looked nothing like the original painting – although art historians hoped that it was the long-missing da Vinci painting that it replicated. The painting was carefully restored by Dianne Dwyer Modestini, using acetone to remove the overpainting. Its accreditation to da Vinci came from Dwyer Modestini's assertion that the lips were so 'perfect' that no other painter could have produced it, although some critics claim that it should only be attributed to the workshop, not to da Vinci himself.
If art is your forte and you have pieces in your collection that you believe to be of value and that you are willing to part with, then valuation and consideration for auction may well be your best option. Here at New Bond Street Pawnbrokers, our knowledgable experts can provide art collectors like yourself with a quality service and discrete valuations that allow you to stay in control. As a luxury pawnbroker, we understand the value of your items and work alongside specialists who are amongst the most knowledgable in their respective fields, giving you the assurance that all information we provide to you will be both accurate and representative of the true value of your items.
We offer instant credit with minimal paperwork, plus specialist advice throughout. Some of the many artists we loan against include Andy Warhol, Bernard Buffet, Damien Hirst, David Hockney, Marc Chagall, Raoul Duffy, Sean Scully, Tom Wesselmann, Tracey Emin, Banksy, and Roy Lichtenstein to name just a few. If you are looking for more information on our kloans in fin art please visit our dedicated webpage.
*We also offer loans against diamonds, diamond rings, fine jewellery, classic cars, fine wines, fine art ,antiques, rare books, handbags and fine watches
---
---