I hope you enjoy this blog post.
If you want us to appraise your luxury watch, painting, classic car or jewellery for a loan, click here.
Top 10 Most Famous & Expensive Andy Warhol Art / Paintings (as of 2023)
May 2, 2018
When you think of Famous Pop Art, one name springs to mind before any others: Andy Warhol. Love him or hate him, you can't deny that this American artist earned far more than his 15 minutes of fame. He became synonymous with an entire movement and is remembered across the art world as a daring pioneer who helped redefine the very notion of art.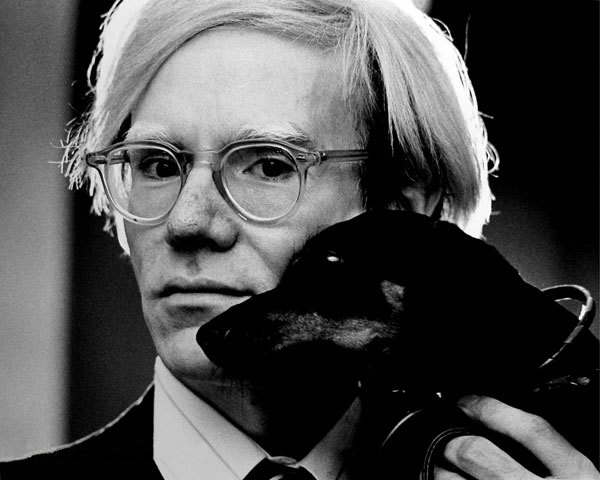 Before his art and paintings became famous (and expensive) Andy Warhol… 
Humble beginnings
The man who would become known worldwide as Andy Warhol was born Andrew Warhola on August 6 1928, to a Slovakian immigrant couple. Warhol's early years were not exactly glamorous. His father was a construction worker in the industrial city of Pittsburgh, Pennsylvania, and his mother worked as a seamstress and embroiderer. Newcomers to the United States, the family worked hard to maintain their Slovakian roots and were regulars at the local Byzantine Catholic church.
Warhol's interest in art grew out of an unusual set of circumstances. When he was eight years old, he became sick with chorea, which badly affected his nervous system. The young Warhol was confined to his bed, and his mother, seeking a way of keeping him busy, taught him to draw.
That was enough to spark a lifelong passion in the young boy, and after making a full recovery from his illness, he continued drawing and sketching at every opportunity. After his parents bought him a camera, he added photography to his growing repertoire of skills.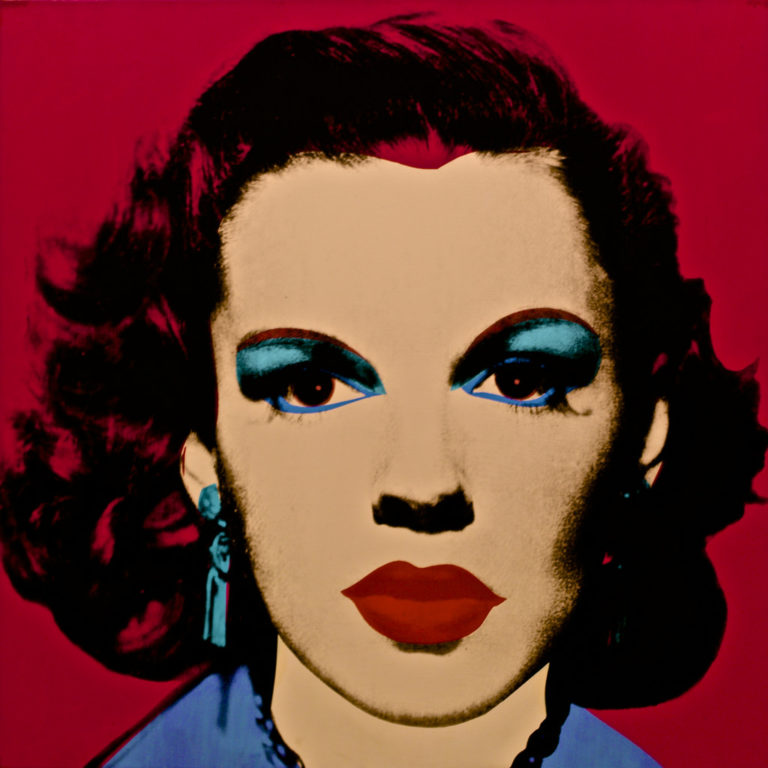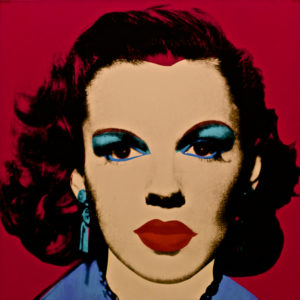 Early career
In 1945, Warhol began to study pictorial design at the Carnegie Institute of Technology, also in Pittsburgh. Upon graduating in 1949, he left his hometown and made a fresh start, moving to New York City and changing his name. His career in art began when he was hired by Glamour magazine to work as a commercial artist. Throughout the 1950s, he made a name for himself in this industry, and gradually he became known for his unique touches, including his experiments with rubber stamps.
Pop Art
Towards the end of the 1950s, Warhol's experiments grew more and more unusual. He spent more time painting than he had in the past. Finally, in 1961, Wahol was ready to share his vision with the world: the famous Pop Art. He had become fascinated by advertisements and brands, and his brightly-coloured, unique graphical style showed them off in a fresh new way.
In 1962, one of Warhol's most famous and subsequently one of his most expensive art pieces was completed. His take on Campbell's soup cans divided the art world, with traditionalists questioning its legitimacy as a work of art. Challenging and controversial, it was impossible to deny that Andy Warhol had arrived on the scene.
Soon, Warhol's distinctive style was everywhere. His brightly-coloured works looked at brands – not only Campbell's soup but also Coca-Cola and vacuum cleaners – and celebrities. These vivid pictures and artwork, with the same image shown in numerous different colour combinations, depicted famous pop culture icons like Elvis Presley and Marilyn Monroe, and even the Chinese communist leader Mao Tse-Tung.
However, Andy Warhol's most famous piece of art was not a painting, but his picture of Marilyn Monroe, still instantly recognizable today.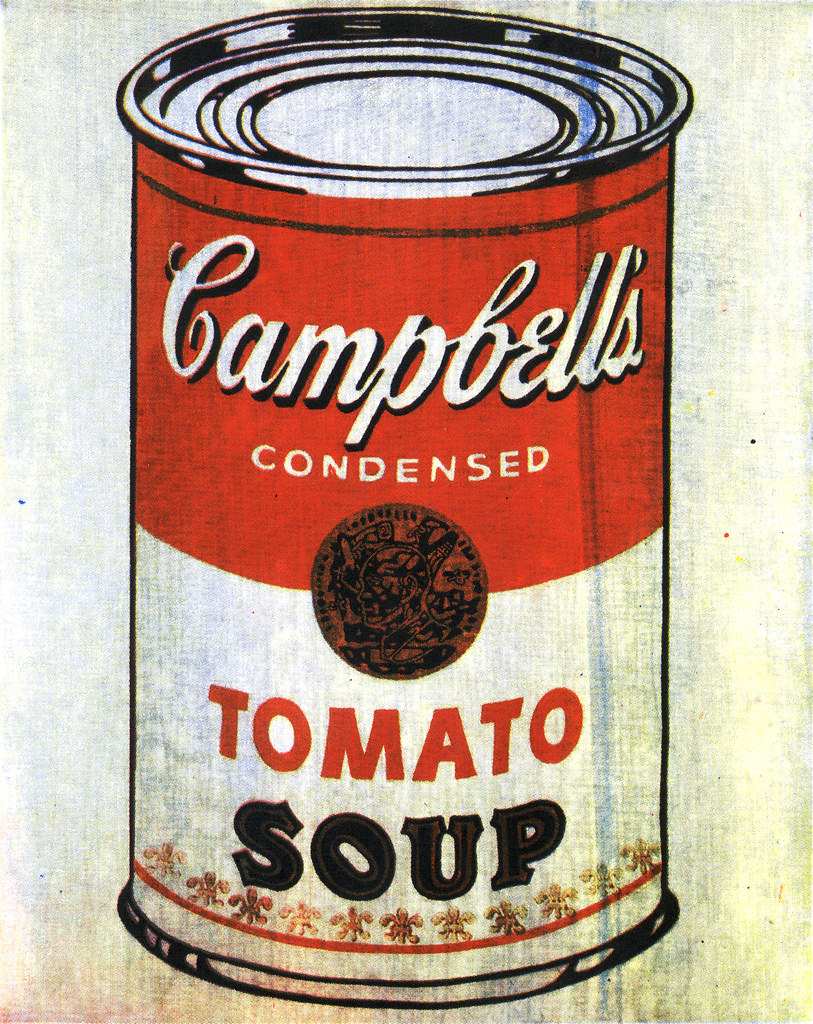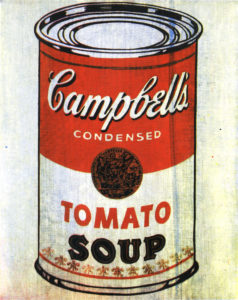 The Swinging Sixties
With Warhol now hugely in demand as a commissioned portrait-painter, in 1964 he could open his own studio, which he called The Factory. This enormous warehouse was soon a staple of the New York social scene. Warhol threw wild parties at The Factory, attended by the rich and famous, and later commemorated in Lou Reed's "Walk on the Wild Side".
More than just an artist, Andy Warhol had become a bona fide celebrity. He dabbled in the music industry, managing the experimental New York-based group, the Velvet Underground, and he was often seen at the famous Studio 54 nightclub. Of course, he continued to produce more and more art as the decade went on.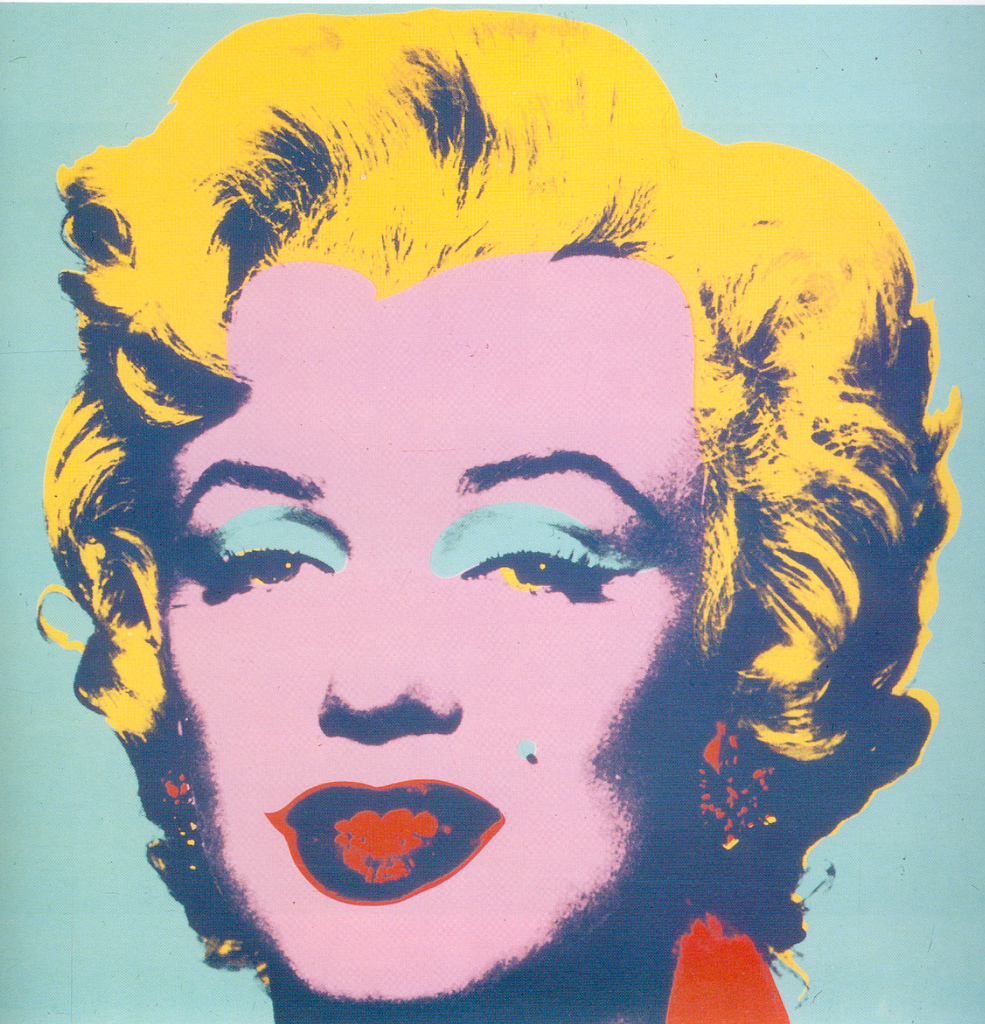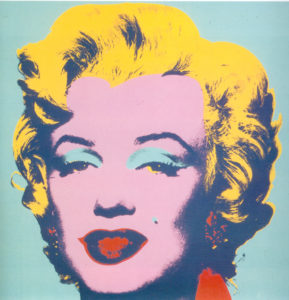 A narrow escape
In 1968, radical feminist Valerie Solanas entered The Factory and shot Andy Warhol. Solanas, who was keen to make a name for herself as a writer, had previously appeared in a film directed by Warhol, and had had a dispute with him over a script. Warhol was gravely injured and wore a surgical corset for the rest of his life. Solanas turned herself into the police and entered a guilty plea.
But in many ways, the damage had been done. The attempted murder put an end to the excesses of the Sixties. Security at The Factory increased, and the wild parties grew less frequent.
During the 70s, Warhol branched out more and more into film. He produced more than 60 films over his career, some of which were highly experimental (Sleep is six hours of a man sleeping, while the 45-minute Eat shows its subject doing nothing but eating mushrooms).
Illness and death
Warhol continued to work into the 1980s when he presented his own show on MTV. As he grew older, though, he had persistent gallbladder problems. In February 1987, it was removed in New York Hospital, but although the surgery was initially deemed a success, Warhol died two days later, on February 22 1987. He was 58 years old.
Thirty years on, Andy Warhol's influence and his most famous painting and art in general, is still felt strongly. Many of his more experimental art pieces failed to resonate with the public, but his most iconic images, particularly of Marilyn Monroe and the Campbell's soup cans, can be seen on merchandise all over the world.
Top 10 Most Famous & Expensive Andy Warhol Art / Paintings
1. Shot Sage Blue Marilyn
When it comes to Andy Warhol's most famous and expensive art and paintings, it would be wrong not to include Shot Sage Blue Marilyn. His 1964 portrait of Marilyn Monroe was sold at Christie's New York for $195 million, including expenses, in May 2022, and was bought by American multi-millionaire art dealer Larry Gagosian.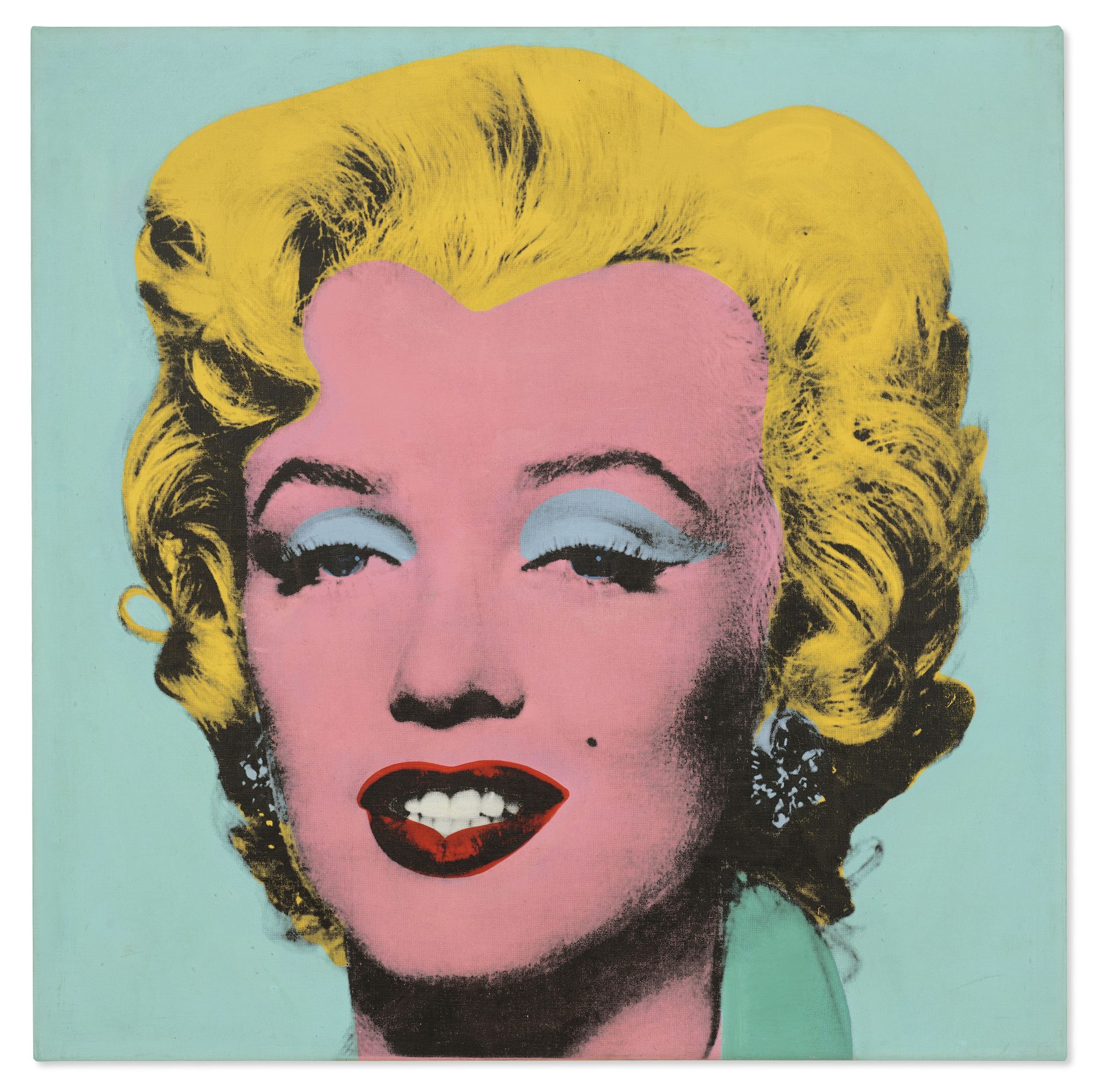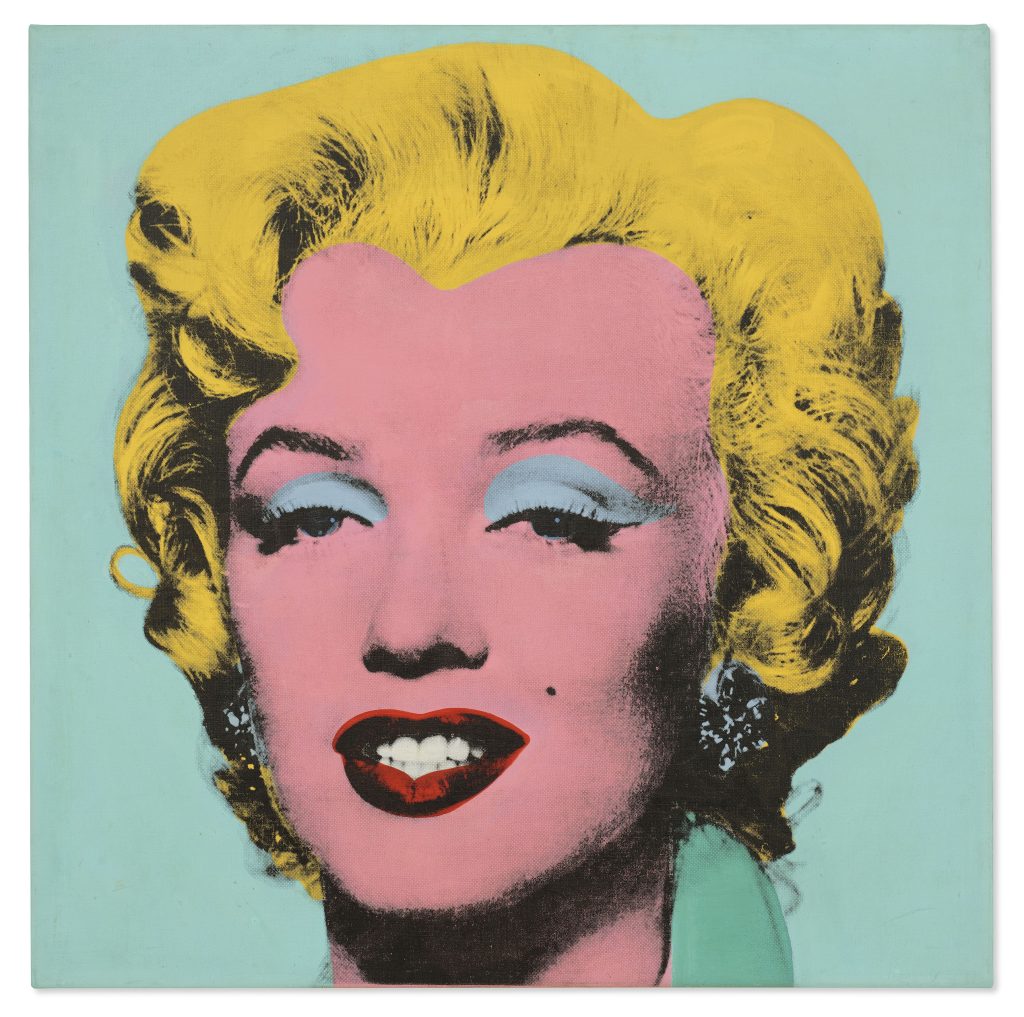 Based on a promotional photo taken for Monroe's film Niagara, the name of this piece reflects why it is one of Andy Warhol's most famous paintings. Shortly after it was created in 1962, an intruder broke into Warhol's Factory studio and shot at Warhol's Marilyn series, which were all stacked together, requiring them to be repaired.
Warhol never actually met Monroe in person. However, his 40×40 inch series, The Shot Marilyns, each with its own colour scheme, have become some of his most recognised works.
2. Small Torn Campbell's Soup Can (Pepper Pot)
Ask people to name one of Andy Warhol's most famous paintings or art pieces, and many will immediately think of his iconic Campbell's Soup cans. This humble can has become synonymous with the pop art movement thanks to Warhol, but the reception when they were created wasn't as great as it is now.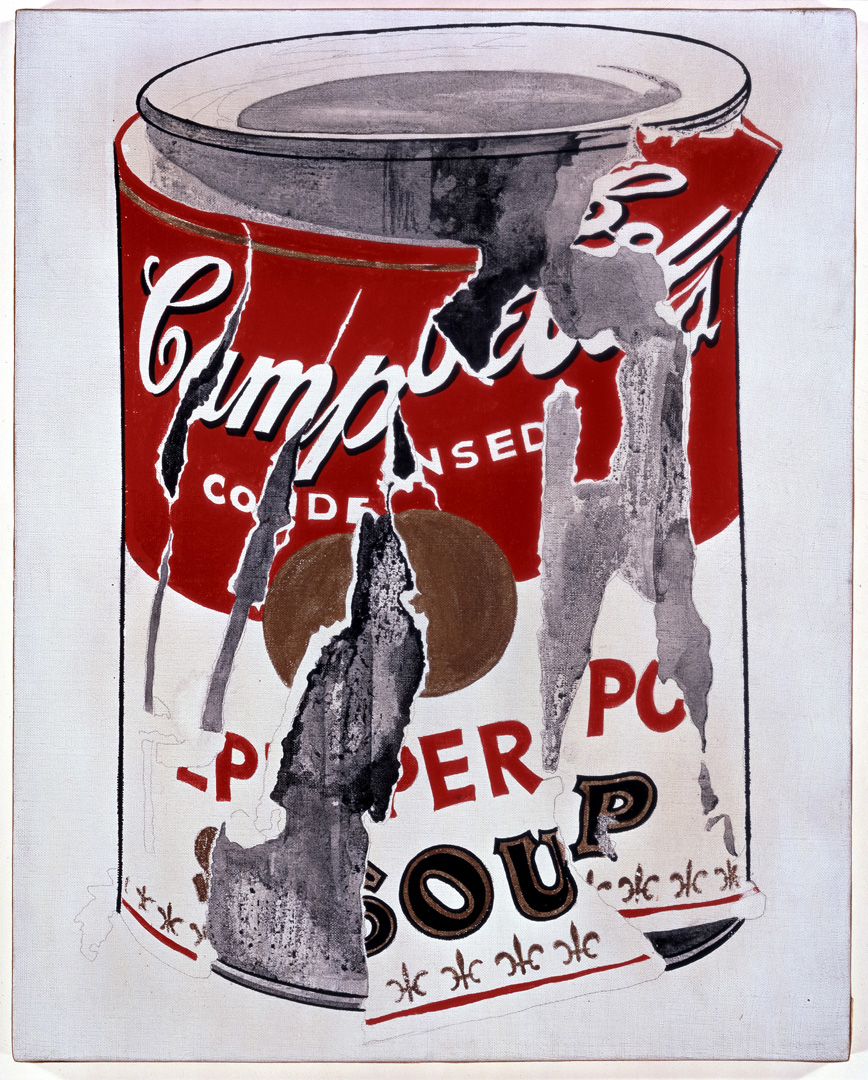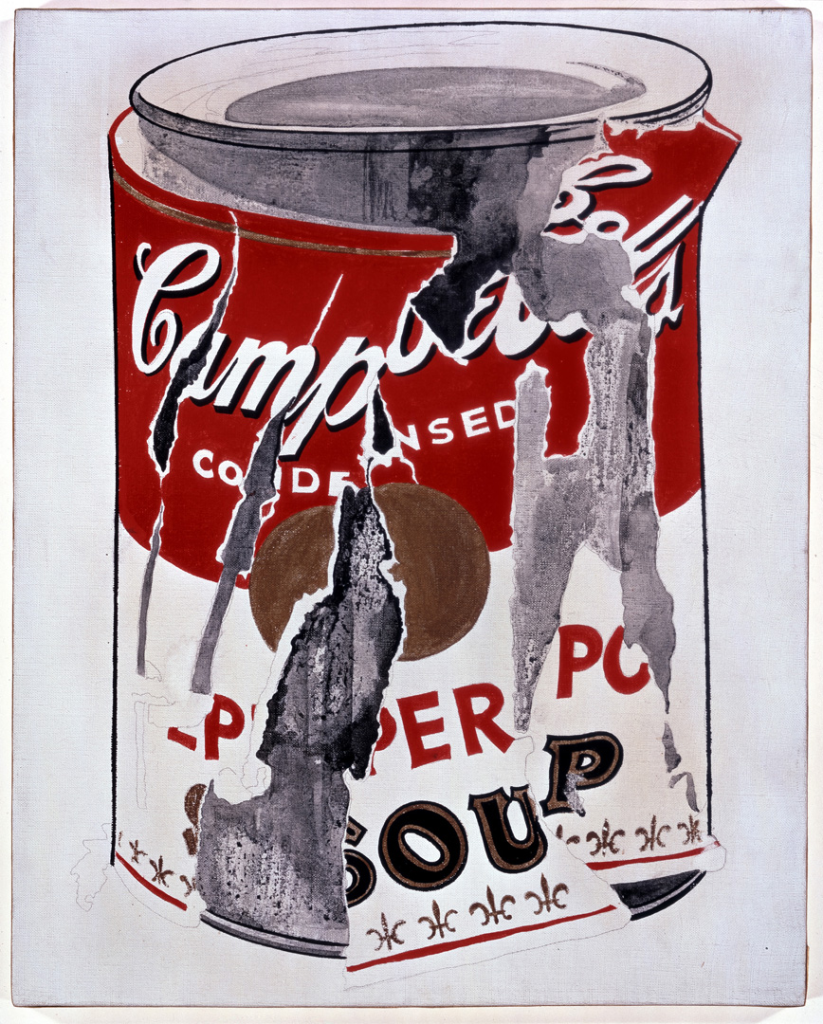 When he debuted the collection in 1962 – a canvas for each of the 32 flavours that Campbell's sold at the time – it was snubbed by many critics. In fact, the gallery's owner, Irving Blum, bought the entire collection for just $1,000 after the show closed.
However, the 16×20 inch "Pepper Pot" canvas from the collection sold for $11.8 million at Christie's New York in 2006. It was sold to Larry Gagosian, who purchased the piece for Los Angeles-based collector and financier, Eli Broad.
3. Mao
As Warhol became more aware of the power of Chinese communist leader Mao Zedong he felt compelled to create a series of acrylic and silkscreen ink-on-canvas paintings of Mao. In total, between 1972 and 1973, Warhol created 199 silkscreen paintings of Mao, in five different scales.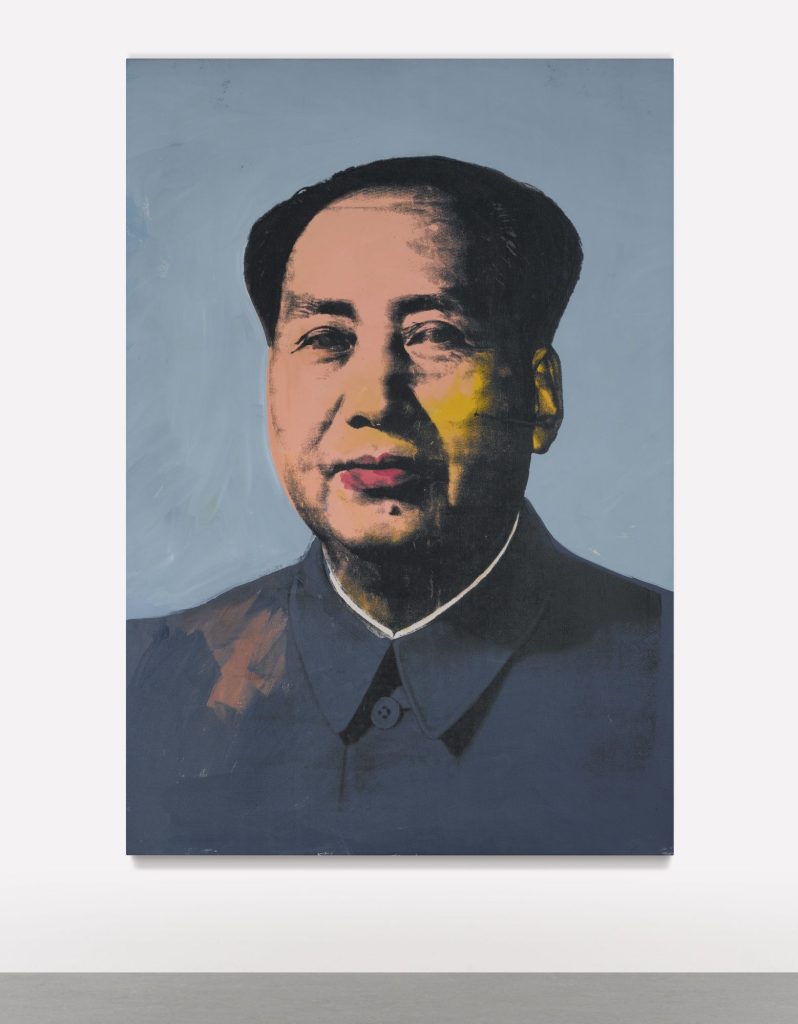 In 2006, one of Warhol's Mao paintings sold for $17.4 million at auction. However, in late 2015, the sale of another of the series at Sotheby's in New York eclipsed this total. The 6.8-foot by 4.8-foot piece, which had previously been owned by money manager Steven A. Cohen since 2007, sold for an impressive $47.5 million including fees.
It was sold to an unknown telephone bidder, with the final selling price over 40 times what was paid for the piece when it was last sold, making it one of Andy Warhol's most famous and expensive paintings and artworks.
4. Brillo Box
Brillo Box – a yellow plywood box emblazoned with Brillo's blue and red logo – sold at Christie's in New York after owner Robert Shapazian died. He'd previously purchased the piece for $43,700 in 1995, and the Christie's sale saw the work going for nearly four times its predicted sale price – $2,650,500 and a $400,500 buyer's premium.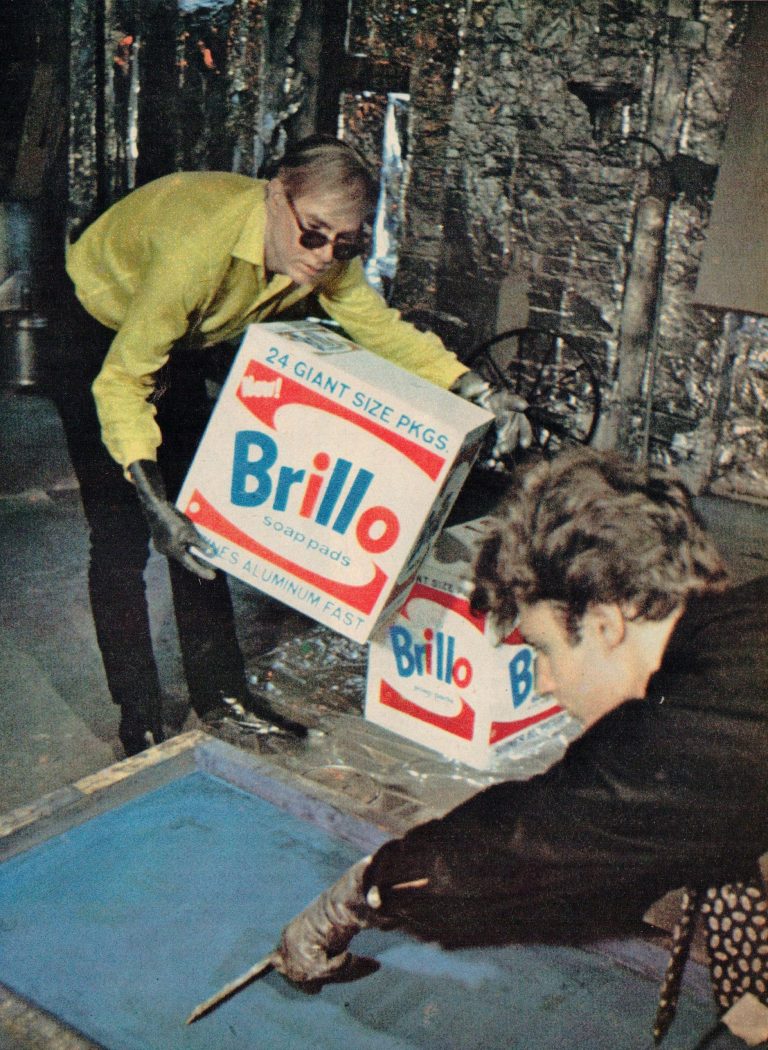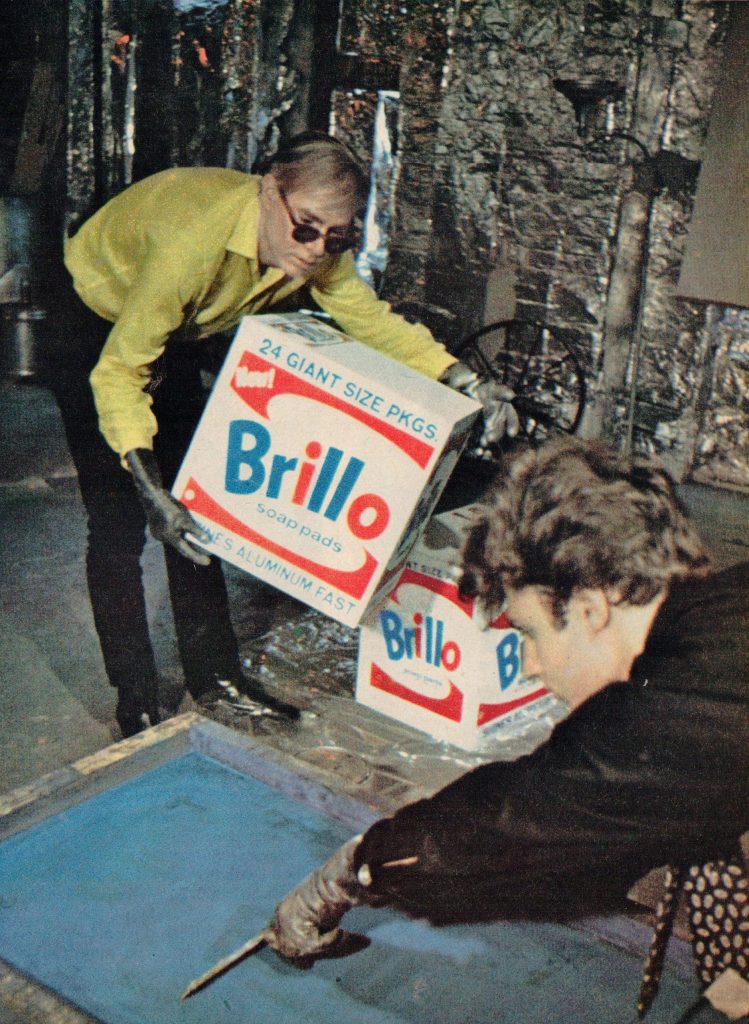 A $3m price tag may not make Brillo Box one of Andy Warhol's most expensive paintings. However, it is one of Andy Warhol's most famous art pieces, making our list thanks to an HBO documentary.
The documentary follows the journey of this box after it was bought for $1,000 by documentary director Lisanne Skyler's parents in 1969. They sold it within two years, having used the piece as a coffee table in their apartment – there are even photographs of Lisanne as a baby perched on top of it. Who would have known, all those years ago, that it would become a surprise hit?
5. Silver Car Crash (Double Disaster)
Until Shot Sage Blue Marilyn was sold at auction in 2022, Silver Car Crash (Double Disaster) had previously held the title of Andy Warhol's most expensive painting ever sold. Sold at Sotheby's in 2013, it was estimated that the piece would fetch in excess of £60m. In fact, it ended up being fought over by five bidders, before being sold to an unnamed bidder for an incredible $105 million.
Forming part of his "Death and Disaster" series, it may not be one of Andy Warhol's most famous art pieces or paintings, but it's certainly one of the largest. Measuring over 8ft by 13ft, its subject matter is pretty bleak. It features the aftermath of a car crash, with a mangled silver car and a twisted human body inside. Dominated by reflective silver paint, it's a piece with great contrasts between light and shadow – and one that was only once seen publicly in the 26 years before this sale.
6. Race Riot (in Four Parts)
Another one of Andy Warhol's most famous art series, Death and Disaster, Race Riot (in Four Parts) is based on a Charles Moore photograph from Life magazine. Depicting white police officers attacking black protesters, it's a piece that seems to have great political significance…although Warhol himself claims that it was simply a photograph that caught his eye.
What may surprise some is that Warhol did not ask Moore's permission before using the photo – Moore took legal action, and the case was settled out of court.
Originally created in 1964, this piece sold at Christie's in New York in 2014, 50 years later. At six feet wide, it is the largest of Warhol's Race Riot series – and the only one featuring panels in different colours.
Race Riot was expected to fetch an estimated $45m at auction. Instead, it cemented its place on this list of Andy Warhol's most famous and expensive paintings and art pieces by commanding a sale price of $62,885,000.
7. Men In Her Life
Marilyn Monroe wasn't the only actress to appear in the most famous (and expensive) art pieces and paintings of Andy Warhol's career. Elizabeth Taylor also found herself the subject of his attention in "Men In Her Life", a seven-foot high black and white painting based on photos that depict the most important men in the actress' life – Mike Todd and Eddie Fisher).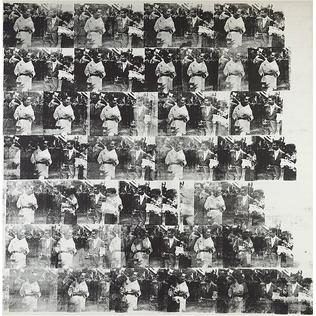 Its 1982 creation date makes this not only one of Andy Warhol's most famous paintings but also one of his earliest silkscreen works. This piece is one of a series of four – and one of just two of those that were created as a larger, multi-image piece. It proved to be a surprise hit when sold by Phillips in 2010, exceeding its $40,000,000 estimate to sell for $63,362,500.
8. Green Car Crash (Burning Green Car I)
Green Car Crash (Green Burning Car I) is another of Warhol's 1963 Death and Disaster series. After being owned privately for over 30 years, it was auctioned at Christie's with an estimate of $25m in 2007.
Until Silver Car Crash (Double Disaster), number 5 on our list, was sold at Sotheby's in 2013, Green Car Crash (Green Burning Car I) held the record for Andy Warhol's most expensive painting ever to be sold.
It fetched a sale price of $71,720,000 at Christie's – far exceeding the auction house's estimate.
Again, it's a piece full of death and destruction, based on photos taken by John Whitehead for Newsweek magazine of the aftermath of a police chase. After being pursued by the Seattle police, the driver crashed into a utility pole at 60mph after losing control of his vehicle.
While most of Andy Warhol's famous Burning Car paintings are in black and white, Green Car Crash (Green Burning Car I) is the only one to use a different colour.
9. Four Marlons
It's Marlon Brando who is the subject of the 1966 work Four Marlons, made up of four identical silkscreen images of the actor based on a still from the 1953 biker film, "The Wild One". It wasn't the first time he'd used Brando as a subject either. In 1963, one of Andy Warhol's most famous artworks was Silver Brando, the same publicity image of Brando on a large-scale silver canvas.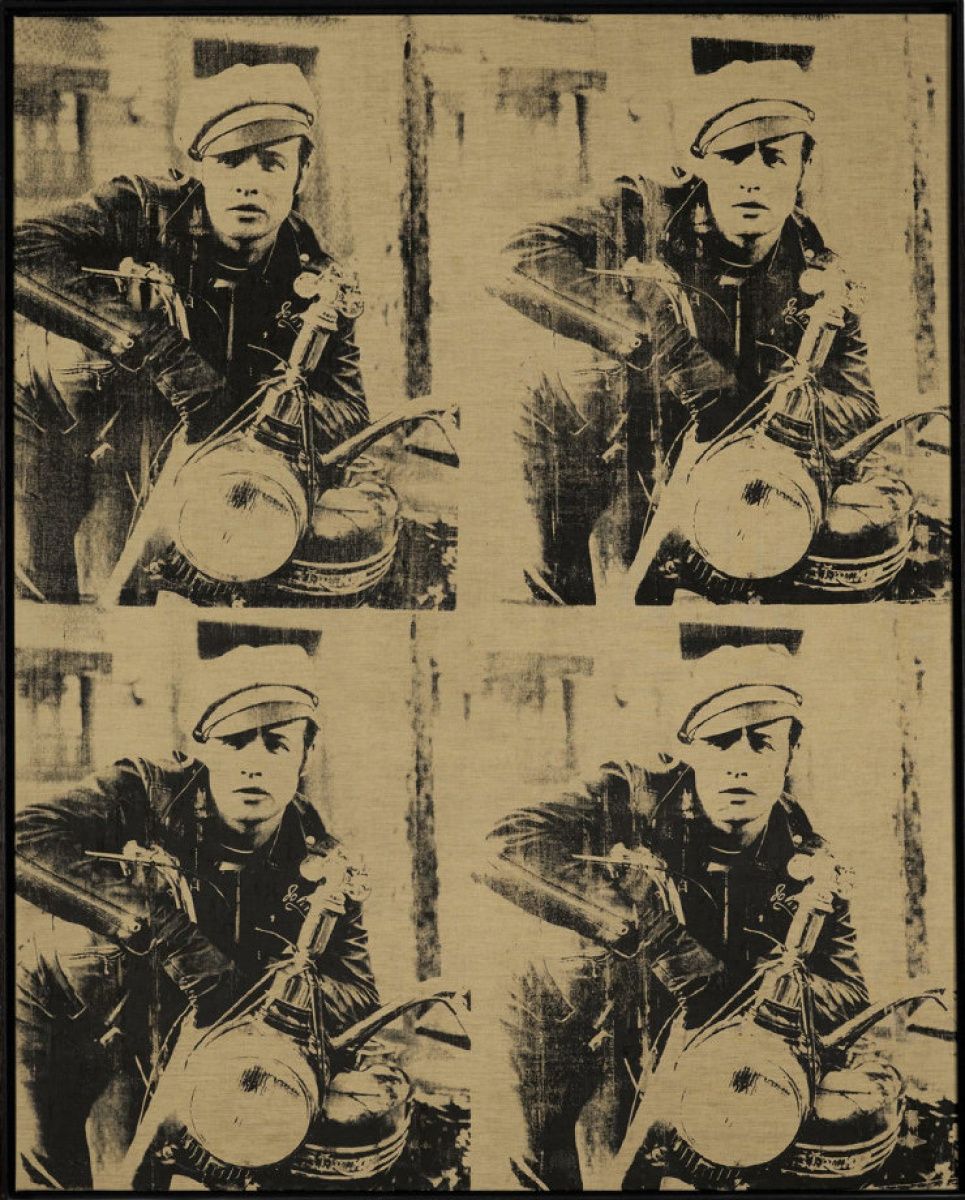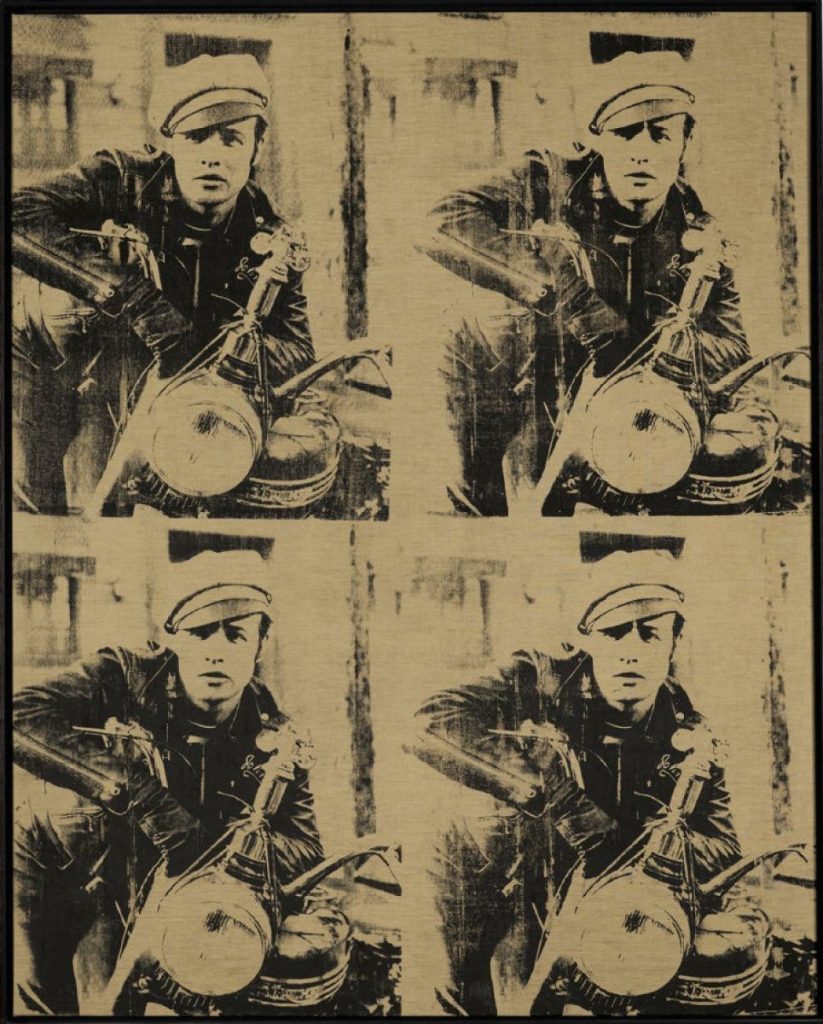 By using a raw, unprimed canvas for Four Marlons, Andy Warhol gave this piece a most subversive, edgy and masculine feeling compared with many of his other paintings and artworks. Measuring 81 x 65 inches, this is a sizeable piece that commanded an impressive sale price of $69,605,000 when it was auctioned at Christie's in 2014.
In fact, it was sold at the same auction as Triple Elvis, which takes the final spot on our list of Andy Warhol's most famous paintings and other art pieces.
10. Triple Elvis [Ferus Type]
Previously owned by a German casino house, Triple Elvis was sold to an anonymous European telephone bidder at Christie's in 2014. Including fees, it fetched $81.9m – over $20m above its original estimate.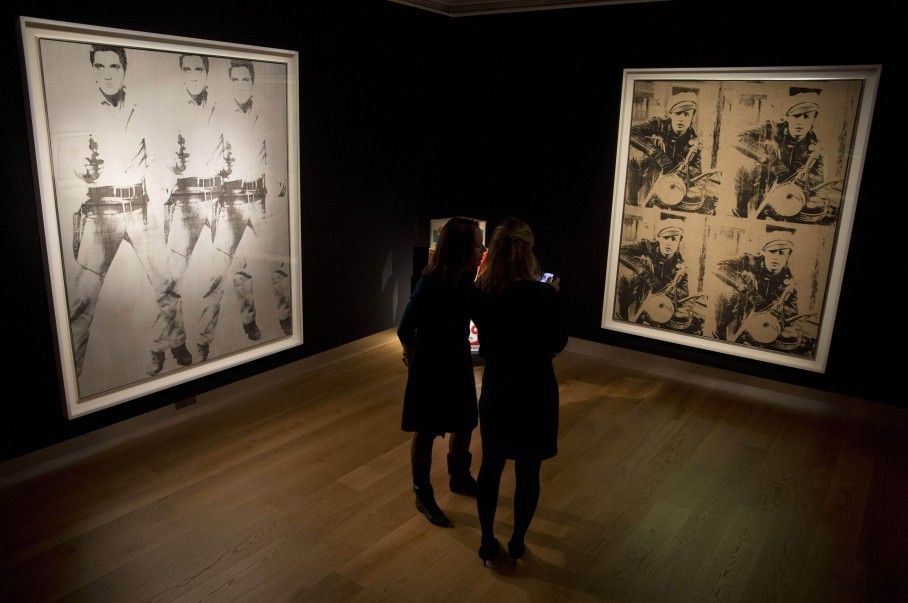 This silkscreen from 1963 uses ink and silver paint to display three identical pictures of Elvis, the canvas standing at almost seven feet tall. Cinema fan Warhol took his inspiration from the silver screen – which perhaps dictated his colour choices for this piece. The photograph he chose – unlike his previous works featuring Elvis – was a publicity still from an Elvis film, the 1960 Don Siegel-directed western, Flaming Star.
Triple Elvis [Ferus Type] is one of 22 Elvis paintings in this collection. When originally displayed, Warhol had requested that the paintings "should be hung edge-to-edge, densely—around the gallery…"
To summarize, some of Andy Warhol's most famous
and expensive artwork includes: 
How to evaluate your valuable Andy Warhol Art & paintings
New Bond Street Pawnbrokers are a discreet, luxury pawnbroking service including borrowing against fine art and a variety of artists like Andy Warhol, Bernard Buffet, Damien Hirst, David Hockney, Marc Chagall, Raoul Duffy, Sean Scully, Tom Wesselmann, Tracey Emin, Banksy, and Roy Lichtenstein to name just a few.
This post is also available in:

Français (French)

Deutsch (German)

Italiano (Italian)

Português (Portuguese (Portugal))

Español (Spanish)

Български (Bulgarian)

简体中文 (Chinese (Simplified))

繁體中文 (Chinese (Traditional))

hrvatski (Croatian)

Čeština (Czech)

Dansk (Danish)

Nederlands (Dutch)

हिन्दी (Hindi)

Magyar (Hungarian)

Latviešu (Latvian)

polski (Polish)

Português (Portuguese (Brazil))

Română (Romanian)

Русский (Russian)

Slovenčina (Slovak)

Slovenščina (Slovenian)

Svenska (Swedish)

Türkçe (Turkish)

Українська (Ukrainian)

Albanian

Հայերեն (Armenian)

Eesti (Estonian)

Suomi (Finnish)

Ελληνικά (Greek)

Íslenska (Icelandic)

Indonesia (Indonesian)

日本語 (Japanese)

한국어 (Korean)

Lietuvių (Lithuanian)

Norsk bokmål (Norwegian Bokmål)

српски (Serbian)

Tamil
---
---

---
Authorised and Regulated by the Financial Conduct Authority