I hope you enjoy this blog post.
If you want us to appraise your luxury watch, painting, classic car or jewellery for a loan, click here.
Top 10 Most Famous (and Expensive) Jean-Michel Basquiat Paintings & Art as of 2023
October 23, 2022
Before we get into discussing the most famous and expensive paintings and art pieces by Jean-Michel Basquiat, it is important to understand his background, and the influence it had on his artwork throughout the years.
Introducing Jean Michel Basquiat
While the late street artist turned expressionist painter Jean-Michel Basquiat may have met a tragic and untimely death in the late 1980s, but his most famous paintings and artwork are still making a stir in the art world. Recently becoming the most expensive artist of his generation, Basquiat has firmly rooted himself as one of the most coveted artists in the world, rivaling Pablo Picasso and Andy Warhol.
Childhood
The origins of Jean Michel Basquiat are, however, humble ones. Basquiat, the son of a Haitian father and a Puerto Rican mother, began his life far away from the sophistication of the high-class art world he would one day experience. Basquiat was a self-taught artist, with a love for art instilled within him by his mother, who took him to Manhattan art museums and encouraged his talent for drawing and painting. In future years, Basquiat would credit his mother for starting him on the course of becoming a self-taught artist.
From a young age, Basquiat exhibited a great amount of talent, not only in artistic flair but also in a passion for language. By the age of seven, he was fluent in French, Spanish, and English.
Basquiat drew on many influences during his childhood when it came to his later works, such as his parents' heritage and the famous medical work Grey's Anatomy, which was given to him during his recovery from a car accident at the age of eight.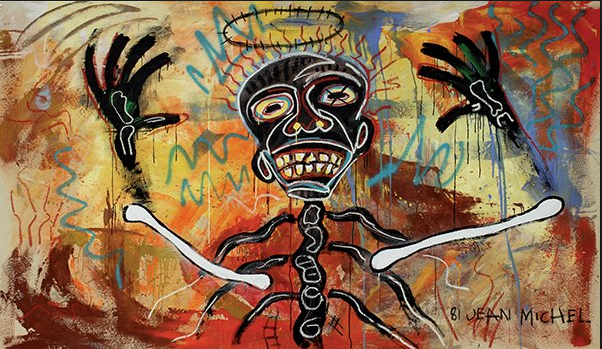 Beginnings as a graffiti artist
After his mother was admitted into a mental institution when Basquait was thirteen, his home-life with his father began to deteriorate. After dropping out of school at the age of fifteen, Basquiat was kicked out of his home by his father and found himself homeless.
In this same year, Basquiat and his friend Al Diaz began to spray paint graffiti onto, or 'tag', buildings in Lower Manhattan, both working under the pseudonym 'SAMO'. The works of street art often featured short poems or meaningful slogans, and this was the beginning of Basquiat's break into the art scene. After the end of the partnership between Basquiat and Al Diaz in 1979, Basquait began tagging areas of Manhattan with the slogan 'SAMO IS DEAD'.
In 1979, Basquiat gained moderate success, due to his part in the rock band 'Gray' performing at local nightclubs. This same year, Basquait began to exhibit less famous paintings and art pieces from the SAMO brand, which he would continue to do throughout the beginnings of his career.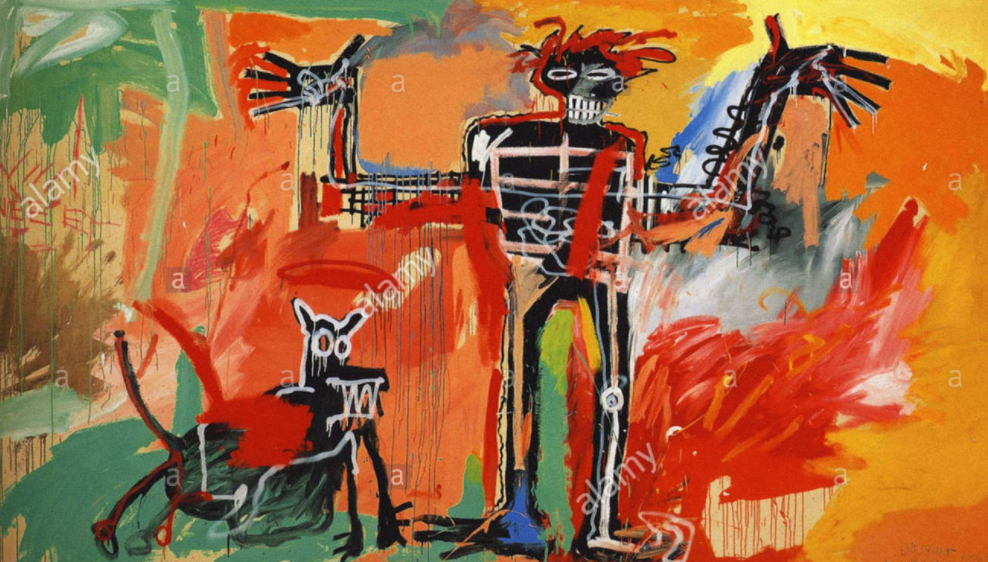 Career take off

The early 1980s began Basquiat's breakthrough as a solo artist. He participated in his first public exhibition, the now iconic 'Times Square Show', which featured work by over 200 different artists.
Basquiat's first solo show was in 1982 at the Annina Nosei gallery, and he went on the same year to open five more solo shows. By this point, his paintings and artwork were famous, were commonly featured alongside other Neo-expressionist artists of the time, and he was seen as a formidable figure in the art world.
In 1982, Basquiat worked briefly with musician and artist David Bowie, and between 1983 and 1985 Basquiat and Andy Warhol worked on a series of collaborative paintings.
In 1985, a New York Times Magazine feature article claimed Basquiat to be the top young American artist of the 1980s. This was, however, around the same time Basquiat was becoming increasingly addicted to heroin, which resulted in his untimely death in 1988, aged only 27.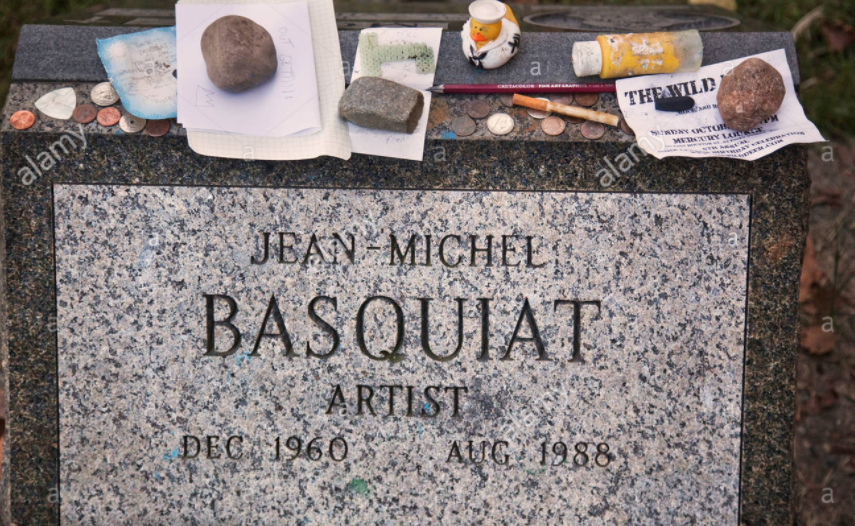 Legacy
Despite his short life and career, Jean-Michel Basquiat made a great impact in the art world, producing some of the most famous and expensive paintings and art of his generation. Basquiat played a huge part in the rise of Punk Art and Neo-expressionism in the New York art scene. Basquiat frequently used modes of social commentary in his paintings, as well as critiques of racism, colonialism, and class struggle.
In May 2017, Jean-Michel Basquiat's painting 'Untitled' was sold at auction for over $110m (£85m), setting the record for the highest amount paid for a piece by a U.S artist at auction, as well as the most expensive piece of art by a Black artist. The painting is the second piece by the Brooklyn-born artist to fetch a hefty price in recent years, with another fetching $57.3m at auction the previous year.
Jean-Michel Basquiat most famous art and paintings remain a source of inspiration for contemporary artists and is still exhibited around the world today.
Top 10 Most Famous Jean-Michel Basquiat Paintings & Art as of 2023
1. Untitled, 1982
Some of the most famous Jean-Michel Basquiat paintings ever sold have fetched impressive sums, but none quite as high as 'Untitled' (1982).
Painted in what is considered his prime year, Untitled was sold during an evening auction at Sotheby's Contemporary Art in New York for more than $110m (£85m).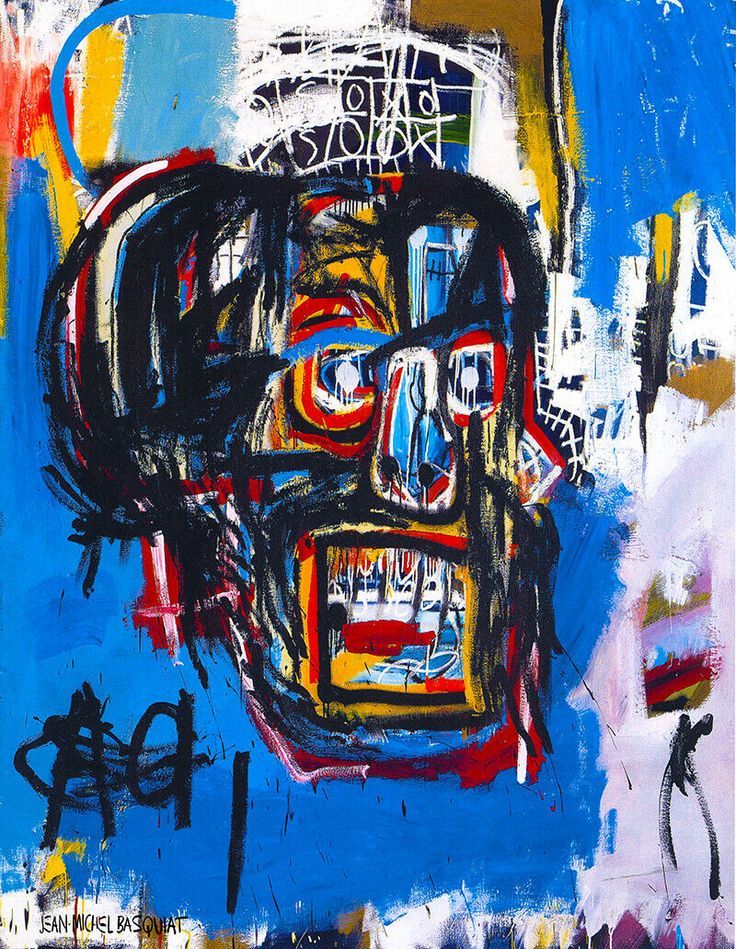 Bought in May 2017 by Japanese entrepreneur and art collector Yusaka Maezawa, this was a new record for the highest price paid for a U.S. artist's work at auction. This is a record that was only recently beaten by Basquiat's friend and collaborator, Andy Warhol. The two worked on around 100 paintings together before Warhol's death, which was closely followed by Basquiat's less than two years later in 1988.
The record was broken by Warhol's 'Shot Sage Blue Marilyn', which was sold for $195 million in May 2022. 'Untitled' is also the most highly-priced artwork created by a black artist.
2. In This Case, 1983
Amongst the most expensive Jean-Michel Basquiat artworks is 'In This Case', a piece created as one-third of a triptych. It was most recently acquired at Christie's New York in May 2021 for $93.1 million. This makes it the second-highest auction price paid for a Basquiat painting, after only its accompanying skull piece, 'Untitled' (1982).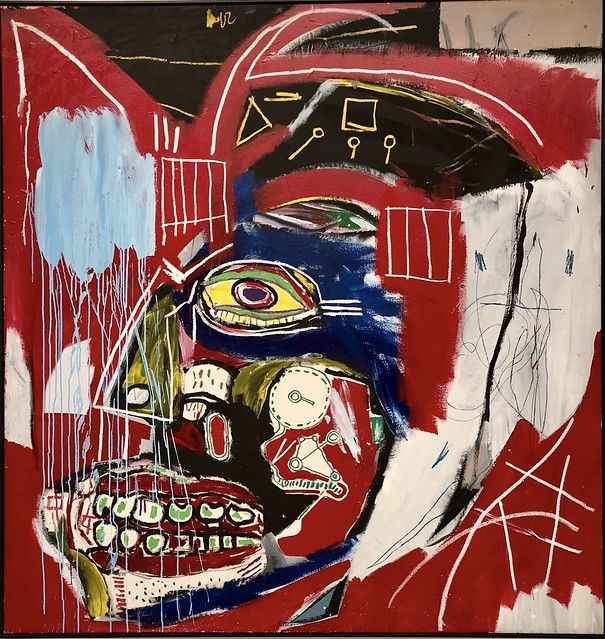 Alongside 'In This Case', the famed skull trio includes the record-breaking 'Untitled' (1982) which is Basquiat's most expensive work, and 'Untitled' (1981), which was the first of the enormous skull creations to be painted.
'In This Case' is the only named work in the collection. As three of the most famous Jean-Michel Basquiat paintings ever made, the group were displayed all together for the first time in 2018 at a Paris exhibition dedicated to the artist, put on by Foundation Louis Vuitton.
3. Untitled (Devil), 1982
'Untitled (Devil)' depicts the head of a devil, which has been suggested to be a self-portrait of the artist himself as the devil. This is one of the most famous Jean-Michel Basquiat art pieces and was sold by the previous owner, Yusaka Maezawa, at Phillips' 20th Century & Contemporary Art Evening Sale in New York. There, it reached an impressive $85 million.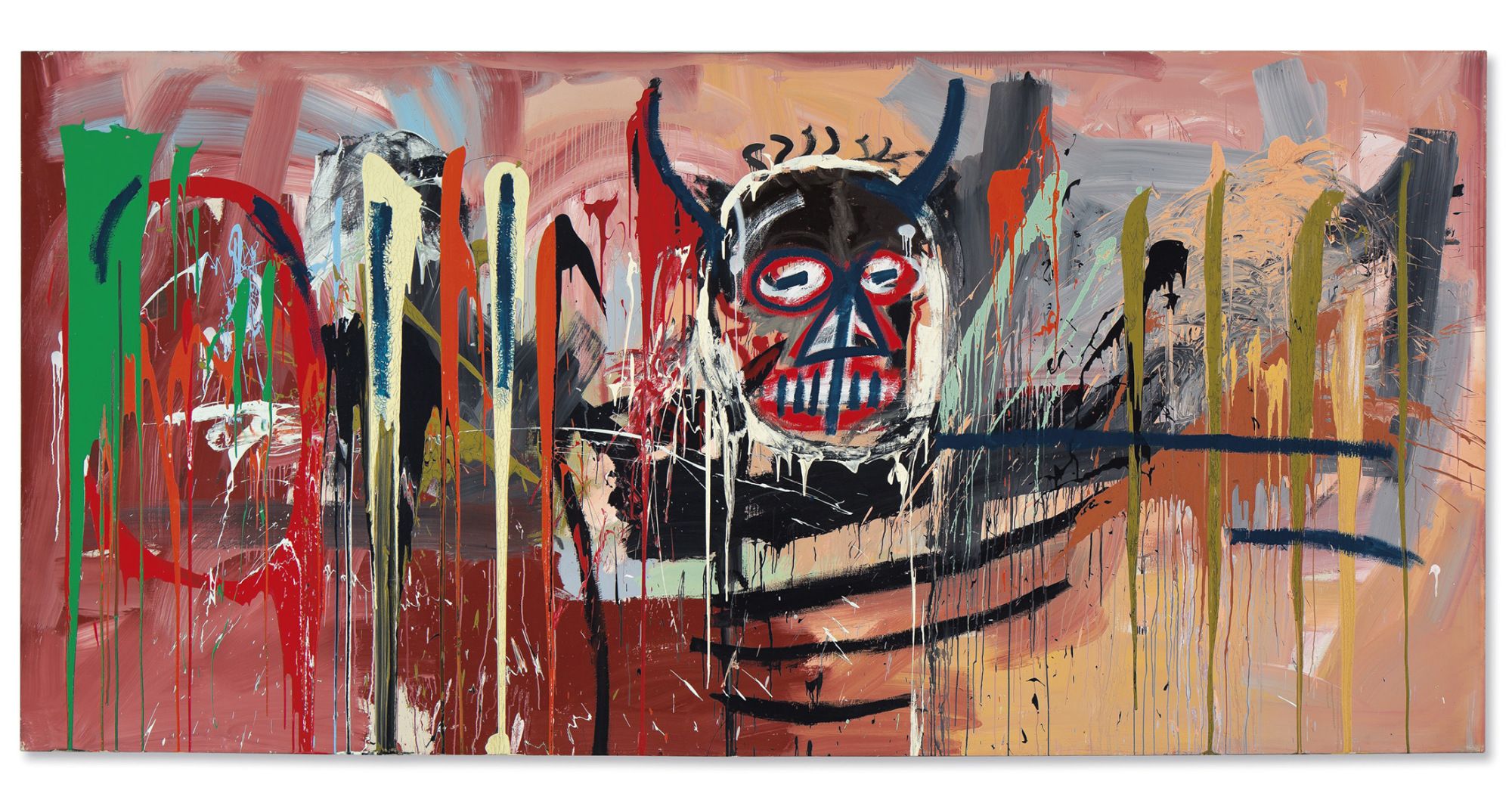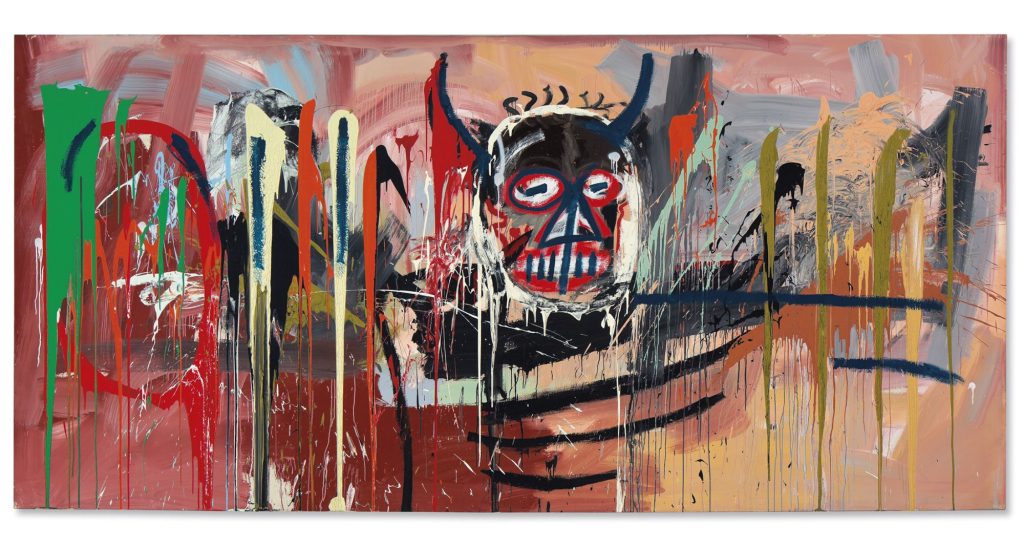 When 'Untitled (Devil)' was sold to Maezawa in 2016, it was the highest-selling of Basquiat's paintings. It was only beaten when the same buyer purchased another Basquiat work at an auction a year later.
The painting is known for its size, measuring a huge 8 feet tall and stretching to around 16 feet wide. With these dimensions, it's the biggest painting of the series Basquiat completed during his two trips to Modena in 1981 and 1982.
4. Versus Medici, 1982
This renowned Jean-Michel Basquiat artwork was sold at Sotheby's in May 2021 for $50.8 million.
The painting is a direct reference to the Medici family, a family of Italian bankers that slowly grew in prosperity until they were able to form the Medici Bank. They were thought to be the richest family in all of Europe.
In the painting, Basquiat is considered to be placing himself in succession to the great renaissance artists before him.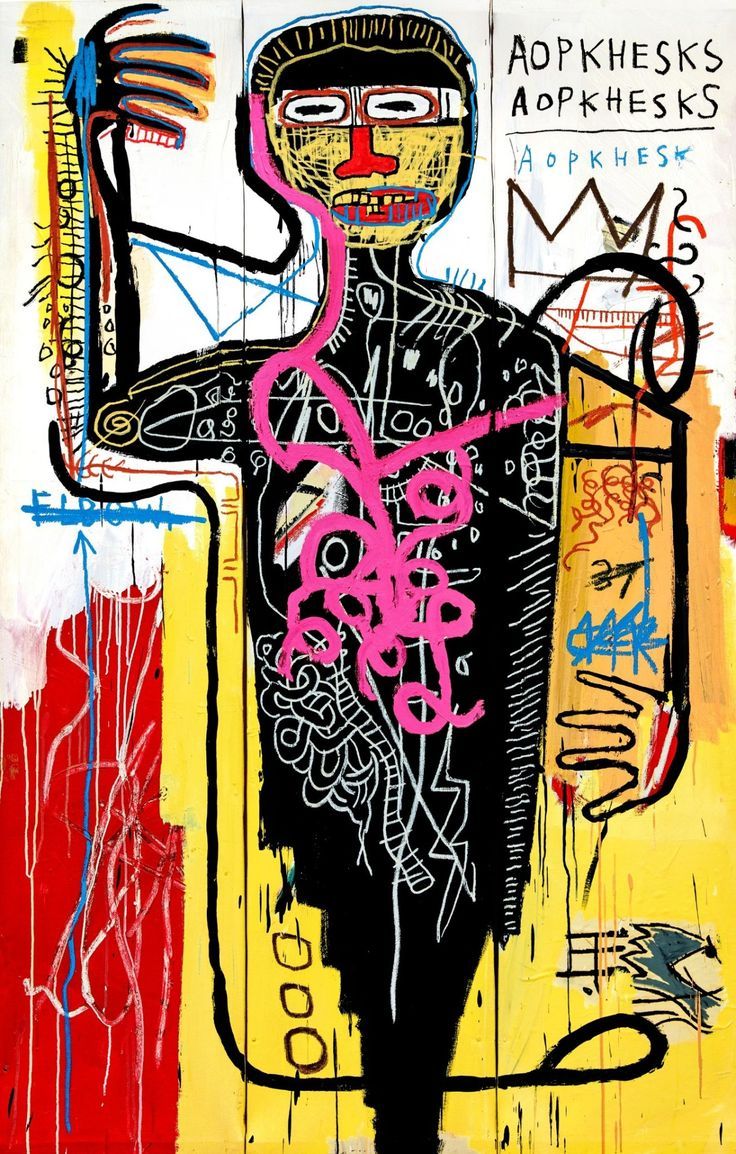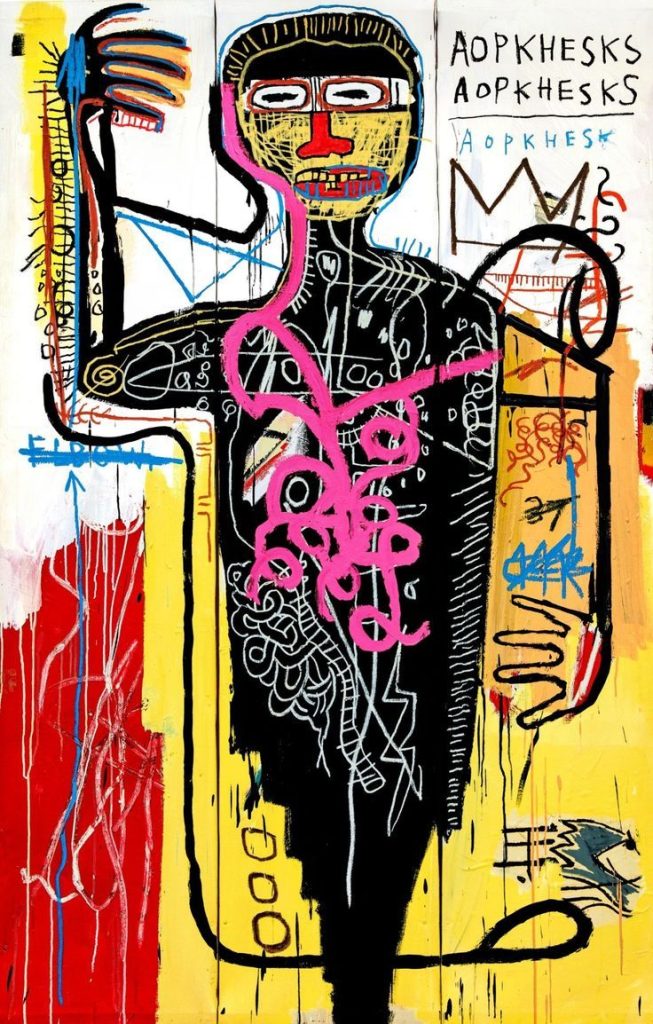 This piece was created when the artist was only 21, so the beginning of his career. The studio assistant who worked with Basquiat at the time has reported that he was very interested in the renaissance period – Leonardo da Vinci and Michelangelo, in particular. This is clear in 'Versus Medici' and solidifies the claims that the painting is placing Basquiat at the forefront of the art world, as a successor to his more famous counterparts.
5. Dustheads
Considering it's one of the most famous Jean-Michel Basquiat paintings ever made, 'Dustheads' has had a troubled journey in the art dealing world.
It was sold in May 2013 to Jho Low, a businessman who acquired the painting for $57.3 million at a Christie's auction. At the time, this was a record price for Basquiat's artwork.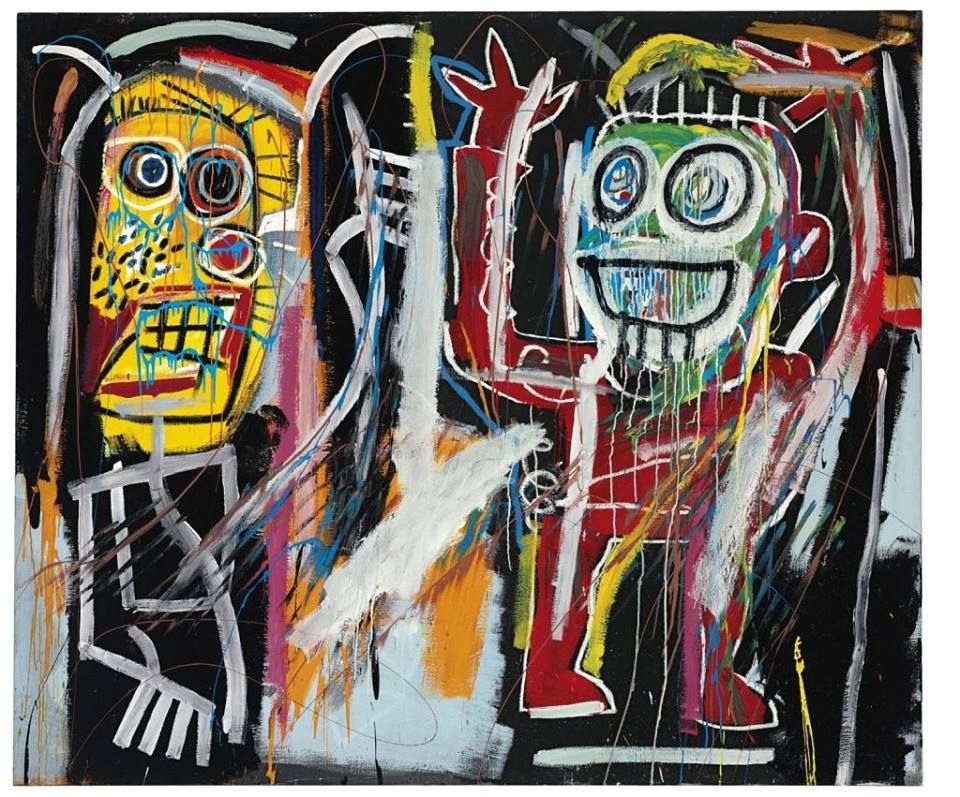 However, Low was later embroiled in a controversy surrounding the misappropriation of funds from the government-led company, 1Malaysia Development Berhad, to support his lavish lifestyle and enable him to buy multiple expensive artworks.
Low subsequently used 'Dustheads' as collateral, leading to it being returned to Sotheby's when the businessman could not fulfill his loan.
As a result, the painting was sold to Daniel Sundheim privately for only $35 million. This significant drop in price is largely due to the situation surrounding the sale of the piece, not the demand for or value of Jean-Michel Basquiat's artwork.
6. Flexible, 1984
The auction house Phillips made a deal with the Basquiat estate, comprising the artist's two sisters, to sell all remaining Jean-Michel Basquiat artwork.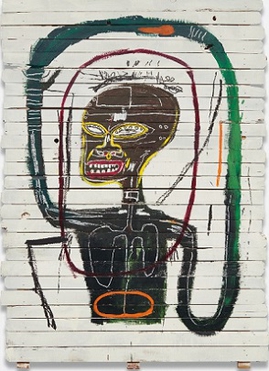 'Flexible' was one of the works sold as a result of this arrangement and was put up for auction at a surprisingly low $20 million. In the end, the piece was bought for $45.3 million, a more fitting figure considering the price of the artist's other works. This sale was finalised after a heated bidding war.
The piece is one of the biggest Basquiat paintings that has ever been put up for auction, standing at eight and a half feet. It is also unusual in that instead of canvas, the piece is painted on a series of fence slats, which makes it quite unique amongst his other work.
7. Warrior, 1982
Amongst the most famous Jean-Michel Basquiat art pieces is 'Warrior', a piece that depicts the eponymous figure against a contrasting background. There is speculation that this is another self-portrait of sorts and signifies Basquiat's experience and creativity as a black artist in the 1980s.
Warrior has seen an immense increase in value of around 380% between its last two sales. In 2012, it was bought at Sotheby's for only $8.7 million. After a nine-year gap, the painting was put up for auction in Hong Kong at Christie's single lot sale and reached an enormously inflated $41.9 million.
The motif of a crowned figure appears again in this painting, and the character holds a sword. Since its last sale, it has become the most expensive Western artwork sold at an Asian auction house.
8. The Field Next to the Other Road, 1981
In contrast to some of the most famous paintings and art Jean-Michel Basquiat created, 'The Field Next to the Other Road' is known for being one of the very slim numbers of paintings by the artist which includes fully recognisable characters. It stemmed from a time in which Basquiat was particularly enraptured by halos, skeletons and allegorical imagery.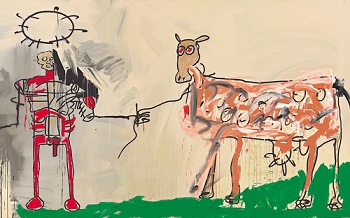 The painting was created when Basquiat was invited to Modena by Emilio Mazzoli, an Italian art dealer. While there, Basquiat created a series to show at his first solo exhibition for Galleria d'Arte Emilio Mazzoli in May 1981. 'The Field Next to the Other Road' was one of the pieces in this series.
This Jean-Michel Basquiat artwork was sold at Christie's for $37.1 million in 2015. There was some contention over this, however, as the auction company later demanded full repayment from the Mugrabi family, who bought the painting on behalf of a client who later backed out. The Mugrabis eventually paid the full sum and gained ownership of the painting.
9. La Hara, 1981
'La Hara' may not be one of the most famous Jean-Michel Basquiat paintings or art pieces, but it's of high importance historically. The piece demonstrates a time when Basquiat visually acknowledged the violence that had been faced by urban communities, a repeated theme in his work.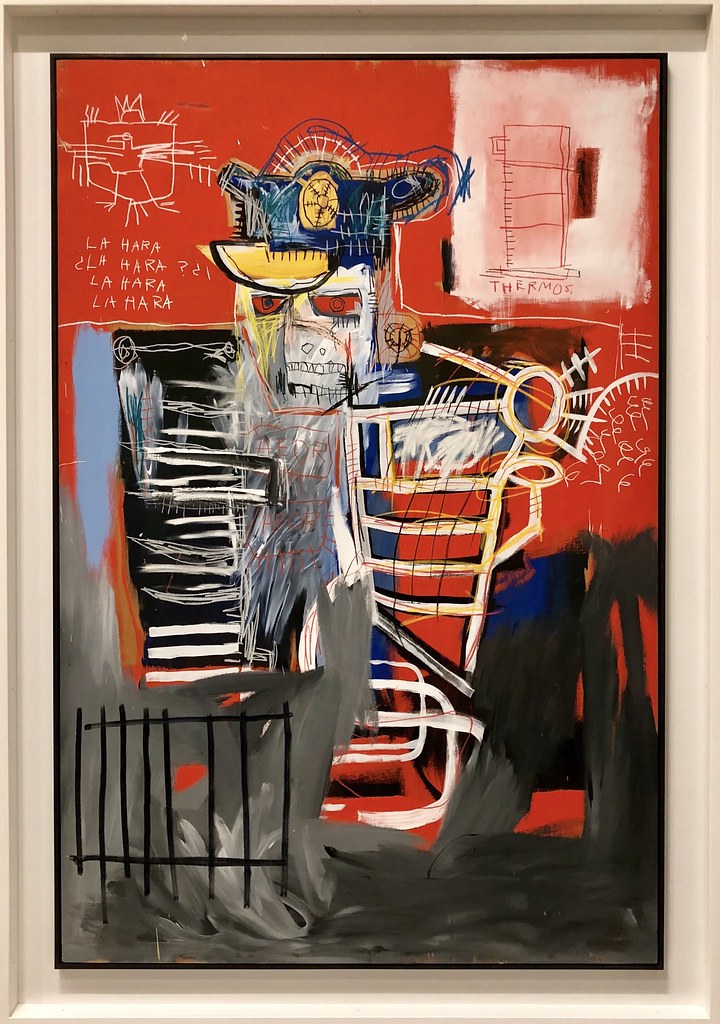 This Jean-Michel Basquiat artwork features a skeleton-style policeman who stands behind bars. The painting also includes symbols of authority surrounding the figure. As well as this, the title is slang for 'cop', which nods to the culture in which Basquiat grew up and began his artistic career.
The painting was most recently sold for $35 million at Christie's in 2017, exceeding its estimated $28 million. Since then, it has been shown at the "Basquiat's Defacement" exhibition in 2019, contributing to an event surrounding the killing of Michael Stewart by police.
10. Untitled, 1981
Of all the most famous Jean-Michel Basquiat paintings and art, this piece, which is sometimes referred to as 'Tar Tar Tar, Lead Lead Lead', is one of the most important. Painted in the same year of his first solo exhibition – when he established himself as an artist outside of his collaborative street origins under the name SAMO – this piece was bought on sight by the collector Anita Reiner.
It wasn't sold again until after her death, when it came to auction in May 2014 at Christie's. Here, the painting sold for $34.9 million, beating its presale estimate range.
The piece depicts a crowned warrior, holding a sword and arrows and baring his teeth. The title is also reminiscent of war cries, suggesting the figure has won his place in the same way that Basquiat battled for his title as a prolific artist and international star, despite his short life.
To summarize, some of the most famous and expensive art and paintings by Basquiat include:
Valuing your Jean-Michel Basquiat Art & Paintings
New Bond Street Pawnbrokers are a discreet, luxury pawnbroking service facilitating borrowing against fine art and a variety of artists like Andy Warhol, Bernard Buffet, Damien Hirst, David Hockney, Marc Chagall, Raoul Duffy, Sean Scully, Tom Wesselmann, Tracey Emin, Banksy, and Roy Lichtenstein to name just a few.
This post is also available in:

Français (French)

Deutsch (German)

Italiano (Italian)

Português (Portuguese (Portugal))

Español (Spanish)

Български (Bulgarian)

简体中文 (Chinese (Simplified))

繁體中文 (Chinese (Traditional))

hrvatski (Croatian)

Čeština (Czech)

Dansk (Danish)

Nederlands (Dutch)

हिन्दी (Hindi)

Magyar (Hungarian)

Latviešu (Latvian)

polski (Polish)

Português (Portuguese (Brazil))

Română (Romanian)

Русский (Russian)

Slovenčina (Slovak)

Slovenščina (Slovenian)

Svenska (Swedish)

Türkçe (Turkish)

Українська (Ukrainian)

Albanian

Հայերեն (Armenian)

Eesti (Estonian)

Suomi (Finnish)

Ελληνικά (Greek)

Íslenska (Icelandic)

Indonesia (Indonesian)

日本語 (Japanese)

한국어 (Korean)

Lietuvių (Lithuanian)

Norsk bokmål (Norwegian Bokmål)

српски (Serbian)

Tamil
---
---

---
Authorised and Regulated by the Financial Conduct Authority