Top 10 Most Expensive Hermes Bags In The World Ever Produced As Of 2021
January 12, 2021
This post is also available in:

Français (French)

Deutsch (German)

Italiano (Italian)

Português (Portuguese (Portugal))

Español (Spanish)

Български (Bulgarian)

简体中文 (Chinese (Simplified))

繁體中文 (Chinese (Traditional))

hrvatski (Croatian)

Čeština (Czech)

Dansk (Danish)

Nederlands (Dutch)

हिन्दी (Hindi)

Magyar (Hungarian)

Latviešu (Latvian)

polski (Polish)

Português (Portuguese (Brazil))

Română (Romanian)

Русский (Russian)

Slovenčina (Slovak)

Slovenščina (Slovenian)

Svenska (Swedish)

Türkçe (Turkish)

Українська (Ukrainian)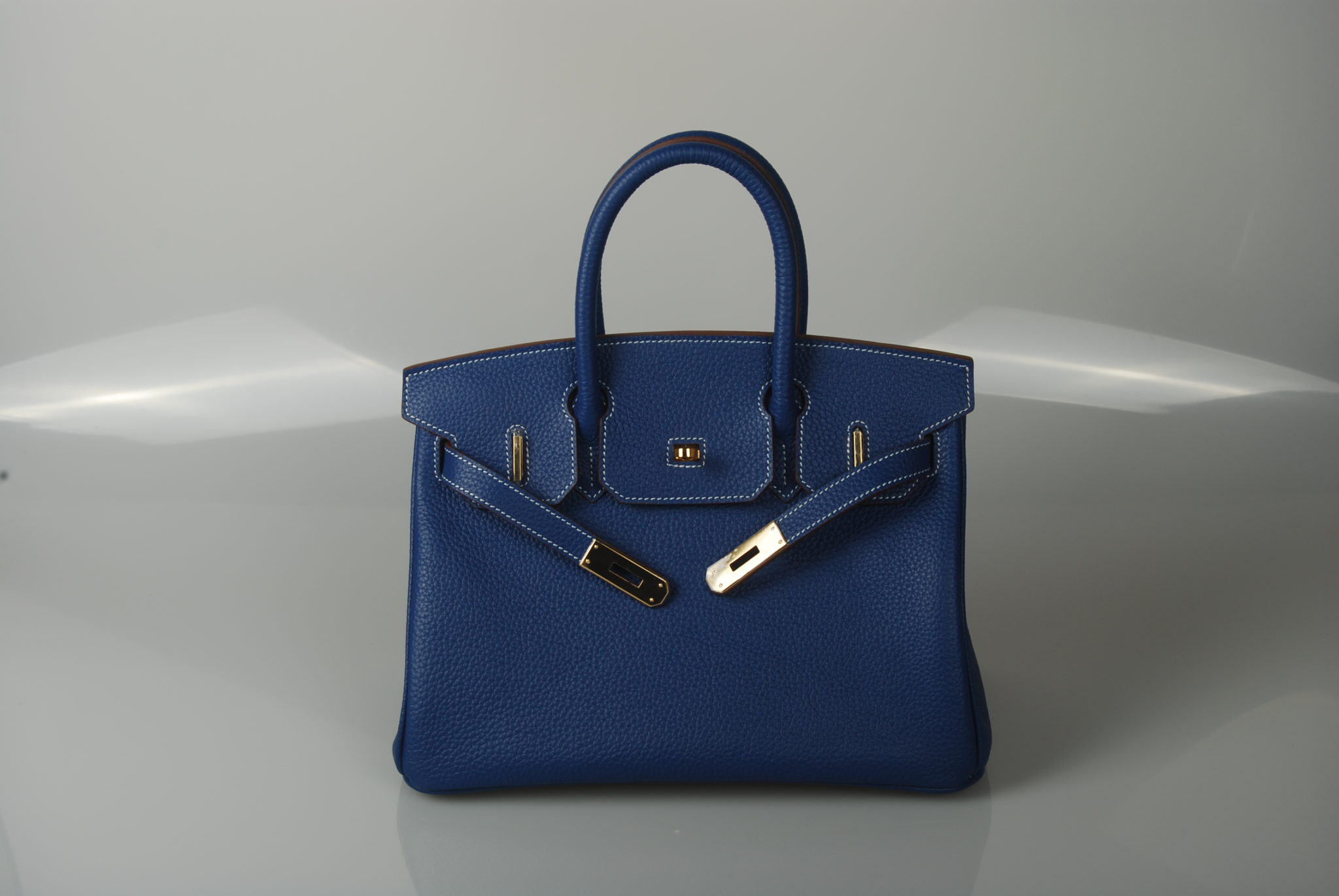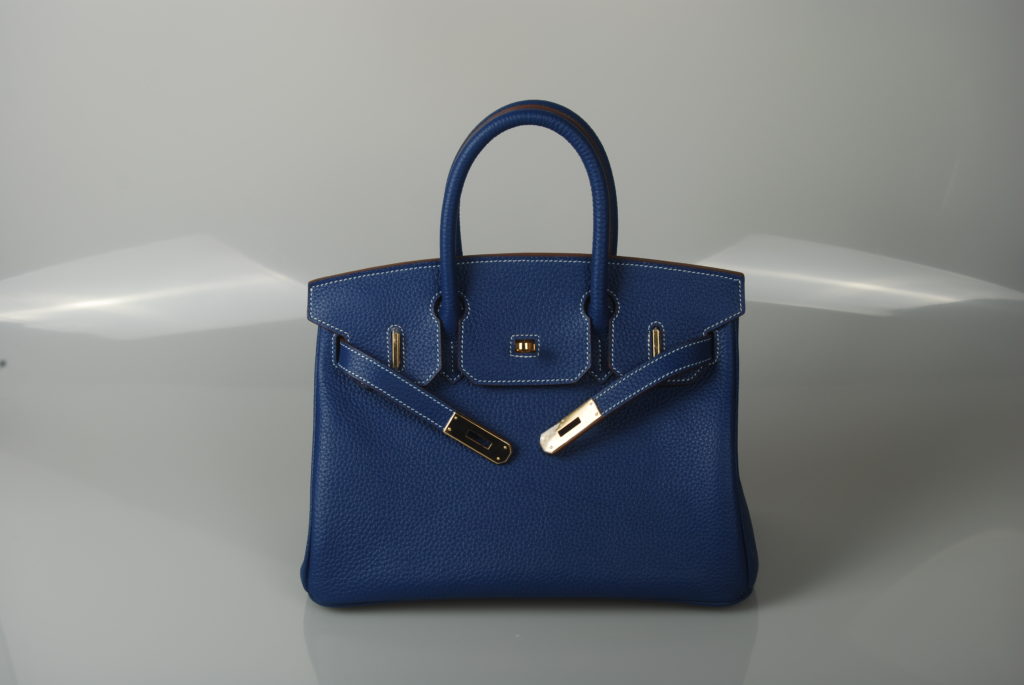 The history of Hermes
We cannot start a discussion about the most expensive Birkin bag (which is also the most expensive Hermes bag overall) without a good understanding of the brand's history and heritage. Hermes is a French high-end fashion luxury goods designer and manufacturer which was founded in 1837. This highly respected brand specializes in luxury goods and accessories, perfume products, leather, and ready-to-wear products, and most importantly, the most expensive handbags in the world. The company is arguably most famous for its most expensive Birkin bags, a handbag brand which is most commonly sported by celebrities and which was named after actress/singer Jane Birkin.
Combining their reputation and class, sublime designs, and the high-end materials used in making the handbags, some of these handbags have been able to attain very high prices. Take a look below at 10 of the most expensive Birkin handbags (and not only) ever produced by Hermes.
The story behind the iconic Hermes brand is not the story one might imagine. Old and August the fashion house may undoubtedly be, but its beginnings are steeped not in the glamour and glitz of high society, but the humble story of a harness maker.
Family-owned for five generations, Hermes today represents the very epitome of haute couture, yet two centuries ago, Thierry Hermes began his professional life as a leather maker. Renowned for producing high-quality equestrian goods, he was the seemingly unremarkable son of a French immigrant father and a German mother, with nothing exceptional expected of him.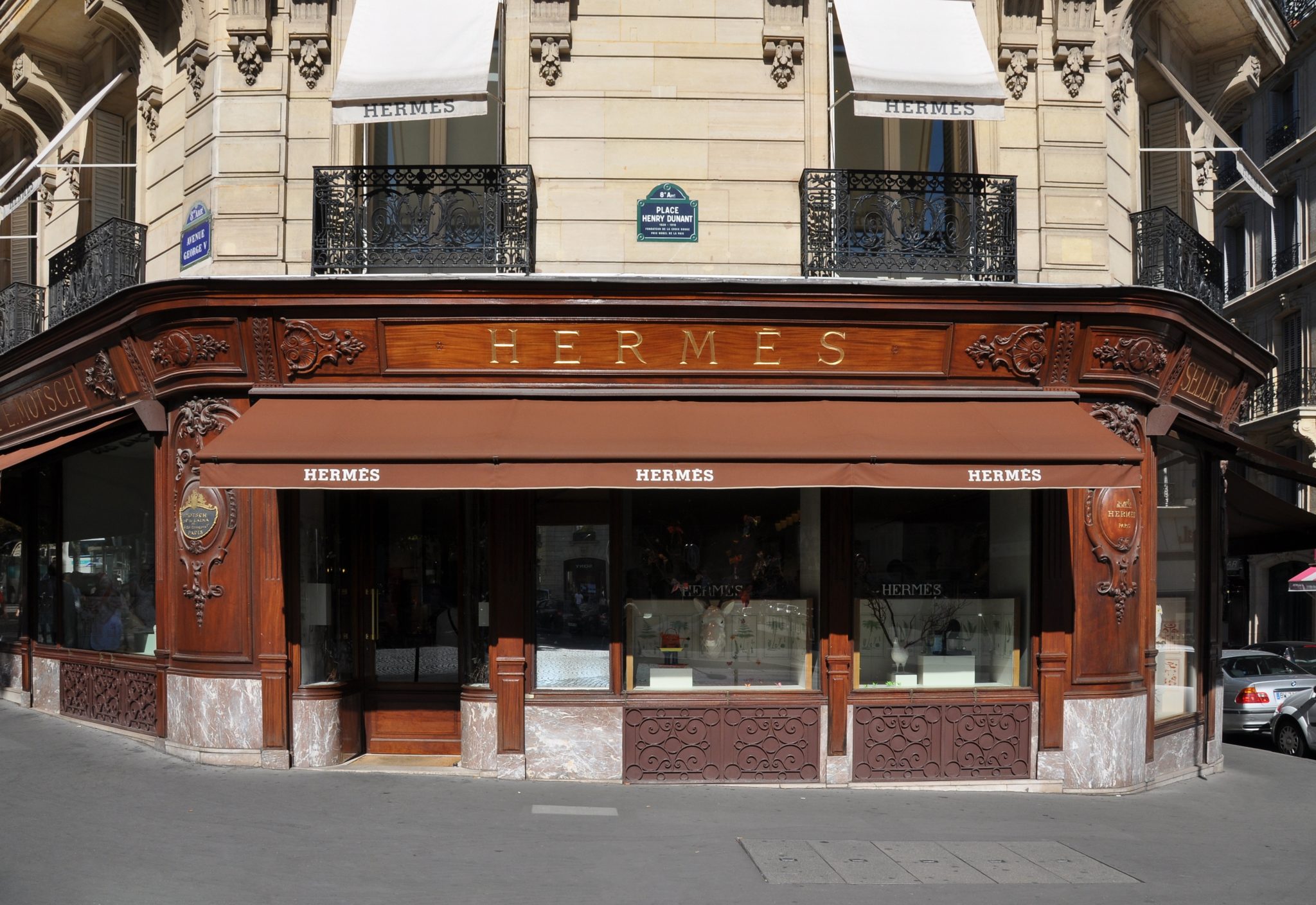 Beginnings
The history of Hermes starts with Thierry Hermes who was born in 1801, in the town of Krefeld. Fittingly for a man who would go on to become the father of a fashion empire, it was a place famed for its exquisite textiles, which earned Krefeld the rather romantic epithet of the 'city of velvet and silk'.
Aged 27, Thierry and his family relocated to be close to another fashion capital. Setting up shop in Pont Audemer, a little north of Paris, the head of the Hermes' family took up leather making and harness crafting, with his beautiful pieces soon sought after by the great and the good.
Establishing the House of Hermes in Paris nine years later, Thierry opened a workshop on the Grand Boulevard, with noblemen from across the continent coming to him for the exquisite harnesses and bridles he was reputed to produce.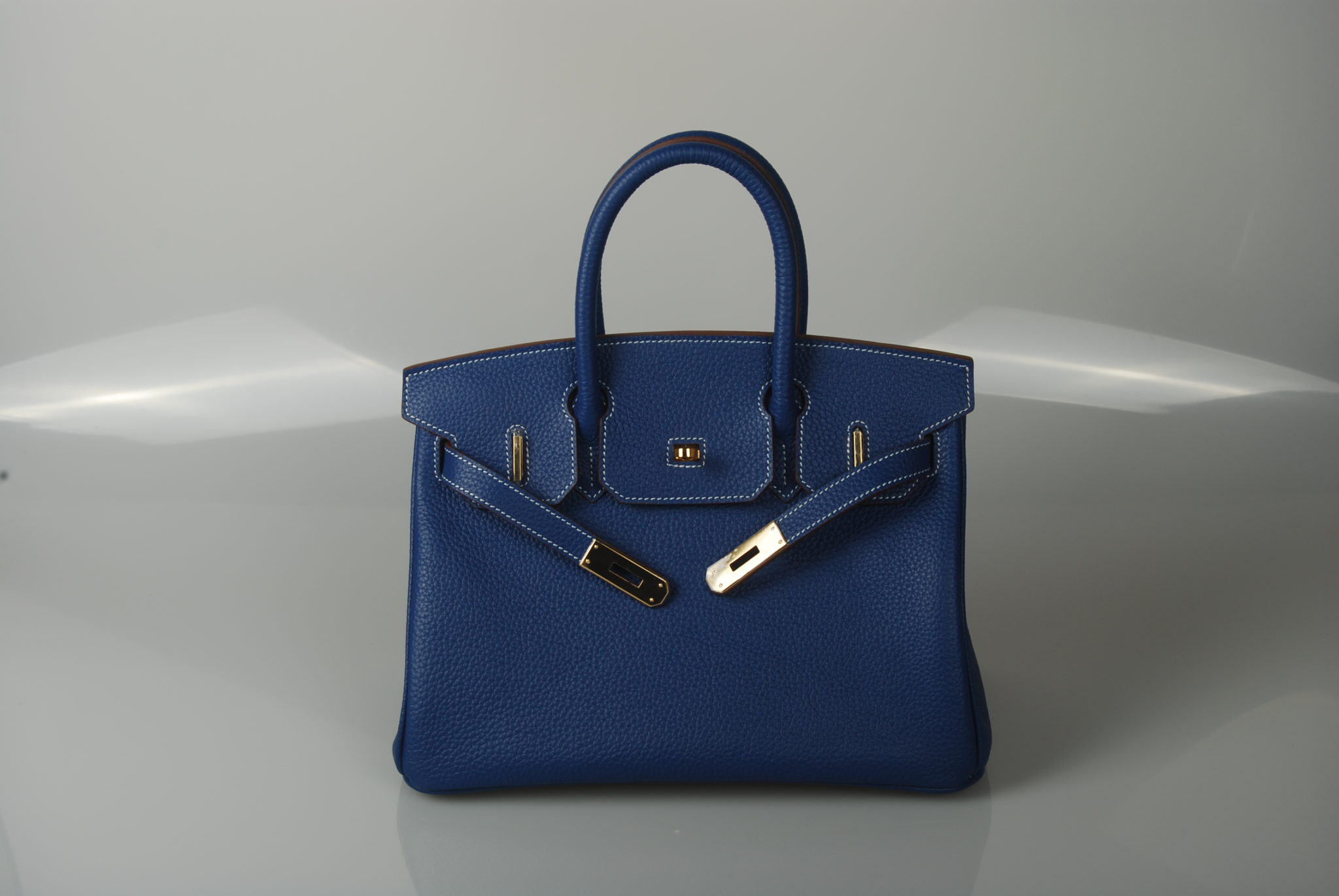 An equestrian outfitter par excellence
By the time Thierry died in 1878, the House of Hermes was an equestrian outfitter par excellence. Decorated over and over, they boasted a distinguished and devoted clientele, providing opportunities previously undreamt of for his son and heir Charles-Emile to capitalise on.
And capitalise he did. Moving his father's famed enterprise to 24 Rue du Fauborg Saint-Honore, where it remains to this very day, Charles-Emile continued to act as an artisan saddler, extending Hermes' fame across the globe, through Europe into Russia, North Africa, Asia, and eventually the Americas.
It was in 1900 that the first Hermes' bag was produced – the product that would go on to become the fashion line's most beloved staple. Designed to transport saddles, the Haut a Courroies joined the talents of Charles-Emile with his sons Adolphe and Emile-Maurice, who would take over two years later upon his retirement.
Branching out
In 1914, Emile-Maurice managed to secure the custom of the Russian czar, who used Hermes saddles exclusively. By this point employing 80 specialist saddle makers to keep up with demand, the company became the first in France to use zippers, which they gained exclusive rights to.
Capitalising on their invention, they introduced a line of leather golf jackets in 1918, which had been specially crafted for the English heir to the throne, Edward, Prince of Wales, with the zipper incorporated into its design becoming known throughout France as the 'Hermes fastener'.
By 1919, sales of horse harnesses and equestrian equipment were in decline. The family knew it needed to refocus its efforts elsewhere, so three years later, they introduced the first of their leather Hermes handbags in response.
The idea was inspired by Julie Hermes, who was married to Emile-Maurice. After she repeatedly complained of not being able to find a bag to her liking, her husband decided to produce a scaled-down version of the Haut a Courroies, which he personally took the time to design.
This change in tactics was an unequivocal success, and two years later the company was able to establish premises in the United States, as well as opening two new stores in their French homeland. Within another five, they were unveiling their first women's couture collection, which was previewed in Paris.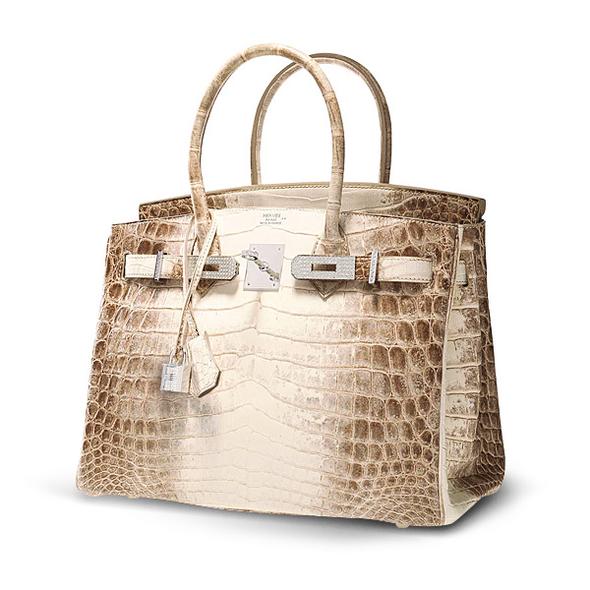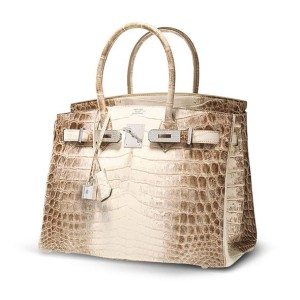 Becoming a true fashion icon
1935 saw the debut of one of Hermes' most iconic items of all time: the Sac a Depeches, later known as the Kelly bag. Another staple was introduced two years later in the form of their famed silk scarf. A whole host of Hermes classics followed, with the company's designers drawing inspiration from an ever-widening array of books, paintings, and objets d'art.
By the 1950s, the brand had expanded still further. Boasting a new perfume division as well as a multitude of famous fans including Grace Kelly, Princess of Monaco, Hermes status as a style staple was assured.
From this point forward, it would go from strength to strength, its name forever synonymous with high style and haute couture pieces. Expanding its reach around the world, Hermes became a favorite of celebrities, royalty, and the richest and most revered names around.
Through it all, the company remained in the hands of its founders, the exceptionally talented Hermes family. The final and perhaps most evocative testament to the enduring quality and allure of their products arguably came in 2016, when a study showed that their iconic most expensive Birkin bag had proven a better investment over the preceding 35 years than either stocks or gold.
It continues to be so to this day, as do the many other famous examples of Hermes' design brilliance that are in existence.
What are the most expensive Hermes bags ever produced as of 2021…
10. Crocodile Exotic Skin Kelly Handbag
This handbag flaunts genuine Alligator skin. It is 12 inches long with a shimmering black colour with beautiful yellow hardware made of gold decorating it. The skin of the bag features the unmistakable patterned alligator scales which combined with the prominent umbilical scar and square symbol near the embossed Hermes logo, gives the one yielding it a great sense of authenticity. To include this classy handbag in your catalogue, you will be required to part with at least $ 50,000.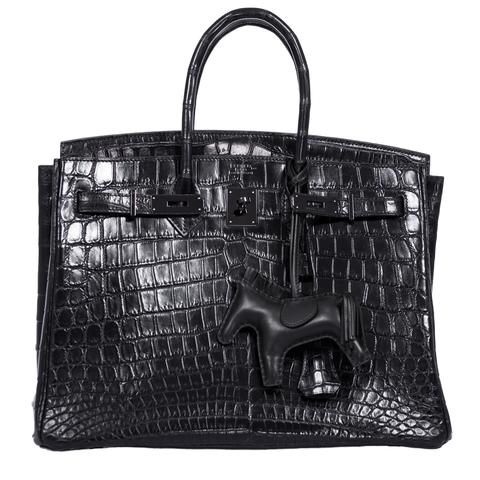 Image credit : Pinterest
9. Hermes Graphite Crocodile Bag
This design masterpiece features a graphite back which easily goes with any other colour you chose to wear. The Porosus crocodile skin, complete with palladium hardware and the signature Hermes lock and key highlight the exquisite look of the bag. Just to emphasize how valuable it is, people wait in line for years to have this handbag model made for them, making it a truly valuable Hermes bag for collectors. To get yourself one of this, you will be required to part ways with not less than $85,000.
8. Blue Crocodile Hermes Birkin Handbag – $150,000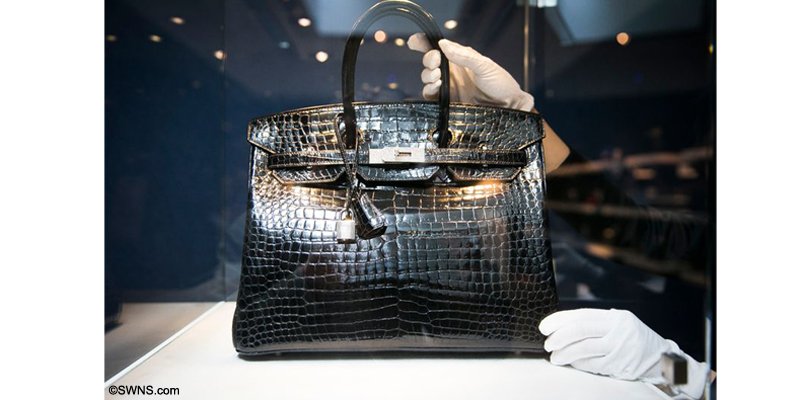 Photo credit: SWNS.com
7. Fuchsia Diamond-Studded Hermes Birkin – $222,000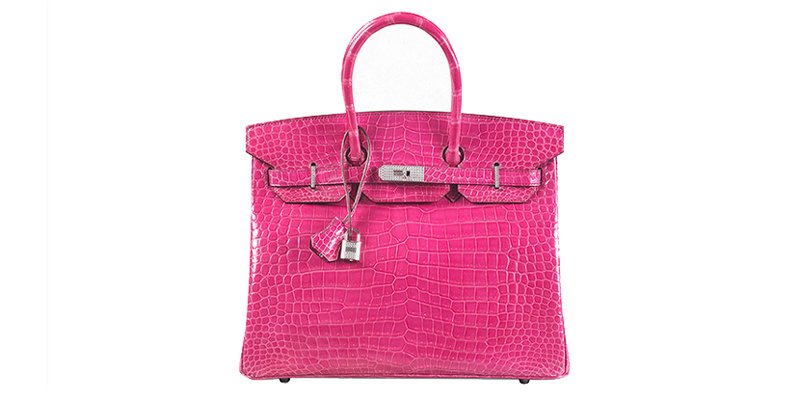 Photo credit: financesonline.com
6. Niloticus Crocodile Himalaya Birkin – $379,000
5. Hermes Matte Birkin Crocodile
This handbag boasts 40 cm of Black Porosus crocodile skin and a Chevre interior. The bag's hardware is made of yellow gold, giving it a striking contrast to the matte black. The exotic skin of the bag is made by using agate to polish the spots of the 'saltwater crocodiles' skin to a 'Lisse Finish'. The clasp of the bag is 11 inches in length, adorned with 10 carats of white diamonds which leaves no question as to why this Birkin bag is so highly-priced. In 2016 a Hermes Birkin bag broke global records to become the most expensive bag ever to sell at auction for a record £208,175. Sold to an anonymous buyer at Christie's, Hong Kong, the bag is made from rare Himalayan crocodile skin with white gold detailing and encrusted with over 200 diamonds.
Long known as a covetable piece of arm candy amongst the rich and famous, the Hermes Birkin bag has become a status symbol for its wearers, and with a price tag often surpassing that of a family home, it's little wonder that they usually have waiting lists of over five years. Bags can take up to two days to make by hand by French artisans and distribution is highly controlled creating high demand that often outstrips supply. It's little wonder then that the bags are seen hanging from the arms of socialites and celebrities such as Victoria Beckham who is said to own a collection in the region of £1.5 million.
The experts at New Bond Street Pawnbrokers say a normal Birkin bag is a worthwhile investment, whilst a limited edition bag such as this will only continue to increase in value. "Studies have continued to indicate the Birkin bags are an extremely solid investment with their value increasing over 500 % in the past 35 years," said David Sonnenthal, founder of NBSP. "Research earlier this year suggested that a Birkin bag offers a better return on investment than gold and shares on the American stock market. Also, unlike new cars or jewellery, they appreciate in value the moment you buy them."
4. Ginza Tanaka crafted Hermes Birkin
One of the most expensive Birkin bags, this limited-edition Hermes Birkin is handcrafted by none other than the renowned Japanese designer Ginza Tanaka. The body of the bag is completely platinum, with 2,000 shimmering diamonds artistically encrusted into it. This gives it the appearance of water droplets littering its side, only that in this case the droplets are diamonds! The strap of the bag is an 8-carat glittering diamond that is pear-shaped. It is detachable and can be worn separately as either a necklace or a bracelet, in which case the bag turns into a clutch. Therefore, if you have $1.9 million to spend on a bag, why not get yourself this artwork made of diamond and platinum?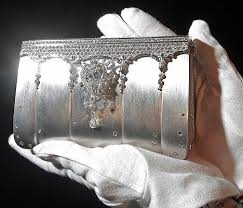 Photo credit : Pinterest
3. Rouge H Porosus Crocodile Handbag
This expensive Hermes handbag is a definite eye-catcher with its bright red appearance, on which 18 carats of white gold hardware is used. If these fail to catch your eyes, you will definitely be struck by the diamond decorations on its surface. It goes without saying that the porous crocodile skin used for this beautiful piece is 100% authentic and exotic. Being the only handbag of its kind, its exclusivity makes it become one of the more expensive Hermes handbags with each sale, currently worth not less than $1.9 million.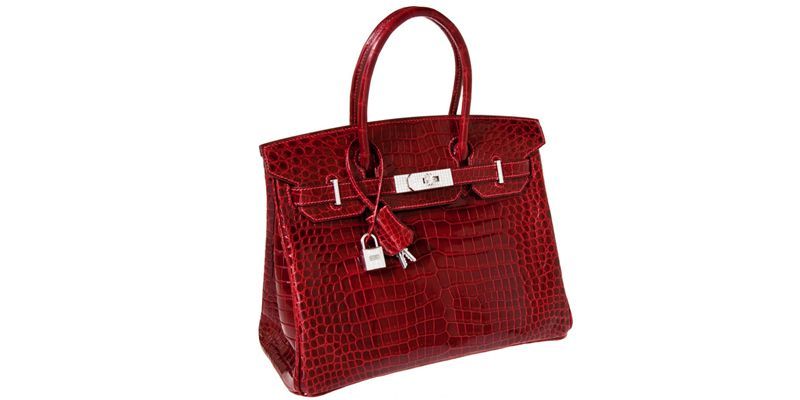 Photo credit : Pinterest
2. Rose gold Hermes Kelly
This bag was designed by Hermes in collaboration with the shoe designer and jeweller Pierre Hardy. Just as its name suggests, it is made out of solid rose gold, adorned with 1160 dotting of diamonds. The design of the rose gold is made to look like crocodile leather with flaps that actually work, justifying the 2-year manufacturing time that was taken to make this bag. With solid gold and diamonds on it, who could complain when asked to part with $2 million for this exclusive Hermes Kelly piece?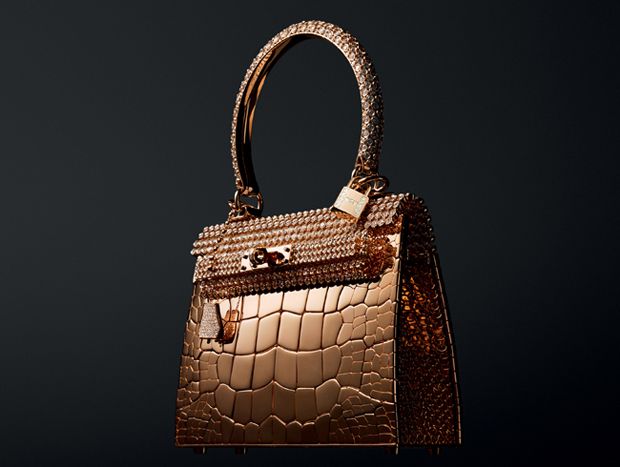 Photo credit: Purseblog
1. The Hermes Chaine d'ancre
Another masterpiece by Pierre Hardy, this highly valuable Hermes bag features elaborate and intricate styling which took the artist two years to make. The bag is adorned or rather made of 1,160 diamonds adding up to 33.94 carats. This bag is part of Hermes Haute Bijouterie collection with only three pieces made, making it a very valuable collectable. To make this artwork part of your collection, you will be required to also part with over $2 million, making it top on our list.
With several carats of gold and diamond splashed into genuine exotic skin with breathtakingly creative designs, it is no wonder these Hermes bags go at such high prices. Mostly associated with celebrities and other high-end shoppers such as dignitaries and royalty, owning one of these bags leaves those who can recognize it with no doubt that of your 99 problems, money does not make the list.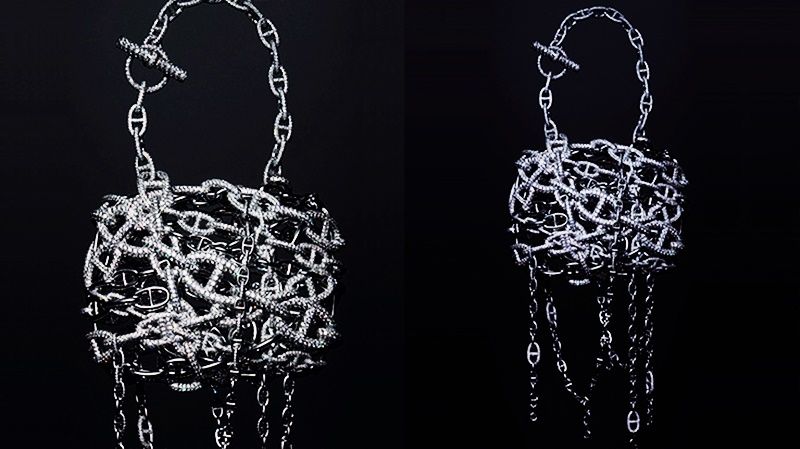 Photo Credit: INCPak
Fine assets are always in big demand as prices at auctions around the world continue to grow every year. We have written comprehensive articles on most expensive items ever sold on auction for assets like fine wine collections, expensive jewellery, classic cars, prestigious watches, diamonds or fine art.
New Bond Street Pawnbrokers is the leading pawn shop in London providing loans against Hermes bags. Get in touch today for a free valuation!
---
---

---
Authorised and Regulated by the Financial Conduct Authority