I hope you enjoy this blog post.
If you want us to appraise your luxury watch, painting, classic car or jewellery for a loan, click here.
Damien Hirst: a career retrospective
July 25, 2017
On 7th June 1965, painter and sculptor Damien Hirst was born in Bristol, England. Little did his Catholic parents know at the time that he would go on to become one of the richest living artists of all time before he had even reached his fifties, and a valuable name to loan against. This piece looks back on his rich and storied career, from his early days as an eccentric installation artist, to the present day where his name sits alongside Warhol and Banksy as one of modern art's most recognizable and marketable commodities.

Hirst's Early Life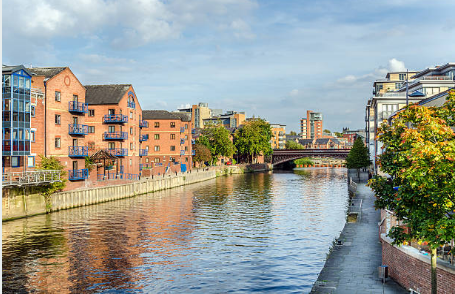 Growing up in Leeds with a strong religious background has played a key role in Damien's artwork. His mother describes him as having been a "morbid child", and during his teenage years he was an avid fan of illustrated pathology books that showed graphic images of disease and injury. In this adolescent period, he demonstrated an interest in drawing, which was supported by his mother. Later in life, death would go on to be an ever present theme in his work
Career beginnings


He went on to study art at Goldsmiths College at the University of London. His time there included a notable exhibition titled 'Freeze' in 1988, which broke new ground and led to the development of the emerging 'Young British Artists' group of artists, including Tracey Emin. Despite being a student exhibition, Freeze had a high production value and its catalogue was funded by a number of property developers.
With his collective, the focus was on using unusual materials and complex art concepts. In his early work, 'With Dead Head', Hirst explored death as a topic. The gruesome photograph sees the artist smiling next to a severed head within a morgue.
He didn't suit everyone's tastes, but Charles Saatchi – an avid art collector and advertising mogul – supported him financially, providing patronage to the young artist and buying many of his works. With strong financial backing, Hirst was ready to explore some of the more ambitious projects he'd dreamed up throughout his formative years.
Damien Hirst Artwork

 
In 1990, he produced 'A Thousand Years', which was a provocative tank piece containing a fly-covered cow head and maggots. Saatchi was said to be so impressed that his jaw hit the floor when he saw it, and he bought it on the spot.
By 1991, Hirst was exhibiting solo, and held his first exhibition at the Woodstock Street Gallery in London. In addition to this, he showed his work at the Young British Artists show the following year when it was held at the Saatchi Gallery. This included his infamous 14-foot-long glass tank with a shark preserved in formaldehyde inside, titled 'The Physical Impossibility of Death in the Mind of Someone Living'. When the piece sold many years later, the shark had decayed so badly that Hirst offered to restore the piece. This involved catching another shark and preserving it in formaldehyde, disposing of the original shark, and replacing it. This naturally led to discussions about whether it was actually the same piece, though that did not affect the $8m sale price.
Recognition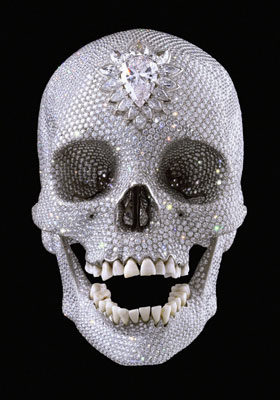 His artwork regularly captured the imagination and attention of the art world, in both positive and negative ways. Emboldened by the success of his shark installation, Hirst debuted his piece 'Mother and Child Divided' at the 1993 Venice Bienniale. It involved a cow and its calf cut in half, which was displayed in four different glass cases and preserved with formaldehyde. This allowed visitors to walk through the middle of the two animals and see their insides. Fast gaining a reputation, he was awarded the Turner Prize on the back of the piece in 1995.
Alongside these controversial glass tank pieces, Hirst also started to gain notoriety for his paintings and sculptures. These included pieces such as the 2002 'Lullaby, the Seasons', which involved lots of pills on shelves, and 'For the Love of God' from 2007, which was a platinum cast of a human skull from the 18th century covered in diamonds. The piece – which he valued at £50m – was decried by many in the art world as a vulgar oddity, though it certainly has its admirers. It is not definitively known whether or not he was able to sell the piece.
Thanks to his esteemed career, visionary imagination and business-savvy know-how, Hirst has crafted an art empire and become one of the wealthiest artists alive today. He is considered alongside the likes of Andy Warhol, Jeff Koons and Jasper Johns. His artworks sell for a premium; 'The Black Sheep With the Golden Horn,' a sheep immersed in formaldehyde, its horns painted gold, sold for $4.1m at auction in Sotheby's, a 2008 shark installation 'The Kingdom' sold for $15.3m, and 'Lullably Spring,' a wall hung piece made from thousands of pills, which sold for $17m.
Hirst continues to exhibit globally, having recently put on an exhibit in Venice, 'Treasures from the Wreck of the Unbelievable'. He lives in Devon, England, with his girlfriend and three sons.
Our fine art loans service offers  offer instant credit with minimal paperwork, plus specialist advice throughout. Some of the many artists we loan against include Andy Warhol, Bernard Buffet, Damien Hirst, David Hockney, Marc Chagall, Raoul Duffy, Sean Scully, Tom Wesselmann, Tracey Emin, Banksy, and Roy Lichtenstein to name just a few.
This post is also available in:

Français (French)

Deutsch (German)

Italiano (Italian)

Português (Portuguese (Portugal))

Español (Spanish)
---
---

---
Authorised and Regulated by the Financial Conduct Authority