I hope you enjoy this blog post.
If you want us to appraise your luxury watch, painting, classic car or jewellery for a loan, click here.
Valuable, or just a load of hot air? The debate around Trump art
November 7, 2016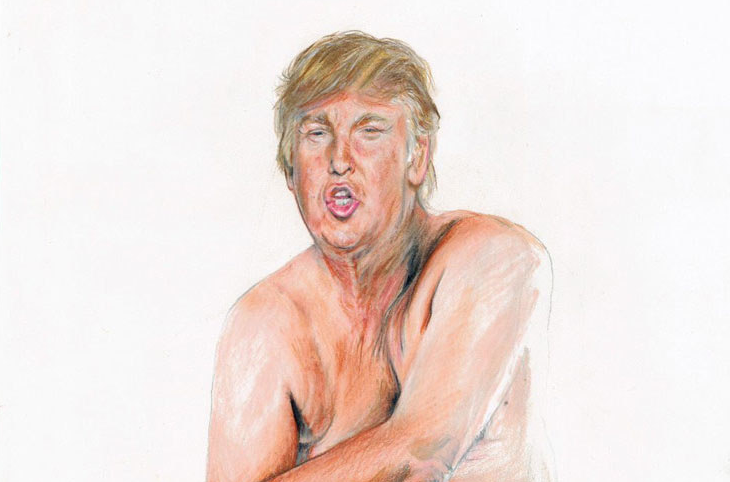 With a long, bitter election cycle almost behind us, we'll soon find out who the people of the United States have chosen as their next president; former First Lady, New York Senator, and Secretary of State Hillary Clinton, or loud-mouthed businessman and reality TV star Donald Trump. Trump has been an endless source of fascination to the watching world as the election cycle has unfolded, leaving many to question how he's got as far as he has.
To put a long story short, Trump is a controversial figure, and he's currently centre stage on one of the most highly watched events in global politics. A lot has been written about the effects Trump's campaign – and the possibility of a Trump presidency – is having on America, and the world at large. However, little has been written about the bizarre impact Trump is having on the art world.
Of course, politics and art have been known to mix in the past. One particular example that springs to mind is Shepard Fairey's now famous stencil portrait of US Senator Barack Obama in 2008, emblazoned with the word 'HOPE'. The piece went on to become a defining image of Obama's ultimately successful presidential campaign. However, the pieces depicting Trump are interesting and unprecedented in that they're almost entirely negative.
Unflattering portrayals
As Trump's presidential campaign has gathered pace, a number of artists have sought to depict him in their art; often unflatteringly. In early 2016, as Trump's presidential campaign began to gather pace, Los Angeles-based artist Ilma Gore painted a nude of Trump – titled 'Make America Great Again' – which was later valued at £1million. The piece gained further notoriety when the artist was threatened with a lawsuit, and when reports emerged that the artist had been assaulted by a Trump supporter. A number of six figure offers were reportedly tabled for the piece, but none matched the seven figure asking price so to date the piece has not sold.
Perhaps inspired by Gore's piece, a group of artists called INDECLINE made a statue of Trump, which they placed in Union Square, a busy area of downtown Manhattan; the presidential hopeful's hometown. Other statues were also placed in other cities across the USA. The piece was decidedly more caricatured than Ilma Gore's piece, but was similarly unflattering. The piece lasted two hours before being removed by the city's Parks Department. With their tongue firmly planted in their cheek, they told the press that "NYC Parks stands firmly against any unpermitted erection in city parks, no matter how small." Presumably this piece has been destroyed by the City of New York, but if it were to be recovered, it would surely fetch a decent amount at auction.
In October, British artist Alison Jackson hired a Donald Trump impersonator, and staged numerous photos to capture her impression of what his life behind closed doors looks like. Unsurprisingly, money and scantily clad women feature heavily. One particular piece, titled 'Trump Money,' was valued at $6,000-8,000, and sold on the 2nd November 2016; less than a week before polling day.
But is Trump art valuable?
Like all good art, these pieces create conversation; by displaying Trump in a negative light they open up discussions over the business mogul's character, and his suitability to be president.  On top of that, some of them can be really funny. The portrayal of Trump in a caricatured way is great fun, and something many of his detractors have been reveling in; Gore's piece discussed earlier was a viral hit among Hillary supporters, and was widely circulated on Facebook and Twitter shortly after its unveiling.
In the long run though, we'd estimate that many of these pieces will end up with a similar value to the vast majority of comments that come out of Donald Trump's mouth; nothing.  We can't see these pieces being sought after by collectors in a decade's time.
The artists creating these pieces are acting within a context; they're creating art in an attempt to embarrass or discredit a wannabe politician who they fundamentally disagree with. Pieces like this require that context to have an impact on the viewer, so once this election is over and done with, and Trump fails to win the presidency as is widely expected, the context will be lost. Should Trump win the White House, however, that could be a different story indeed. Watch this space.
Our London pawn store offers  offer instant credit with minimal paperwork, plus specialist advice throughout. Call today for a free assessment of your fine art.
This post is also available in:

Français (French)

Deutsch (German)

Italiano (Italian)

Português (Portuguese (Portugal))

Español (Spanish)
---
---

---
Authorised and Regulated by the Financial Conduct Authority