I hope you enjoy this blog post.
If you want us to appraise your luxury watch, painting, classic car or jewellery for a loan, click here.
122 carat discovery in Cullinan Mine
August 8, 2014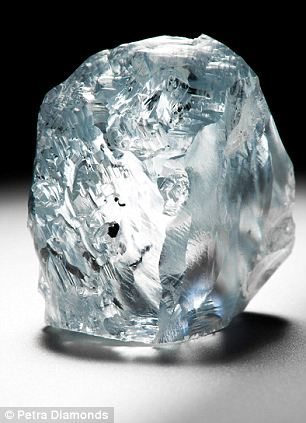 A shocking discovery was made by Petra Diamonds Ltd recently at its Cullinan mine in South Africa. At a whopping 122 carats, this blue diamond is rumoured to fetch at least £60 million. The find comes months after the sale of its 29.6 carat blue diamond for £14 million.
The London-based mining company said in a statement: "The rarity of a blue diamond of this magnitude sets it apart as a truly significant find.
"The stone will require further analysis in order to assess its potential value and upon completion of this process, Petra will be in a position to evaluate its optimal route to market.
"The diamond will, therefore, not be sold before the end of the company's current financial year (June 30)."
A carat equals one-fifth of a gram, which means the 122.5 carat diamond only comes in at around 25 grams.
Shares in Petra rose significantly after the discovery, adding at least £66 million to the value of the company. It is almost unheard of to find a blue stone, especially one that weighs more than 100 carats.
Blue diamond's get their colour from small amounts of the chemical element boron trapped in their crystal structure. The bluer diamond is the greater its value. They are the rarest diamond, after red diamonds.
The blue diamond, which is currently unnamed, is being held in a secret location before being sold in a private tender process in Johannesburg.
The Cullinan mine, where the diamond was found, is the most important diamond mine in the world. It produced the world's largest white diamond in 1905 – the 3,106 carat Cullinan Diamond.
The white diamond was initially dismissed because it was believed to be too big to be considered a diamond.
The mine has produced over 750 stones that are greater than 100 carat and is the only significant source of blue diamonds.
To learn more about our loans on fine art you can visit our diamonds or fine jewelry dedicated webpages.
This post is also available in:

Français (French)

Deutsch (German)

Italiano (Italian)

Português (Portuguese (Portugal))

Español (Spanish)
---
---

---
Authorised and Regulated by the Financial Conduct Authority