Loans on Diamonds, London
---

Are you thinking " Pawn my Diamonds in London?"
We are often being asked by our clients "Can I pawn my diamonds in London?", and the answer is of course, yes. At New Bond Street Pawnbrokers we have decades of experience valuing diamonds in-house at our award-winning pawn shop in Central London, so when you bring your diamonds to us for a loan appraisal, you can ensure you are getting an accurate valuation every single time. As with any reputable diamond expert providing loans on diamonds in London, we value a diamond for pawn purposes by using the four C's: colour, clarity, cut, and carat.
David Sonnenthal, resident expert appraiser for the beloved Channel 4 "Four Rooms" TV show leads our team of in-house experts loan experts on diamonds. Our GIA qualified experts assess each of these four factors and consider how each of them fit together to ascertain the value of your diamond before pawning it.
Once your diamonds have been valued, and we agreed on the terms of your loan, you will be presented with a seven-month pawn contract regulated by FCA. You will receive 100% of the agreed loan price of your diamonds, with no credit checks during the pawn process. All our work is private and confidential. You will achieve the maximum amount of loan credit against your diamonds, and won't have to pay anything up to the full term of the pawn contract. You can pay your loan off at any time, including the interest. We offer immediate loans on diamonds with minimal paperwork, plus specialist pawnbroking advice throughout.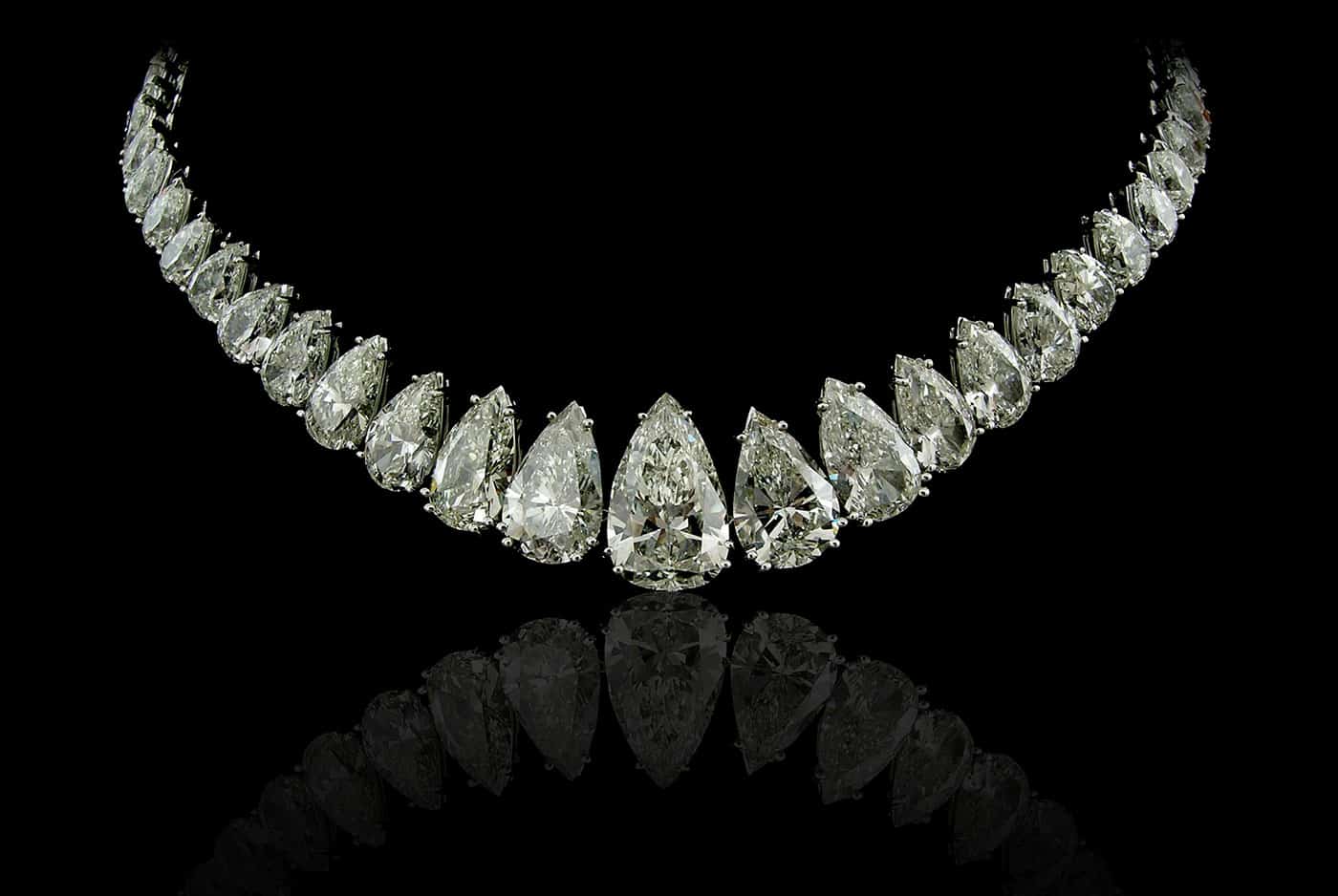 Handling your Pawned Diamonds
Discretion and sensitivity is the core of everything that we do, and this applies for any of our loans against diamonds , diamond rings, and expensive jewellery . Our award-winning pawn shop experts always ensure that every part of the loan transaction is handled promptly, securely, and with optimum attention paid to the care of your diamonds. We have premises that are designed to store your diamonds safely and securely throughout the duration of your pawn contract. Your diamonds will always be kept in the same condition as they were when you left them with us, no exceptions.
How to get started with loans on diamonds
We are a discreet, luxury pawn shop specialising in loans against diamonds, fine jewellery, classic cars, fine wines, fine art ,antiques, rare books, handbags , antique silver and fine watches.
New Bond Street Brokers is an enterprise committed to meeting the unique needs of each and every one of our clients, regardless of the type of diamonds jewellery we deal with i.e. Cartier rings, Hary Winston necklaces, Van Cleef & Arpels bracelets etc. Focused on delivering fantastic customer service and a client experience par excellence, we will make pawning your diamonds (including loans against gemstones and pearls) an easy and efficient way to secure the capital you need without the need to sell your assets.
To learn more about how you could pawn your diamond or borrow against diamonds, get in touch with our London loans team today. We're always happy to answer any questions or queries you might have about pawning diamonds, and look forward to beginning a mutually beneficial relationship.
Appointments can be made, but are not 100% necessary; we're always happy to take walk-ins. If you are looking to pawn your diamonds and would like a quick and trustworthy loan valuation, then come and visit us today.
To learn more about our loans on diamonds and diamonds jewellery, you can visit our diamonds or fine jewelry dedicated webpages. We offer loans against the following types of diamonds: 2 carat, baguette cut, blue diamonds, cushion cut, emerald cut, fancy color, marquise cut, old cut, oval cut, pear cut, pink, princess cut, and GIA certified diamonds.
To get started, fill out the contact form on this page or call us on 020 7493 0385
*We are authorised and regulated by the Financial Conduct Authority
Pawning Diamonds – Frequently Asked Questions
Can you pawn your diamonds? Where is a pawn shop for diamonds near me?
If you want to pawn your diamonds in London, visit New Bond Street Pawnbrokers, London's leading collateral lenders. Right in the heart of Mayfair, the home of finery and luxury in the capital, you will find our shop on a pretty road off New Bond Street. New Bond Street Pawnbrokers is an expert and well-respected London pawn shop for fine assets like diamonds located at Number 5 Blenheim Street, Mayfair with the postcode W1S 1LD.
Where can you pawn diamonds in London?
You may be wondering what pawnshop takes diamonds in London. New Bond Street Pawnbrokers is nestled in the middle of Mayfair at 5 Blenheim Street in the W1 postal district. Why not combine your visit to our pawnbrokers with a chance to explore some of the finest shops London has to offer? On Blenheim Street and the surrounding roads, you will find shops selling jewellery, fine watches, luxury cars, art, antiques, and high end clothes. The area is also home to auction houses, contemporary galleries and popular restaurants so you can really make a day of it.
Can you pawn real diamonds in London?
"Can you pawn real diamonds in London" might be a question you've been pondering for a while. The answer is yes, you can certainly pawn your real diamonds in London. You can do it really easily, here at our New Bond Street Pawnbrokers shop with very little effort and a huge reward. Our experts have decades of experience valuing diamonds. You can bring your diamonds in to us for appraisal and we can promise an accurate valuation every single time.
Where can I find pawnbrokers for diamonds near me?
If you're asking yourself 'where can I pawn my diamonds near me', it's worth spending time visiting our luxury shop in Mayfair. Our pawnbroker's shop is situated on Blenheim Street, very close to both Bond Street and Oxford Circus Tube stations, meaning you can access it via the Jubilee, Central, Bakerloo and Victoria lines. It's not too far from Green Park on the Piccadilly Line either. New Bond Street Pawnbrokers can provide you with loans for diamonds and a variety of other luxury goods you may have.
Can I get loans on diamonds?
If you visit New Bond Street Pawnbrokers for a loan on your diamonds the answer is a definite yes. At our comfortable, secure and relaxed headquarters in central London, we provide a professional yet calm environment in which we supply loans against fine assets like diamonds. You are welcome to make an appointment to meet with one of our experts at our premises by following this link to our online booking page (https://www.newbondstreetpawnbrokers.com/contact/). However, appointments are not at all necessary. You are very welcome to walk in at a time convenient to you. One of our specialists will be there to greet you before taking as much time as you need to discuss getting a loan on your diamond. We look forward to welcoming you.
How to pawn diamonds
One award winning pawn shop that accepts diamonds is New Bond Street Pawnbrokers in Mayfair. Start the process of getting a loan on your diamonds by getting in touch and telling us about your diamond, either by filling out an enquiry form online (https://www.newbondstreetpawnbrokers.com/how-it-works/) or by calling one of our experts on either 02074930385. At this stage we can only give you a loan estimate. The next stage you will go through with our diamond pawnbrokers in London is the appraisal. We recommend you make an appointment at our Mayfair shop, although you can walk straight into the store for an immediate appraisal if that suits you better. Booking your appointment just ensures we have the right specialist available for you on the day. New Bond Street Pawnbrokers also runs a home appraisal service, which you may consider if you want more privacy when our experts carry out your valuation. Our specialists are happy to visit you at home or another requested location. After our expert values your diamond according to the four Cs – colour, clarity, cut and carat - they can then agree on a loan price with you. We take pride in working with our clients every step of the way, ensuring you understand the process, contract terms and everything you're getting from it. Next you will be asked to sign the loan contract so it is binding. Once you've done so, you will receive the funds immediately. You will repay your loan on diamond plus interest accrued according to your contract terms, and once you have repaid everything, you can retrieve your diamond. You have a range of repayment options. If you want to repay your loan and interest in full at an earlier date, you can do so. We also give you the option of extending or renewing your contract once everything owed in the original term has been paid off. As the top award winning London pawnbrokers for diamonds, New Bond Street Pawnbrokers will keep your asset as security for the loan on your diamonds, but we completely understand we are often dealing with one of your most valued and treasured possessions, so keeping your diamond safe is our top priority. We package your diamond up with the utmost care to ensure it remains in its original condition before storing it away safely so that when we return it to you, it's like it never left your possession.
How much can you pawn diamonds for?
If you're considering pawning your diamond, you may be wondering what your diamond's pawn shop value is. We cannot give you an exact answer for your diamond unless you come in for an appraisal and valuation, but we can give you some idea. Sometimes the diamond someone wants to pawn is worth a lot more than they actually need or want to borrow. This is why it's so important to visit a specialist and get a proper valuation on your diamond, then receive a pawn shop diamond's price. While you can rest assured your diamond should fetch a significant amount, its value depends on a number of factors, from the type of diamond you own, to its score in the four Cs test. The four Cs assessment is the method all our GIA-qualified experts use when looking at clients' diamonds. The first C stands for colour. Diamonds may look colourless but actually they are shades of yellow or white. If a diamond is completely colourless it is rated D, and this means it's extremely rare and will be more expensive. The clarity of a diamond can be impacted by impurities which form within the gem, meaning light can't pass through as easily and therefore the diamond looks duller. The lower clarity a diamond has the less it will be worth, though remember that diamonds are assessed according to several factors. The cut of a diamond is the third C and, once again, determines a pawn diamond's value. If they are cut perfectly, they will be worth a lot. Finally, a diamond's carat refers to how much it weighs, and a metric carat is defined as 200 milligrams. Each carat is divided into 100 points, allowing for very precise measurements to the nearest hundredth. Our experts have the knowledge to tell you what carat your diamond is. A diamond's worth can vary hugely. Some of the rarer types of diamonds, like the coloured and pink diamond, could be hundreds of thousands or even millions. The most expensive diamond ever sold to date is the Pink Star, which sold at auction for a whopping $71.2 million. Our specialists could give you an estimate if you call them and talk about your diamond, or you can book an appointment at our London store, where our team will use their knowledge to give you an accurate figure.
Can you pawn loose diamonds?
You might be wondering if you can pawn loose diamonds and where you can find a pawn shop for loose diamonds in London. New Bond Street Pawnbrokers is a high end pawn shop for loose diamonds, as well as jewellery containing diamonds and other luxury goods. The process of pawning diamonds at our Mayfair store is quick and secure, plus it gives you access to your loan immediately. Our team of in-house experts have years of experience in assessing luxury goods so you can ensure you will get an accurate valuation every time. When you attend your appointment, our specialist will consider all four Cs – colour, clarity, cut and carat – so you can get the best loans on your loose diamonds. You may also want to pawn your GIA certified diamond. Our team are also GIA-qualified, which is the pinnacle of training and professional development in gems and jewellery, and stands for Gemological Institute of America. A GIA credential is a mark of global distinction, a symbol of knowledge and trust that helps ensure your loose diamonds are in the very best hands. Diamonds themselves will also gain the GIA certification once assessed and valued by our experts using the four Cs, which was invented by the GIA. It operates totally independently of commercial interest and focuses only on unbiased assessments of diamond quality. Being a luxury good, you can also make an incredible amount of money from auctioning your loose diamonds. The top 10 most expensive diamonds ever sold at auction (https://www.newbondstreetpawnbrokers.com/blog/the-top-10-most-expensive-diamonds-ever-sold-at-an-auction/) include the Pink Star which fetched a staggering $71.2 million. The Oppenheimer Blue Diamond, also extremely rare, sold for $57.5 million while the Wittelsbach-Graff Diamond got $24.3 million. While you may not have one of these extremely rare beauties, loose diamonds can fetch you a lot of money when pawning it at our Central London pawn shop.
Where to pawn my diamonds in London
At New Bond Street Pawnbrokers, our aim is to make the process of pawning your diamond as quick, easy and comfortable for you as possible. You might ask 'where can I pawn diamonds near me' and maybe you will look for a London pawnshop for real diamonds. At New Bond Street Pawnbrokers, on Blenheim Street in Mayfair, we take loose diamonds and diamonds within jewellery. If you live in or near the capital, it's easy to find our diamonds pawn shop in London. Come into any major London station and reach our store via the Victoria, Central or Bakerloo Lines to Oxford Circus or the Piccadilly Line to Green Park, or even the Northern Line to Tottenham Court Road.
Where can I pawn my diamonds in Oxford Street, London
If you're asking 'where can I pawn my diamonds in Oxford Street, London' why not combine a visit to our pawnshop with a day out of shopping? You'd be able to visit famous stores like Selfridges, Hamley's and Liberty. If jewellery is your passion, there's also many specialist shops you would love to visit close to us, including Mayfair Jewellers at Berkeley Square House, the bespoke jewellers' Catherine Best at 1 Albermale Street, and Boodles on Bond Street. If you're tired after a day of shopping, you may prefer to go out for a delicious meal in Soho or Mayfair, where many top-rated restaurants are based, from Scott's to Gordon Ramsey's Lucky Cat. You can reach New Bond Street Pawnbrokers very easily from Oxford Street, including its four London Underground stations: Tottenham Court Road, Oxford Circus, Bond Street and Marble Arch. From Tottenham Court Road, it's a 16 minute walk. Head straight down Oxford Street, pass Oxford Circus Underground station, and turn left when you reach New Bond Street. Blenheim Street is the first road on the right and New Bond Street Pawnbrokers is number five. If you want to find out where is the nearest pawnshop for diamonds in Oxford Street, follow exactly the same route as above, but starting from Oxford Circus Underground. It only takes six minutes to walk it. From Bond Street, on the Central and Jubilee Lines it only takes one minute to walk from the exit of the station on Woodstock Street to the next road, Blenheim Street. From Marble Arch station, close to Hyde Park, it's a 12 minute walk. You just stroll along Oxford Street, perhaps being tempted by some of the shops, until you reach Woodstock Street on your left. Follow Woodstock Street along until you reach Blenheim Street.
Where can I pawn my diamonds in Piccadilly Circus, London?
If you're asking 'where can I pawn my diamonds in Piccadilly Circus, London?' you should visit New Bond Street Pawnbrokers, which is very close to Piccadilly Circus, where you can enjoy a theatre show, comedy club or popular restaurant. Piccadilly Circus is a popular destination for both tourists and London residents to go to see a West End show, enjoy some great food or go out to a bar or nightclub. Close by you have theatres like the London Palladium, the Theatre Royal Haymarket and Curzon Soho. On your hunt for Piccadilly Circus diamonds pawnbrokers, you'll pass some of the high end shops on Regent's Street. If you come out of Piccadilly Circus Underground and head onto Regent's Street, you will find shops like Reiss and Burberry, and further up, Polo Ralph Lauren and Michael Kors. Take either the Piccadilly Line or the Bakerloo Line to Piccadilly Circus and when you exit the station, it will take about 15 minutes to walk to New Bond Street Pawnbrokers. The route will take you past wonderful shops, jewellers' and restaurants. Walk up Glasshouse Street and across onto Vigo Street. Continue onto Burlington Gardens then take a right onto New Bond Street. Pass some stunning luxury stores such as Chanel, Hermes, Louis Vitton and Dior, to name just a few. Walk almost all the way up New Bond Street and just before you reach Oxford Circus, turn left onto Blenheim Street.
Where can I pawn my diamonds in Mayfair, London
New Bond Street Pawnbrokers is a Mayfair pawnshop for diamonds. We are a safe and reliable luxury pawnbrokers in the heart of Mayfair. So if you're in the area, visiting Mayfair's impressive high end and boutique stores and wondering 'where can I pawn my diamonds in Mayfair, London' feel free to pop in to our shop at Number 5 Blenheim Street. Having set up in the early 2000s, our specialists have over 60 years of professional industry experience. We are wholly committed to bring our knowledge of one of the oldest trades in the world into the 21st century as we welcome you into our Mayfair store. To reach us on public transport, your closest options are the Tube to Oxford Circus or Bond Street or a bus such as the 390 to Selfridges or the 137 which goes towards Marble Arch.
Where can I pawn my diamonds in Hatton Garden, London
If you're thinking 'where can I pawn my diamonds in Hatton Garden, London', come in and visit New Bond Street Pawnbrokers. We're close to Hatton Garden, which is, of course, London's famous jewellery quarter and, even more impressively, the centre of the diamond quarter in the United Kingdom. Hatton Garden is home to nearly 300 businesses working in the jewellery industry and over 55 jewellery shops, making it the largest cluster of jewellery retailers in the UK and including Hatton Garden diamonds pawnbrokers. This includes De Beers, an international family of companies which dominates the international diamond trade. They were headquartered just behind the main Hatton Garden shopping street. In 1962, Laurence Graff, of Wittelsbach-Graff Diamond fame, opened his first retail jewellery shop there. The area is also right next to the Gemological Insititute of America, or GIA, which sits in Bloomsbury, in between the luxury of Hatton Garden and Bond Street. All of New Bond Street Pawnbrokers' specialists are GIA-qualified, so when they assess and value your diamond to work out how much loan we can offer you, you know you are getting an accurate valuation.
What type of diamonds can you pawn?
In the last five years, New Bond Street Pawnbrokers have supplied over £25 million in asset loans across all luxury goods we work with, including diamonds. We offer loans against a range of diamonds and try to help as many clients as we can, as follows. 2 CARAT DIAMONDS. If you're the proud owner of one or more 2 carat diamonds you may be asking, 'how can I pawn my 2 carat diamond in London?' Here at New Bond Street Pawnbrokers you can pawn 2 carat diamonds and get loans on 2 carat diamonds. You may also be asking yourself, 'how much can I get if I pawn my 2 carat diamond in London?' Diamonds vary hugely in their worth but are always highly sought after. The worth of your 2 carat diamond will likely fall somewhere in the range of $8,000 to $50,000. This is a large range because the higher end of the scale will be reserved for diamonds that are cut perfectly and flawless in clarity, as well as potentially being a rare colour. BAGUETTE CUT DIAMONDS. Baguette cut diamonds are valuable and popular, often being used in jewellery, so they're a great asset to get a loan against. The bold, rectangular outline encasing terrace-like cuts and facets creates an incredible effect. So what size loan on baguette cut diamonds can you get in London? We'll be able to give you an accurate valuation on your diamond at our New Bond Street store, but you can expect a very sizeable loan. In 2018 a ring with a rare 10.68-carat lozenge-shaped Columbian Classic emerald and a baguette-cut diamond sold for $1.2 million at Sotheby's. BLUE DIAMONDS. Blue diamonds are rare, expensive and in high demand due to their natural colour, so deciding to pawn blue diamonds can be a great idea. They are formed when there is boron particles and the particles are trapped in the diamond's lattice form. Boron as an element absorbs yellow light naturally, therefore making the diamond reflect a blue colour. It's difficult to tell the worth of a blue diamond without expert valuation, although darker blue diamonds often fetch more. The Blue Moon of Josephine, for instance, sold at auction in 2015 for £37,396,080. CUSHION CUT DIAMONDS. This is a fascinating cut which is square but has round corners, and it faces upwards so it looks a bit like a bigger diamond from above. In one particularly crazy story, someone bought a cushion cut diamond at a London junk sale for just £10 as it was thought to be a piece of costume jewellery. They later sold it for £657,000 at Sotheby's. Loans on cushion cut diamonds vary like all other. EMERALD CUT DIAMONDS. Only about 3% of diamonds in the whole world are Emerald cut. They're a unique type, admired for their vintage look and cut that makes them sparkle differently to the round cut variety. Consider going to a pawnbrokers for emerald cut diamonds and find out the value of yours. FANCY COLOUR DIAMONDS. Like the emerald cut, fancy colour diamonds are rarer than your more common round cut and loans on fancy colour diamonds are likely to be high. If you've got a fancy colour diamond, chances are it will be worth a lot, even if it's a low carat. The most expensive fancy colour diamond sold to date was the pink star, which went for $71.2 million in 2017. MARQUISE CUT DIAMONDS. Pawn marquise cut diamonds as they have a luxurious appeal so should fetch plenty. It's a smooth, curved cut with pointed ends and its 58 facets give this diamond an exceptional finish. In history, marquise diamonds have been used in fine jewellery, and fetched a lot when sold on. The Anonymous Diamond Necklace contained a line of 24-carat marquise diamonds and sold at auction for £352,188 in 2011. OLD CUT DIAMONDS. In the early days of gem cutting, diamonds were shaped differently and reflected little to no light. It meant they appeared black, in the past being valued for their hardness and drawing the eye into their depths over anything else. This means the three types of old cut diamonds – Old Mine Cut, Old European Cut and the Rose Cut are all quite different from many other diamonds, as are the loans on old cut diamonds. OVAL CUT DIAMONDS. As they are highly valuable, loans on oval cut diamonds are often far more than clients are wanting or needing to borrow. Back in 2013, an oval cut diamond, which was colourless, sold for a tremendous $30.6 million in Hong Kong. PEAR CUT DIAMONDS. We understand that pear cut diamonds can mean so much more than just their monetary value. An exquisite combination of round and marquise cut diamond with between 58 and 72 facets, they are gracefully beautiful. Pawnbrokers for pear cut diamonds include New Bond Street Pawnbrokers. PINK DIAMONDS. Diamonds with a pink or red colour to them are some of the most in-demand gemstones in the world, meaning you will get a good loan on pink diamonds. Only 0.1% of diamonds mined each year tend to be pink ones, so their extreme rarity also adds to their value. Pink diamonds are also mysterious. There's a scientific explanation for most other coloured diamonds, but since pink ones don't contain any impurities, scientists have struggled to understand what gives them their colouring. One potential explanation is they have a molecular difference. PRINCESS CUT DIAMONDS. If you want to pawn princess cut diamonds at a London pawn store, it's a great idea if you need a loan as this cut of diamond is the second most popular after round cut. Princess cut diamonds were first created recently, during the 1960s, and have four corners rather than rounded edges. GIA CERTIFIED DIAMONDS. At New Bond Street Pawnbrokers, we can pawn GIA-certified diamonds as a way of securing a loan. A GIA-certified diamond is a diamond that has been graded by the Gemological Institute of America (GIA), which has a London base in Bloomsbury.
Can you sell your diamonds at a pawn shop?
Usually you can't sell diamonds at a pawn shop, as the purpuse of a pawn shop is to loan money and use the diamonds as collateral. In simple terms, as soon as you pay off all of your loan, the diamond is being returned in your possession. However, it is understandable that at some point you may want to sell your diamond. If you have no need for the diamond anymore and it has no sentimental value to you, it's worth considering selling it. Some diamonds can fetch an incredible amount of money. You might at that point ask 'how to sell my diamonds at a pawn shop'. First you need to be absolutely sure you're happy to part with your diamond. There's no going back if you change your mind! Then, you should book an appointment with a specialist or just walk into the pawnshop of choice. Your diamond will be assessed and valued by an expert. You will then have time to discuss the fee offered by the pawn shop at length, and with plenty of privacy and confidentiality. Once you have then agreed on a figure, you will hand your diamond over to the pawnshop, and receive the money into your bank account after signing on the agreement. If you're on the fence about selling your diamond, you may ask 'how much can I get for my diamonds at a pawnshop?' Of course there's the world's most expensive diamonds, like the Pink Star, which sold for $71.2 million, and the Oppenheimer Blue Diamond, which sold for $57.7 million. While you may not have one of these, you're sure to still get a good deal for your diamond. You might also be wondering what types of diamonds you can sell at a pawnshop. It may depend on the individual pawn shop, so double check they are happy with you selling your diamond first. It might be worth ringing up to check before making the journey there. Many pawnshops will take the following types of diamonds: 2 carat, blue diamonds, baguette cut, cushion cut, fancy colour, marquise cut, emerald cut, old cut, pear cut, pink, oval cut, princess cut, and GIA certified diamonds. If you aren't actually sure what type of diamond you have, please go into a pawn shop and see a specialist. So why is it worth selling your diamonds at a pawn shop? If you no longer need your diamond, you can get a decent injection of money if you decide to sell it. What's great about doing so at a pawn shop is you can get the cash immediately and depending on the shop you visit it's usually a fair price, although the amount depends on how much your diamond is worth, which experts will value accurately.