Loans on Fine Watches
---

Are you thinking " Pawn my Fine Watch?"
If you considered to "pawn my fine watch", then at New Bond Street Pawnbrokers we offer loans on fine watches, to help you unlock its value without having to sell your watches outright – all within the comfort and security of our award winning pawnshop in Mayfair, London.
With over 25 years of experience issuing loans on fine watches, we know how to accurately appraise, and value your watches. All our valuations are based on up to date market prices and auction estimates.
David Sonnenthal, resident expert appraiser for the beloved Channel 4 "Four Rooms" TV show leads our team of in-house experts.
The experienced fine watch and timepiece appraisal team at New Bond Street Pawnbrokers call on many years of experience in the fine watch industry to enable you to release capital by providing loans against modern, vintage and antique watches and timepieces.
The team will take into account the current market value of the watch, the manufacturer and model, condition and restoration (if appropriate), availability, age, demand for the piece and provenance.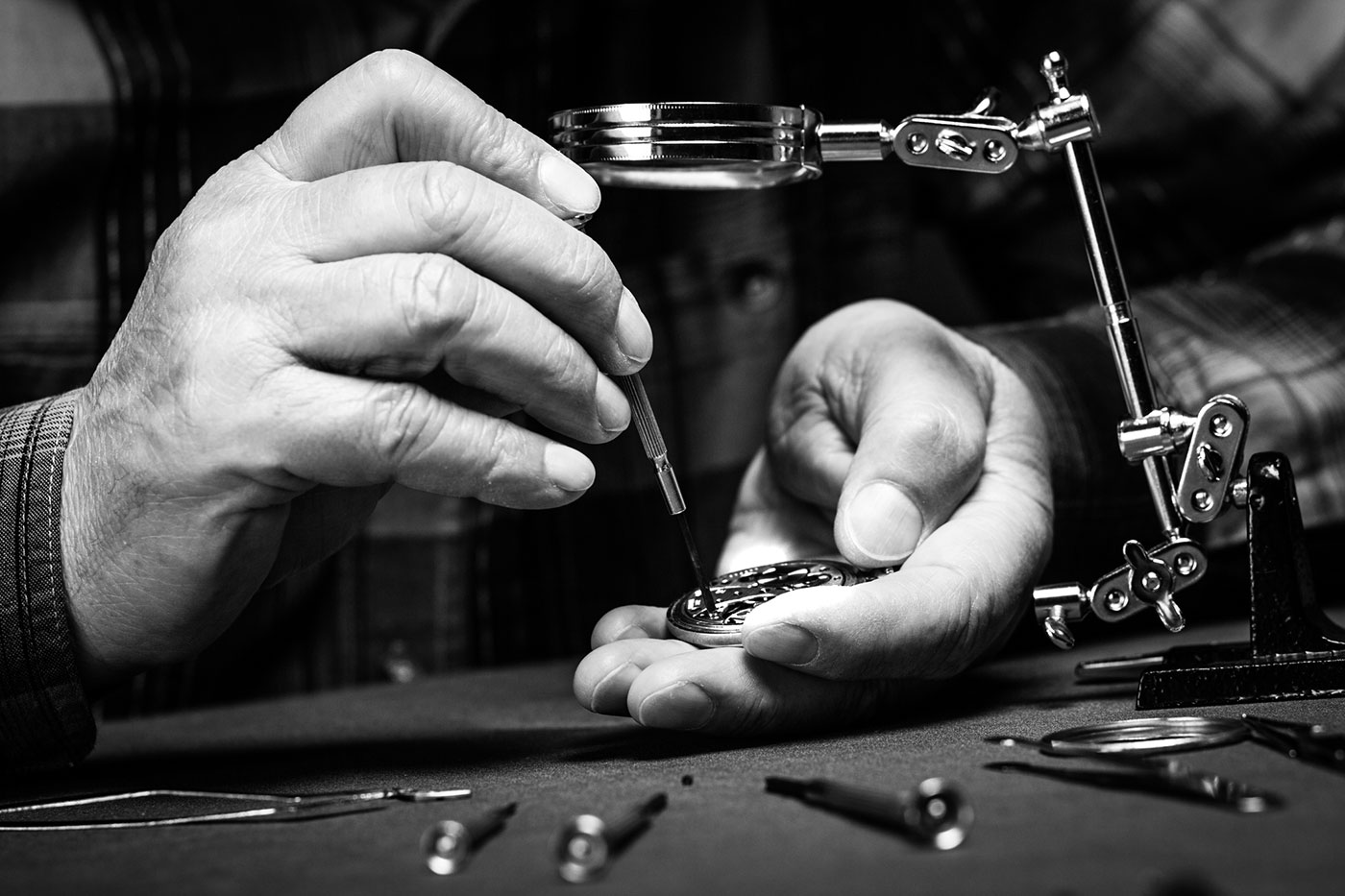 VALUING YOUR FINE WATCH
If you consider to pawn your fine watch, we take into consideration all aspects of the current fine watch market and always offer a fair and accurate market appraisal. Our fine watch specialist department is considered the go-to when considering loans on classic and contemporary watches from manufacturers such as Patek Philippe, Rolex, Vacheron Constantin, A Lange Sohne, Breguet, Audemars Piguet, IWC, Hubolt, Cartier as well as other prestigious names.When appraising fine watches and timepieces the following points are considered:
MANUFACTURER & MODEL – Whether it's current, rare, limited edition or discontinued, all aspects that can determine the value of your watch are taken into account by our specialist pawnbroking team.
CONDITION – Restorations, replaced parts, blemishes and dents can all affect value of a fine watch.
AGE – With vintage models, rarity and condition are considered. More contemporary models can hold higher values then slightly dated ones.
PROVENANCE – Paperwork, original bill of sale, the original box, and servicing papers are also considered.
If you have any more questions please don't hesitate to give us a call or arrange a visit at our premises in London, Mayfair.
How do we appraise all watches?
Before pawning your fine watch, our expert team must first take the time to properly understand your watch and come to an accurate valuation. You will then be offered a loan amount based on the valuation. For us to carry out a valuation, we ask that you bring your watch in to our premises on Blenheim Street. If this is not possible, alternate arrangements can be made.
Our appraisals are based on the following factors:
Manufacturer
There are a number of luxurious watch manufacturers around, such as Rolex, A Lange Sohne, Breguet, Audemars Piguet and Patek Philippe. Watches made by such well-known manufacturers are worth more as their reputation for building quality pieces is well-established, and they tend to hold their value much better over time. We will also look at the exact model and reference of your watch and seek to understand just how rare it is. Certain models are more valuable than others because of their age, scarcity, their association with notable people, and other factors.
Age
The age of your watch can have a positive or negative effect on its value, with its condition and rarity being huge factors influencing this. For example, a Rolex Daytona Reference 6421 from 1969 is hugely valuable due to its age, but also thanks to its association with the actor Paul Newman, and also because the Daytona was a niche watch at the time with few units produced. However, if one of these watches is in poor condition and does not work very well, this will significantly undercut its value.
Provenance
For any item we loan against watches having items such as the original box, guarantee, servicing papers and the original receipt of sale will greatly improve the worth of your watch to us.
Specialist advice and instant appraisals
Once we agreed your loan we ensure that you receive 100% of the agreed loan price. When pawning your fine watch with us, you should rest assured that we work in a private and confidential way with no credit checks, no contract fee and no hidden charges. We also ensure you achieve the maximum amount of credit possible against your fine watch. All our loans are based on current market values and auction estimates. We also offer immediate appraisals and specialist advice, supporting clients through the entire process.
How to get started
If you are looking to borrow against fine watches, then it is always recommended that you find an accredited, well-experienced pawnbroker who can give you a high-class service. New Bond Street Pawnbrokers has built up a reputation of discretion, experience, and trustworthiness over two decades of providing services to Mayfair's clientele.
Our Blenheim Street shop is based in the heart of Mayfair. If you are looking to pawn luxury watches and want to ensure you get the highest price and a trustworthy, discreet customer experience, then come and visit us. Appointments can be made, but are not 100% necessary.
Some of the many watch brands we loan against include: A. Lange & Sohne, Breguet, Breitling, Bulgari, Cartier, Chopard, Harry Winston, Hublot, IWC, Jaeger LeCoultre, Omega, Panerai, Piaget, Richard Mille, Roger Dubuis, Tiffany, Ulysse Nardin, Urwerk, Vacheron Constantin, Van Cleef & Arpels, Audemars Piguet, Patek Philippe, and Rolex to name just a few.
*We are authorised and regulated by the Financial Conduct Authority
Frequently Asked Questions
What is the value of my pre-owned watch?
How to maximise the value of your watch
How do I pawn my watch in London?
How do you value the condition of my watch?
How can I pawn my pre-owned watch online?
Do I need original box and papers when pawning my watch?
How fast can I release funds when pawning my watch in London?
How much time can I pawn my watch for?
What brands of watches do you pawn against?
What is your interest rate when pawning my watch at your London pawnshop?