Loans on Tom Wesselmann Paintings & Art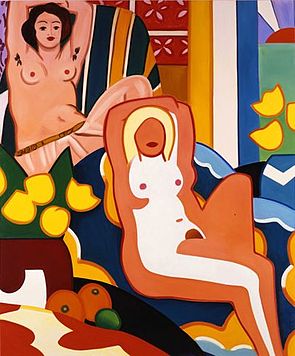 Pawn my Tom Wesselmann Paintings & Art
Considering to pawn your Tom Wesselmann paintings or art? "The challenge for an artist is always to find your own way of doing something," Wesselmann said. That statement carries echoes of truth for all of us. Life isn't always predictable. Sometimes individuals and dealers need to change things around for a short time and look for loans on Tom Wesselmann art or paintings. We understand. That's why, when you contact us at New Bond Street Pawnbrokers and say, "I want to pawn my Tom Wesselmann art or paintings," we always provide fast, fair, and discreet evaluations.
Loans on Tom Wesselmann art & paintings
Typically, your Wesselmann artwork might be a screen print, sculpture, or collage stylizing the female figure or some aspect of it: a bold depiction of a cigarette between pouting red lips, or a single shoe in vibrant colours. One of New York's most famous artists associated with the pop art movement, Wesselman was inspired by contemporary and media culture and other aspects of Americana. His very large-scale paintings hang like billboards in galleries around the world, including the Tate Gallery in London, the Museum of Modern Art in New York, and the National Gallery of Art in Washington, DC. Private owners looking for loans on Tom Wesselmann's art or paintings might also come to us with prints or works on paper.
Pawn my Tom Wesselmann art & paintings
You may be wondering "how much can I pawn my Tom Wesselmann art for?" We take into account that, along with Lichtenstein and Warhol, Wesselmann is one of the most famous artists to arise from the New York Pop Art scene. His work is incredibly varied and rivals some of the most valuable paintings in the world. His 1960s series Great American Nude features flat paintings in patriotic red, white and blue. His collages went on to reflect advertising and every-day objects. Then, in the 1980s he began to create wonderful three-dimensional artworks using canvas and cut metal. Knowing Wesselmann's work is the key to making an objective evaluation of your individual painting or other artwork. We assess your painting in the context of his catalog and the current market for artwork investment. Once we've done that, we're able to transfer your loan quickly and easily.
Flirting with something dangerous
Tom Wesselmann said: "I find sometimes I get so excited working, especially when starting new ideas; I get so excited that I get uncomfortable. It almost feels dangerous, like I'm flirting with something dangerous." Perhaps that is what makes his work so contemporary, so real that it almost dances off the wall. His prints and works on paper currently sell for anything from several hundred to many thousands of pounds. His most expensive artwork ever sold at auction remains his 1963 Great American nude no. 48. It fetched $10,681,000 or roughly £8,300,000. If you want to release the capital from your Wesselmann painting while safeguarding your privacy, then New Bond Street Pawnbrokers are here to help you do just that.
25 years of confidence and discretion in loans against fine art
For 25 years New Bond Street Pawnbrokers have been loaning against great art with confidence and discretion. Our expert team values your custom whether you are looking to release capital by selling or simply seeking a loan on your Tom Wesselmann art & paintings, works on paper, or another multi-media piece. If you are thinking "I want to pawn my Tom Wesselmann art or paintings", please Get in touch today to arrange an appointment to visit our pawn shop in London's New Bond Street. Whether you are looking for a loan or seeking to sell, we are here for you.
Some of the many artists we loan against include Andy Warhol, Bernard Buffet, Damien Hirst, David Hockney, Marc Chagall, Raoul Duffy, Sean Scully, Tom Wesselmann, Tracey Emin, Banksy, and Roy Lichtenstein to name just a few.
*We are authorised and regulated by the Financial Conduct Authority