Loans on Robert Rauschenberg Art & Paintings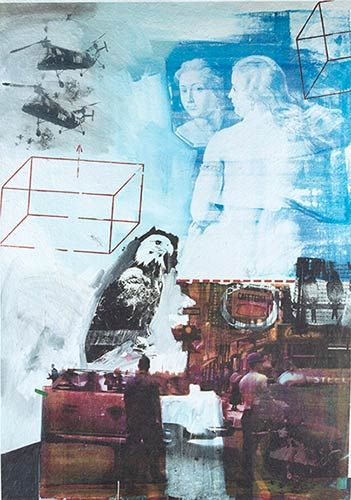 Pawn my Robert Rauschenberg Art or Paintings
If you have been asking yourself whether it is worth pawning your Robert Rauschenberg art & paintings, you will be pleased to hear that the artist was one of the forefathers of what came to be known as pop art. While names such as Warhol and Lichtenstein would go on to be synonymous with the movement, without the groundwork laid out by Rauschenberg, it's likely that none of it would have been possible. If you have a piece of art by Robert Rauschenberg, it's likely that it's valuable for pawnbroking purposes.
If you want to unlock the value of that art without having to be forced to sell it, why not consider loans on Robert Rauschenberg art and paintings at our high-end pawnshop in Mayfair, Central London? Here's how the process works.
PAWNING YOUR ROBERT RAUSCHENBERG ART & PAINTINGS 
Firstly, give us a call and make an appointment to have your Rauschenberg valued. We can arrange this one of two ways. Firstly, we can come to you, and evaluate your Robert Rauschenberg painting for a loan at your home, or wherever the art is kept. Secondly, you can bring the piece of art to us. Either way, your art will be examined and valued by one of our resident art experts to ascertain its market value.
Valuations are completely complementary, so there is no financial risk to getting your artwork valued, and you are free to walk away with your piece if you are not happy with our offer.
Once your piece has been valued, we will make you a loan offer based on the value of the artwork. If you agree to our offer to pawn your Robert Rauschenberg art or paintings, we will safely store it, and give you the full amount of the loan offer in return. Without fail, we will always keep your art in the condition it was left with us in.
WHAT HAPPENS NEXT?
When your loan period is over, you will have three options.
If you want your Robert Rauschenberg artwork back immediately, you can pay off the loan amount in full. Once we have received the capital back, your artwork will be returned to you. If you want your artwork back – but not right away – or if you are not sure if you want it back, you can extend the loan period. If you do not want your artwork back, simply let us know and we will sell it to recover the funds we gave to you.
Lastly, we also offer loans against all kinds of high-end art, please don't hesitate to get in touch.  Some of the many artists we loan against include Andy Warhol, Bernard Buffet, Damien Hirst, David Hockney, Marc Chagall, Raoul Duffy, Sean Scully, Tom Wesselmann, Tracey Emin, Banksy, and Roy Lichtenstein to name just a few.
*We are authorised and regulated by the Financial Conduct Authority