I hope you enjoy this blog post.
If you want us to appraise your luxury watch, painting, classic car or jewellery for a loan, click here.
A Review Of The Royal Academy of Arts Summer Exhibition 2015 | NBSP
June 30, 2015
The Royal Academy of Arts Summer Exhibition 2015
The Royal Academy of Arts Exhibition is one of the oldest and most inclusive open exhibitions of its sort anywhere in the world. For over 250 years artists have showcased everything from painting, printmaking and sculpture through to installation, photography and film in this eclectic curation of varied artistic work
The RA summer exhibition is the largest free entry exhibition in the world where anyone can send in work to be considered and have it included with work by very famous artists.
It's a powerful notion indeed to consider this exhibition, the movements it has crossed, the artists it has exhibited, the eras of politics, conflict and peace that it has bore witness too – its curation assuredly reflecting these many variants in a wider milieu that artists express through their work.
As you walk into the historic Burlington House courtyard the imposing and touching 'steel clouds', created by Royal Academician Conrad Shawcross is the first sight before the intricate, familiar piece on the stairway leading up to the main galleries. This is familiar as only a few weeks back at the esteemed philanthropic curations of The Zabludowicz Collection, did we spot the kaleidoscopic and mesmerising installation that is Jim Lambie's colourful works. David Sonnenthal of luxury London pawnbrokers New Bond Street Pawnbrokers remembers:
"Dominating the court yard is Conrad Shawcross, The Dappled Light of the Sun steel sculpture creates an eliminate of excitement as what lays ahead for the summer exhibition 2015" DAvid SOnnenthal – NSBP
So who is behind this marvel that first greets guests? With any exhibition of such reverence, a rigorous selection process is essential to find the talent that is a worthy contender for its co-ordination and curation? This year has seen no difference to this high-profile and honoree role. Michael Craig-Martin – the stunning contemporary conceptual artist and painter – is in charge this year. He is noted for fostering many of the celebrated Young British Artists of the 90's including Gary Hume, Sarah Lucas and Damien Hirst.
Handpicked from over 12,000 entries, the creative vision of this exhibition culminates into a full, eclectic and diverse collection of media. Craig-Martin has been unreserved of the exhibitions contemporary stance. As a long standing exhibition he has done astoundingly well in marrying the classic, sophisticated and elite to the contemporary, the vivid and the eclectic.
ART IS PIONEERING
Art, after all, is a catalyst for thought, change, empathy and progression. Art should symbolise our progression, our imaginations and our utmost ambition. It celebrates a pantheon of inquisitive and resourceful minds, through exhibition, through reverence and through a timelessness in their pieces. I offer this homage to art in light and praise of this fantastic dichotomy between old and contemporary that Craig-Martin has achieved throughout the vivid colourways and eclectic installations of the Royal Academy of Arts Summer Exhibition 2015.
Take Matthew Derbyshire's contemporary male sculpture. Poised in a stance reminiscent of an ancient Greek memento, the contemporary colourful sculpture echoes classical art yet its texture and colours are emphatically contemporary – set in a cavernous surrounding the vivid colours of the wall created by Martin really sum up what this contemporary exhibition is all about.
PRIMARY COLOURS
Take vivid, primary colours to illuminate all three of the main galleries; coupled with classic, and contemporary art, this is something really special. Ian Welsh was enthralled by the collection hailing it as a:
"Truly eclectic mix of works, that truly has something for everyone to see. Sharp eyes you will see works by Michael Landy, Tracey Emin, Anish Kapoor and David Nash but you cannot miss Grayson Perry's brilliant supersized tapestry 'Julie and Rob' this along with Humunent by Tom Phillips are both two of my personal favourites" David SOnnenthal – NBSP
The vivid walls shout something different this year – agrees Harry Hill in his initial inspection of the show on the RA's vimeo page – it speaks of a modern embrace of art and its many contemporary styles.
Indeed Craig Martin draws attention to the increasing diversity of the works as artists get younger, we see more female artists and even people as old as 85 being represented through their paintings. This is a great thing for modern art in the climate of commodification of classical works.
ROYAL ACADEMY OF ARTS MULTIMEDIA
An introduction to the Summer Exhibition 2015 from Royal Academy of Arts on Vimeo.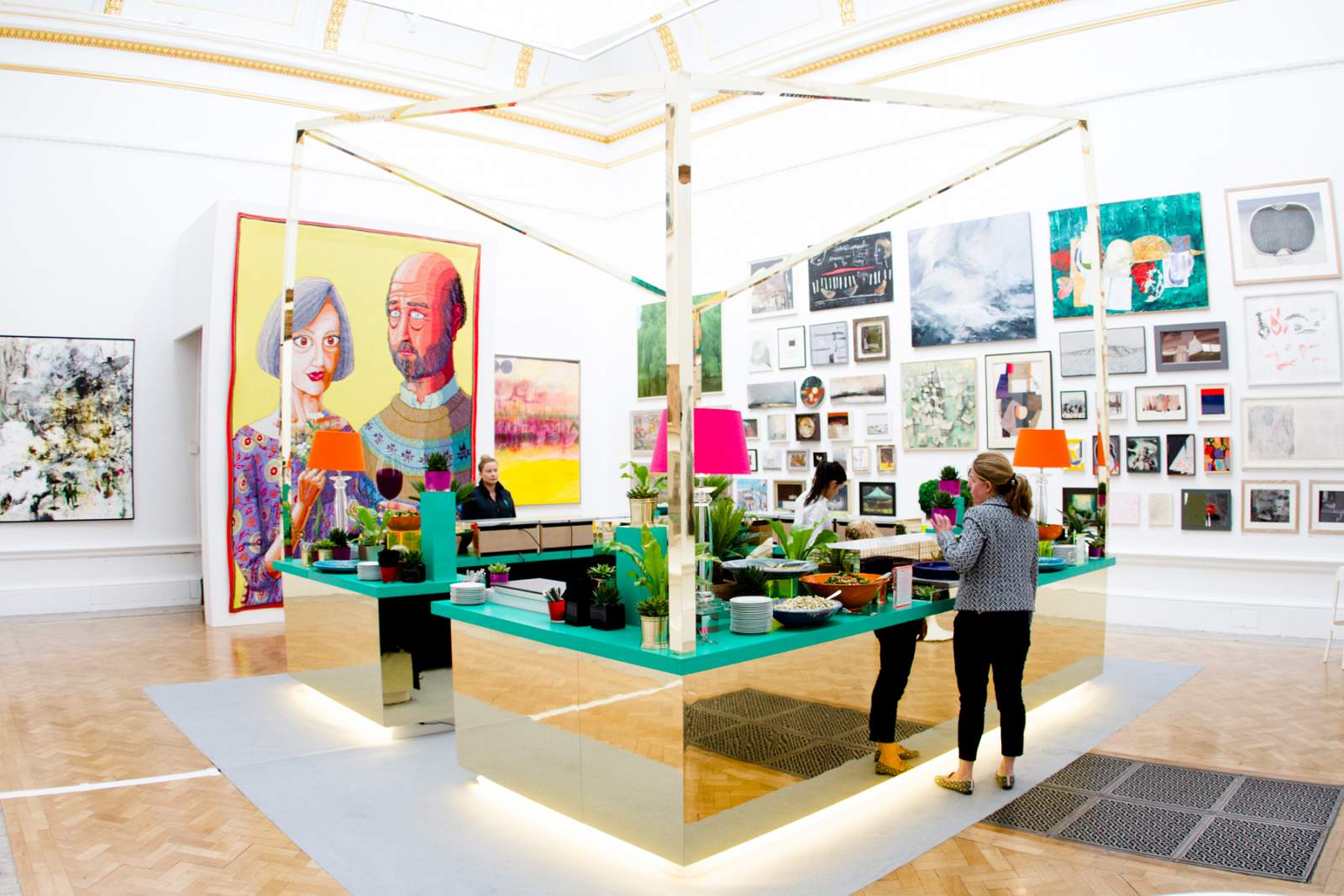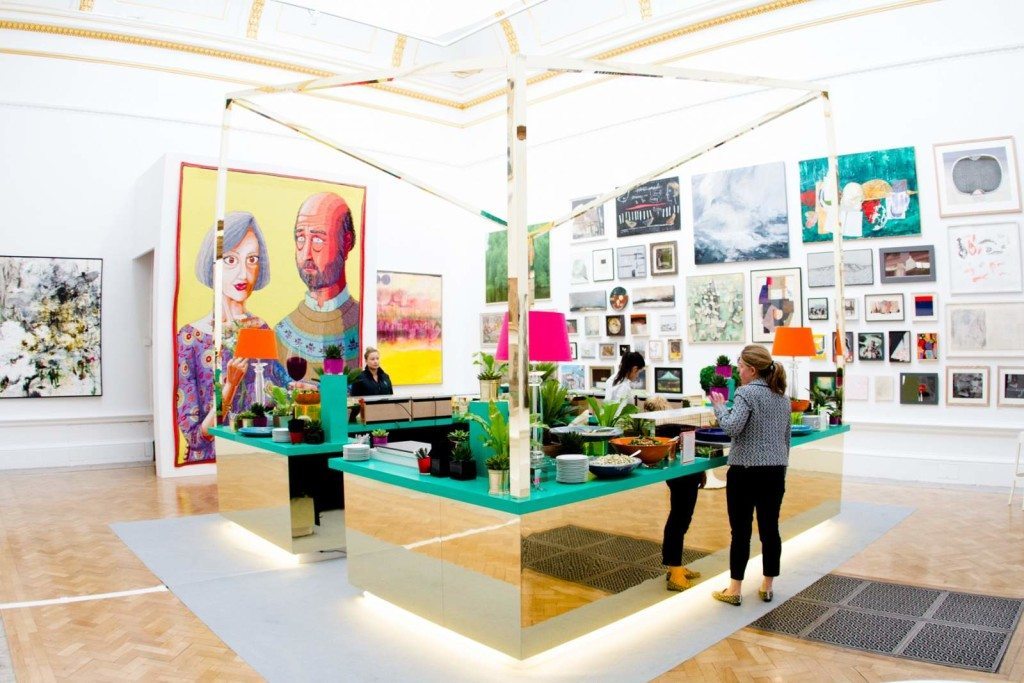 My favourite aspect of this exhibition is the encouraging diversity of works included. Craig-Martin notes in a video on the RA's Vimeo page that 'certainly one of the most special moments in the academy exhibition' is the entirety of one room being dedicated to South African illustrator and artist William Kentridge.
As we evaluate a vivid and diverse exhibition we do so with utmost gratitude for the range of artists from all backgrounds that where included this year. The co-ordinator Michael Craig Martin is astute in his commentary of the exhibition and concludes in an ending statement that;
"You would never have seen an exhibition like this in the academy summer show 20 years ago"
What does this mean… One thing… A member of a previous generation of artists, a tutor to the Young British Artists sees real changes. He has been moving in these circles and associated with this inclusive world for so many years it shows Craig-Martin sees, real, significant shifts in the contemporary art scene, and he is noble in his embracing of these shits.
8 June — 16 August
Saturday – Thursday 10am – 6pm
Friday 10am – 10pm
Main Galleries, Burlington House.
New Bond Street Pawnbrokers offers  offer instant credit with minimal paperwork, plus specialist advice throughout. Some of the many artists we loan against include Andy Warhol, Bernard Buffet, Damien Hirst, David Hockney, Marc Chagall, Raoul Duffy, Sean Scully, Tom Wesselmann, Tracey Emin, Banksy, and Roy Lichtenstein to name just a few. You can also check our dedicated fine art webpage for more information.
---
---

---
Authorised and Regulated by the Financial Conduct Authority