I hope you enjoy this blog post.
If you want us to appraise your luxury watch, painting, classic car or jewellery for a loan, click here.
Frieze Art Fair showcases the best in contemporary modern art
October 21, 2014
The weekend just gone saw the Frieze Art Fair hit London, showcasing the greatest in contemporary modern art from over 1,000 artists. For the art fair's three day run, all eyes in the global art scene (including our art expert evaluators)were set on London's art market, and its worldwide impact. Whilst, at its core, a platform for art dealers and collectors to buy and sell their wares, it also provided an opportunity for enthusiasts to learn more about the art world, see works by some of the world's most prestigious names, and attend a number of keynote lectures.
Frieze was started in 2003, attracting 27,000 visitors in its inaugural year, but visitor numbers have consistently achieved more than double that in recent years. As well as an increase in ticket sales, the event's growing prominence has helped cement London as a global art centre; it is now a must-do event on the calendars of art collectors across the world. Whilst it is estimated that only 20% of the festival's visitors attend with a view to buy, this still means that artists are displaying their wares to up to 12,000 potential customers; this festival is big business in the art world.
Despite this, though, there is always plenty on offer for those who are just looking. As with previous years, there were a number of not-for-profit projects commissioned especially for the festival. One such project was created by American-born, London-based artist Sophia Al Maria, which was a series of 'subliminal' artworks located throughout the fair. Invisible to the naked eye, the works are revealed under a UV light. Inspired by John Carpenter's 1988 cult favourite They Live, in which the mass media is found to be a thinly veiled tool to make the masses conform to the status quo, the project asks whether a similar conspiracy exists within the art world.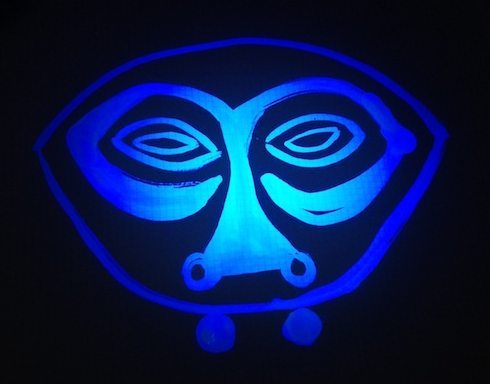 Another piece attracting attention was Carsten Höller's 'Gartenkinder,' a play on the word 'kindergarten,' a bizarre, psychedelic children's play area. The piece was in line with Höller's reputation as a creator of colourful, interactive art, featuring a giant game of Scrabble, a mushroom that rocks from side to side when pushed, a gigantic die that children can play in, and more. The exhibit, pictured below, was intended to highlight the "importance of play," and was a hit with visitors young and old.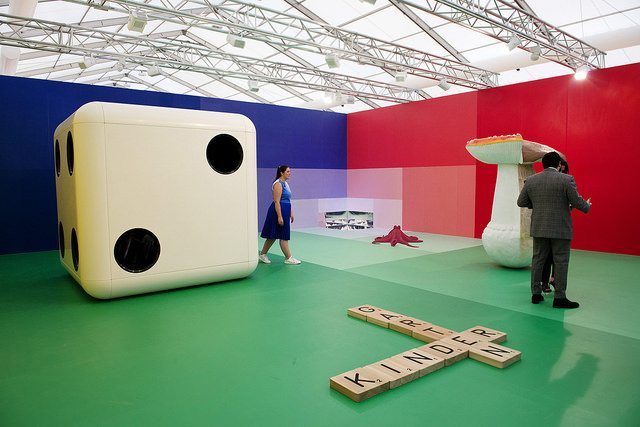 Additionally, Regents Park was overrun by a number of sculptures that those in the area were able to enjoy free of charge, ideal for those without a ticket to the event, or those wanting to enjoy the art on display in an outdoor setting. Introduced as part of the festival in 2012, it was an instant hit and was thus brought back in both 2013, and in the 2014 event last weekend. One of the pieces attracting a lot of attention was a sombre looking construction by New York based artist KAWS. The towering sculpture, shown below alongside visitors for scale, was abstractly named 'SMALL LIE'.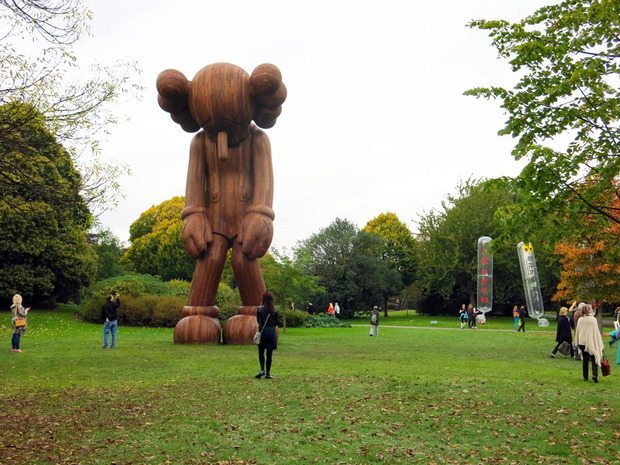 Were you at the Frieze Art Fair 2014? If so, let us know your favourite pieces in the comment box below!
New Bond Street Pawnbrokers offers  offer instant credit with minimal paperwork, plus specialist advice throughout.
---
---

---
Authorised and Regulated by the Financial Conduct Authority