I hope you enjoy this blog post.
If you want us to appraise your luxury watch, painting, classic car or jewellery for a loan, click here.
Jean-Michel Basquiat: a career retrospective
July 31, 2017
Introducing Jean Michel Basquiat
The late street artist turned expressionist painter Jean-Michel Basquiat may have met a tragic and untimely death in the late 1980s, but his work is still making a stir in the art world. Recently becoming the most expensive artist of his generation, Basquiat has firmly rooted himself as one of the most coveted artists in the world, rivalling Pablo Picasso and Andy Warhol.
Childhood
The origins of this artist are, however, humble ones as our fine art specialists found. Basquiat, the son of a Haitian father and a Puerto Rican mother, began his life far away from the sophistication of the high class art world he would one day experience. Basquiat was a self-taught artist, with a love for art instilled within him by his mother, who took him to Manhattan art museums, and encouraged his talent for drawing and painting. In future years, Basquiat would credit his mother for starting him on the course of being a self-taught artist.
From a young age Basquiat exhibited a great amount of talent, not only in artistic flair, but also a passion for language. By the age of seven he was fluent in French, Spanish and English. Basquiat drew on many influences during his childhood when it came to his later works, such as his parents' heritage and the famous medical work Grey's Anatomy, which was given to him during recovery from a car accident at the age of eight.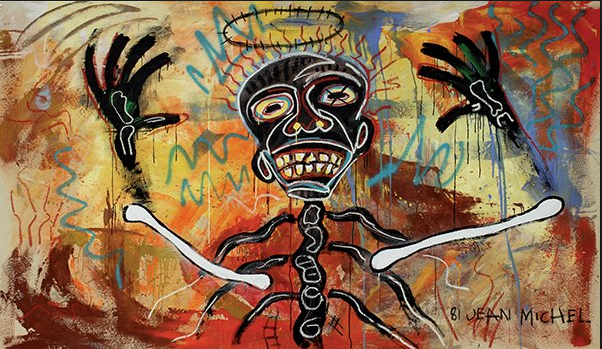 Beginnings as a graffiti artist

After his mother was admitted into a mental institution when Basquait was thirteen, his home-life with his father began to deteriorate. After dropping out of school at the age of fifteen, Basquiat was kicked out of his home by his father and found himself homeless.
In this same year, Basquiat and friend Al Diaz began to spray paint graffiti onto, or 'tag', buildings in Lower Manhattan, both working under the pseudonym 'SAMO'. The works of street art often featured short poems or meaningful slogans, and this was the beginning of Basquiat's break onto the art scene. After the end of the partnership between Basquiat and Al Diaz in 1979, Basquait began tagging areas of Manhattan with the slogan 'SAMO IS DEAD'.
In 1979, Basquiat gained moderate success, due to his part in the rock band 'Gray' performing at local nightclubs. This same year, Basquait began to exhibit pieces from the SAMO brand, which he would continue to do throughout the beginnings of his career.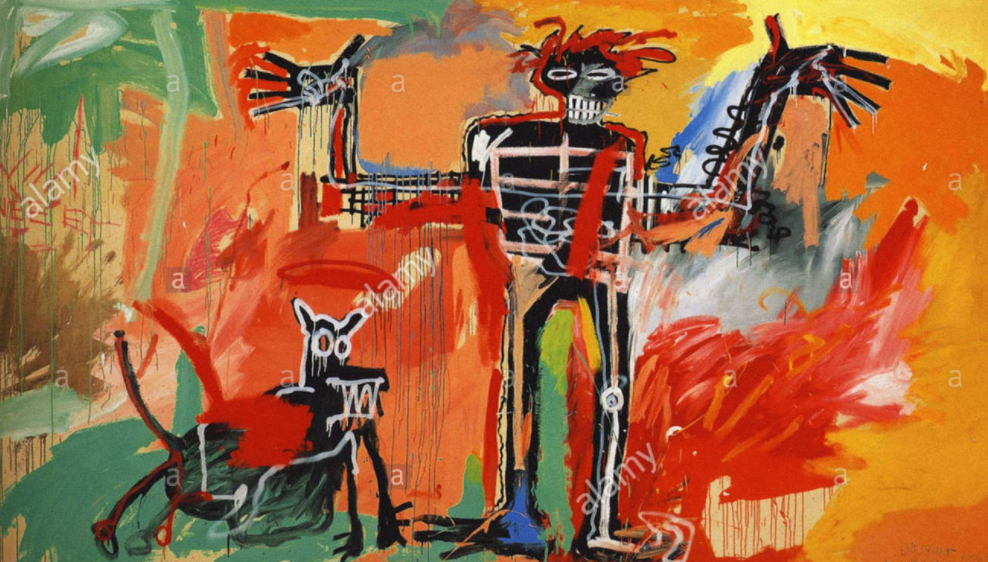 Career take off

The early 1980s began Basquiat's breakthrough as a solo artist. He participated in his first public exhibition, the now iconic 'Times Square Show', which featured work by over 200 different artists.
Basquiat's first solo show was in 1982 at the Annina Nosei gallery, and he went on the same year to open five more solo shows. By this point, his work was commonly featured alongside other Neo-expressionist artists of the time, and he was seen as a formidable figure in the art world, and a valuable name to loan against.
In 1982, Basquiat worked briefly with musician and artist David Bowie, and between 1983 and 1985 Basquiat and Andy Warhol worked on a series of collaborative paintings. In 1985, a New York Times Magazine feature article claimed Basquiat to be the top young American artist of the 1980s. This was, however, around the same time Basquiat was becoming increasingly addicted to heroin, which resulted in his untimely death in 1988, aged only 27.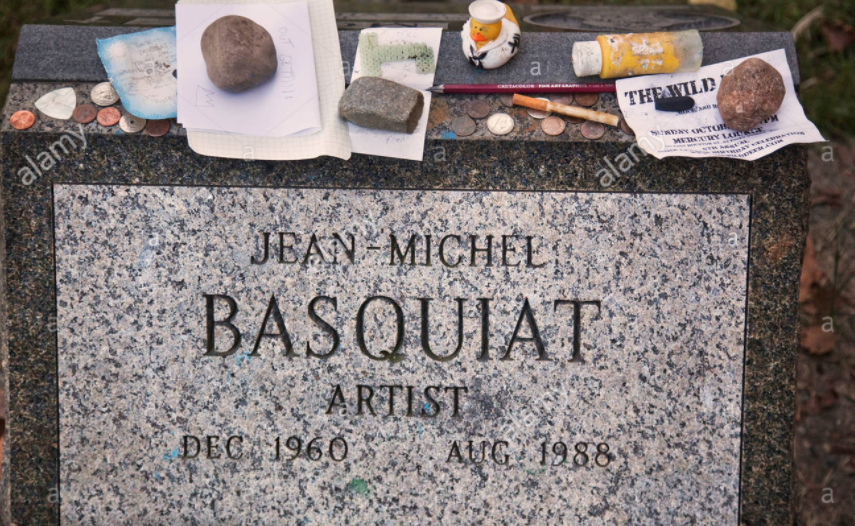 Legacy
Despite how short his life and career were, Jean-Michel Basquiat made a great impact in the art world. Basquiat played a huge part in the rise of Punk Art and Neo-expressionism in the New York art scene. Basquiat frequently used modes of social commentary in his paintings, as well as critiques of racism, colonialism and class struggle.
In May 2017, Jean-Michel Basquiat's painting 'Untitled' was sold at auction for over $110m (£85m), setting the record for the highest amount paid for a piece by a U.S artist at auction, as well as the most valuable work by a Black artist. The painting is the second piece by the Brooklyn-born artist to fetch a hefty price in recent years, with another fetching $57.3m at auction the previous year.
His art remains to be a source of inspiration for contemporary artists, and is still exhibited around the world today.
New Bond Street Pawnbrokers offers  offer instant credit with minimal paperwork, plus specialist advice throughout. Some of the many artists we loan against include Andy Warhol, Bernard Buffet, Damien Hirst, David Hockney, Marc Chagall, Raoul Duffy, Sean Scully, Tom Wesselmann, Tracey Emin, Banksy, and Roy Lichtenstein to name just a few.
This post is also available in:

Français (French)

Deutsch (German)

Italiano (Italian)

Português (Portuguese (Portugal))

Español (Spanish)
---
---

---
Authorised and Regulated by the Financial Conduct Authority