I hope you enjoy this blog post.
If you want us to appraise your luxury watch, painting, classic car or jewellery for a loan, click here.
Banksy: the story behind an icon
May 13, 2018
Banksy is the most well-known graffiti artist in the world, selling millions of pounds' worth of works and creating a household name. All while remaining hidden in a shadowy corner of the art world which began with political discontent and being "crap with a spray can." We explore how this elusive (probably) Englishman came to ride high in the art world.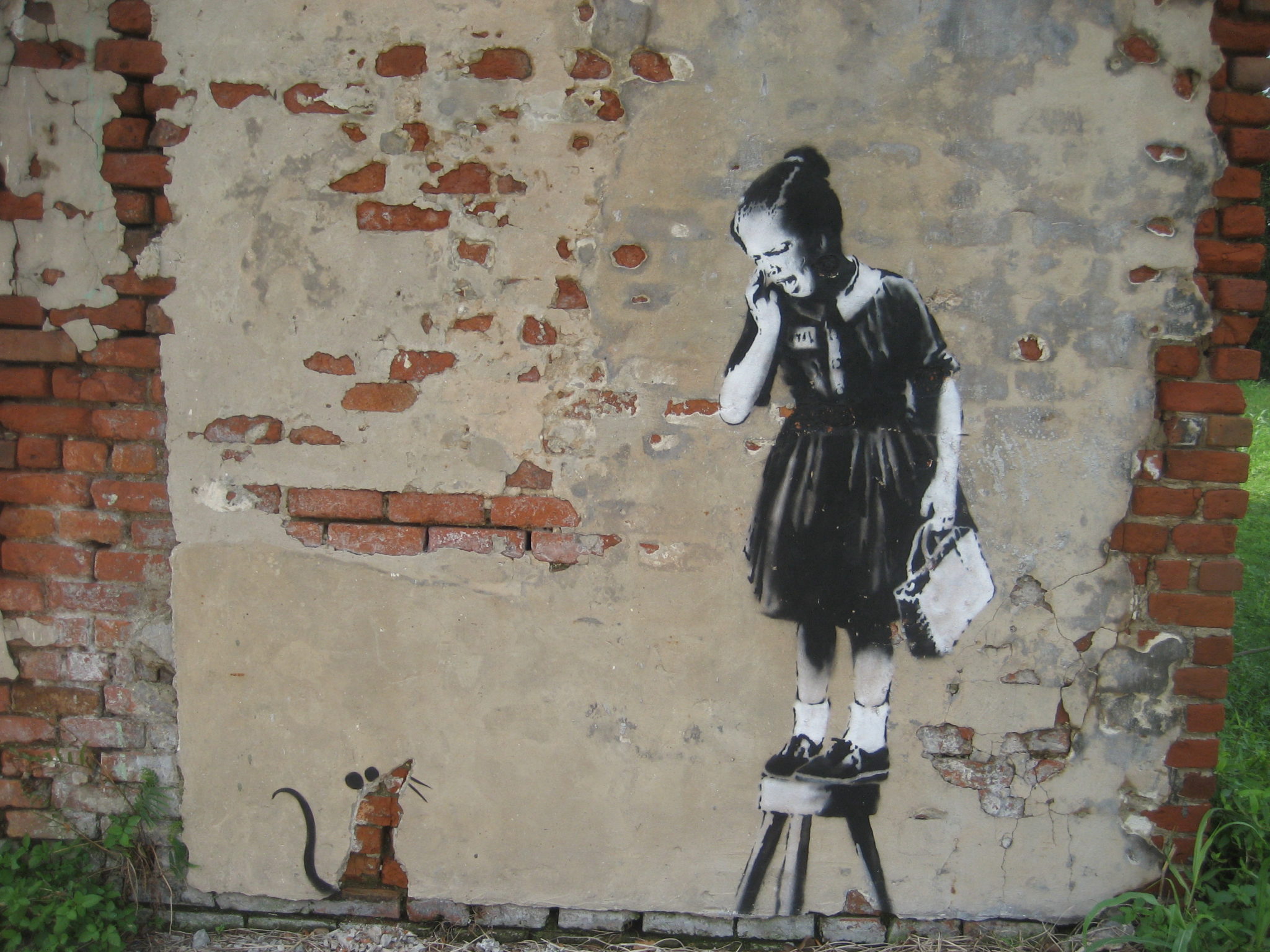 Banksy's start into the world of graffiti came in his home city of Bristol which has been well known for its vibrant arts – and particularly its street art scene – for many years. He began as part of the DryBreadZ Crew. This early influence on Banksy and his work saw him adopt his Banksy pseudonym to avoid arrest for criminal damage, but his own identity was also forming. He was also starting to shape his politically-laden style, influenced by French graffiti artist Blek le Rat.
Finding a style
There was something new and fresh about Banksy's work, both in design and delivery. He used stencils rather than paint freehand with a spray can. He says that's because he was "quite crap" at getting it right without a stencil. The use of the pre-formed idea further reflected the influences and ideas the young Banksy was developing about the power of the establishment and disrupting it. Blek was still influencing Banksy and, armed with a new visual style, the young artist started to put more political messaging into his line of fire.
His career really started to take off once he moved to London. His stencils caught more people's attention on the busier streets and the press started to pay him attention. During this time, the artist developed close relationships with other artists with similar interests. As the attention on him grew he paired up with Steve Lazarides, a photographer who agreed to become his agent and publicist.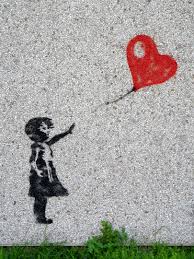 The London era
London also pushed Banksy to zone in on what his work meant, taking pot shots at globalisation and corporate greed with work that was as striking as it was beautiful. These pieces, created on the fly and essentially illegally, were coming to represent the disaffected voice of the nation. Banksy's work appeared in unexpected public locations and satirically addressed the role of corporatism, big brands or poor ideas in our society.
Banksy has never been a fan of taking art off the streets and into art galleries. Though it's certain that fine art dealers and buyers have done that for him anyway. Instead, he has chosen walls all over the UK, and the world, to share his message. Art galleries, he says, are for the trinkets of millionaires. His intentions have always been art for the people.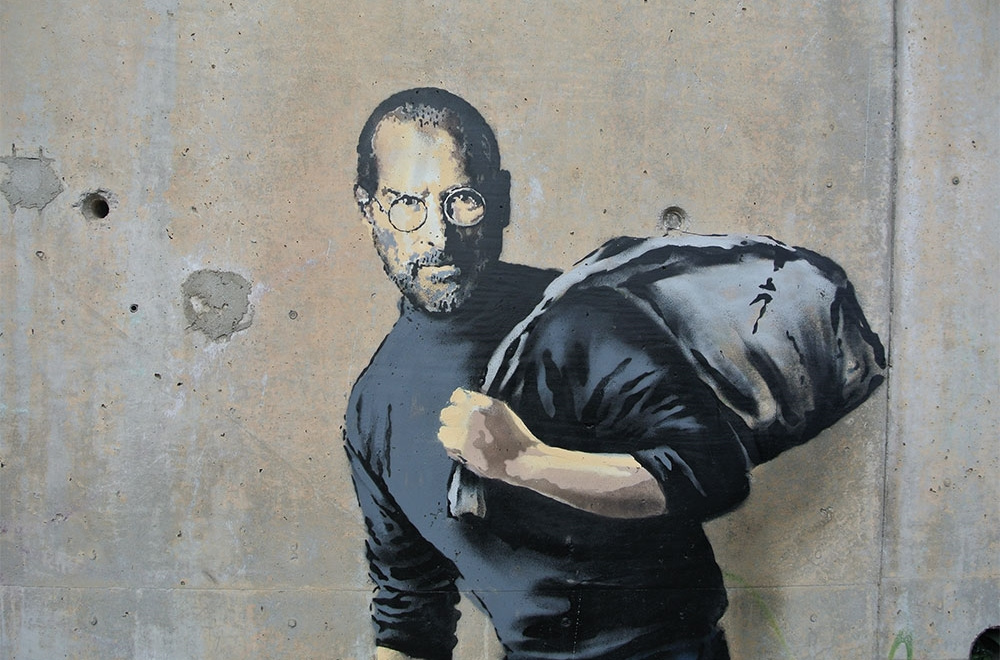 International attention
One of his biggest targets to date has been the controversial West Bank wall in the Middle East. His satirical stencils criticised Israeli involvement in Palestine, sparking a debate about the role and legitimacy of the wall. Could it even be vandalised when its existence was already so heavily lamented, discussed and pilloried? Banksy's illegal act, on an illegal wall, provoked fierce debate around the world. As Banksy himself had almost certainly hoped.
In more recent years Banksy's work has become as much a commodity as a message and he's known to have big-name collectors. Pieces of his art can sell for millions of dollars and the rich he has so virulently attacked don't seem to notice the irony of paying millions for the privilege. This freedom has allowed him to explore more ways to call out the inadequacies of our society. His temporary art project, Dismaland, turned a disused lido into a sinister twist on Disneyland for a summer in 2015. It was all done in secret and funded by his own money. It was a post-modernist take on the fragility of society. People flocked in their thousands to see the event with tickets selling out every day.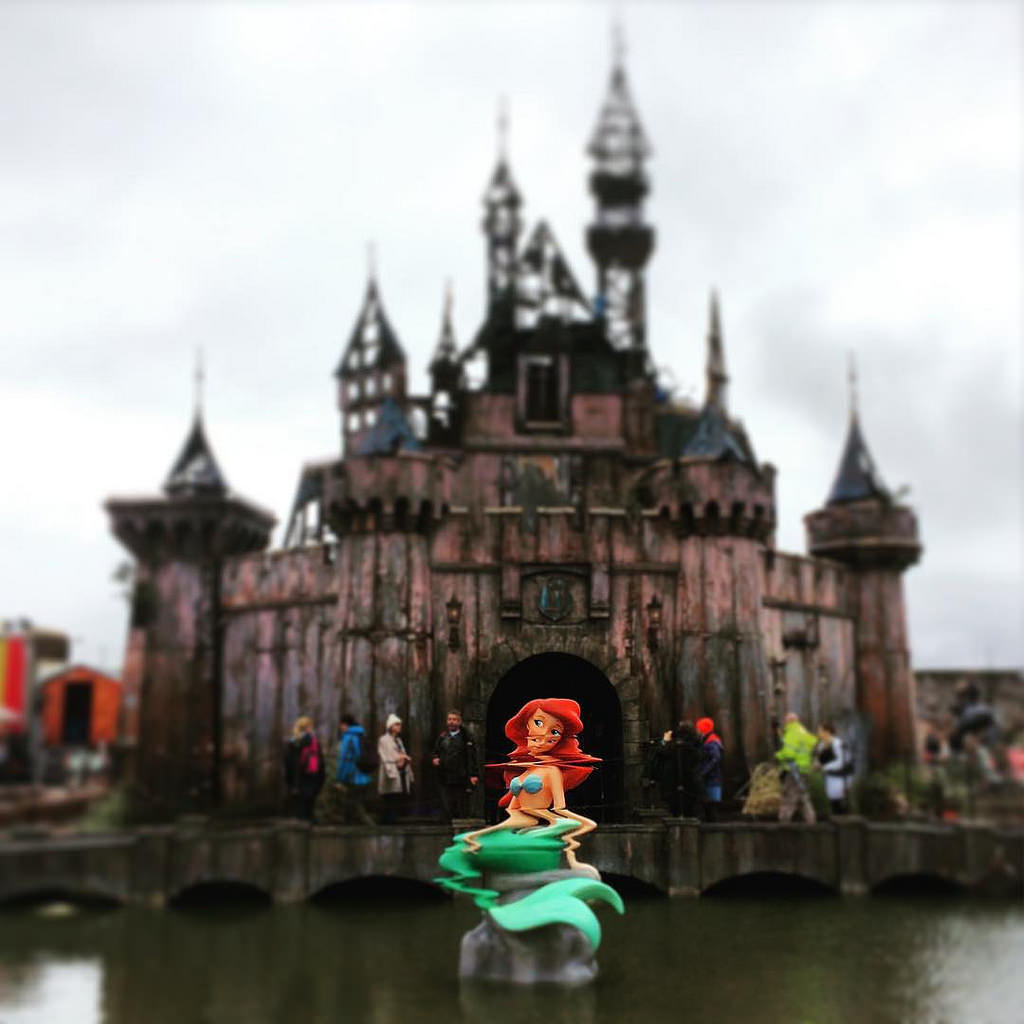 His works are famously recognisable. The flower thrower is perhaps the best known. The subject seems to be in the middle of a riot, face covered with a handkerchief and backward cap as he throws a bouquet of flowers rather than a Molotov cocktail. The image of the rioter is depicted in black and white, while the flowers stand out in colour amongst the dystopian picture.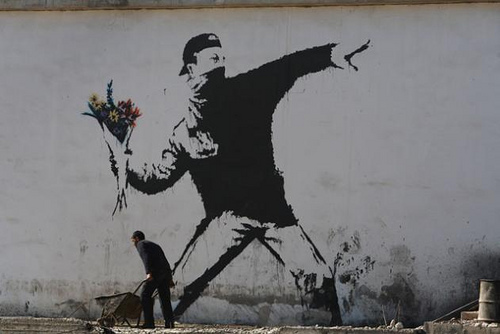 So what comes next for the Robin Hood of the graffiti art world? Banksy has kept his identity secret despite significant interest in who he is and this level of mystery has almost built a cult around his name. His work, and his message continue to bounce around the world.
New Bond Street Pawnbrokers offer instant credit with minimal paperwork, plus specialist advice throughout. Some of the many artists we loan against include Andy Warhol, Bernard Buffet, Damien Hirst, David Hockney, Marc Chagall, Raoul Duffy, Sean Scully, Tom Wesselmann, Tracey Emin, Banksy, and Roy Lichtenstein to name just a few.
This post is also available in:

Français (French)

Deutsch (German)

Italiano (Italian)

Português (Portuguese (Portugal))

Español (Spanish)
---
---

---
Authorised and Regulated by the Financial Conduct Authority